As if celebrating the 20th anniversaries of The Walking Dead and Invincible wasn't enough for one convention, Skybound also hosted a panel on the Energon Universe at last weekend's New York Comic Con 2023! Creators Robert Kirkman, Lorenzo De Felici, Daniel Warren Johnson, Joshua Williamson, and Tom Reilly, along with Senior Vice President and Editor in Chief Sean Mackiewicz, took the stage at New York's Javits Center on Saturday to talk all things Transformers, G.I. Joe, and Void Rivals. Here's what they had to say…
On how Duke feels about the Transformers in Duke #1…
Williamson: Well, he hates them. [But] he wants to know more. That's a big piece of it – you have this person who thought he knew everything, and then suddenly he's confronted with something. He wants to know more about it, and he starts asking questions. Once he starts asking the wrong kinds of questions, he feels like he's being lied to. So then he rebels. But he's like, "I have to know more. I have to know what these things are. I have to know what they're doing here."
That sends him on this really action-packed journey to find out everything he can about the Transformers and get to what he feels is the truth. Because as a person, again, he thought he knew what his truth was. Now he feels like he was lied to. So he wants to try to figure out what the real truth is.
Then Tom [Reilly] draws every page… There's this one sequence where Duke is going up against somebody. I wrote the script, and I was like, "Oh, and then a few guards show up." Then he drew more than twenty guards. It's bonkers. He fights these guards and it's awesome. It's one of my favorite parts of the book, where it's just Duke not giving up. You cannot take him down. This guy is not going to stop.
That sequence is so cool. It's one of my favorite fights in a comic. It's awesome. That wasn't in the script, though.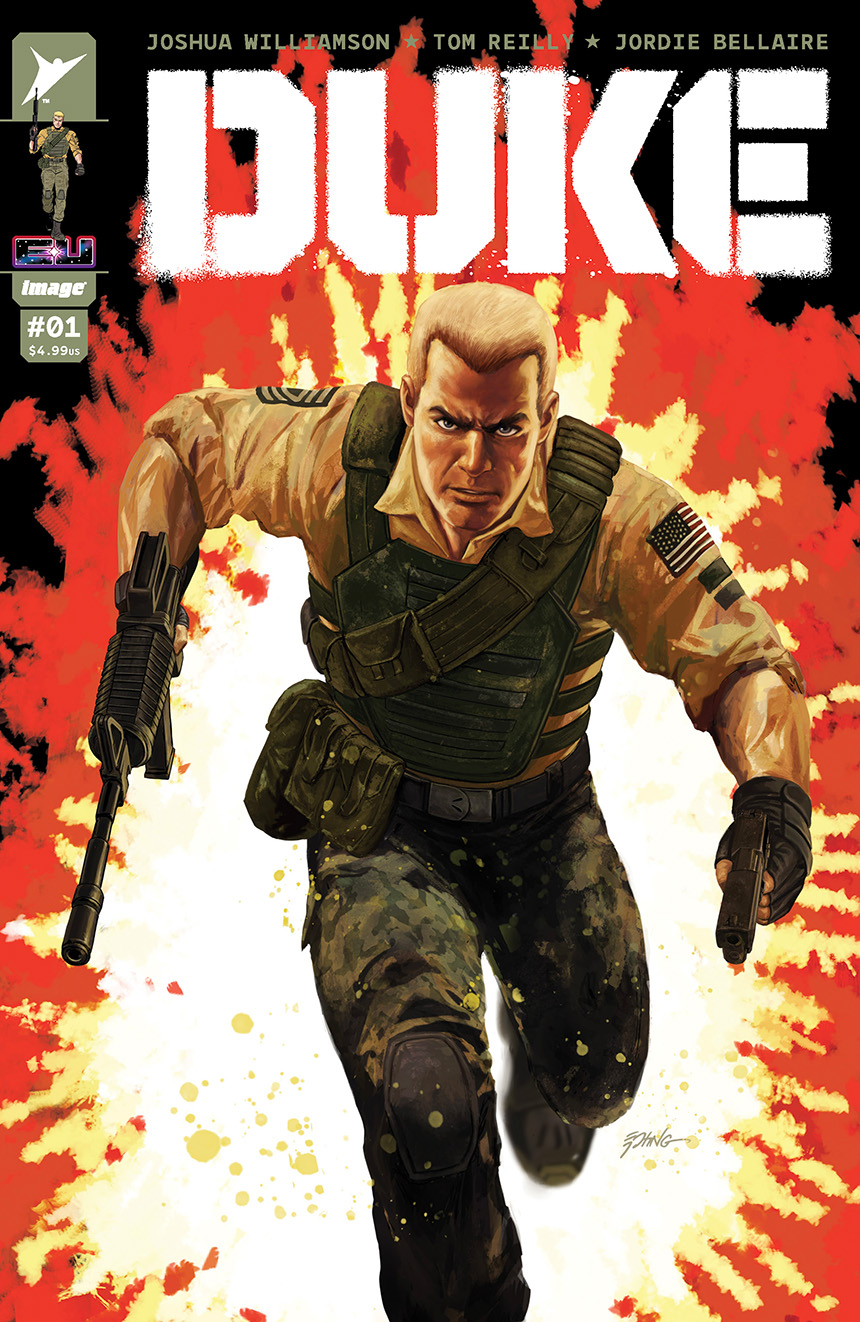 On his inspiration for redesigning G.I. Joe characters…
Reilly: There's no shortage of awesome inspiration from the G.I. Joe property. This is not a plug, but there's a lot of awesome toys out right now. So I drew from that. I drew from their baseline classic looks, like Duke's yellow shirt and the bandana. That's a timeless look. Sorry. And I try to incorporate standard-issue, present-day military technology into their looks, too. Try not to make them look too high-tech and kidded out. Because this is before G. I. Joe has taken off.
And that's probably about all I [should say]. [Laughs.]
There's a lot of awesome G.I. Joe stuff, just crazy stuff that may or may not exist at this point in time. Maybe you can't put it in, or can't put it in in the current iteration. So it's been fun to lay the groundwork for what I hope will be a stylistic evolution over the whole series. I hope people get nuts with it, just taking what I have laid down and doing crazy stuff.
Mackiewicz: The world we're entering right now is basically contemporary society. Then it's the Transformers on Earth and then all the forces around the world kind of trying to catch up. Part of these books are actually developing an arms race between secret factions and power brokers, and that's part of the big high concept of the book.
On whether another G.I. Joe or Cobra character could debut in Duke…
Williamson: We have so many characters… I have a problem with patience with this book. Because I really love these characters and I want to get all of them in the book as soon as I can. I'm always like, "How can I find a place for Firefly in this issue?" And it's like, "No, too soon, too soon." So I want to get everyone in there as soon as I can. With this book I am trying to find the patience to bring them out. And I started realizing how much fun it was to give each character the most badass introduction I could.
Once I started doing that, it really made me start taking more time with the characters. One of my favorite characters in writing the book, he was officially not in the outline, he was not in the series. Then when we put him in he got this really fun, cool intro, and it totally worked. That's where I think I started learning lessons. Like, "Okay, we have room here. We're not in a hurry." We have a really big story to tell, and we want to make sure that we give respect to each one of these characters, and really give them all really cool intros.
I want to try to find ways to bring in the characters in a way you might not expect. So it does make it so it's not as predictable. You might not know where things are going with this book.
So when I started working on it, I looked at everything. I looked at everything across the board. The cartoons, the comics… I was already a fan of all of it, and I already had been reading a lot of it and watched a lot of it. So I started from a place of love. But then I realized, "Yeah, I have to find ways of telling our own story with this. That meant some twists and turns. The book actually surprises me at times. I realize like, "Oh, this character would actually do this in this moment!" It allows us to have those kinds of twists.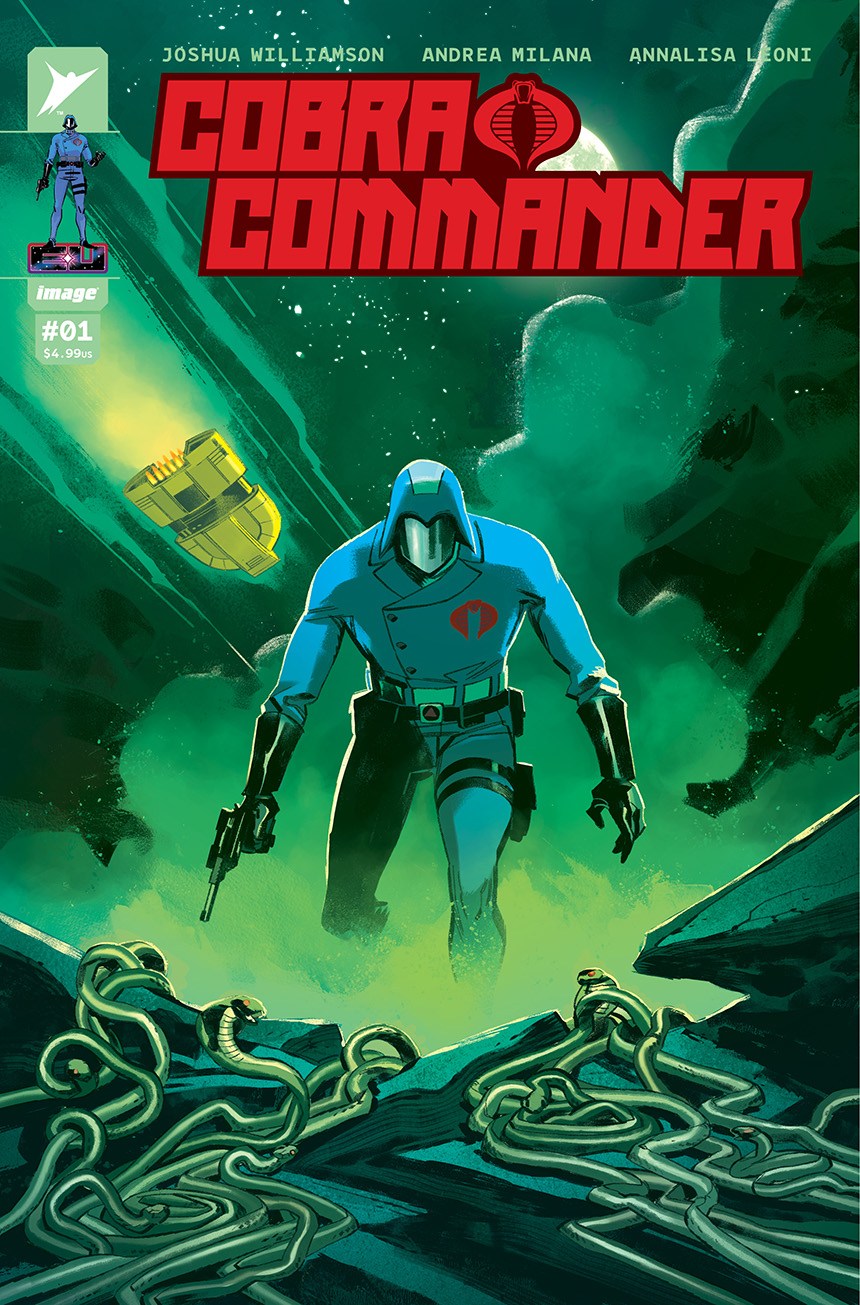 On writing Cobra Commander in addition to Duke…
Williamson: I love Cobra Commander. He's one of my favorite characters ever. Originally, we weren't going to do a Cobra Commander book. We were going to do a Duke book. And then we started talking, and we kept going back and forth on it. Eventually it was like, "No, we should do a Cobra Commander book." And I was like, "I will write both of them."
We started figuring out a way to have them run parallel to each other. Because Duke and Cobra Commander are on parallel journeys. They're both looking for something. And once I started putting together how these two people are on separate journeys… at some point, they will have a massive collision with each other.
I wanted to show, "How did this guy build Cobra? How did he get all these people together who are so different?" They all clearly hate him. So I wanted to see how he pulled them together to build Cobra. It's really interesting. When I turned in the script to issue 1, I talked to Robert [Kirkman] and Sean about it.
We went back and forth on some ideas, some notes. Then, when I finished it, I was like, "There is no way Hasbro is going to say this is okay. There's no way they're going to read this comic and go, 'Yeah, you can do that.'" Because it's a weird book. It's different. It's a horror comic. I remember thinking, "Any minute now they're going to say, 'What are you doing?! You cannot do this.'"
But they let us do it and it's been really fun. They were really great and we've been able to do, do the book well.
On how dependent the Energon Universe titles are on each other…
Mackiewicz: Hopefully our line is clear enough for the four main series right now that we're not overloading you. If you want to pick up everything, it's affordable. And if you don't, you're still going to get a full storytelling experience if you just follow the Void Rivals or Transformers.
On how Duke and Cobra Commander depict the early days of G.I. Joe and Cobra…
Williamson: Mercer was a character I loved as a kid. I was always fascinated that Mercer was with Cobra at one point and then he left and went to G.I. Joe. I was like, "I want to start with him being in Cobra and show how he was a member of Cobra and then maybe we don't show how he [joined] G.I. Joe." Again, it's about introducing them in really fun ways.
On the level of violence…
Williamson: You read issue 1 of Transformers, and it's a little bloody. It's a little violent. So as I'm working on these books, I'm like, "Oh, I see how it is. How much more blood can I put into these books?" [Laughs.]
Mackiewicz: These books are all intended for teens. These are books that you want to be accessible to as many readers as possible. But Cobra Commander is one where we skirt the line, we're on the edge of what's shown on panel versus off panel. Because there are horrible individuals who are doing horrible things, and we didn't want to shy away from that. You know, Hasbro created a character that has a chainsaw as a weapon. When you see that in a comic, it's pretty horrific. I want to make sure that we captured that in our own brand.
On what the future holds for the G.I. Joe comics…
Mackiewicz: The journey of the formation of G. I. Joe and Cobra don't just end here. Next year we'll discuss what the next books are in the line. But it's going to be pretty controlled. We're not doing rapid expansion. If the characters get a book, then it's a character influencing the direction of the universe and also how it interacts with Transformers and Void Rivals.
On writing Void Rivals…
Kirkman: I am having the most fun in my life writing this series. It's been a real joy for me. I mean, I have devoted my career to creator-owned comics, and I've done that almost exclusively for over a decade. Now I'm gambling and playing with other people's toys, and it has taken me back to my childhood.
I was writing issue 4, and I was like, "I think I have a scene for Shockwave! I think I can get my esteemed partner Lorenzo De Felici to draw one of my favorite Transformers!" It's great to have the freedom to just do that.
We're building a larger universe here. So there's gonna be a lot of minor scenes in Void Rivals where you see somebody and they say something and it seems inconsequential; but as time goes on, if you've read Invincible, or if you've read Walking Dead, there's tons of little things that happen that come back ten years down the road. That's the environment we're trying to build with all of these books.
On whether we'll see more Transformers in Void Rivals…
Kirkman: There's a lot of reference I've been sending Lorenzo's way in preparation for future issues. So yeah, and, again, it's all gonna make sense. But I do want to make it clear – Void Rivals is not a Transformers cameo book. It takes place in that sci-fi environment that you encounter a little bit in the original 1986 movie, and a lot of the episodes that encompass seasons 3 and 4 of the original show. There's a lot of stuff outside of that series that is in deep space – the cool sci-fi elements of Transformers. I love being able to work that stuff in. But Void Rivals is very much its own series with its own characters, its own story, and its own agenda.
So it's going to weave into all this stuff, but it's also got its own narrative momentum that's going to be pushing it forward.
On reimagining/redesigning the Transformers in Void Rivals…
De Felici: Out of all of us, I'm the one that's less fueled by childhood nostalgia. I'm fueled by my curiosity for distorting these worlds. Because I'm from Italy. Transformers there were big, but not as big as here. For me, it's a very exciting every time whenever Robert sends me over a script and there is some name that I'm not very familiar with. Going around and looking for references, it's always like a discovery. Because I know Transformers, but I'm not that familiar with the surrounding world of them. With some of the designs, I want to be as respectful as I can. But at the same time, I like to give it a little spin or a new vibe or something.
The fun that Robert is having in the writing, I can feel it in the pages. So it really helps me, going around Google, looking for references and stuff. I also like that, as Robert said, this is our slice in the Energon universe. Our own little thing. We meet the Transformers, and I don't know who else we're going to meet. But I like that we're carving our own little thing.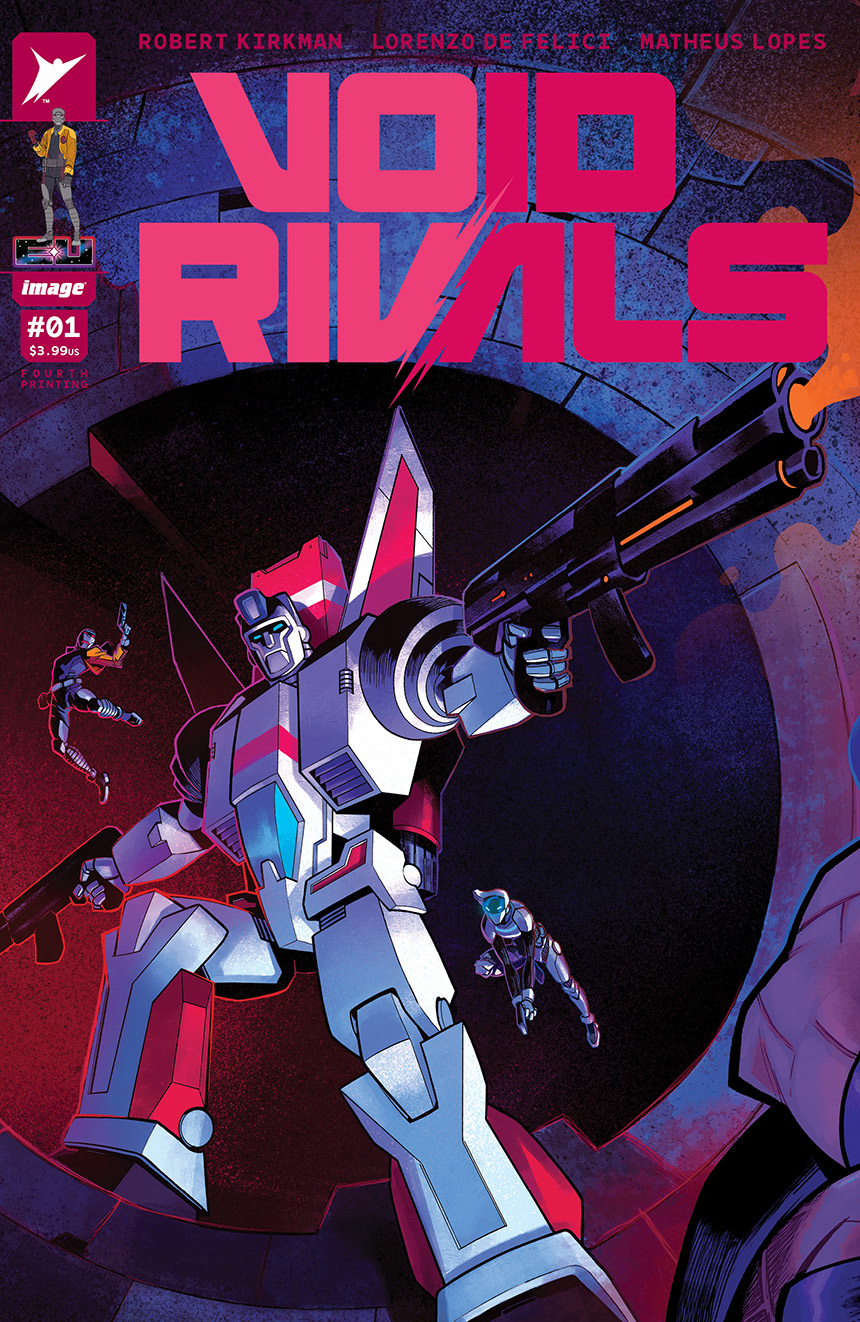 On partnering with Lorenzo…
Kirkman: Lorenzo and I did a book called Oblivion Song, and it was one of the most fun projects I ever worked on. Because I got to haphazardly imagine this new dimension that the characters were inhabiting, that had its own alien life forms and its own alien plant life. Lorenzo would just take the lazy scripts I would write and spin them into these insane environments that were so well thought out and so visually stunning.
So when I started developing Void Rivals, I was like, "Lorenzo's literally the only artist I could think of that could do this." Because we're trying to create this new corner of the Energon Universe. I like to think of it as the cement that's holding a lot of bricks together from the other properties. That involves not only designing new characters, but two distinct alien races that have different kinds of buildings, different kinds of vehicles. We really want Void Rivals to feel like it was a toy line that you could have found on shelves in the 80s sitting next to Transformers and G.I. Joe.
That involves a lot of creation, and that's something that Lorenzo excels at. His art is so cool and so vibrant. It's also me as a kid going, "Oh my gosh, this is gonna be the coolest thing ever." It's just a real joy to be working on this book with him, and I hope that the fun that we're having on this series, creating all these new toys, is showing in the book.
On drawing inspiration from the original Transformers animated series…
Kirkman: I'm trying to inhabit the corners of the universe that Daniel [Warren Johnson] is not currently occupying. Because the majority of Daniel's Transformers series, at least to begin with, is taking place on Earth. So I'm coordinating with him – "Okay, do you have plans with Shockwave? Does this line up with Shockwave? And what other things are going to be appearing?"
I'm making sure that there hasn't been anything that needs earmarking to show up in Transformers 7 or 8 or whatever. It's a great collaboration, but the world is so expansive. There's so many aliens and alien planets introduced. There's a lot of things that we're going to be exploring that may not have been the biggest part of Transformers lore. My goal is to expand that… It's very exciting. I cannot wait for you guys to see it.
On what will be introduced next in Void Rivals…
Kirkman: In issue 7 [we have] a new character that I'm not going to reveal the name of, but this is somebody new to the Void Rivals universe that's a very dangerous, very scary, terrifying character that Lorenzo did one of the greatest character designs I've ever seen for.
I absolutely love this character. And they're going to be debuting in Void Rivals 7. They're hunting Darak. It's somewhat apparent from the cover. I just love new ideas, I love new concepts, and this series is a playground for us to just keep adding more and more elements to it. So we're going to be doing that issue to issue.
Also, there's going to be a bit of a gap between issues 6 and 7. You can see that issue 7 will be returning in March of 2024. We debuted so much earlier than a lot of the other Energon Universe series. We're going to try and give them some time to catch up so that the stories can line up a little bit better. So we'll be taking a little bit of a break there, as Lorenzo designs a thousand new characters.
VOID RIVALS TM & © 2023 Hasbro
TRANSFORMERS TM & © 2023 Hasbro