The Walking Dead Season 8 Episode 7 borrowed, changed, and included a easter egg from the comics. Let's dive into the major comparisons.
---
Eugene & Dwight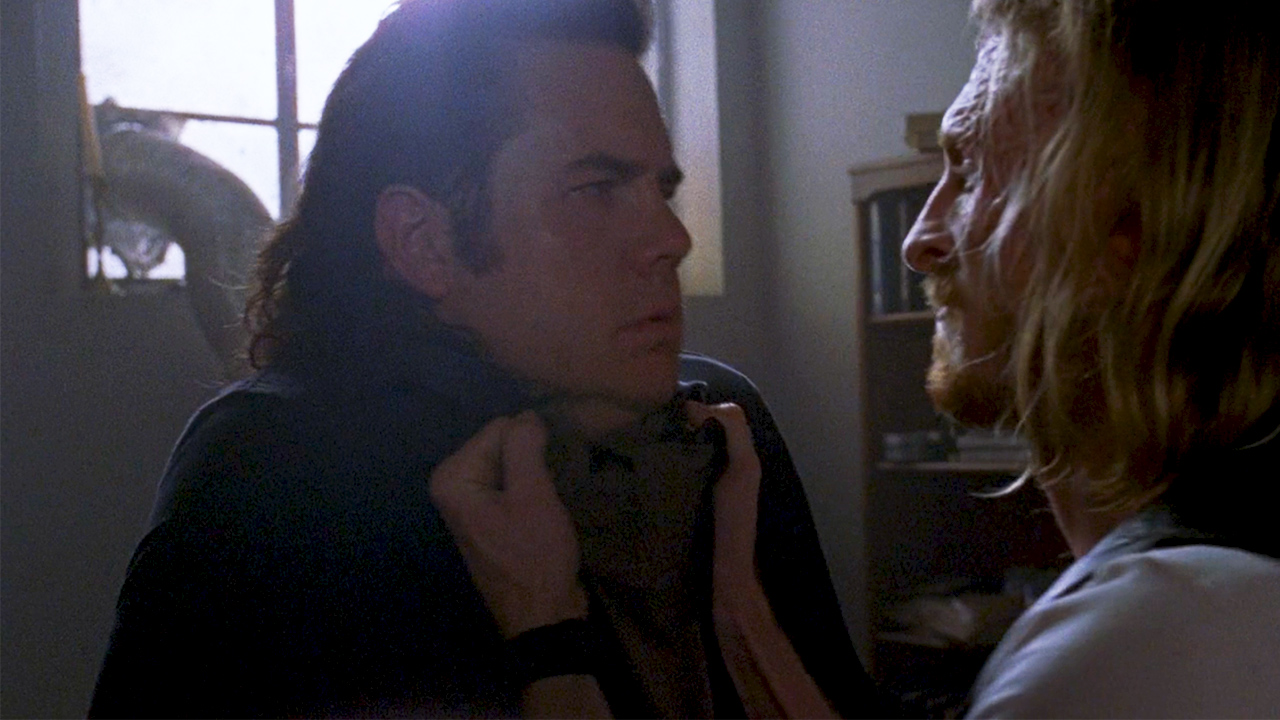 In both the comics and show Eugene and Dwight meet privately to discuss their allegiances. However, the circumstances are vastly different.
In Issue #122 of the comics (which is Part 2 of All Out War), Eugene finds himself stuck as Negan's prisoner who refuses to bend to his will. Dwight visits him in secret to reveal his plan to help Rick and promises to help him escape. Eugene doesn't trust Dwight and accuses him of playing both sides. He even threatens to kill him until Dr. Carson shows up, confessing he overheard everything and wants in on Dwight's plan.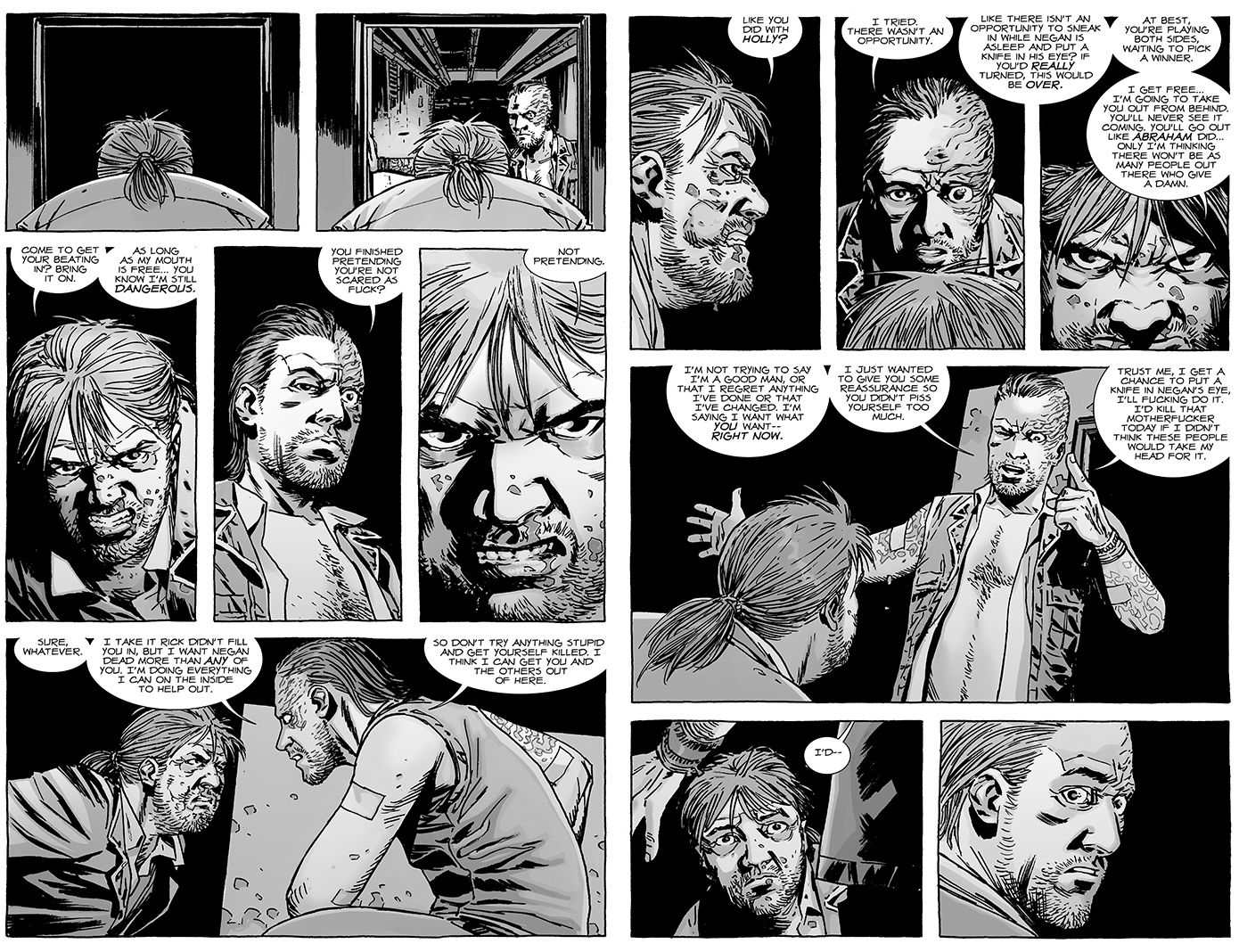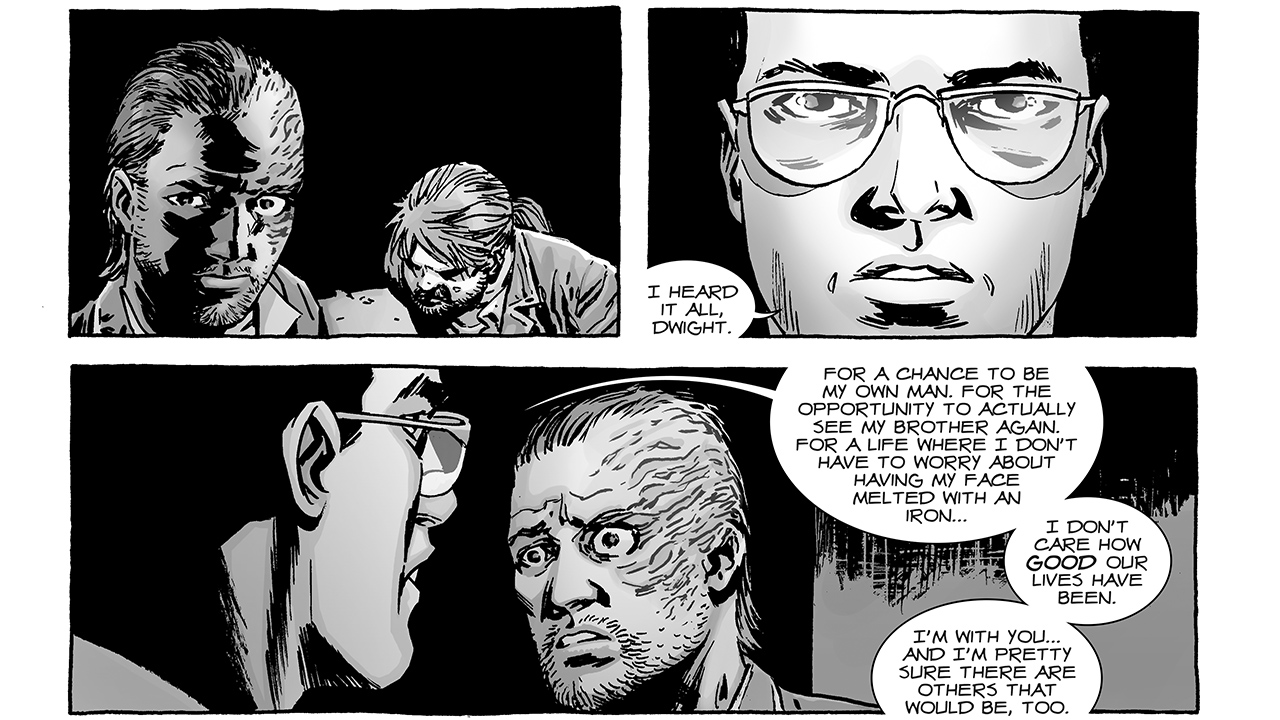 In the show, Eugene is NOT a prisoner but Dwight DOES try to recruit him to his cause. Unfortunately for him, Eugene doubles down as a Savior and promises to stay at The Sanctuary to save people from the walkers. He tells Dwight he'll keep his secret IF he agrees not to hurt anyone in The Sanctuary. Also in the show – Dr. Carson doesn't overhear their conversation like he does in the comics, but he DOES inform Eugene of Father Gabriel's worsening condition.
---
"I Believe In Rick Grimes"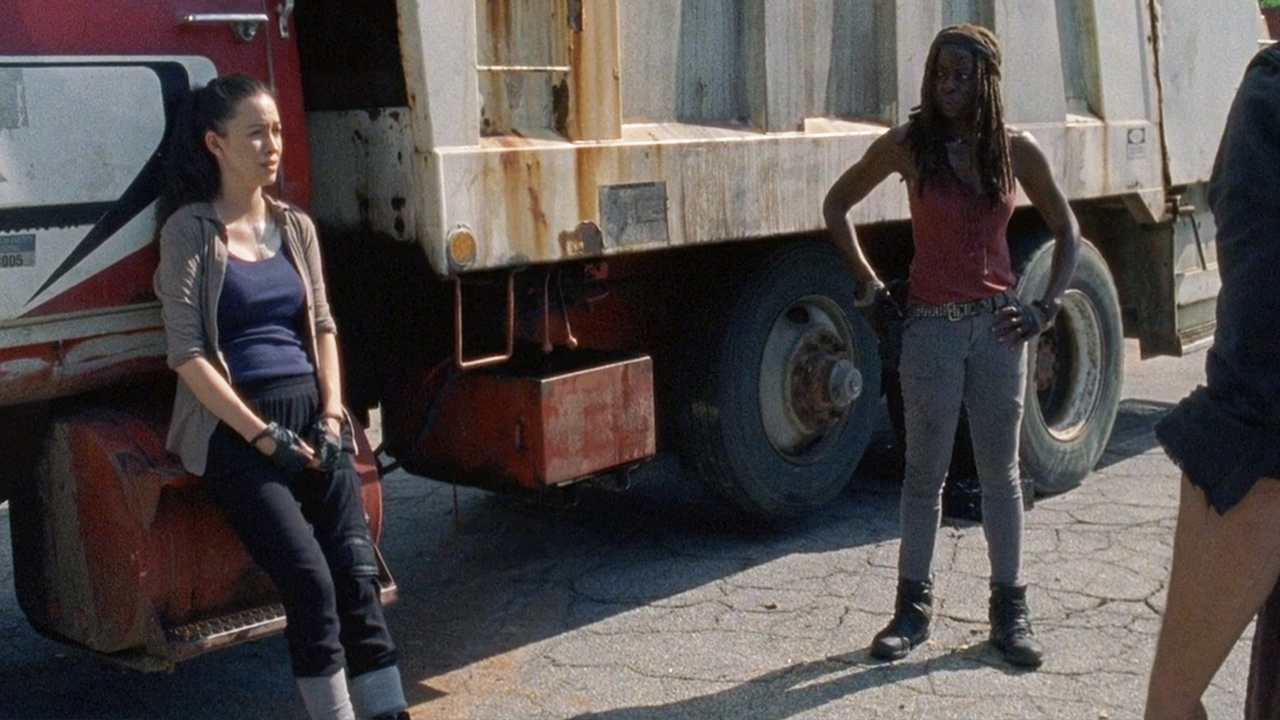 In a blink-and-you-miss-it moment from the episode, Rosita affirms "I believe in Rick Grimes" when she defends waiting to attack The Sanctuary while Rick tries convincing The Scavengers to help them. Casually said in the show, this is actually an infamous line from the comics.
In Issue #118 of the comics, Maggie, not Rosita, says "I believe in Rick Grimes" after punching Gregory and delivering an inspiring speech to her people about joining the war. No matter who said it, the line shows that Rick's people are extremely loyal to his cause.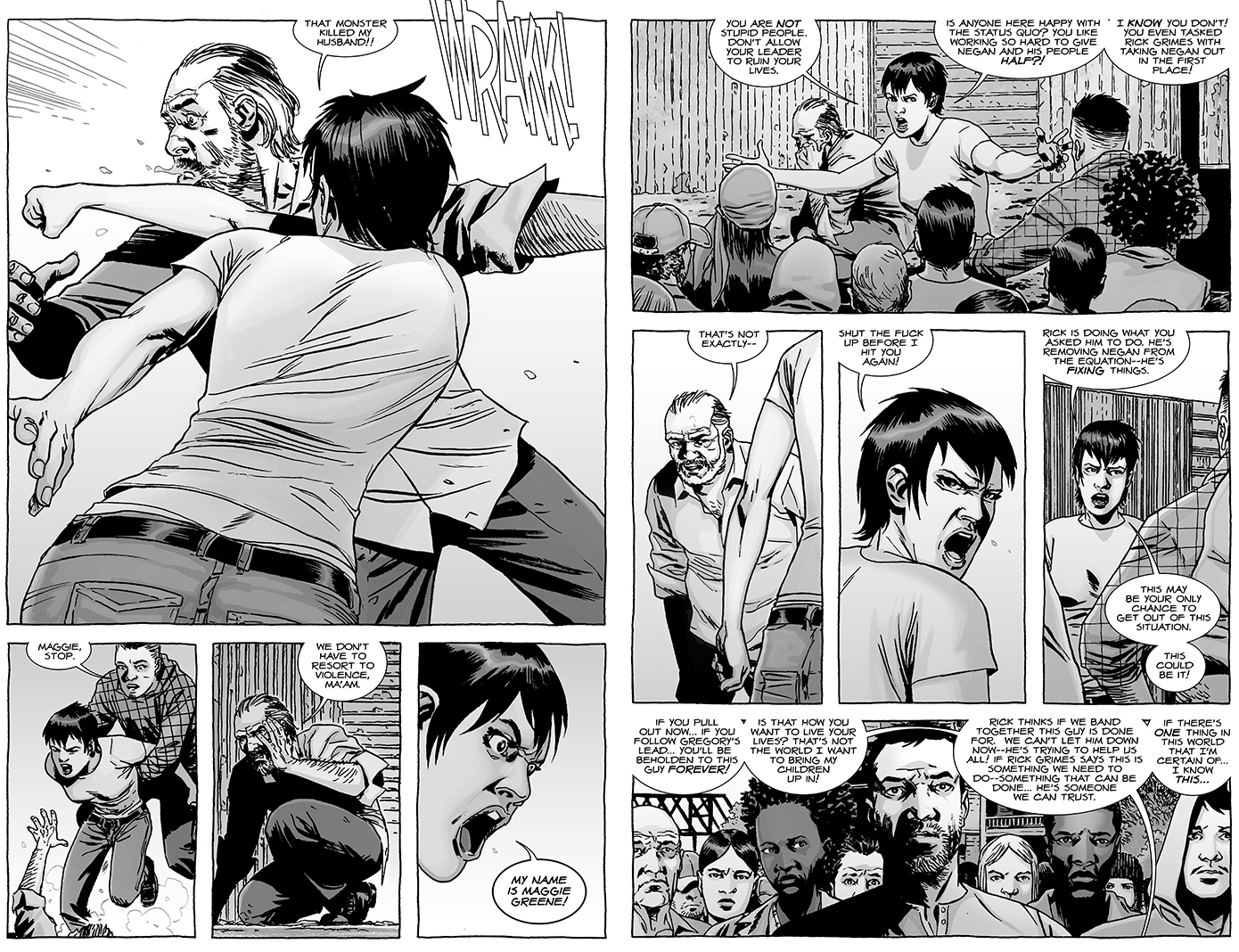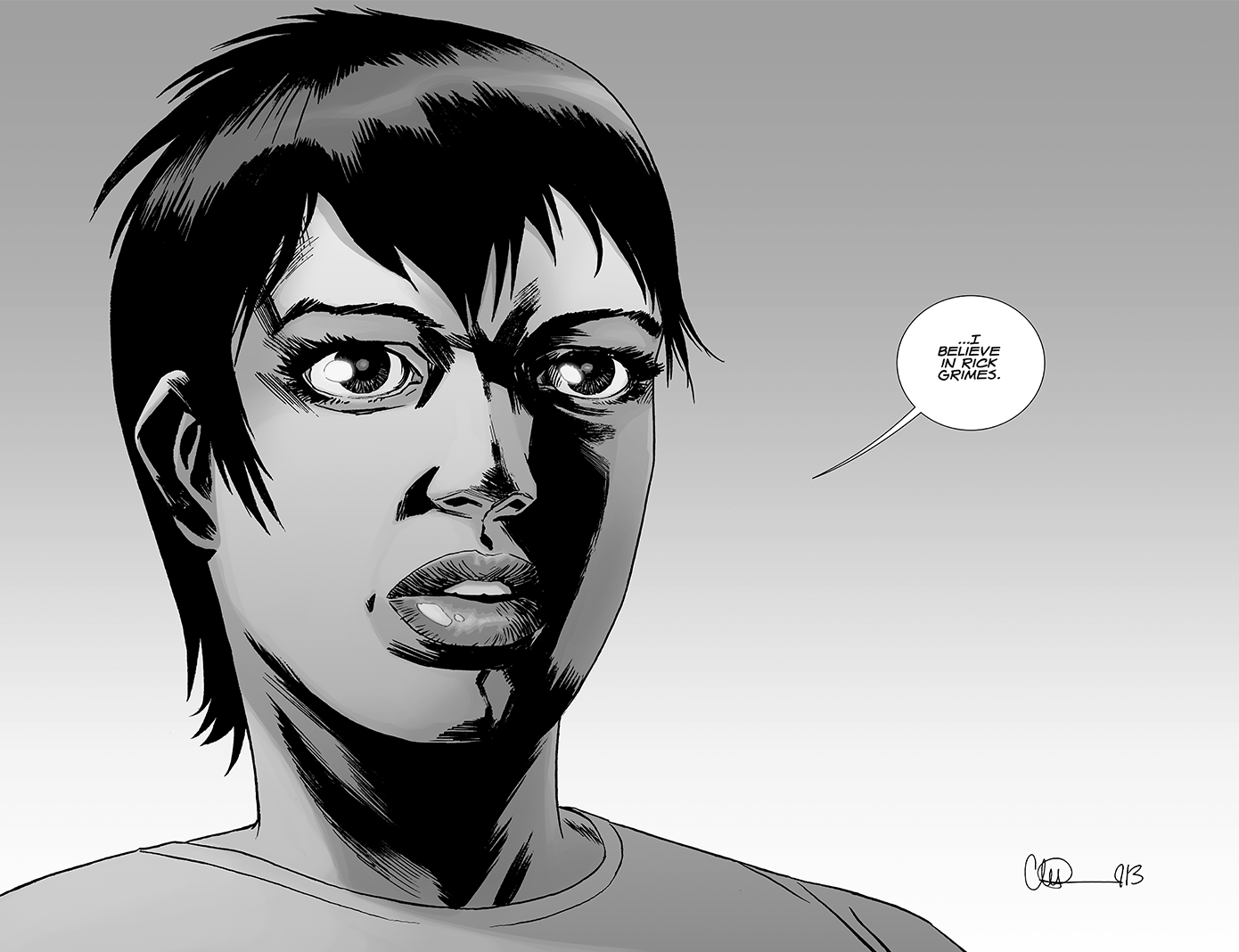 ---
Crashing The Party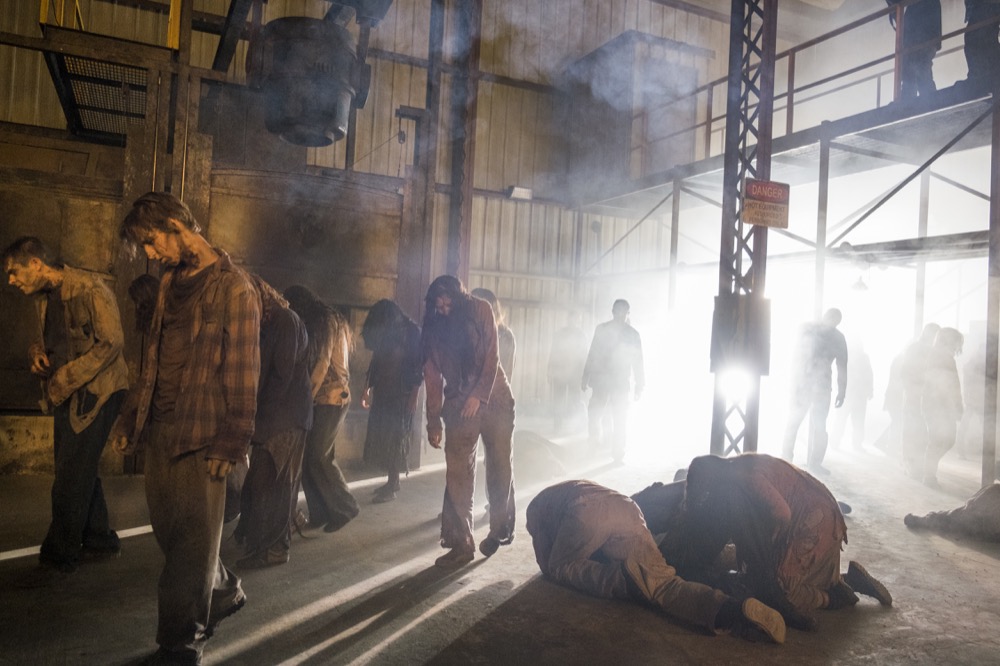 We covered this in our comic/show comparisons for the Season 8 Premiere, but we might as well mention that in the comics a truck also plows into the fence of The Sanctuary. In the show, Daryl puts a cinder block on the gas pedal of a dump truck and jumps out as it plows through the wall of Negan's home.
In Issue #116 of the comics, Holly (Abraham's ex-lover who's looking to avenge his death) plunges a truck through the gate, not the wall, which allows the walkers to surround (but not get inside of) The Sanctuary. She's quickly captured and her storyline mirrors what Sasha went through in Season 7.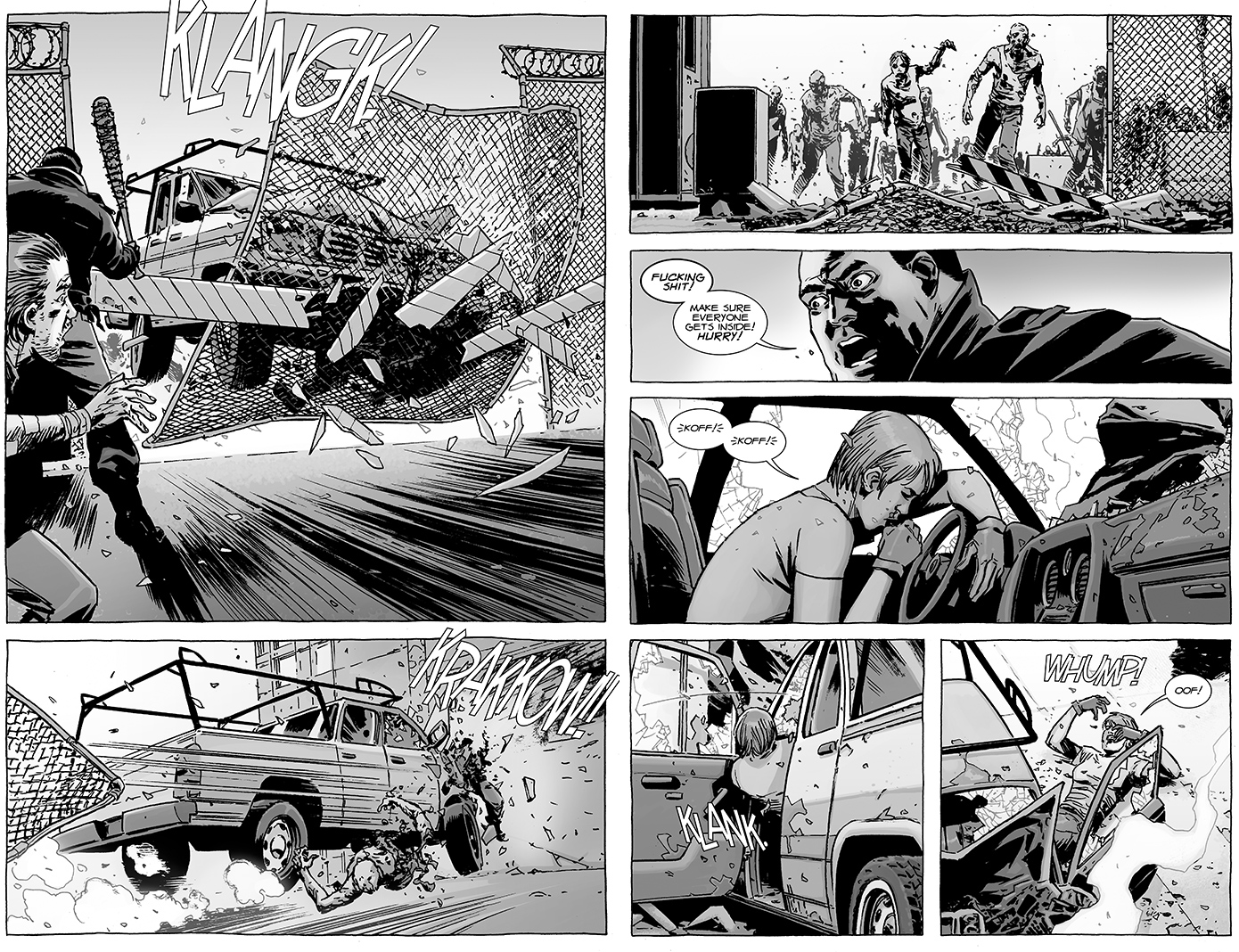 ---
This Hanging Guy Easter Egg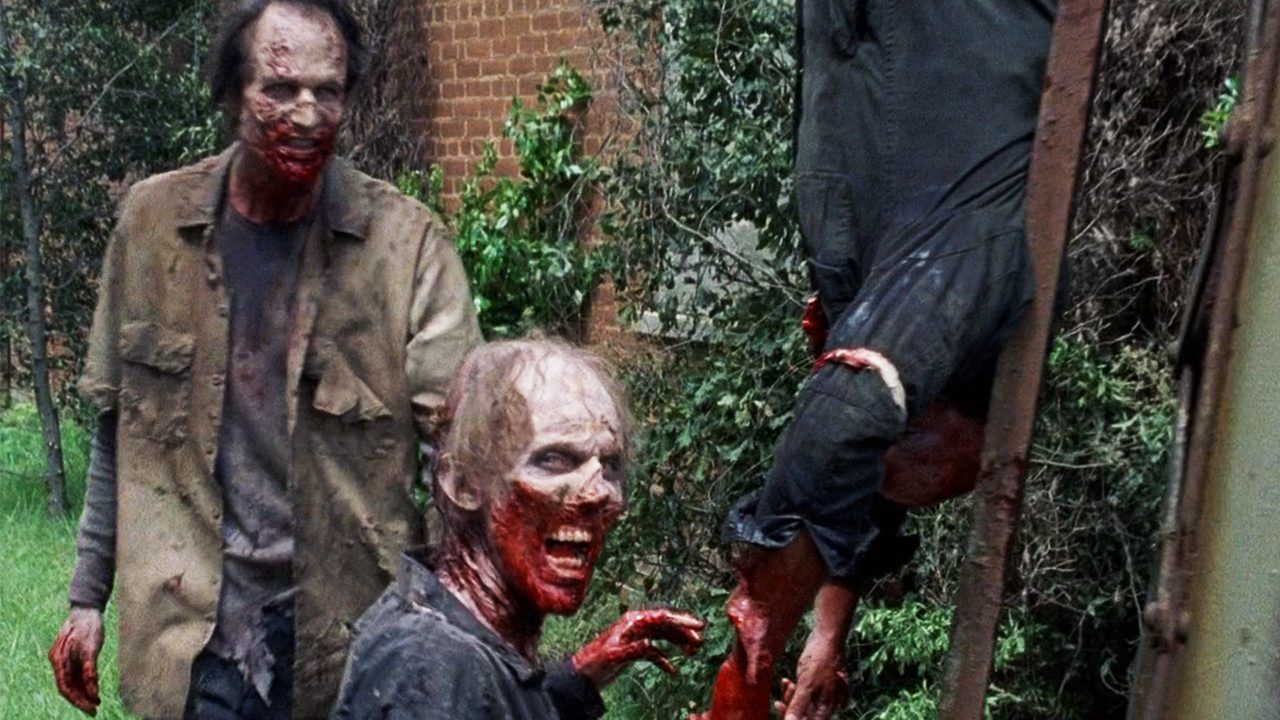 At the end of the episode Rick encounters a man hung upside down from a water tower getting devoured by walkers. This is clearly a nod to Father Gabriel's death in Issue #158 of the comics, when during The Whisperer War he tripped and fell off a water tower, got his leg caught, and was promptly stabbed by Beta and devoured by walkers. Is this an omen?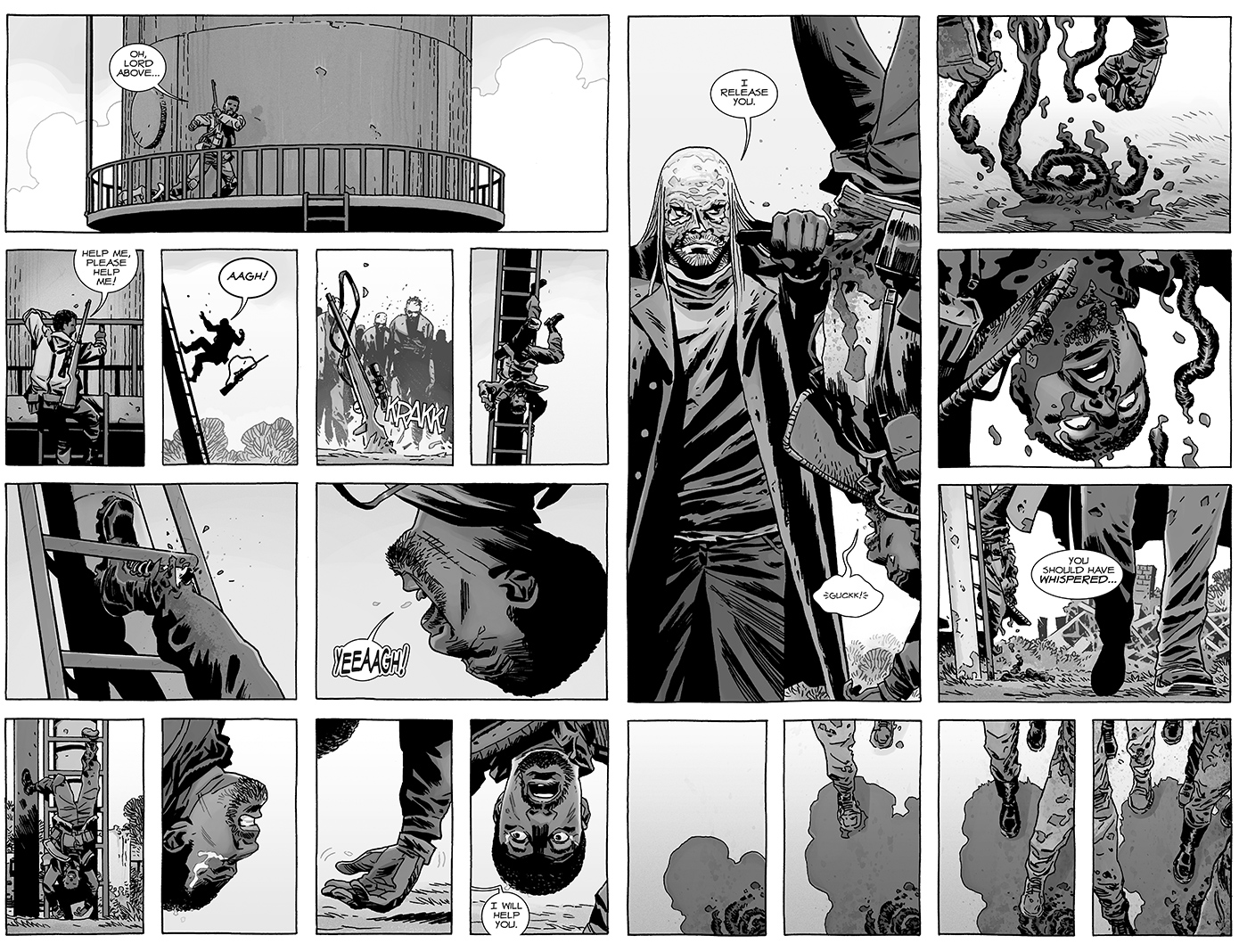 ---
What Didn't Happen
As per usual, several moments from the show did NOT directly translate from the comics. Moments like Rick's imprisonment, Father Gabriel's illness, Eugene's one night stand, and Eugene's iPod plane distraction plan did NOT occur in the comics.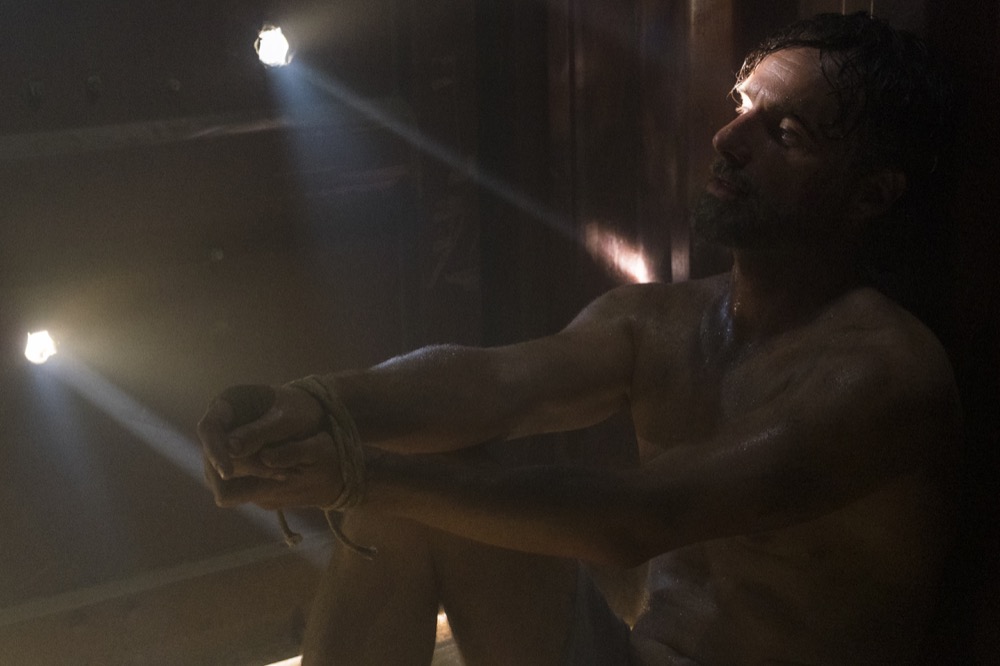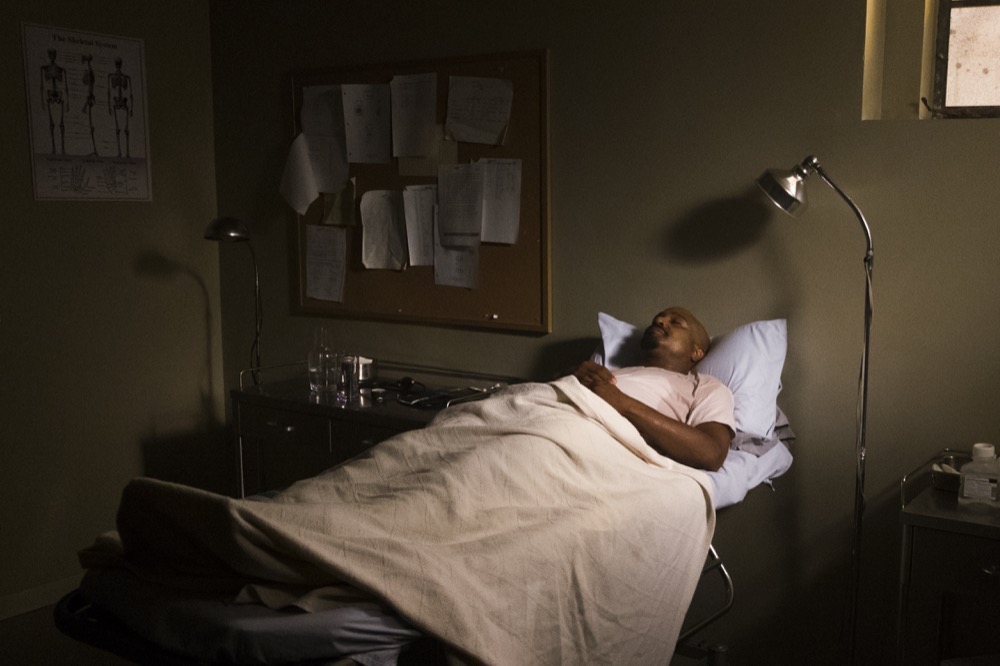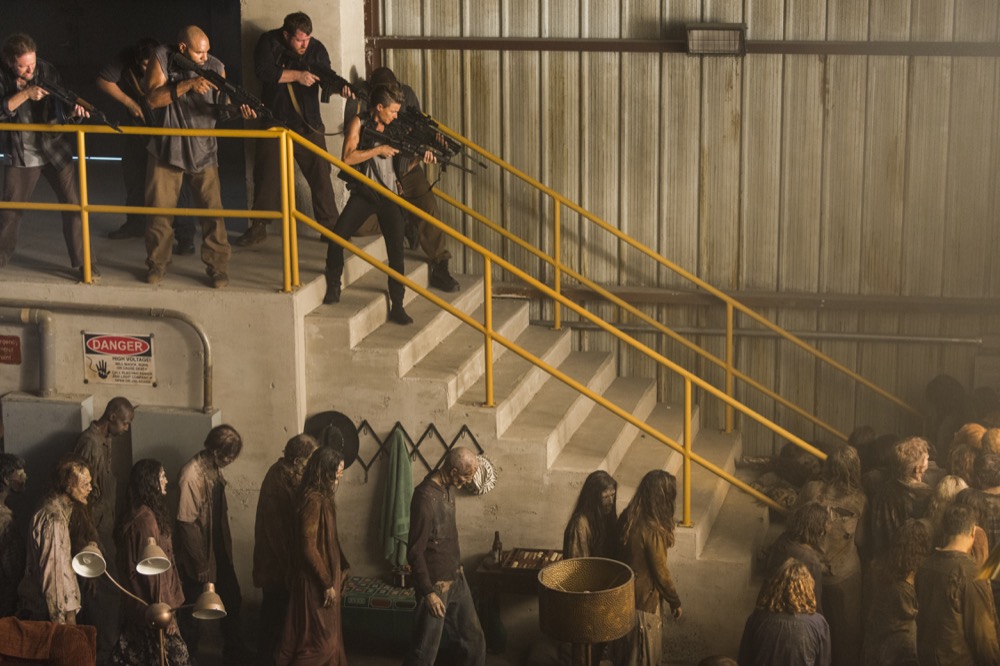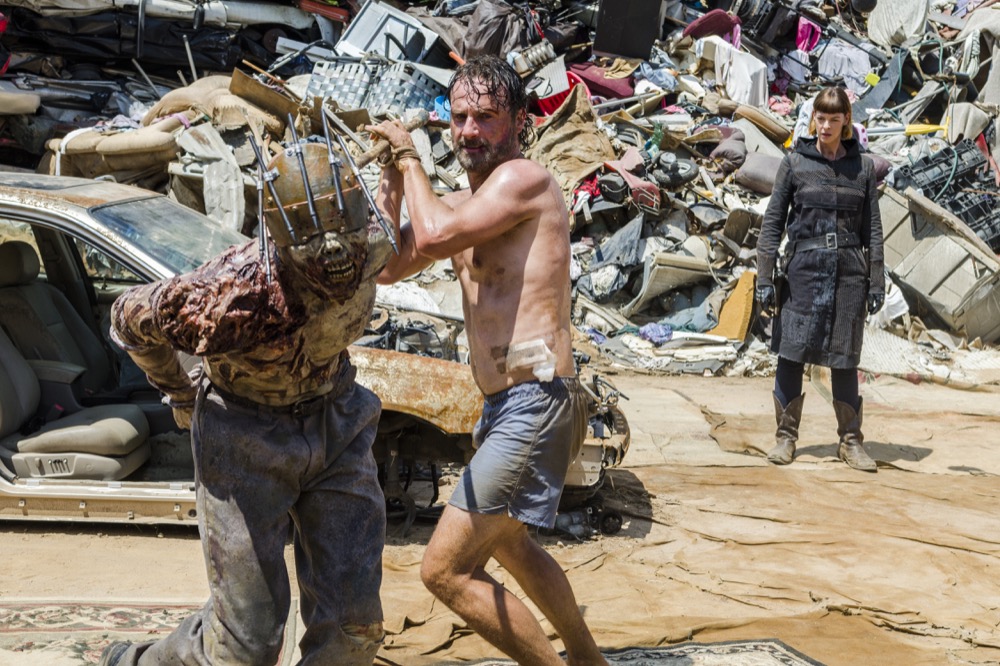 ---
What were your favorite comic/show comparisons? Tell us in the comments!