The Walking Dead's ninth season is currently in production and fans can't wait to see which comic storylines are in store for them this Fall. We asked fans on Twitter to tell us what they were looking forward to and included the most requested ones below. Of course, MAJOR MAJOR MAJOR spoilers for the comics ahead, so if you haven't read and/or don't want to be spoiled then turn back now and pick up the comics! Now, let's jump in.
---
The Whisperers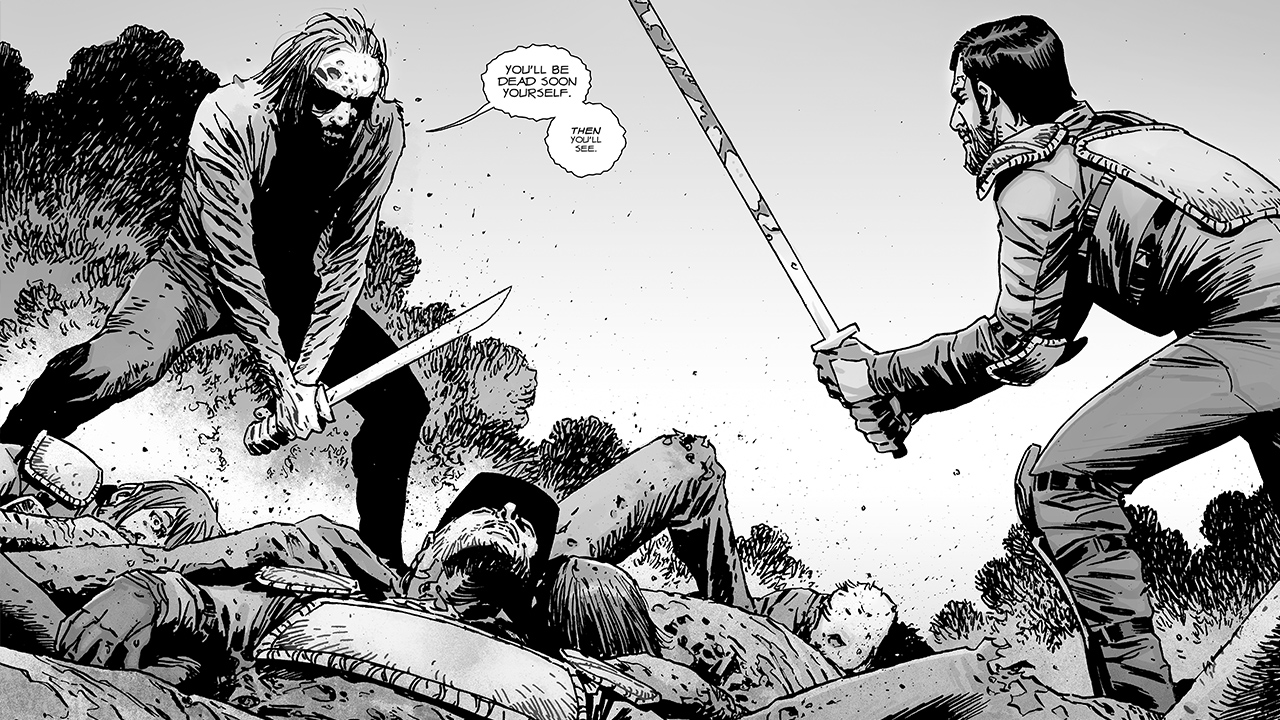 the whisperers! since they were first introduced in the comics I've been itching to see them live-action ?

— Justine ?? (@DawnOfJustine) May 9, 2018
— J⊗E ? (@DoomJX) May 8, 2018
THE WHISPERERS!!!

— Evan Floyd (@GamingNerd577) May 8, 2018
Ah yes, the most anticipated comic storyline most likely to be told in Season 9. Some context: first teased in Issue #130, the Whisperers are a massive villainous group who wear human skin over their own to blend in with the walkers. Since they travel so closely with the undead, The Whisperers communicate (you guessed it) by whispering. They're led by Alpha, a fearless woman who causes ALL the trouble when some of Rick's group accidentally encounter/attack her people outside of the border.
Although some fans have speculated the show will skip The Whisperers and jump straight to the current New World Order storyline in the comics, there's plenty of evidence suggesting otherwise. Scott Gimple, for example, told TV Line that The Whisperers are "absolutely on the menu" for Season 9. In fact, some even believe The Whisperers were teased in the Season 8 Finale. Whether they were or weren't, it should be the most exciting thing to look forward ahead of Season 9.
(Story: Have we already been introduced to The Commonwealth's New World Order from the Comics?)
(Story: Pollyanna McIntosh Addresses Rumors That Jadis Is Secretly Alpha From The Comics)
---
Lydia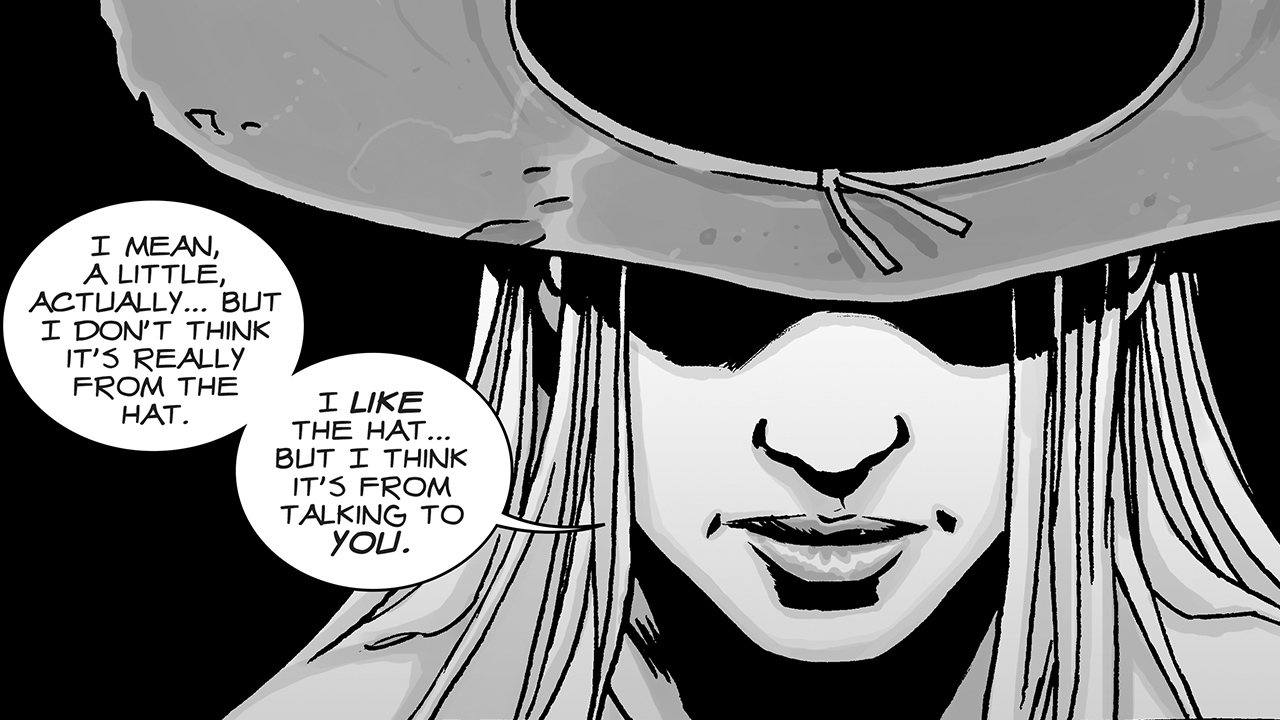 Praying we see Lydia! Or some variation of her seeing as Carl is gone now…

— Jack (@GroupOfGamers) May 8, 2018
Speaking of Alpha – did we mention she had a daughter named Lydia? In the comics Lydia kills some of Rick's people but gets captured and imprisoned at the Hilltop. She's a lot more reasonable than her mother, and eventually forms a relationship with Carl and is freed. In fact, it's that relationship that makes fans wonder if or how she'll fit into the show with Carl gone. Some fans have speculated that Enid could be Lydia, but since we've had flashbacks of her parents dying it's more fitting that she's a version of comic Sophia, if anything.
---
Prison Negan
The Whisperers, obviously. But I hope they do it right. And I absolutely must see Negan in prison pulling the strings behind the scenes manipulating Rick and then helping out. That's a must! No World Order though, it's too recent in the comics. Leave that story to be told there.

— Chris (@BeardedFish927) May 8, 2018
In the Season 8 Finale Rick and Michonne assure Negan he would spend the rest of his days rotting in a cell. This comes straight from the comics, which jumps ahead a few years after All Out War. After the time jump, we see Negan still in jail…with a beard…and still sassy as ever. Fans shouldn't worry about not getting prison Negan in Season 9 – after all Rick said it would happen (and JDM has been growing his beard out like crazy recently – see below).
As boring as caged-up Negan sounds, the situation actually produces solid storylines between him and a number of characters. It's unfortunate we won't get those great Carl and Negan bonding moments, but you can be rest assured Negan still have plenty of story to tell.
---
Maggie's Baby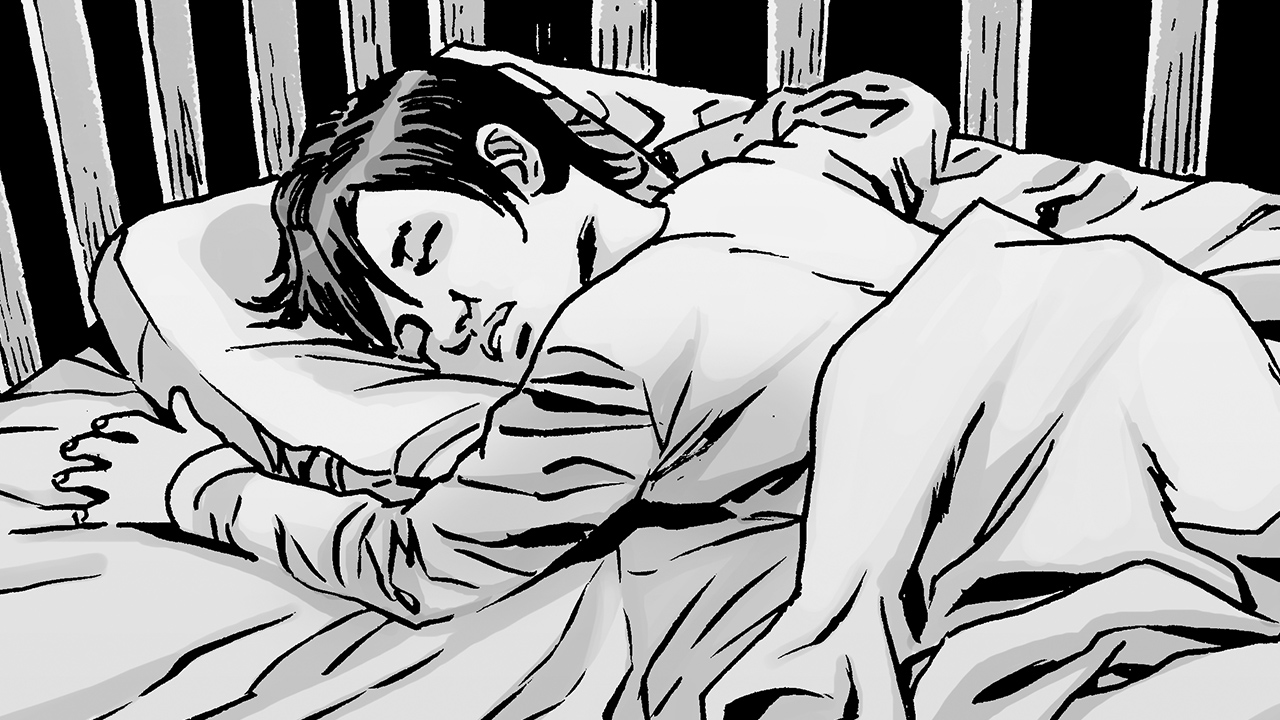 Maggie has her baby

— ??MaryTheItalianBartender?? (@MiaMaryMarBear) May 9, 2018
Will Maggie finally have her baby in Season 9? If they take cues from the comics and jump ahead a bit after Season 8, then yes. If not, then treat it like Groundhog's Day and prepare for another three seasons before baby Hershel is born.
---
Gregory's Mutiny
Whisperers obviously ("There were whispers and I was afraid" up to the pikes), plus I would like to see Gregory's attempted mutiny on Maggie

— NickGrimes (@NickEllard) May 8, 2018
As if running the Hilltop and being a new mom in a zombie apocalypse wasn't difficult enough, (in the comics) Maggie had to deal with Gregory's "secret" plan to kill her. Although the show tends to change comic storylines, it wouldn't be surprising to see Gregory, who was in a cage last time we saw him, concoct a plan to overthrow the Hilltop's new leader. However, in the comics it didn't end so well for Greg…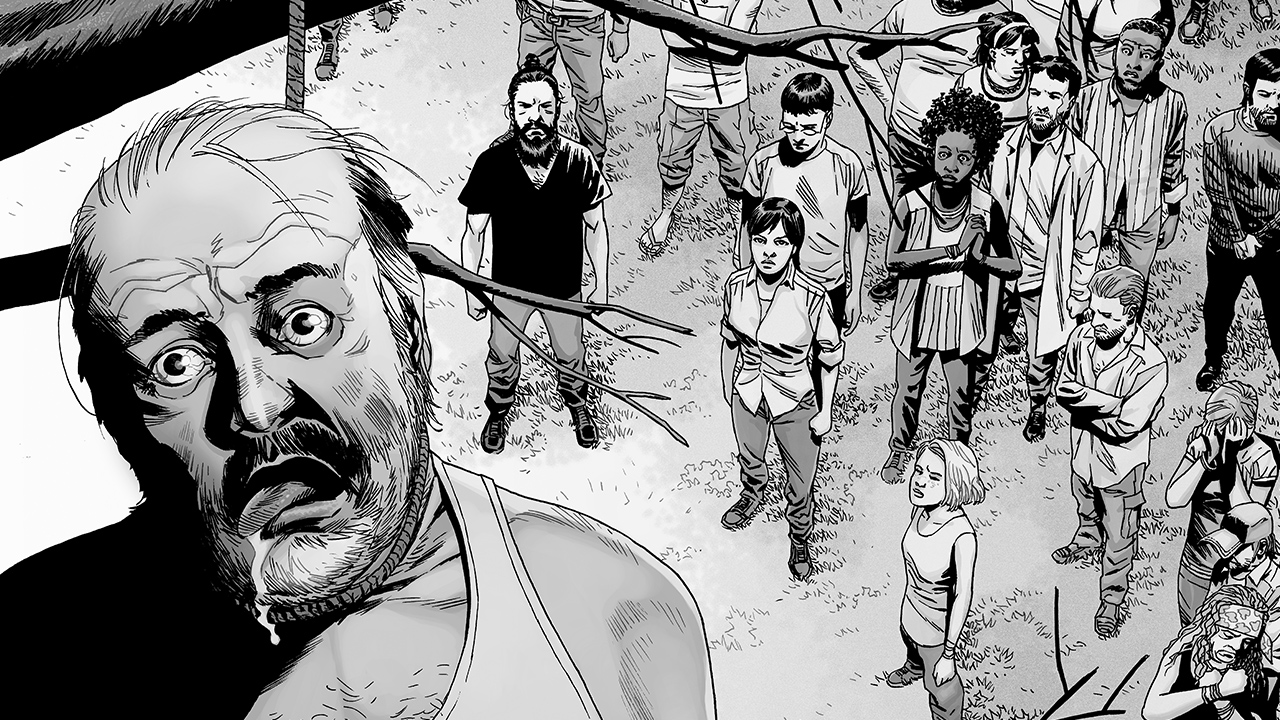 ---
Bullies vs Karma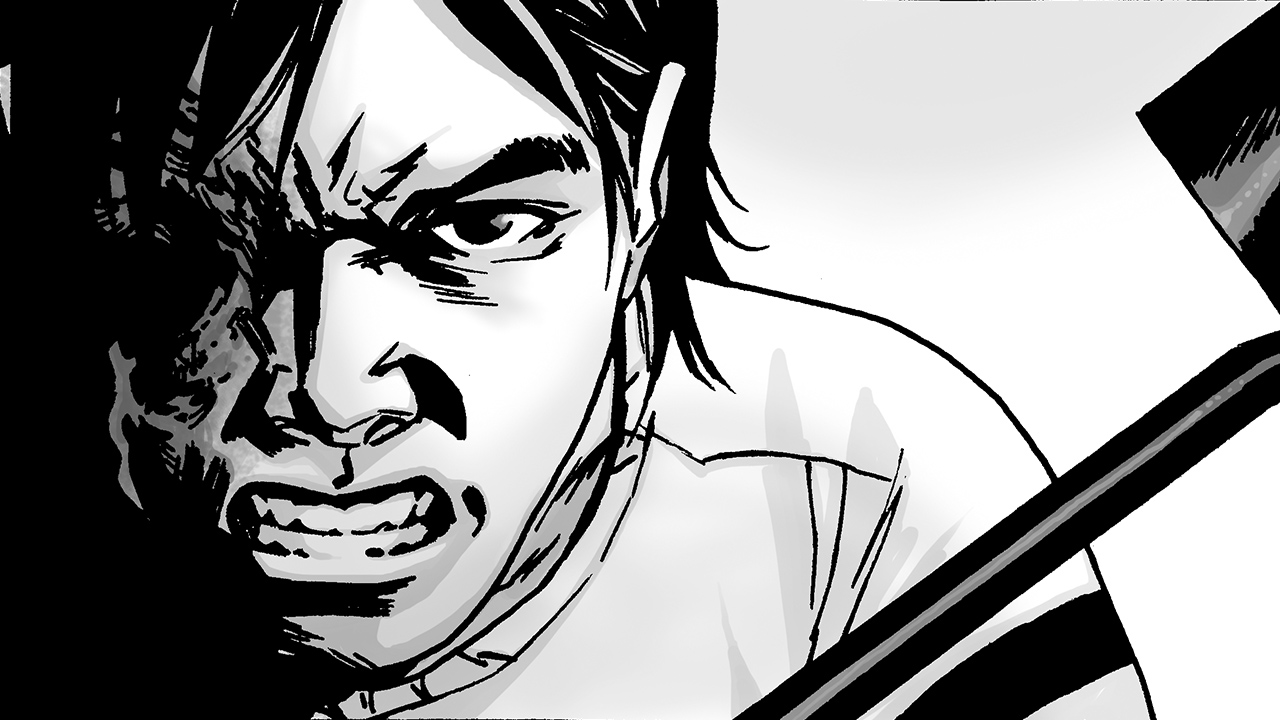 — Alex? (@AlDee95) May 8, 2018
This story involves two characters who are dead in the show – but we'll quickly review it anyway because of its implications. After the time jump in the comics, Carl moves from Alexandria to the Hilltop where he notices Sophia (yes, that Sophia) is getting bullied by some of the town kids. After Carl intervenes, the kids later bash Carl in the head with a brick, beat up Sophia, and then Carl beats the kids nearly to death with a shovel. The kids' parents, Tammy and Morton, blame Carl for the whole ordeal and Maggie forces Carl to stay in a cell overnight (where he meets Lydia).
Maggie quickly takes Carl's side, leading Tammy and Morton to join forces with Gregory in the soon-to-be-failed plot to kill Maggie (it all comes full circle!) Even though Carl and Sophia are both dead in the show, it doesn't mean a similar situation won't play out with other characters – or more likely the elements of this comic story will lead to something else.
---
Aaron and Jesus' Relationship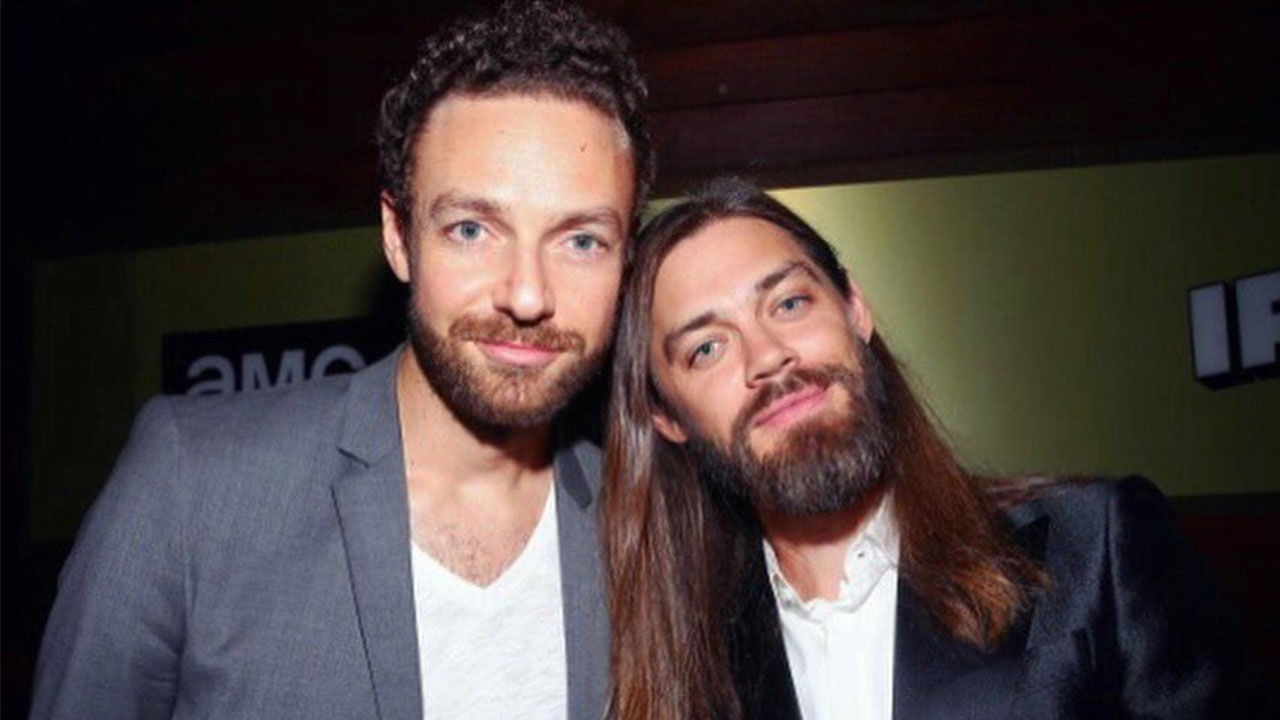 AARON AND JESUS!!!! AARON AND JESUS!!!! @RossMarquand @justanactor

— Annie Melcher (@melcheran) May 9, 2018
Jesus and Aaron were one of the ultimate 'will they, won't they' couples in The Walking Dead comics. Although they're FINALLY together in the current issues, we could still be very far away from a relationship if the comic and show storylines match up. But never say never.
---
The Walking Dead's Red Wedding
— Julian Cannon?@Wizard World Philly 2018 (@julianexcalibur) May 8, 2018
This was by the far the most shocking moment in The Walking Dead comics after Glenn's death. As we mentioned, Alpha and her massive army of Whisperers had a LOT of beef with Rick and his group in the comics (and holding her daughter Lydia prisoner didn't help). So to prove her dominance, Alpha kills and decapitates a dozen members from Alexandria, Hilltop, Kingdom, and Sanctuary – leaving their heads on spikes at the border.
It's the inciting incident that leads to The Whisperer War, but we don't have to get into that now. If this heads on spikes moment happens in the show, then some of your favorites just might be on the chopping block.
---
More of Negan's Backstory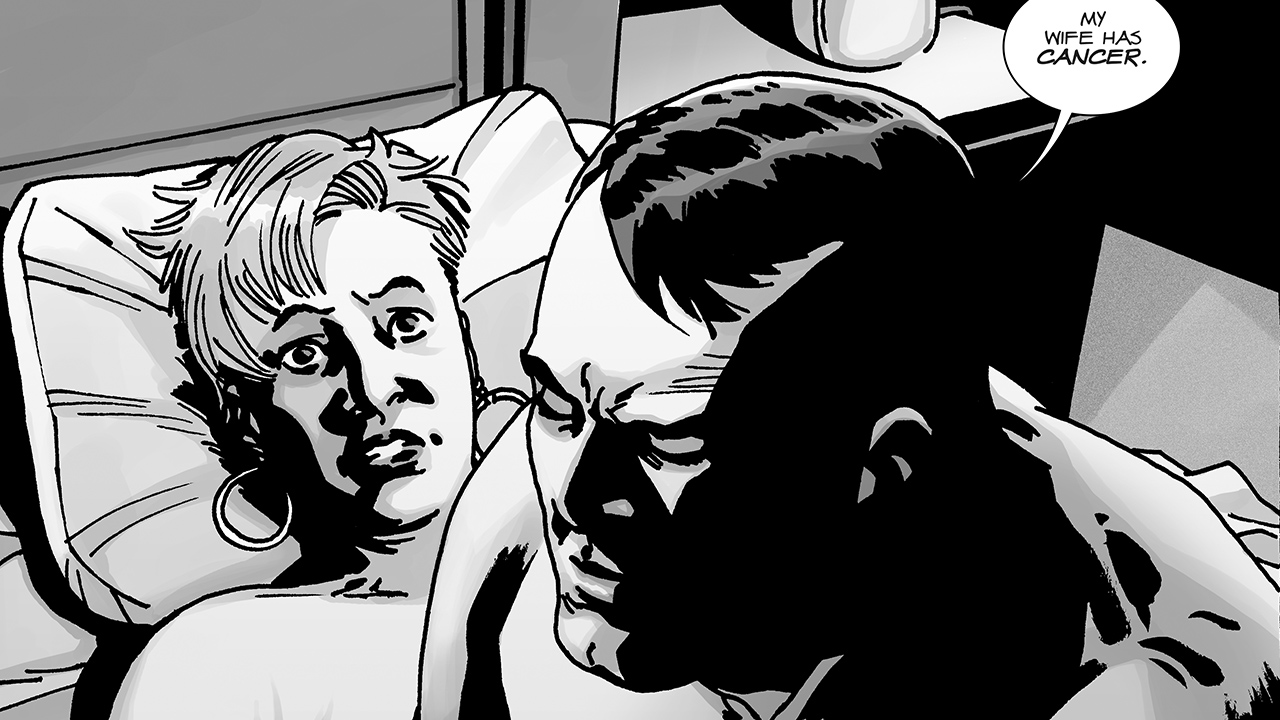 #HereComesNegan ? pic.twitter.com/D4ZVupjzVT

— Negan`s Goddamn Mizzy ♥ (Miz) (@LurkingJack) May 9, 2018
Negan alluded to his past twice in Season 8 – and that past seemed to mirror the one told in Robert Kirkman's canonical series "Here's Negan" (which you can get here). Although we've only heard brief mentions of his wife, Negan could have a lot more backstory to tell in the show.
---
And The Biggest Longshot…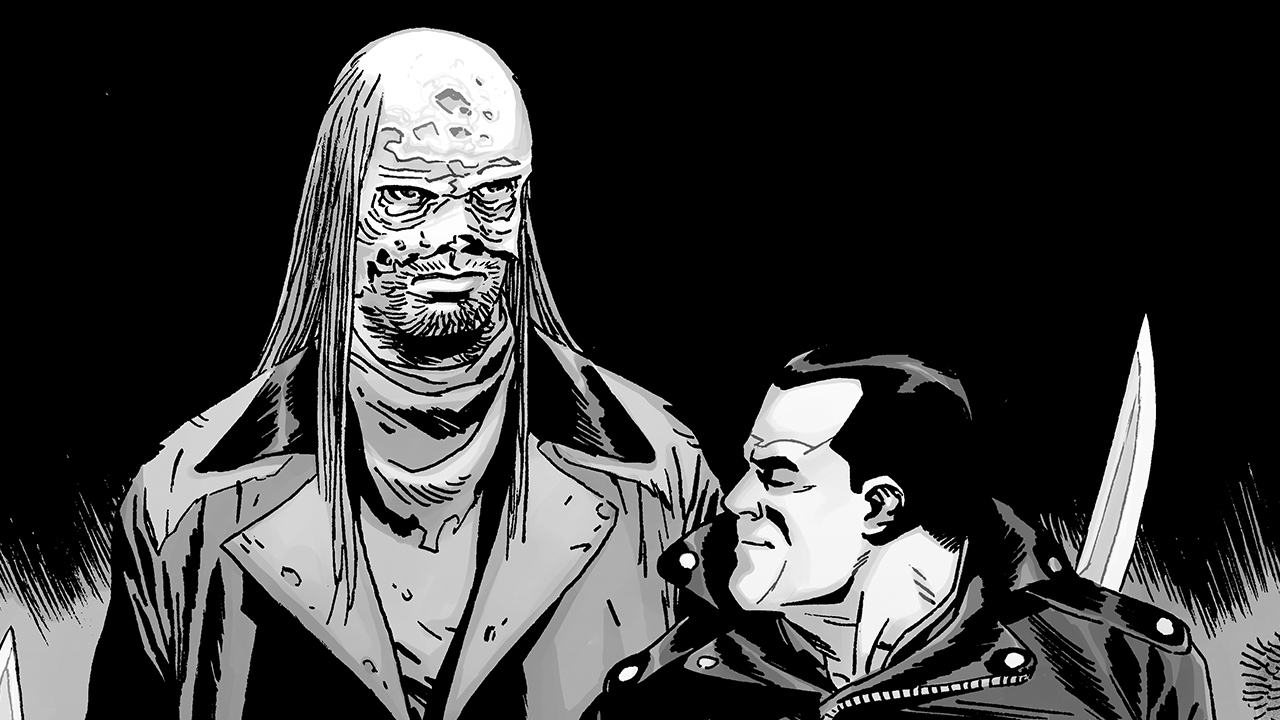 — Darknook (@DarkNookShop) May 8, 2018
Grab your tin foil hat folks – it's conspiracy time. Some fans speculate that Madison from Fear the Walking Dead will somehow eventually become Whisperer leader Alpha (which would make Alicia Lydia?). Although Alpha's past is murky, it would be shocking if Madison ended up controlling a massive army of skin-wearing followers. Plus, we still have yet to see her in the present storyline (maybe she's off shaving her head and recruiting thousands as she marches to Alexandria!) Or…maybe Alpha is just someone else. Time will tell!
---
That wraps up all the major comic storylines fans hope to see in The Walking Dead Season 9. Of course, we only grazed the surface and we ABSOLUTELY recommend you read the comics. But for those who have read them, which storylines do you hope to see this season? For those who haven't – where do you hope the story goes? Let us know that and more in the comments!