The grind leading up to SDCC continues! In fact, we're so busy that I'm going to get out of my own way and go straight to the posts from this week. Some pretty cool stuff!
People had been asking for MONTHS for our SDCC* offerings. And now we've announced them! This won't be all, either! Expect new shirts as well!
---
Speaking of the new merch, our first spotlight is on the new Michonne figure from McFarlane! I have a pair already and love them!
---
The Walking Dead Issue #143 came out! Fans are loving it and THAT ENDING! Wow. Issue #144 can'at get here fast enough. Join our discussion before next Wednesday and maybe you'll win our offering of BANG! Walking Dead editions!
---
Curious about the new BANG! Walking Dead sets that you could win in that Discussion post? Convenient because we tell you about them AND we have them in our online shop.
---
AMC released new Walking Dead key art to promote their presence at SDCC. What do you make of it? Design-wise it very clearly splits the group. Hmmm…
---
The always amazing and friendly Michael Cudlitz took fans on around the Season 6 set and joked around with all the actors. And Reedus plants a giant smooch on Danai. Yowza! Norman being Norman, I suppose.
---
A new FEAR clip came out! I think this is our first scene that we're seeing in full (well, almost, there is more to the scene). Who would ever believe that dead bodies are coming back to life and eating people?
---
The ALSO always amazing and friendly Christian Serratos (Rosita) gives an interview where she talks about nailing that Rosita look and her similarities (and differences) with the characters.
---
And last, but certainly not least, The Walker Stalker Con is launching a cruise! This January for three days, from Miami to Nassau, you can party with, take pictures with, attend panels with, and get sunburnt with actors and talent from The Walking Dead. This is amazing! We work with The Walker Stalkers a lot and this is going to be amazing. They love The Walking Dead and they REALLY love TWD Fandom! Should be a blast.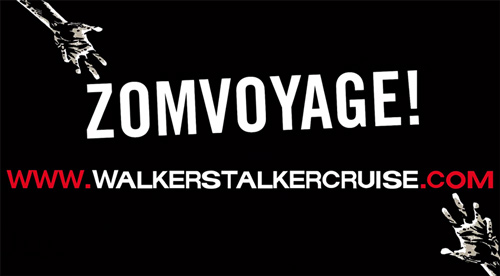 *International Comic-Con, San Diego, if you want the FULL name. Ain't no one got time for that.