We were supposed to announce this at WonderCon this weekend, but after a technical SNAFU it was published to "Public" instead of "Unlisted" on our YouTube account and then some subscribers saw it and… now it's out there.
So now we get to announce a little early that Skybound is producing THE WALKING DEAD KIDS! We wanted something that our younger fans could enjoy and by sheer coincidence AMC was looking for a AAA title to help launch its Saturday Morning kids' programming block called AMChildren. We then hooked up with the geniuses at Kajja Animation in South Korea and after many months of story writing (all by Robert Kirkman, who cut his teeth writing All-Ages with Super Dinosaur) and character designs by cartoonist Howie Noel, we are (almost) ready to give you your first look. We're still waiting on the finished promo but since it leaked already (and you can't put the toothpaste back in the tube), here is the temp promo! Please keep in mind that the sound effects and music are not final.
Yup, Clementine (from Telltale's The Walking Dead) will be joining our band of misfits! Obviously with Zed the Undead Canine in the mix this will be a very non-serious addition to the TWD catalog and we're really looking forward to not being slaves to canon and making Saturday mornings fun again! It will take about 6-9 months for Kajja to bank a season's worth of episodes so look for The Walking Dead Kids to air next year following the Season 6 finale, Saturday, April 1, 2016!
Here's some promo art for your desktop: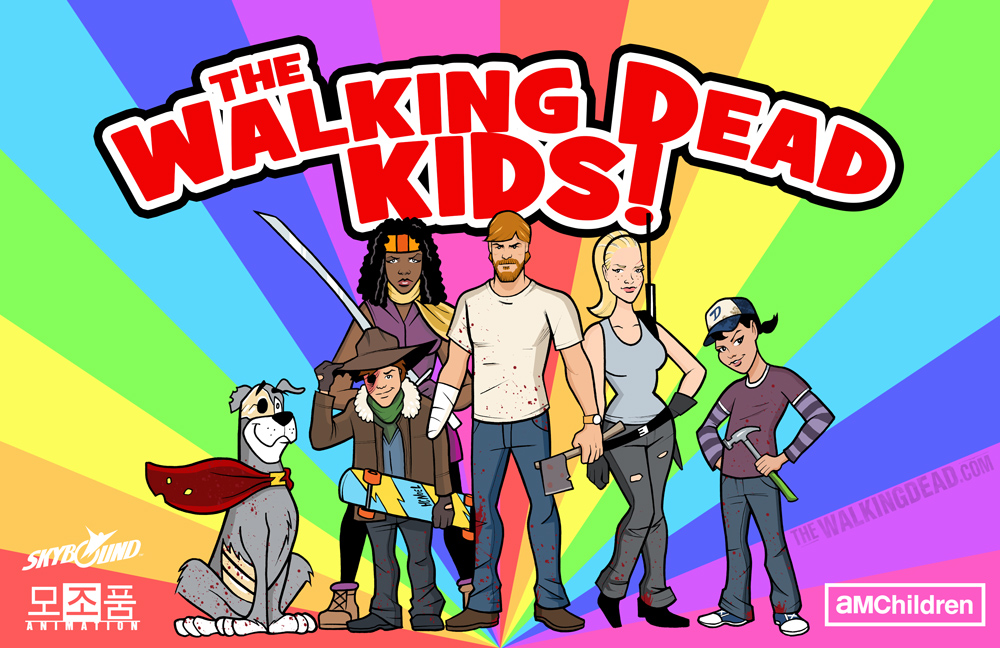 And click here to DL it in super giganto size!
What do you guys think?! Let us know in the comments!
APRIL 2ND UPDATE
Well, obviously this was an April Fool's Day prank. And approximately no one bought it, but that's ok. I'd like think the point of April Fool's Day is more just to have a little chuckle. So hopefully you enjoyed it. We've updated the embed with a more official end-cap. Hopefully you'll subscribe to our channel and watch some of our other videos.
Oh, and if you haven't checked out the Closed Captions on the Walking Dead Kids video, you should. I even updated them for the new version. 😉