It's new comic book day! Issue 124 is out (and the super awesome Dead Body Road #4)! We wanted to do something a little different today for our LOCAL COMIC SHOP love, so we asked new TWD.com contributor Alex Wilson to write a piece on retailers for us. Here's Alex: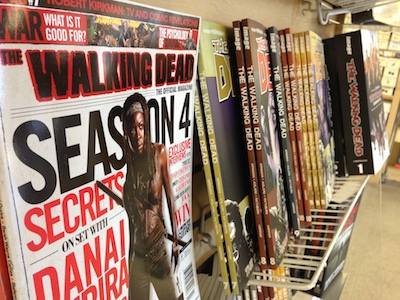 Traditional bookstores seem to be closing everyday. Huge retail chains such as Borders have closed their doors forever. Stores like Blockbuster have shut down shop because fewer and fewer people were willing to leave their homes to rent movies and DVDs. Why go to Borders to pick up an author's new novel when you can simply order it from Amazon, usually at a cheaper discounted price? Digital media holds a tight grip around most entertainment and media industries now with businesses like Netflix allowing people to have movies right at home and devices like Kindles and Nooks giving people the option to take their stories anywhere.
This trend seems to have hit a standstill in the comic book industry, though. We aren't seeing droves of local comic book shops closing their doors as their customers favor digital downloads instead of print copies of their favorite monthly comics. These local shops don't only supply the comic books fans desire. They also house a community, a space to gather in many cases. People enjoy a weekly trip to the comic book shop to pick the next installment in their favorite story.
Digital sales may hold around 12%, an admittedly hefty chunk, in the comic book world but I feel at a certain point they will be stone walled.
Without these local shops fans would be hard pressed to find venues to interact with other patrons of their fandom. Comic book shops host doodle nights and gaming events for fans to gather and discuss that weeks comic books, movies, and television.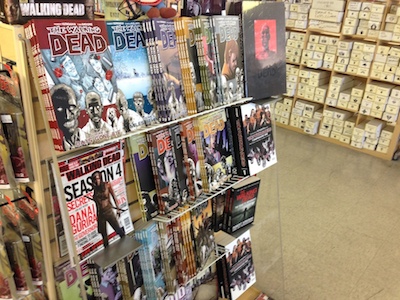 If you walk into Samurai Comics, in Phoenix, Arizona, the staff is more than delighted to discuss what's happening in their favorite comic books and television shows. One of the more notable titles discussed, The Walking Dead, sits front and center in the shop with a display of trade paperbacks, magazines, and fun merchandise fans of the series might be interested in. They have everything from walker statues to zombie head gelatin molds. My first thought was melting down my favorite chocolate and making a giant zombie candy bar.
I chatted with the shop manager, Yvette Arteaga, about The Walking Dead's effect on her shop. She commented about the show bringing those who would not have necessarily frequented comic book shops before watching The Walking Dead on AMC. People come into her shop after seeing and reading The Walking Dead to find out what else their shop have to offer.
"Do you have something else that's in Image that's weird and creepy and, you know, with a little more substance that has to do with real people instead of superheroes all the time?" said Yvette, imitating customers.
Traditional superhero comic books read more like soap operas than action packed adventure stories. Characters die and come back ever few months, stories become a bit preposterous, and every romantic pairing imaginable is explored. Books from Image and other independent publishers have started to realize these traditional comic book formats don't hold the same grandiose appeal on the imagination of readers as they used to. Independent books like The Walking Dead have taken over the comic book world because they tell stories that haven't been told before, show worlds in different lights, and don't follow traditional story structures. I feel people love The Walking Dead for the same reason they love shows like Game of Thrones, no one is same.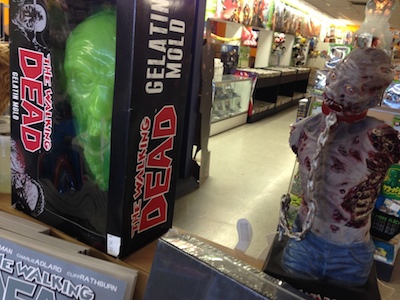 I then asker Arteaga why she thinks The Walking Dead resonates with so many people, inside and outside of what would be considered stereotypical comic book fans.
"Besides the fact that it's horror, it actually taps into human nature like 'what would you do?' A lot of people didn't think of this show as being successful because they were saying 'oh, how is a zombie show going to work?' Well it's not a zombie show. It's about people in an apocalyptic setting with no rules, no laws. You basically have to use your own morality to judge and what are you going to do? I think that opens up a new criteria of readers coming into the shop."
Comic books, years and years ago, targeted children as their key demographic. Now the readers have grown up but still stick to the story telling medium of their youth. This has forced comic books to grow with its readers, to give them adult stories. The Walking Dead garners acclaim and success not only because of its adult story, though. This series forces readers to think deeper than many other zombie stories, especially when it first hit the shelves all those years ago.