Hey guys! It's new comic book day! Not only is The Walking Dead Volume 20 in shops NOW, we've also got Clone #15 and Invincible Universe #11 out!!! Head on over to our mothership, Skybound.com for the details.
And this week we want to start doing something new: from time-to-time we're going to spotlight an LCS (local comic shop) and their TWD setup! Your local comic shop isn't just a place that has whatever comic you're buying, it's a place to get really solid recommendations, to shoot the shit, and check out new comics you might've missed. And the feedback YOU give to your retailer, they pass on to us.
So do us a favor, if you've never been to a comic book shop, just stop by. Check it out. And if you're so inclined ask them where the Skybound comics are. I think you'll like what you see. There are WAY more awesome comics if you're into The Walking Dead, yes MOSTLY from Image and Skybound, but the other guys have one or two good books as well ;).
This week we have Jesse James Comics in Glendale, AZ. They've gone nuts for TWD! If you're a Walking Dead fan and anywhere near Glendale, AZ, you need to stop in and check them out! They're good guys! Here's their set up and more about them: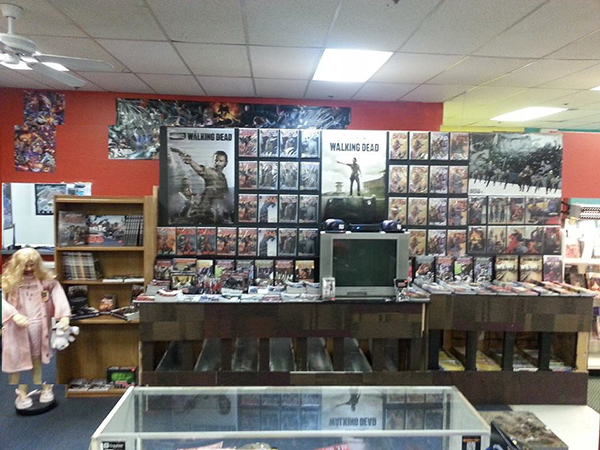 Jesse James Comics LLC, is one of the leaders both in Social Networking and E-commerce sales including its retail 7000 SQ. Brick and Mortar store in Glendale, Arizona. Established August 28th 2009 as a retail comic book store in Glendale, Today it operates 1 full line store, 3 Express stores in Avondale, Phoenix, and Chandler Arizona. Additionally announcements of new Express stores in Denver, Colorado, Des Moines, Iowa, Kansas City, Missouri, and Omaha Nebraska in the next couple of months. Jesse James Comics serves customers through its online presence on its highly rated Ebay store and its Brick and Mortar store including its Express stores in the state of Arizona and now the new opening of it Brick and Mortar store in Las Vegas, NV.