It's that time of year when you need to start thinking about what the hell to get your dad! But fear not! We're here for you, looking out for the dads of the world:
Under $15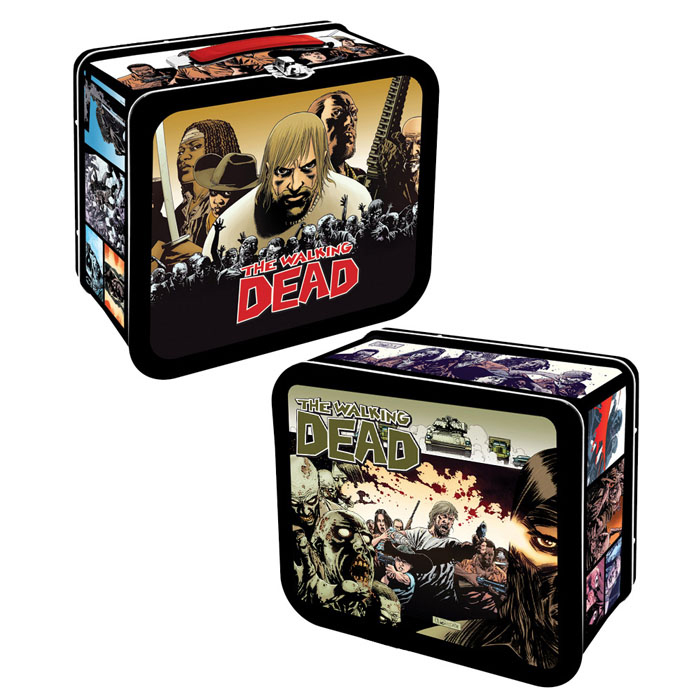 The Walking Dead collectible lunch boxes are a great Father's Day gift! Featuring 6 sides of awesome action for only $15.00. Two designs available!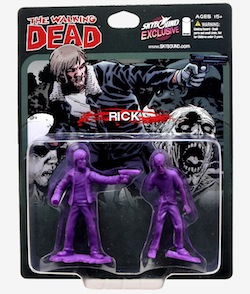 Our PVC figures are really cool. We have these custom sculpted right here in LA and it's awesome to watch them come together. We currently have Michonne (with her two pets), Rick, Carl, and Negan. $15.00 each!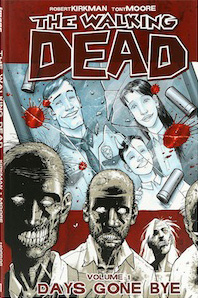 The Walking Dead softcover trades are all on sale for $12 and one of the best and most popular ways to consume The Walking Dead. TWD is traditionally planned out in 6-issue arcs, which are released twice a year in softcover. With our softcover volumes you're not waiting TOO long in between reading.
Under $25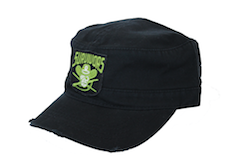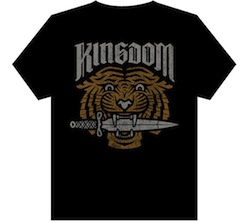 Buy your dad some swag for his favorite TWD faction! 2013 saw the beginning of our ALL OUT WAR storyline in which the four primary factions—The Survivors, The Saviors, The Hilltop, and The Kingdom—go to war. We made both hats ($19.99) and shirts ($19.99) for each faction.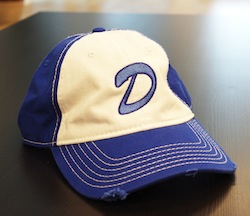 It's the signature hat from everyone's favorite video game survivor in Telltale Games' awesome, award-winning adventure game! Clem's hat is $19.99.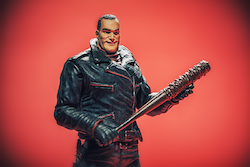 Our exclusive Negan action figure fromMcFarlane Toys. They make an awesome gift for fans of the comic. If you're just a show fan, trust us that you will flip when Negan shows up. He's everyone's favorite bad guy. Available in full color or in B&W edition with red blood splatter. $25.00
Under $50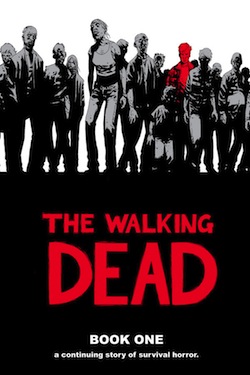 Hardcover editions of The Walking Dead are just $35. Unlike the softcover editions which have 6 issues per, these hardbound editions contain 12 issues each and also have the cover artwork for each issue inside. They make for a little more serious look on a bookshelf. Because comics are serious, people.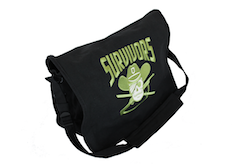 Also part of our ALL OUT WAR Faction line are our new messenger bags. They come in any color you want so long as it's black and have the faction emblem embroidered on them. They look REAL nice. $35.00
The most economical way to read The Walking Dead? Our compendiums. Each one has a whopping 48 issues. No letters, no cover art, just pure, hard-hitting story from front to back. There are currently two compendiums. $50.00 each.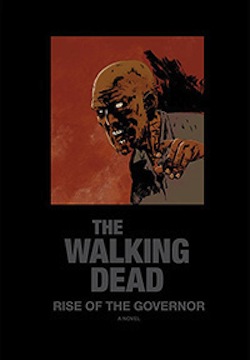 We had a limited number of these slipcase editions made of the Rise of the Governor novel by Robert Kirkman and Jay Bonansinga and then we hoarded them in our warehouse. It's the same great novel in a much prettier package for special occasions like, oh I don't know, Father's Day? This version also contains interstitial artwork from TWD artist Charlie Adlard! $50.00
Under $100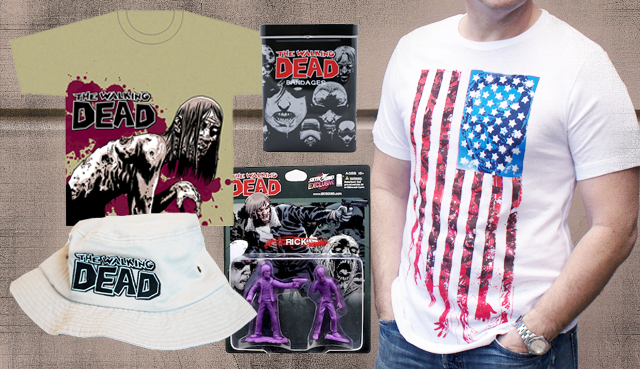 The perfect gift for The Walking Dad: The Father's Day Dad Pack! $80 of merchandise from our store for only $55.00! Includes our new-to-the-shop WALKER shirt, the Walking Dead FLAG shirt, the Dale bucket hat (all dads love bucket hats), the Walking Dead collectable bandages + tin, and a PVC figure of the best dad of TWD… Rick Grimes.

We have a few units of our SDCC-exclusive TWD watch left. These are awesome items that you won't find anywhere else. Each watch case is hand-numbered of a limited edition and sells for $75.00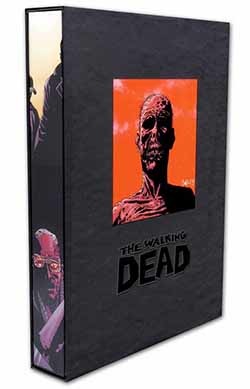 The Walking Dead Omnibus is like the Rolls Royce of Walking Dead consumption. Gorgeous slipcase with minimal artwork, oversize pages that let the reader drink in the detail in the art, and full-cover color galleries. Each Omnibus contains 24 issues of TWD, half of the compendiums. On sale this week for $90.00!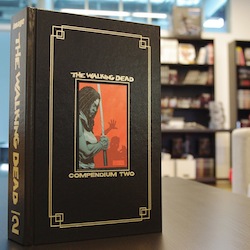 If the Omnibus is a Rolls Royce, then our limited edition hardcover compendiums are the Bentleys of our book versions—well-made, great-looking, exclusive, but still practical. They do not include any extras. Like the softcover compendiums, the hardcovers have 48 issues per book and are on sale for Father's Day for $90.00.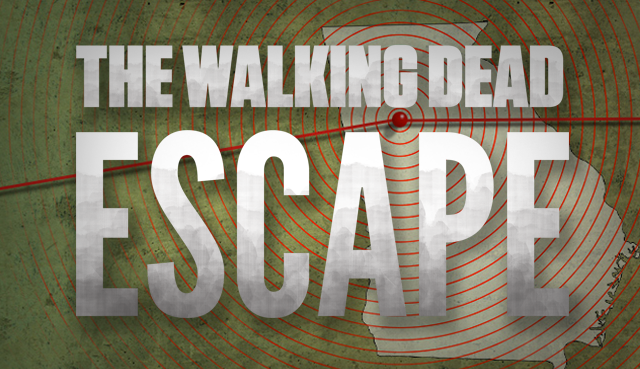 Want an activity you can do with your dad? Take him to The Walking Dead Escape, which is coming to Minneapolis, MN, Hartford, CT, and San Diego, CA in the next two months! Tickets range in price from $20-$150.
The Complete TWD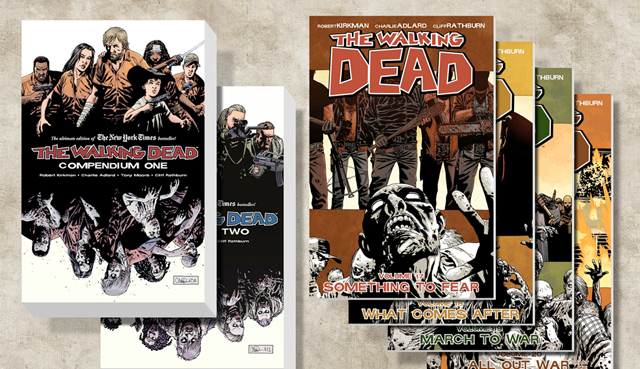 Think your dad would love the comics? Get him completely caught up with The Walking Dead from the very first issue to the most recent story arc! THE COMPLETE TWD bundle is $140.00 and includes two compendiums and every volume after them to keep you up to date, including:
The Walking Dead Compendium One – Issue #1-48
The Walking Dead Compendium Two – Issue #49-96
The Walking Dead Vol. 17: Something to Fear – Issue #97-102
The Walking Dead Vol. 18: What Comes After – Issue #103-108
The Walking Dead Vol. 19: March to War – Issue #109-114
The Walking Dead Vol. 20: All Out War Part One – Issue #115-120
Our shop has WAY more than what's below, make sure you check it out if you're still searching for the perfect gift for dad!