See The Walking Dead comic as never before with THE WALKING DEAD: ALL OUT WAR ARTIST PROOF EDITION. In this 248-page hardcover, Charlie Adlard's raw pencils for the twelve-issue arc are reproduced, uninked and unaltered from how they appear on his artboard.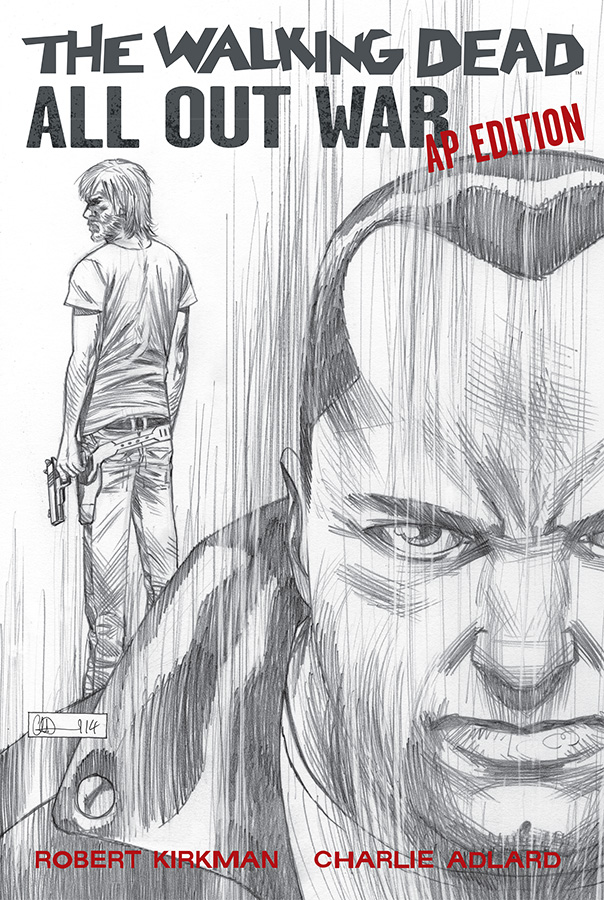 The special edition HC will be in comic book stores on October 1 and in bookstores on October 8. It is available for pre-order now using Diamond order code AUG140613.
Charlie Adlard said of the book, "I've always enjoyed books that show the 'process,' and All Out War certainly does that. Presenting the pencils as they are is an interesting thing, because they were done to show an inker what to do. So, at times, they are rough, fudged, incorrect…etc, but hopefully still provide an insight as to what goes into making a comic book."
Adlard has penciled and inked more than one hundred issues of TWD before inker Stefano Gaudiano was brought onto the art team at the start of the All Out War story arc. All Out War has never before been collected in a single volume, and this edition presents the monumental story in a whole new way.
"And just sometimes it's nice not to have a finished thing," continued Adlard. "To be able to see the little bits of 'magic" occurring in the happy accidents of random pencil marks, which were never intended for anyone other than Stefano to see, where I wasn't caring that it would be seen by a wider audience, makes it all a little bit bolder."
Check out this 4-page preview below!