We've got new solicits coming your way! Our November 2018 books and comic solicits are here for your viewing pleasure. There's our new series OUTER DARKNESS as well as new issues of STELLAR, OUTPOST ZERO, REDNECK and much much more! Also, don't miss some new shirts and pins available at a shop near you soon. Take a peek and let us know in the comments what you're most excited for!
---
OUTER DARKNESS #1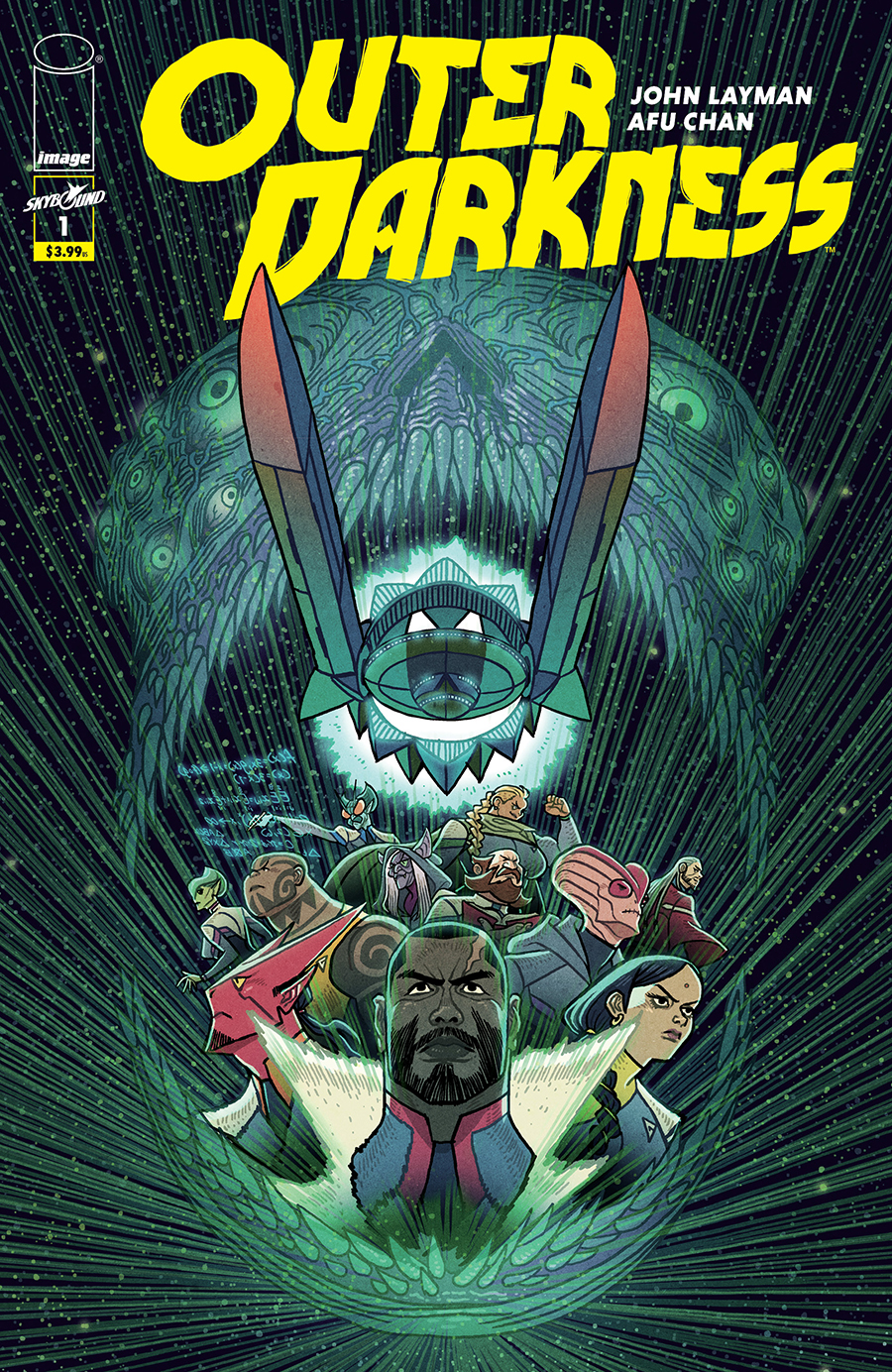 STORY: JOHN LAYMAN
ART/COVER: AFU CHAN
NOVEMBER 14
32 PAGES | Full Color | Mature | $3.99
Sci-fi and horror collide in this new series from the creator of CHEW!
Mankind has colonized the galaxy, but during our interstellar travels, we've discovered a terrifying secret out in the Outer Darkness of space. Join Captain Joshua Rigg and the crew of the starship Charon as they encounter demonic possessions, hauntings, cosmic horror, and more!
All-star writer JOHN LAYMAN (Chew) and artist AFU CHAN (Immortal Iron Fists) are ready to let you know that outer space is terrifying.
---
BIRTHRIGHT #33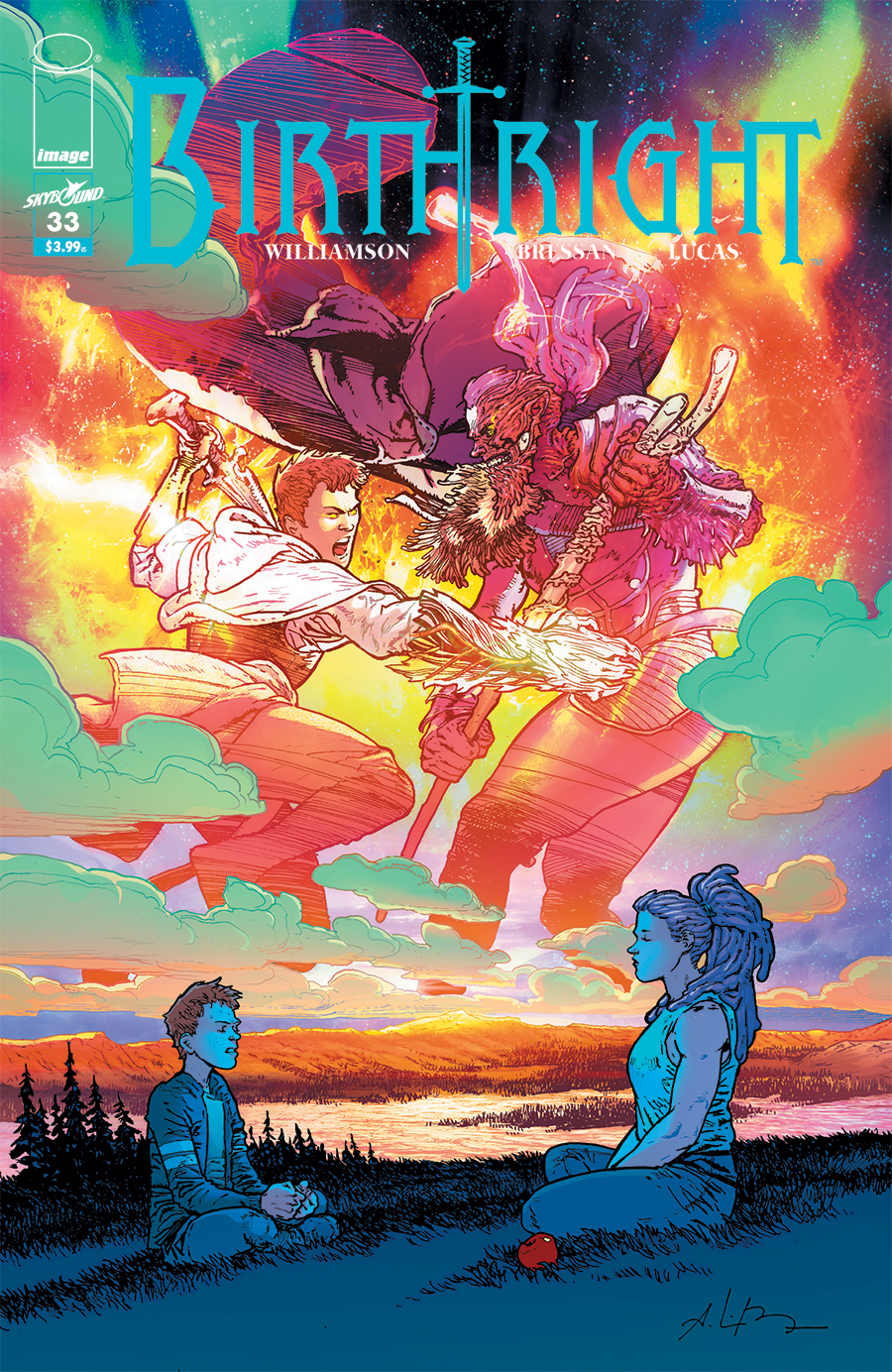 STORY: JOSHUA WILLIAMSON
ART/COVER: ANDREI BRESSAN & ADRIANO LUCAS
NOVEMBER 14
32 PAGES | Full Color | Teen+ | $3.99
Has Brennan turned to the dark side? What are the consequences of magic UNLEASHED on Earth?
---
EVOLUTION #12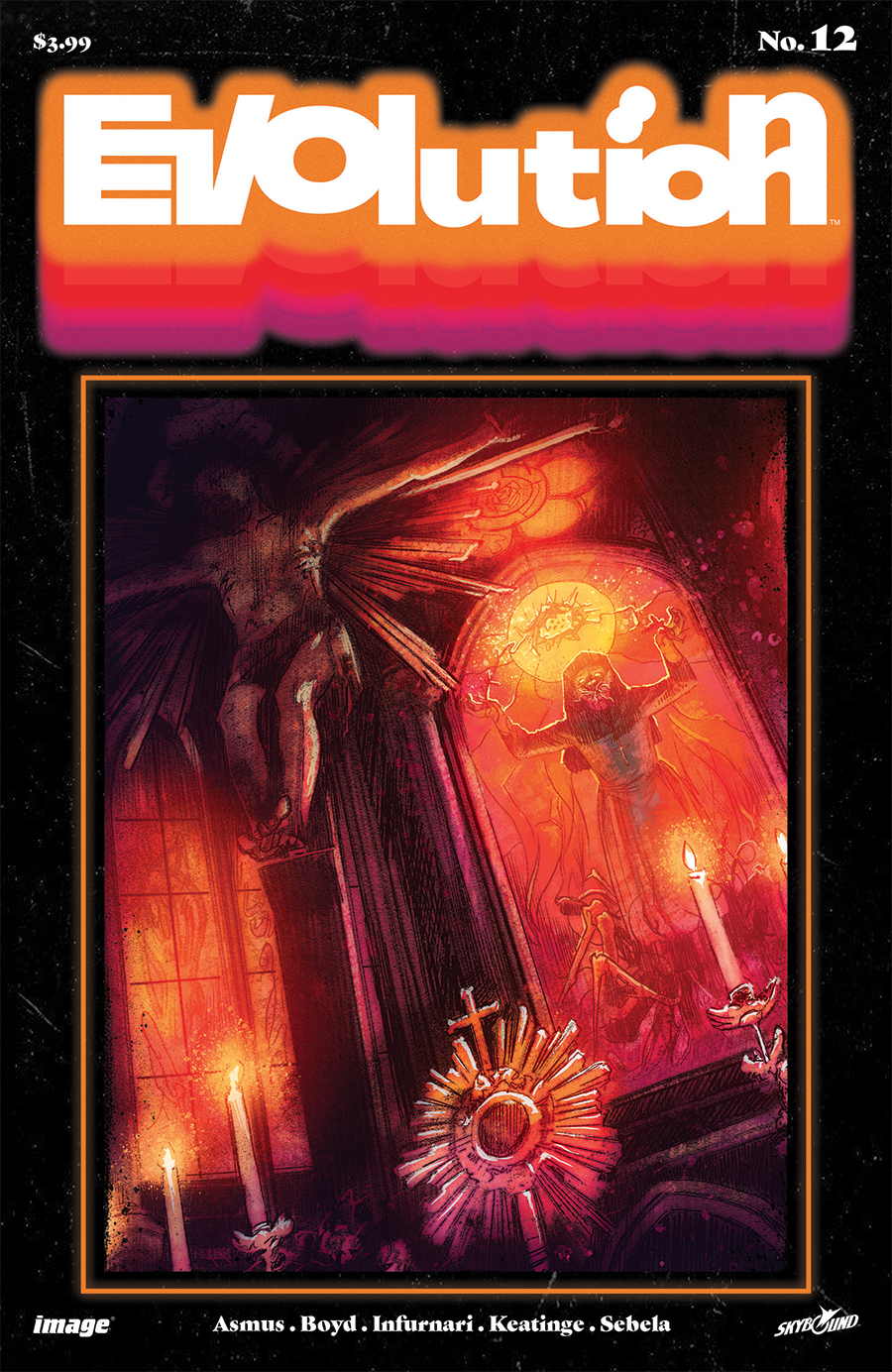 STORY: JAMES ASMUS, JOE KEATINGE & CHRIS SEBELA
ART/COVER: JOE INFURNARI & JORDAN BOYD
NOVEMBER 21
32 PAGES | Full Color | Mature | $3.99
END OF ARC
Kavallis—since issue #1, this cult has made their presence felt in the lives of three strangers across the globe. Now, Kavallis will push them all to the point of no return. What these three choose will affect ALL of humanity.
---
MURDER FALCON #2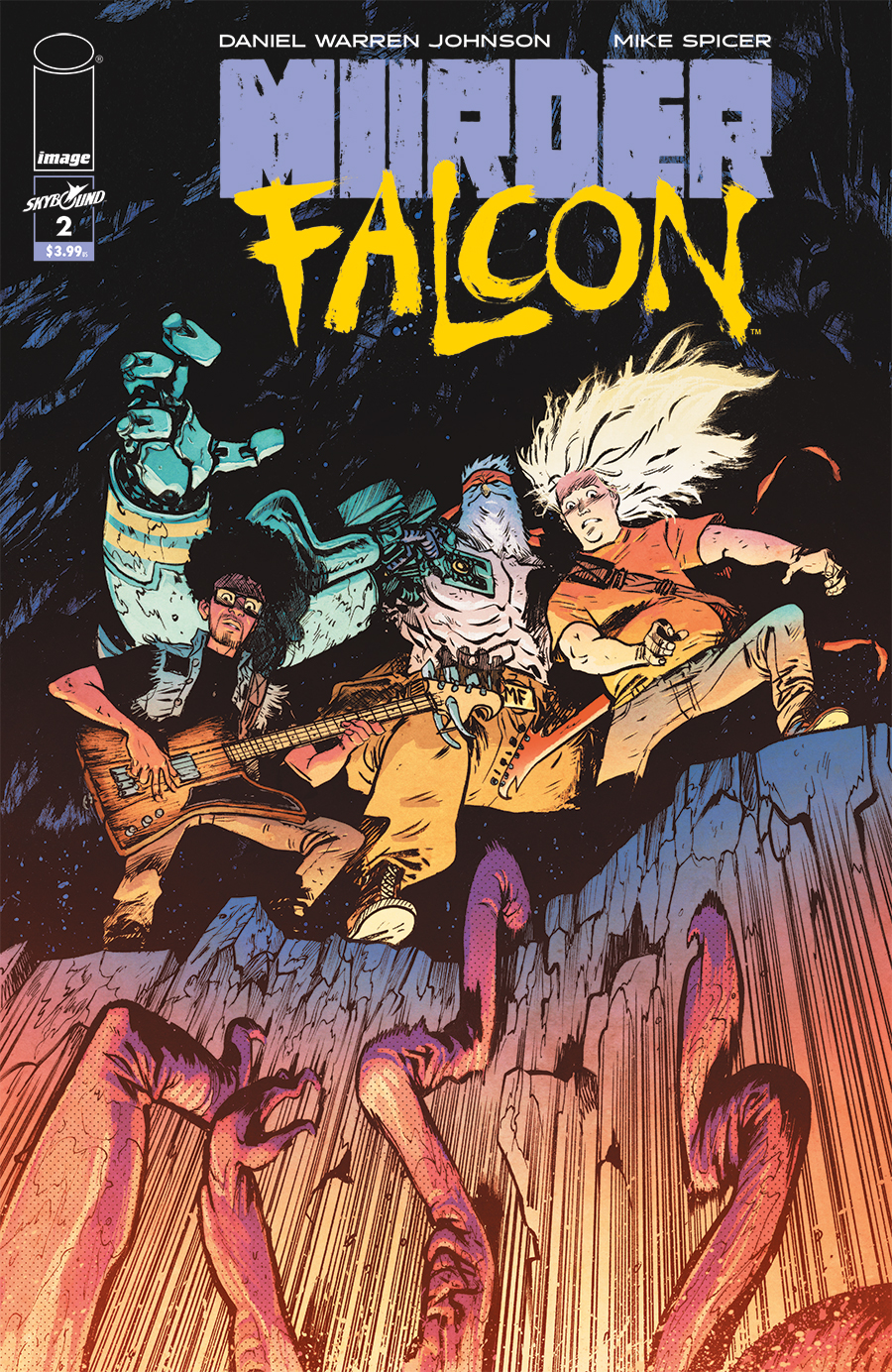 STORY/ART: DANIEL WARREN JOHNSON
COLOR: MIKE SPICER
NOVEMBER 14
32 PAGES | Full Color | Teen | $3.99
Metal doesn't happen with just one man… and neither does saving the world! As monsters attack the city, Jake and Murder Falcon must recruit a bassist to join their fight… luckily, they know a guy.
---
OBLIVION SONG BY KIRKMAN & DE FELICI #9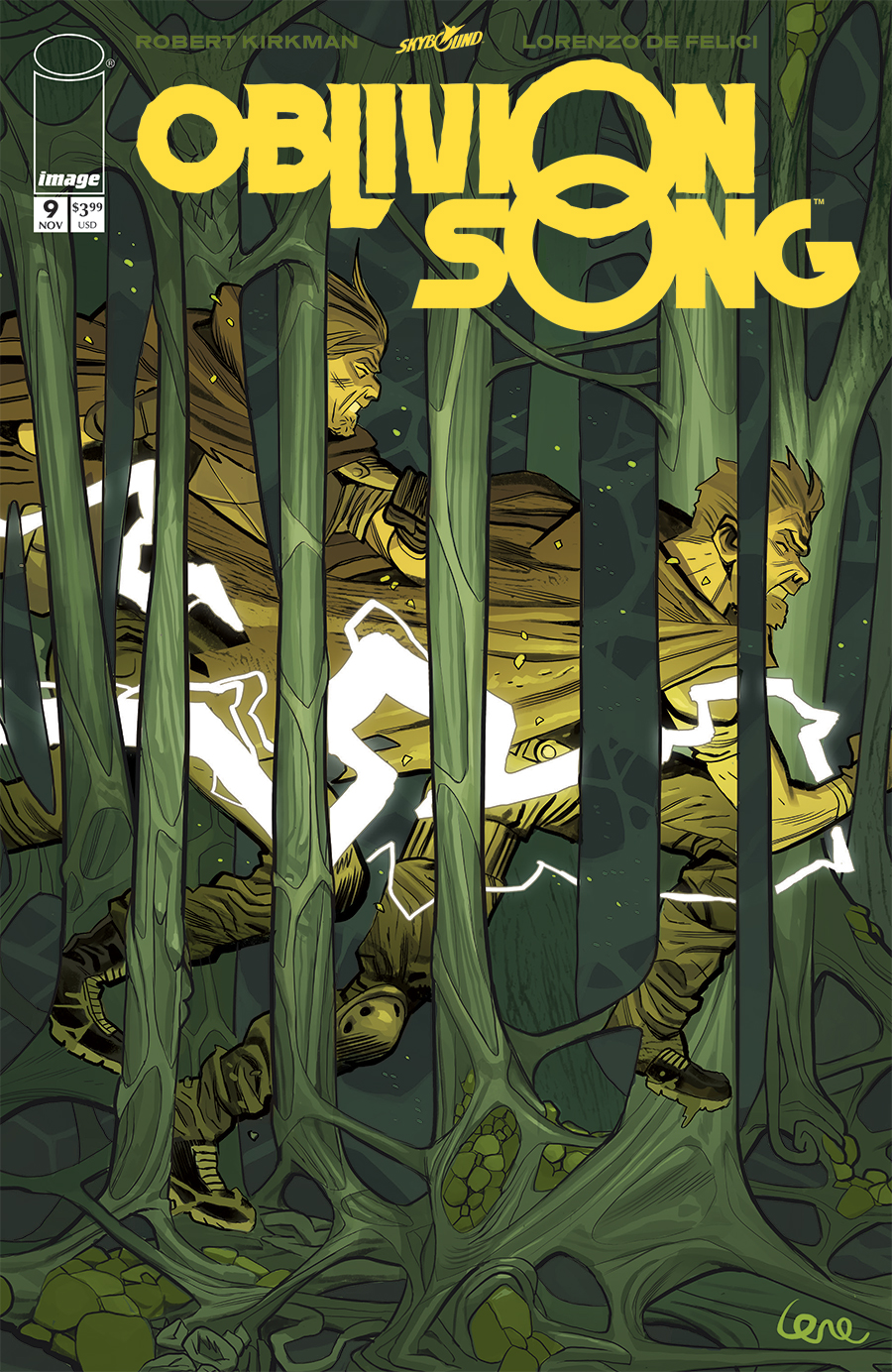 STORY: ROBERT KIRKMAN
ART: LORENZO DE FELICI & ANNALISA LEONI
COVER: LORENZO DE FELICI
NOVEMBER 14
28 PAGES | Full Color | Teen+ | $3.99
The deeper mysteries of Oblivion are beginning to reveal themselves as Nathan Cole's problems on Earth grow more and more dire.
---
REDNECK #17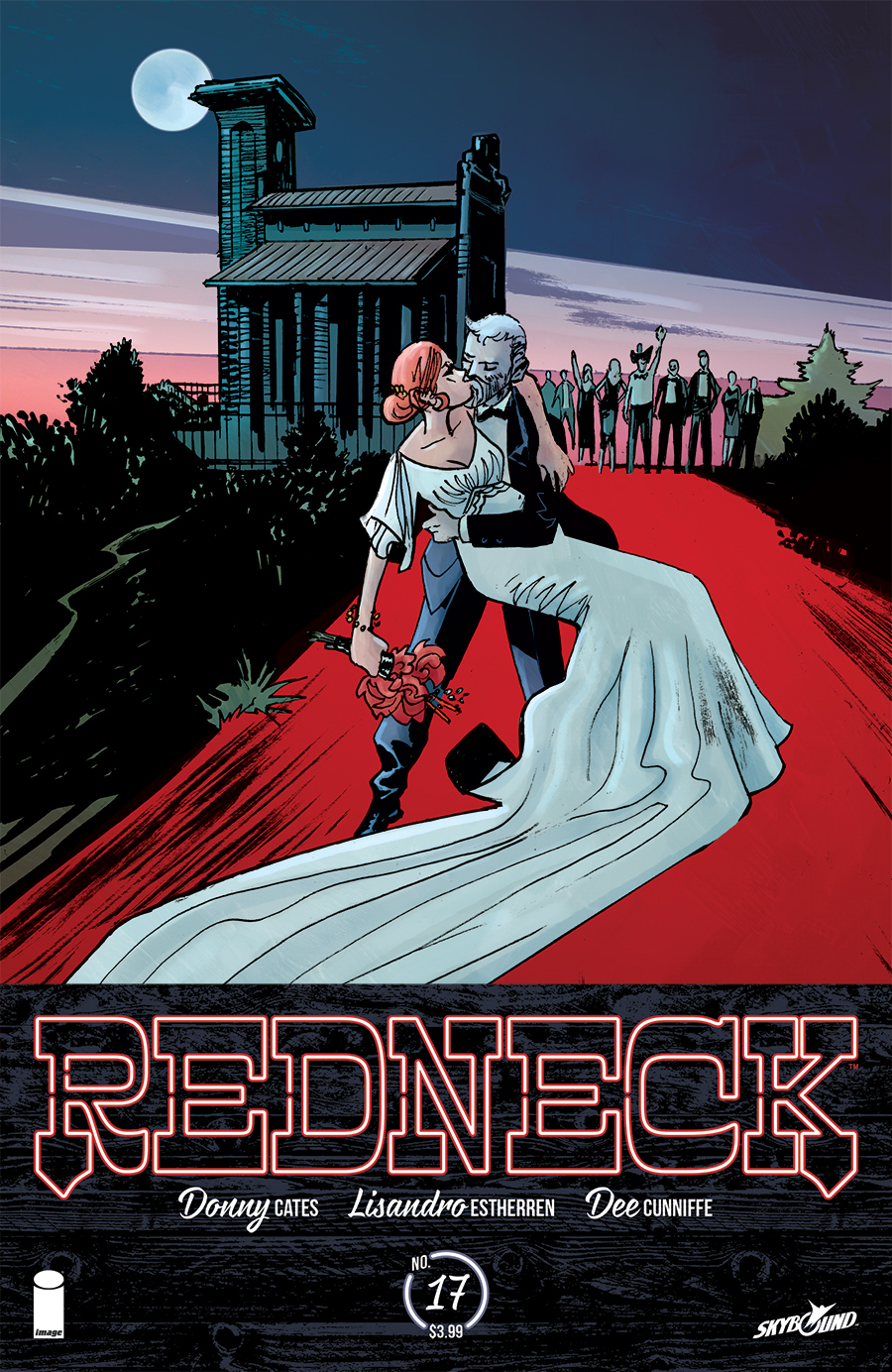 STORY: DONNY CATES
ART/COVER: LISANDRO ESTHERREN & DEE CUNNIFFE
NOVEMBER 28
32 PAGES | Full Color | Mature | $3.99
You're invited to the wedding of a lifetime! Witness the union of two vampire families as Bartlett and July tie the knot! I'm sure absolutely nothing will go wrong…
---
STELLAR #6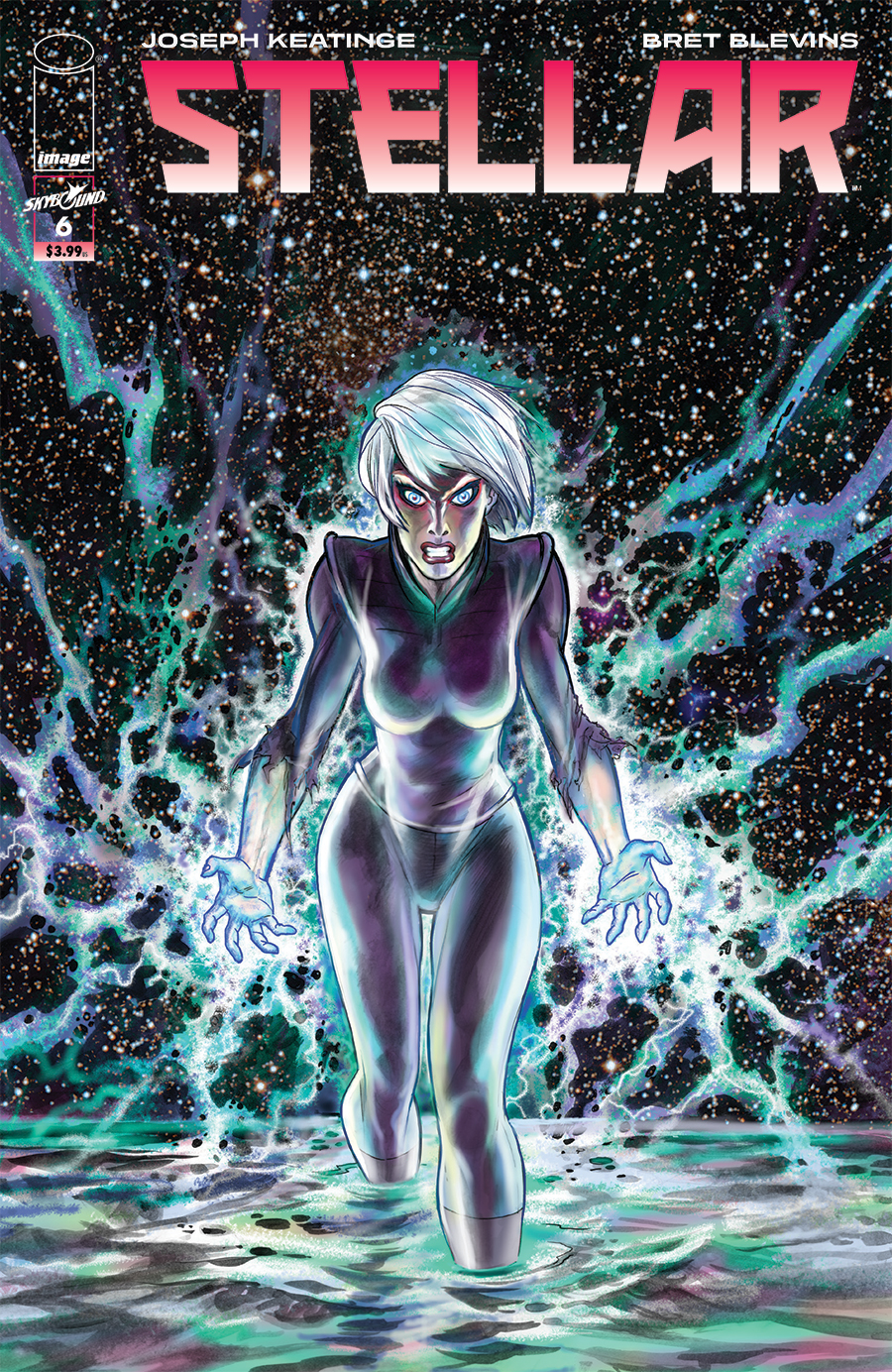 STORY: JOSEPH KEATINGE
ART/COVER: BRET BLEVINS
NOVEMBER 21
32 PAGES | Full Color | Teen+ | $3.99
END OF SERIES
Stellar confronts the one enemy who's plagued her across her entire. Witness the power of Stellar unleashed in this climactic battle!
---
THIEF OF THIEVES #42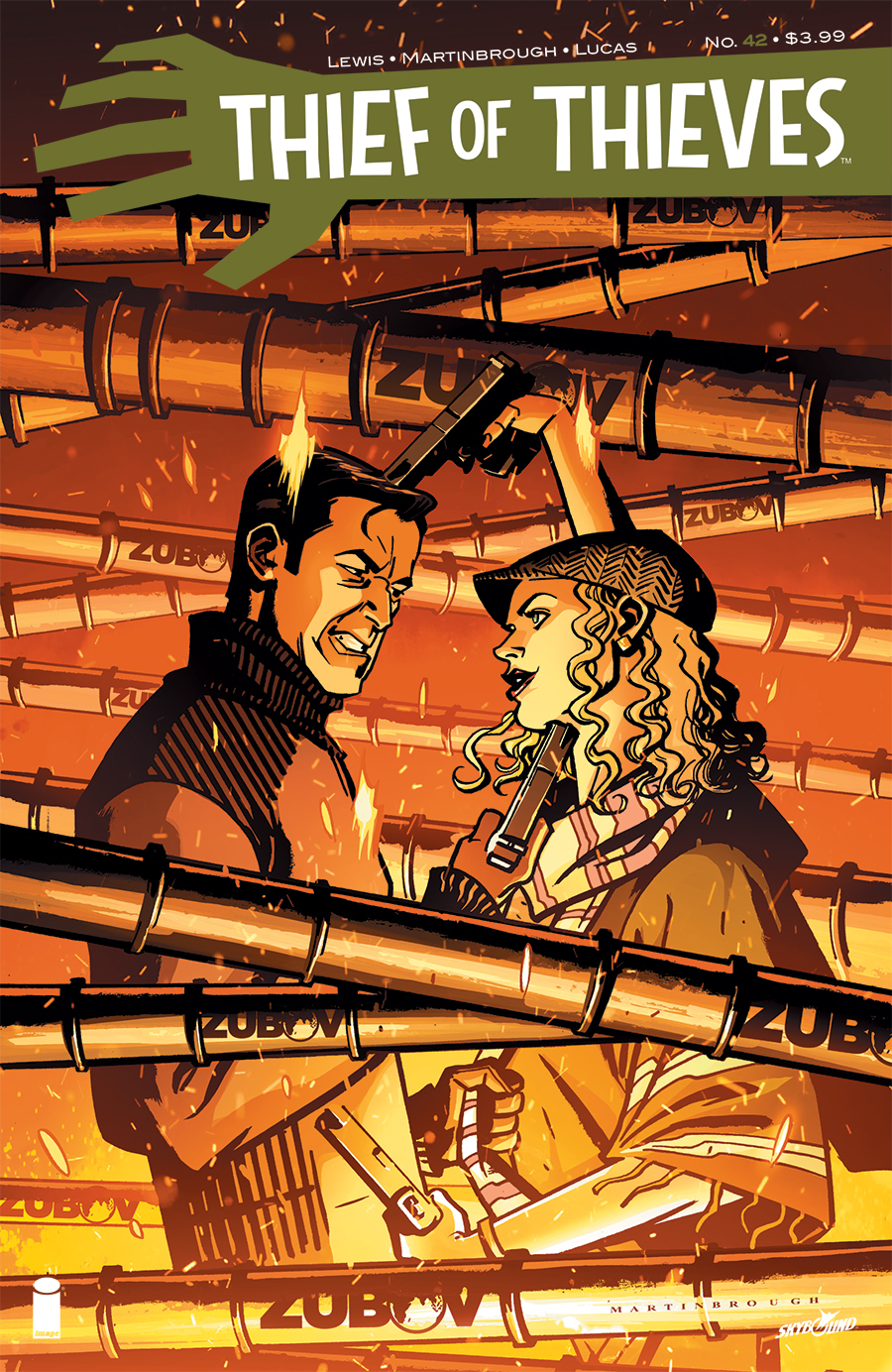 STORY: BRETT LEWIS
ART/COVER: SHAWN MARTINBROUGH & ADRIANO LUCAS
NOVEMBER 7
32 PAGES | Full Color | Mature | $3.99
How do you take down the richest people on Earth? By blowing up everything they own. The Zubovs messed with the wrong thief.
---
THE WALKING DEAD #185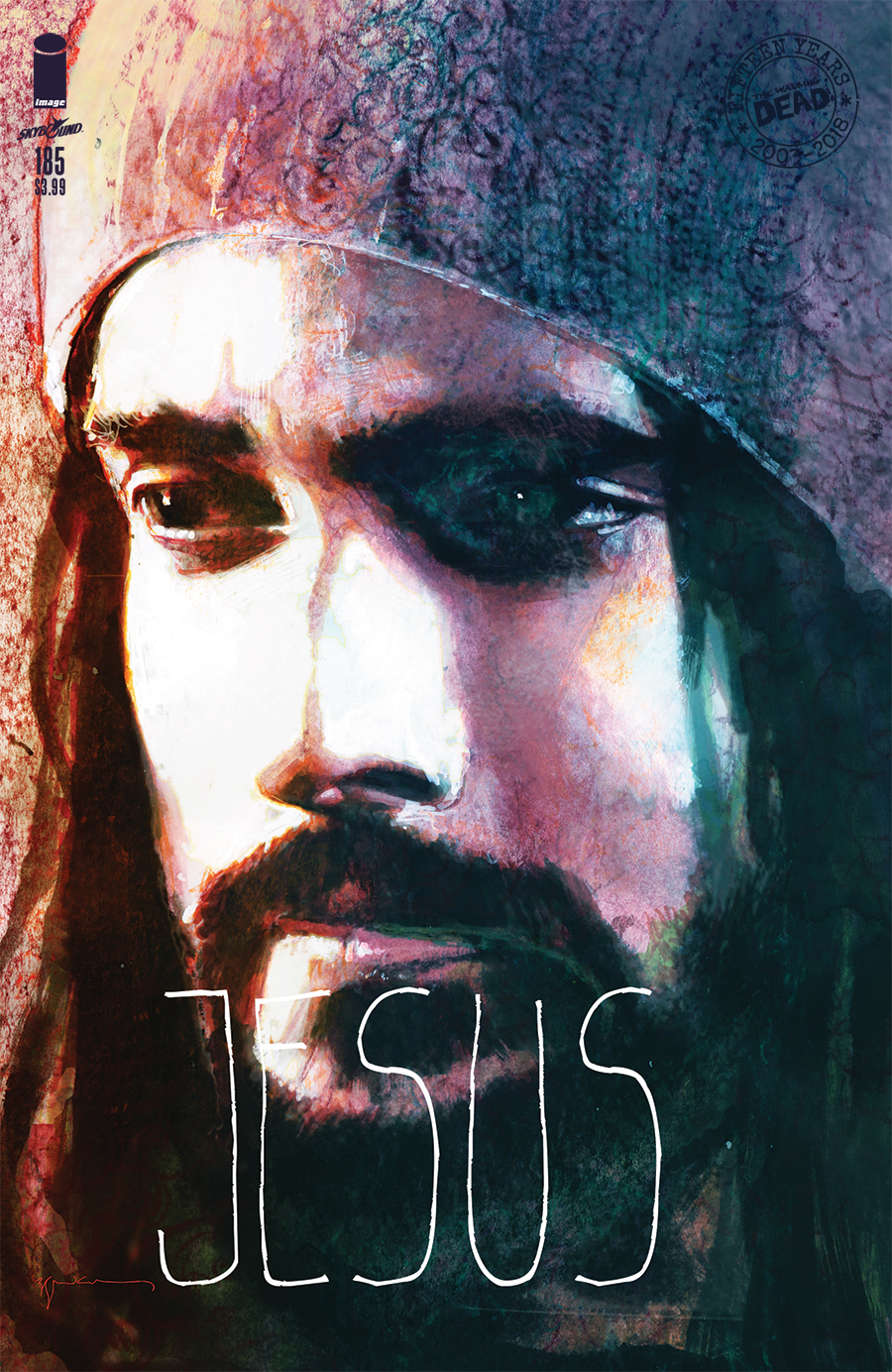 STORY: ROBERT KIRKMAN
ART: CHARLIE ADLARD, STEFANO GAUDIANO & CLIFF RATHBURN
COVER: CHARLIE ADLARD & DAVE STEWART
15TH ANNIVERSARY VARIANT: BILL SIENKIEWICZ
NOVEMBER 7
32 PAGES | Black & White | Mature | $3.99
"On Guard"
Things are quiet at the Hilltop, but there is a storm brewing on the horizon.
---
CRUDE TPB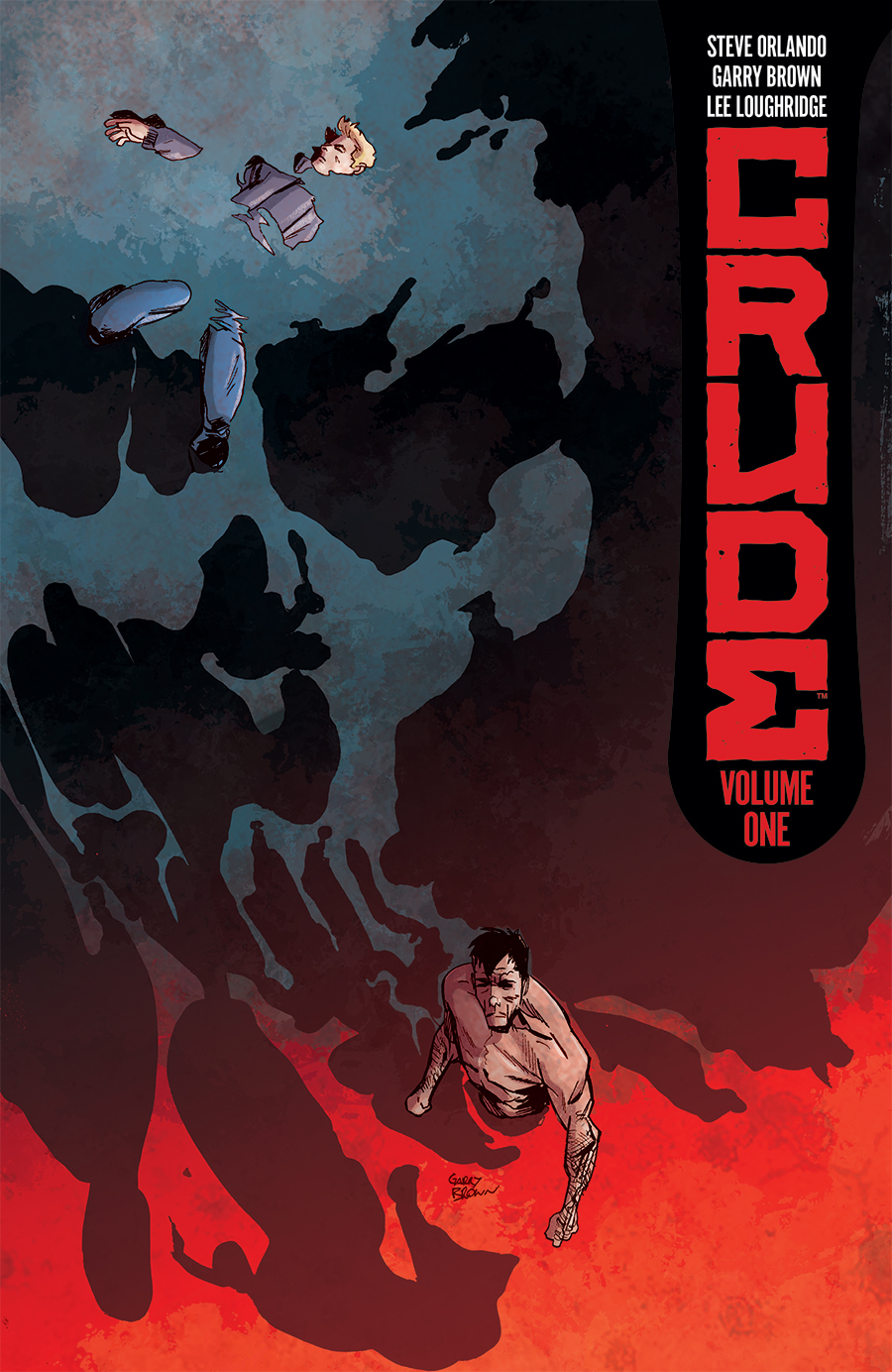 STORY: STEVE ORLANDO
ART/COVER: GARRY BROWN & LEE LOUGHRIDGE
NOVEMBER 21
128 PAGES | Full Color | Mature | $16.99
Killers once feared Piotr Petrovich. Now, they've sent his son home to him, in a body bag. Haunted by his failures, Piotr journeys across Russia to learn what type of man his son really was while hunting the bastards who killed him. And once Piotr finds them, they will learn to fear him once more…
GLAAD Media Award-nominated writer Steve Orlando (Virgil, Midnighter) and artist Garry Brown (Black Road) deliver an emotional, bone-shattering account of murder, masculinity and mayhem.
Collects CRUDE #1-6.
---
OUTPOST ZERO VOL. 1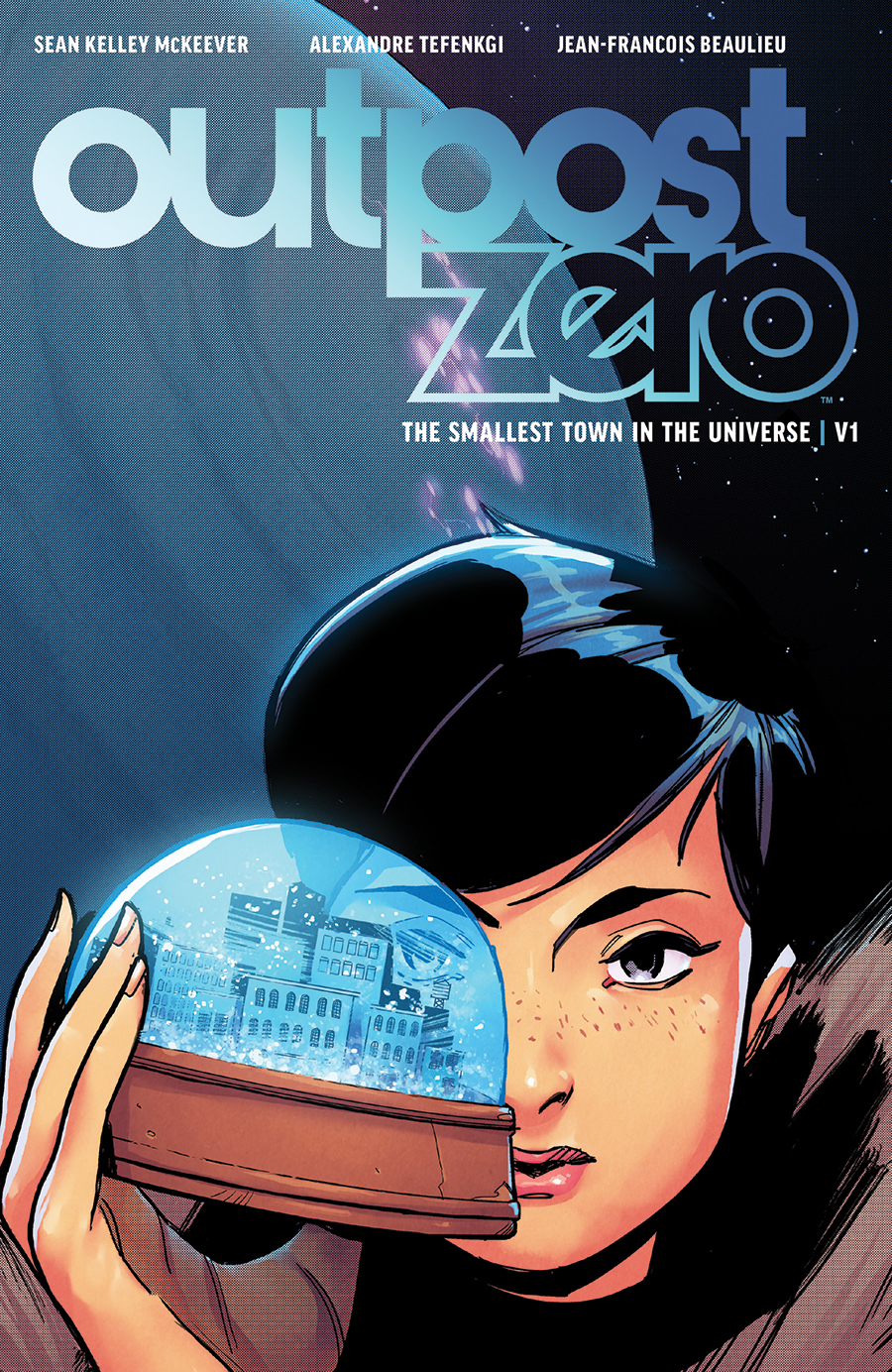 STORY: SEAN KELLEY MCKEEVER
ART/COVER: ALEXANDRE TENGFENKI & JEAN-FRANCOIS BEAULIEU
NOVEMBER 7
112 PAGES | Full Color | Teen+ | $14.99
Welcome to Outpost Zero: the smallest town in the universe. The people there work the land, go to the fights every Friday night, and tuck their children into bed… but the Outpost is no place for dreams. No aspirations. To survive is ambitious enough. As Alea and her friends graduate to adulthood under the artificial sky of a faulty biome, on a frozen world never meant to support human life… something stirs. Something sees.
Explore the mysteries and wonder of the Frost in this collection by Eisner-winning writer Sean Kelley McKeever, artist Alexandre Tefenkgi and colorist Jean-Francois Beaulieu.
Collects OUTPOST ZERO #1-4.
---
TWD Survival Tour Shirt – $30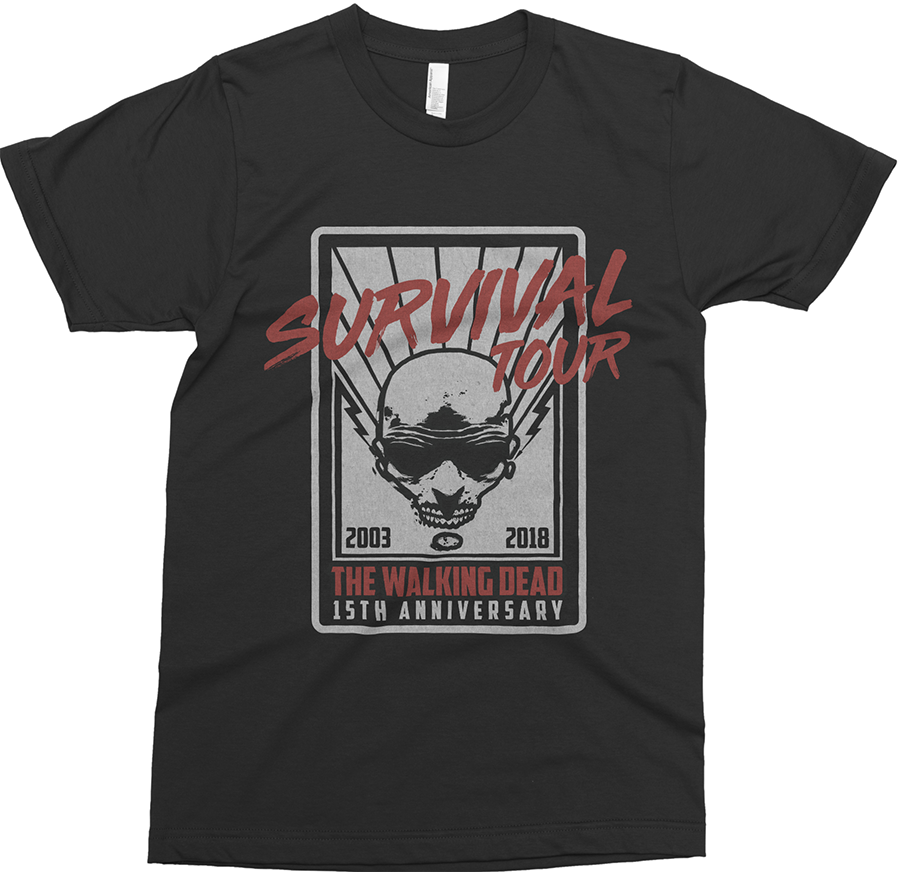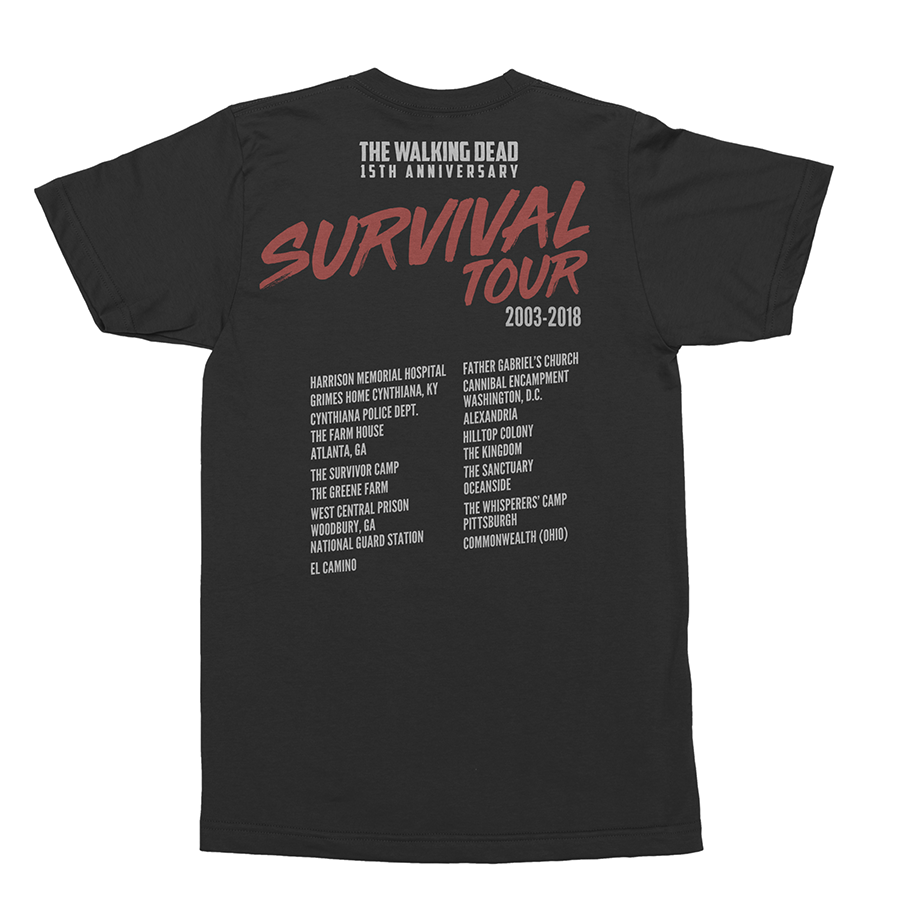 Celebrate 15 years of The Walking Dead in the tradition of a cool rock & roll style concert tour T-Shirt! This two-sided shirt offers a cool zombie on the front with a series of locations tracing the Survivors journey on the reverse side.
---
Fear The Princess! Shirt – $25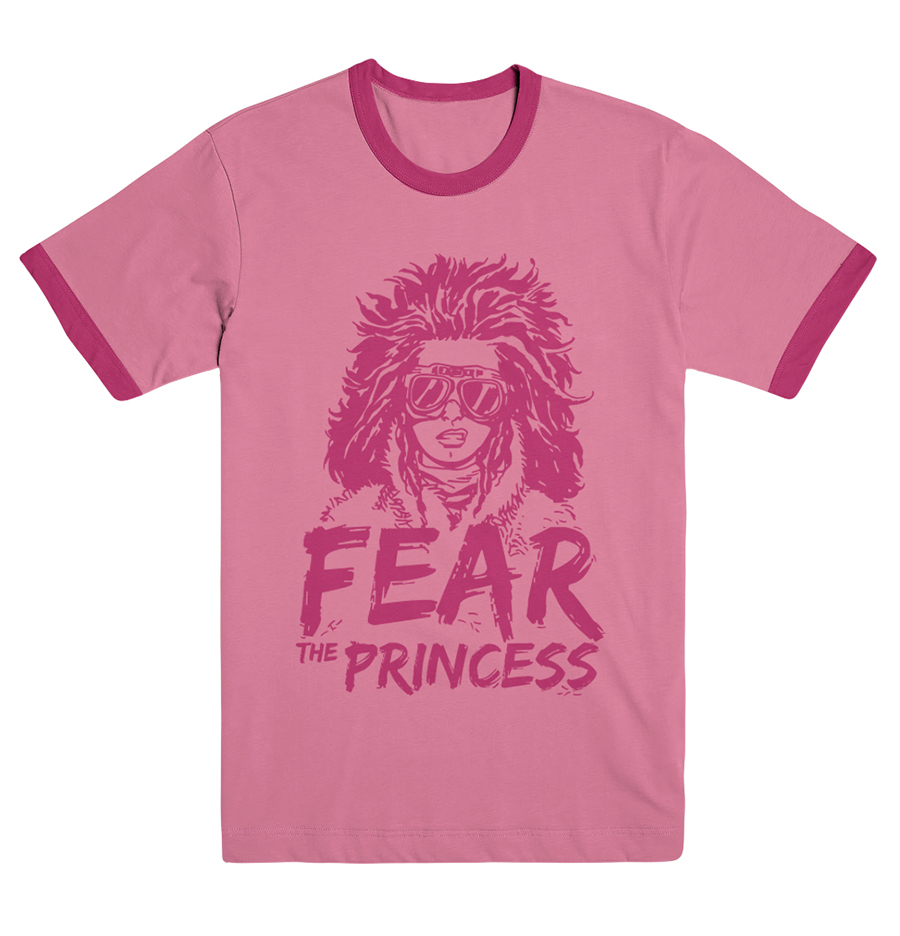 Celebrate 15 years of The Walking Dead by showing your love for the "Princess of Pittsburgh", Juanita Sanchez! This vibrant pink shirt fits true to size. Fear the Princess!
---
DIE!DIE!DIE! Logo T-Shirt – $25
From The Walking Dead creator Robert Kirkman comes a brand new, blood-soaked, no holds barred, action-packed comic book called DIE!DIE!DIE!! This exciting new series is o-written by Scott Gimple and drawn by Chris Burnham. This military green shirt fits true to size.
---
SAGA Enamel Pins – $10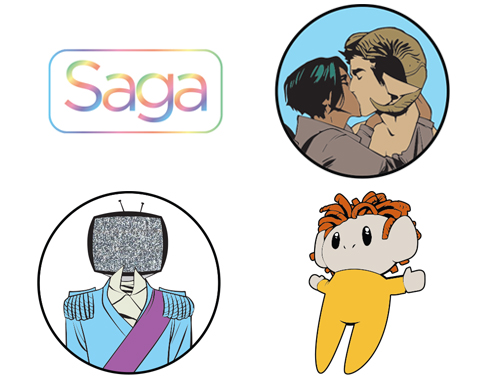 This enamel pin from Brian K. Vaughan and Fiona Staples SAGA featuring Ponk Konk, Prince Robot, a rainbow logo and Marko & Alana. Made by Yesterdays.
---
TWD Word Balloon Pin – WE ARE THE WALKING DEAD – $10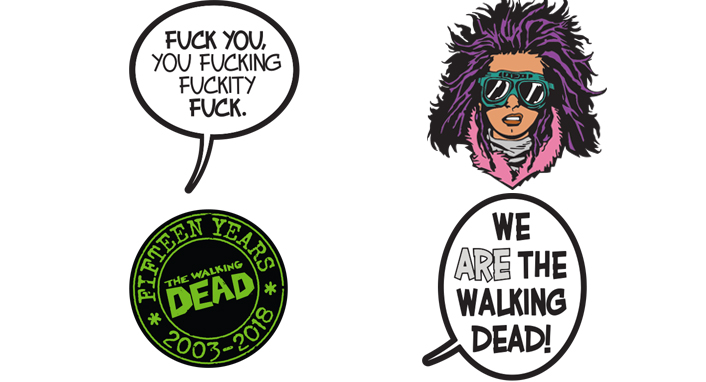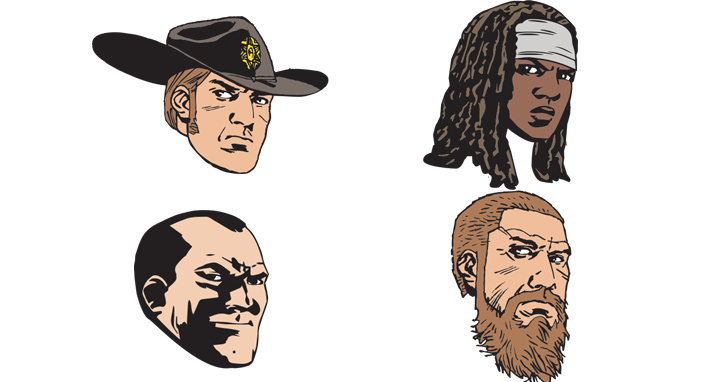 Celebrate 15 years of The Walking Dead with these Walking Dead Pins! Made by Yesterdays.