The Walking Dead's new showrunner Angela Kang broke down the thrilling Season 9 trailer that debuted at San Diego Comic Con with AMC. Get some insight on parts you missed and also get a sneak peek at new high-res images from the season.
---
Maggie and The Hilltop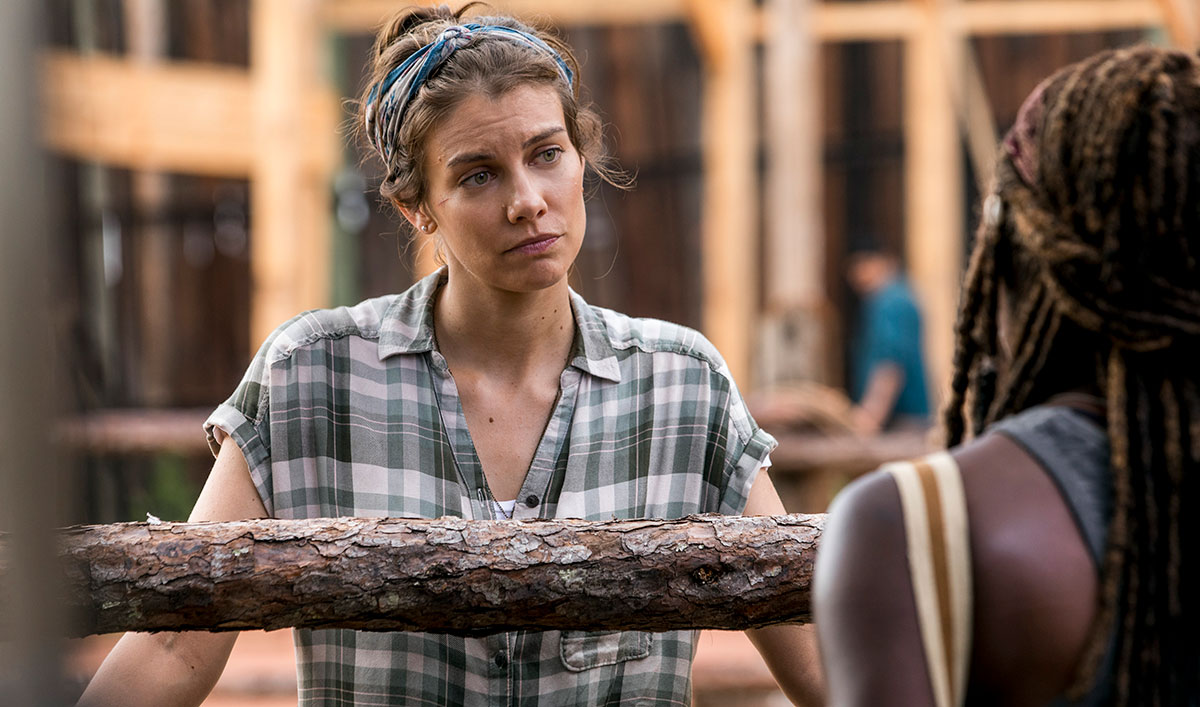 "Here, we're seeing a new look for both Maggie and the Hilltop. The most obvious change for Maggie is that her hair has grown out, but she's also standing on the balcony of the Barrington House as if it's home (which it is now), looking out at her thriving community, where we see several new elements within the walls. Comic book readers might recognize the communal tables and picnic area on the lawn below Maggie. To the left, we can catch a glimpse of the row of trailers, and the edge of a new structure attached to them. There's a water tower… a gate is open to the outside. And there's a goat!"
"This is all part of the story of how much time has passed and the type of leader Maggie is and how Hilltop is doing relative to the other communities. (Oh, and the style of her shirt is a nod to Maggie in the comics at this stage of the story!)"
---
Daryl's New Weapons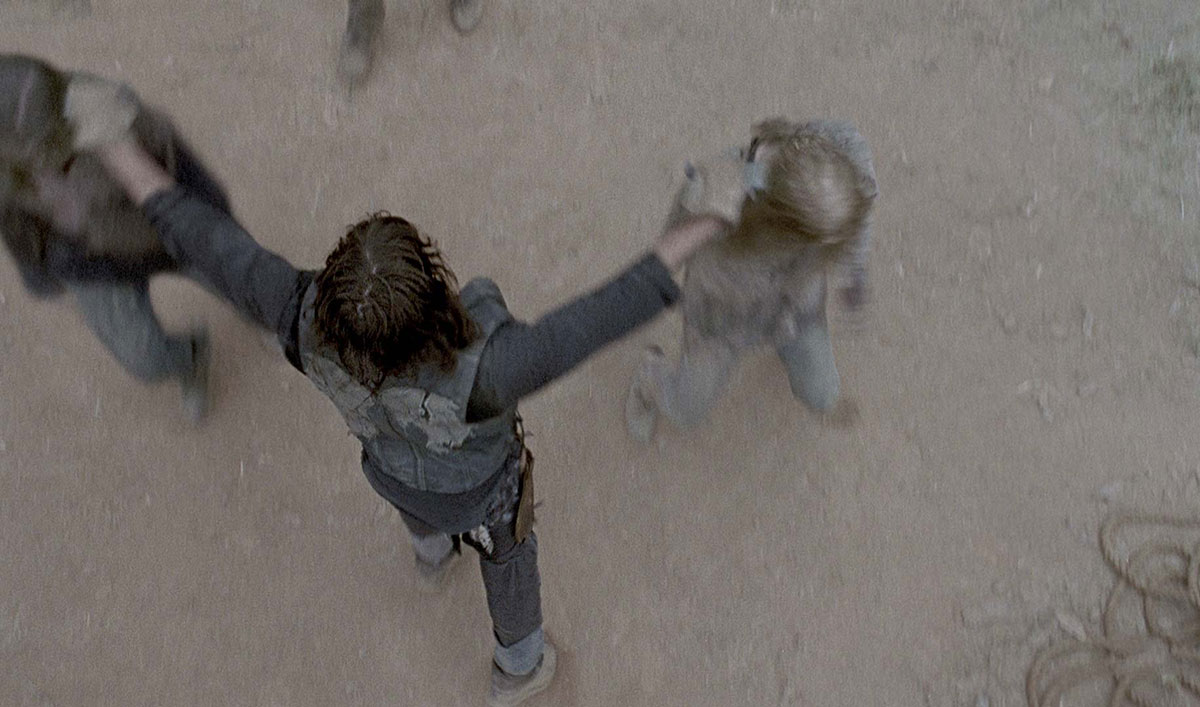 "Since our characters are being more stingy with their bullets this year, we wanted to make sure Daryl had a good secondary weapon for hand-to-hand fighting (a crossbow is difficult to reload, so it's not good for quick combat). Norman helped to custom design a pair of knives that he can use for two-handed combat. They're saw-backed Bowie knives with finger rings that allow you to quickly twirl the knives into different positions (you can grip them in either direction)."
---
Jadis/Anne And The Helicopter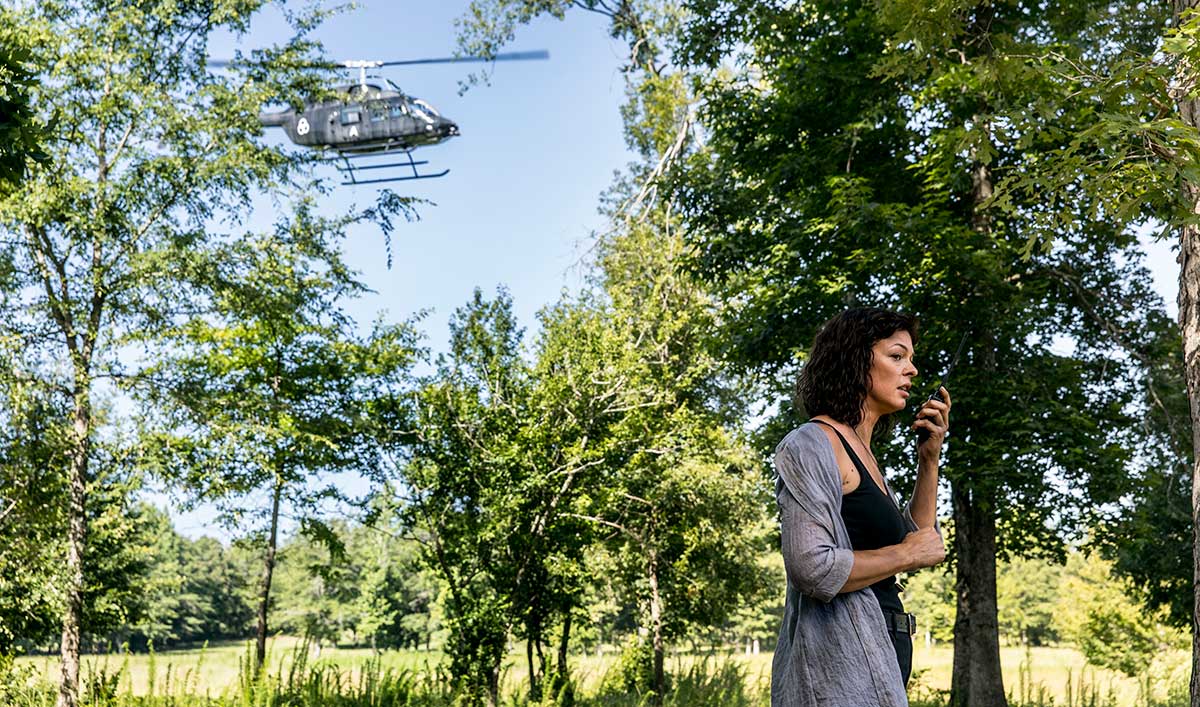 "Jadis has a new hairdo and clothing, but it looks like she might be up to her old tricks with the walkie and the helicopter. Or is she? And speaking of the helicopter, you might also notice the three rings symbol that's appeared on various items at the Heaps before, and the 'A' we've seen crop up periodically. Yes, there is a meaning to both things. No, I won't spoil it right now!
---
Carol's Look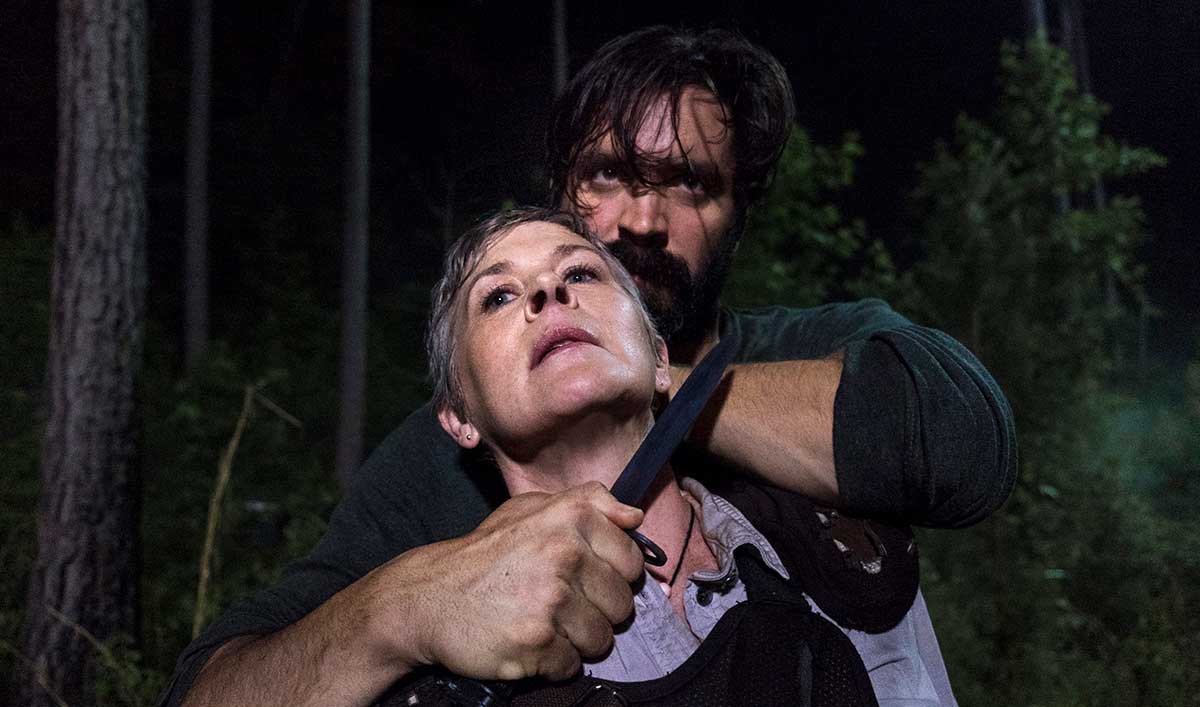 "Badass Carol is facing off with a new character. Keen-eyed viewers may have recognized Rhys Coiro in the trailer — a terrific actor playing the Savior 'Jed' this season. Melissa and I talked about Carol's wardrobe at the start of the season and she said she really loves wearing men's button down shirts — that's when she feels the most quintessentially 'Carol.' And the new necklace is a tribute to her daughter Sophia. Melissa carried around a hair bauble of Sophia's for years in her pockets and we thought it'd be interesting to make a piece of 'memorial jewelry' out of it."
---
Nod To The Comics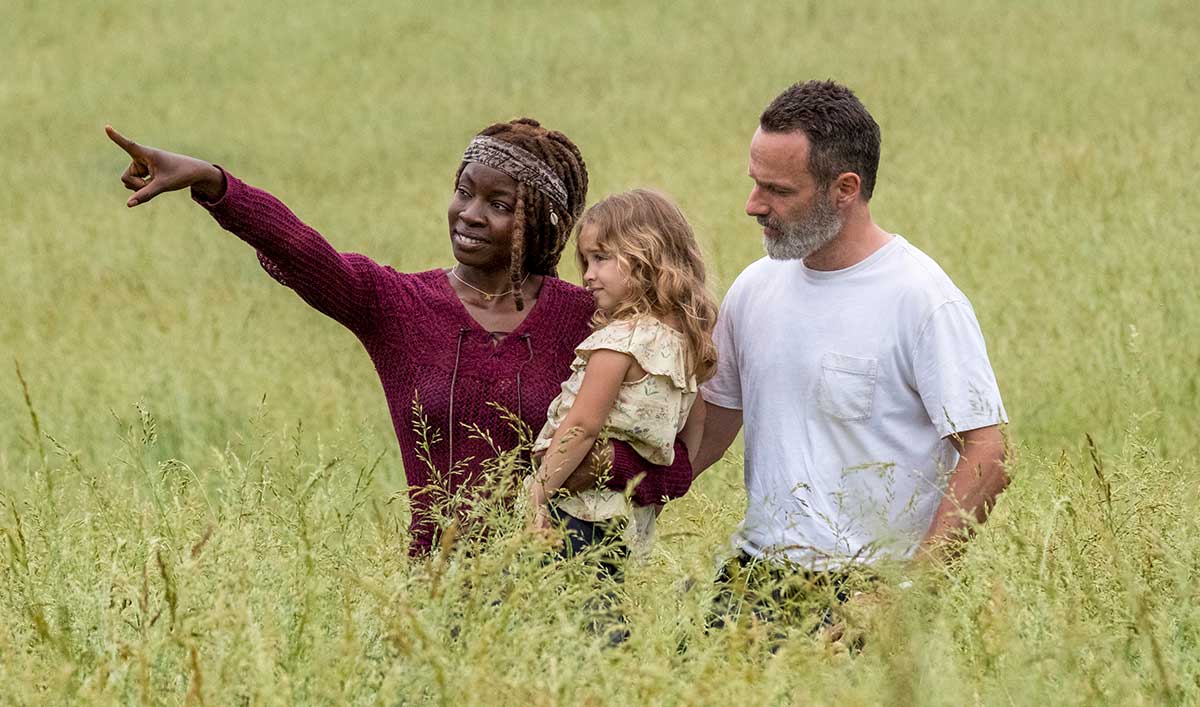 "In the comics, there's a moment where the characters talk about how the birds are making a comeback, which totally makes sense given the state of the world. It's your typical brilliant, almost-throwaway Kirkman-ian line that sticks in the imagination and we wanted to pay tribute to that idea. For our characters at various points this season, nature is both a wonder to behold and an obstacle to overcome. In this moment, we see Rick, Michonne and Judith as a happy family, unafraid to be outside the walls of Alexandria, which is a hint about the state of the world… but we also know that crows can be a nuisance (as well as creepy harbingers of death!)"
---
Get Angela Kang's full breakdown of the trailer over at the AMC Blog! The Walking Dead returns for its ninth season on Sunday, October 7th at 9PM.