April is three months away and [puts on millenial hat] it's going to be a BANGER! [takes off millenial hat, throws it away, apologizes]
Of note: FIRE POWER arrives with the Prelude OGN! This is the book to read BEFORE issue #1 hits on New Comic Book Day just a few days later! EXCELLENCE returns for its second arc and has an absolutely amazing variant from Chris Brunner and Rico Renzi. The OUTER DARKNESS/CHEW crossover continues and comes with two fantastic covers—love seeing Afu take on CHEW and Rob taking on OUTER D. HEART ATTACK closes out an arc and Shawn Kittelsen, if you break my heart, remember I know where you work. And of course lots more! Scroll on down for the goodness.
---
FIRE POWER by KIRKMAN & SAMNEE VOL 1: PRELUDE OGN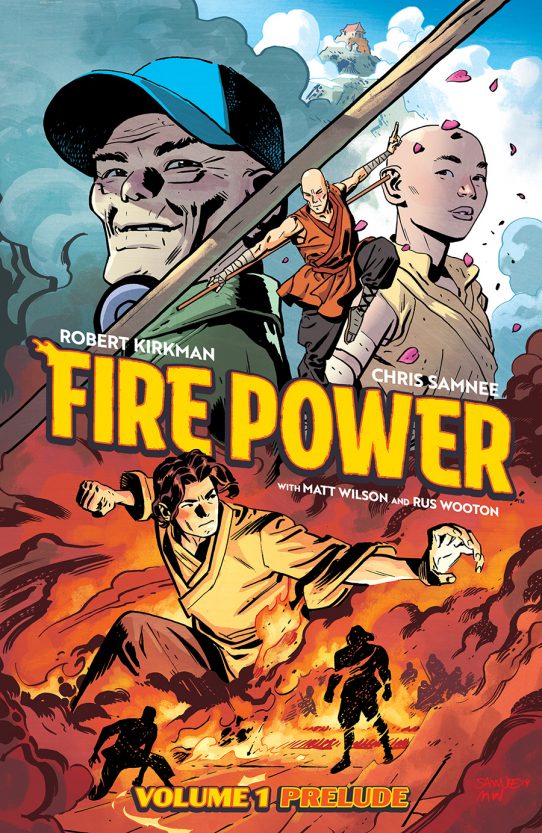 STORY: ROBERT KIRKMAN
ART/COVER: CHRIS SAMNEE & MATTHEW WILSON
APRIL 29 | 160 PAGES | FULL COLOR | TEEN+ | $9.99
ALL-NEW series created by Robert Kirkman (THE WALKING DEAD, INVINCIBLE, OBLIVION SONG) and Chris Samnee (DAREDEVIL)!
Owen Johnson's journey to China to learn about his birth parents eventually leads him to a mysterious Shaolin Temple. The students there study to rediscover the Fire Power, the lost art of throwing fireballs. A power they claim will be needed soon to save the world. Will Owen Johnson be the first person in a thousand years to wield the FIRE POWER?
---
BIRTHRIGHT #43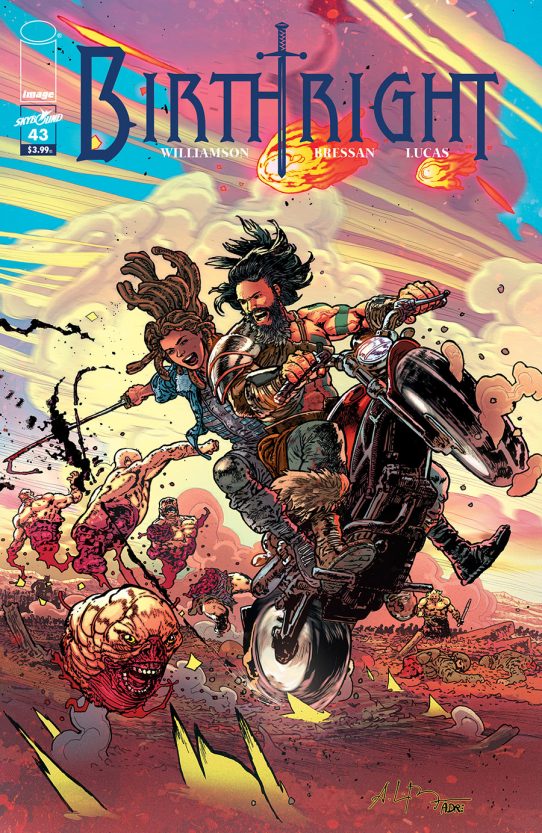 STORY: JOSHUA WILLIAMSON
ART/COVER: ANDREI BRESSAN & ADRIANO LUCAS
APRIL 1 | 32 PAGES | FULL COLOR | TEEN+ | $3.99
As a war rages across Earth, a long-lost ally returns to Mikey's side.
---
DIE!DIE!DIE! #10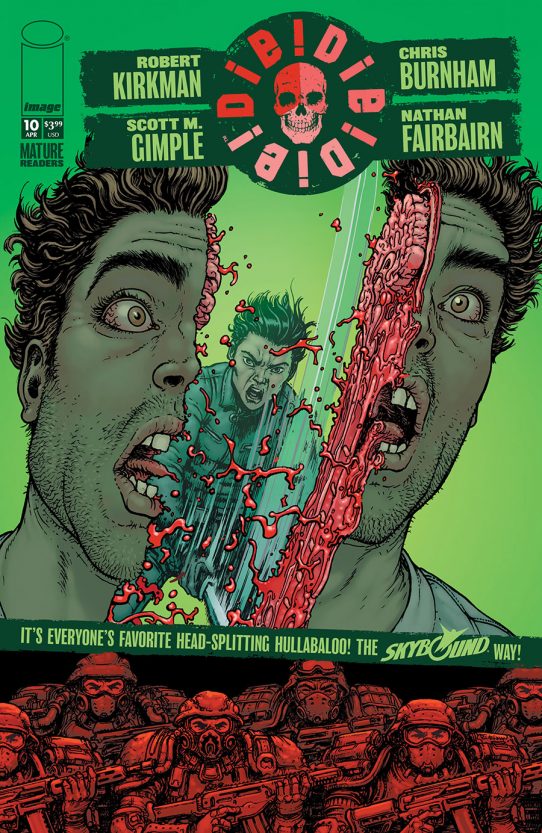 STORY: ROBERT KIRKMAN & SCOTT M. GIMPLE
ART/COVER: CHRIS BURNHAM & NATHAN FAIRBAIRN
APRIL 15 | 28 PAGES | FULL COLOR | MATURE | $3.99
Senator Lipshitz's mad plan to save the world continues… with dire results… for men. Barnaby continues his dark journey through Russia. Many, many people die at the hands of George, with Jennifer's sword. Is that sword magic? It's magic, isn't it? This book just keeps getting weirder.
---
EXCELLENCE #7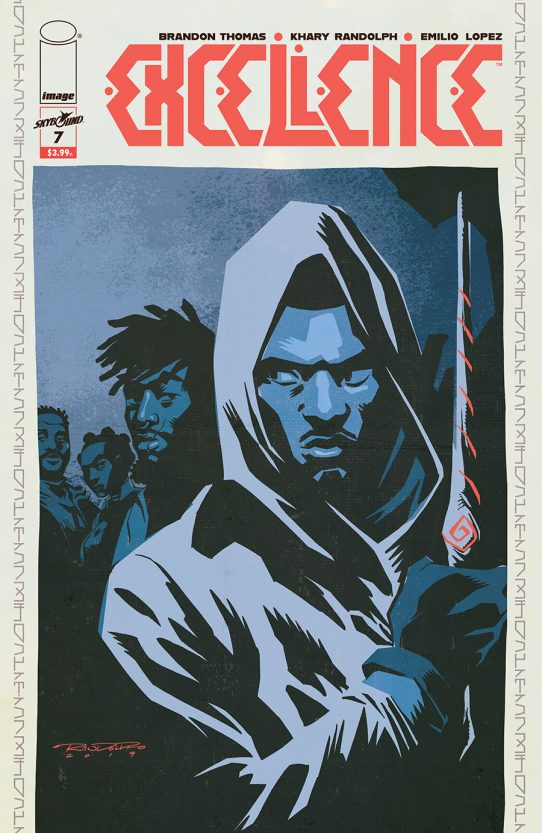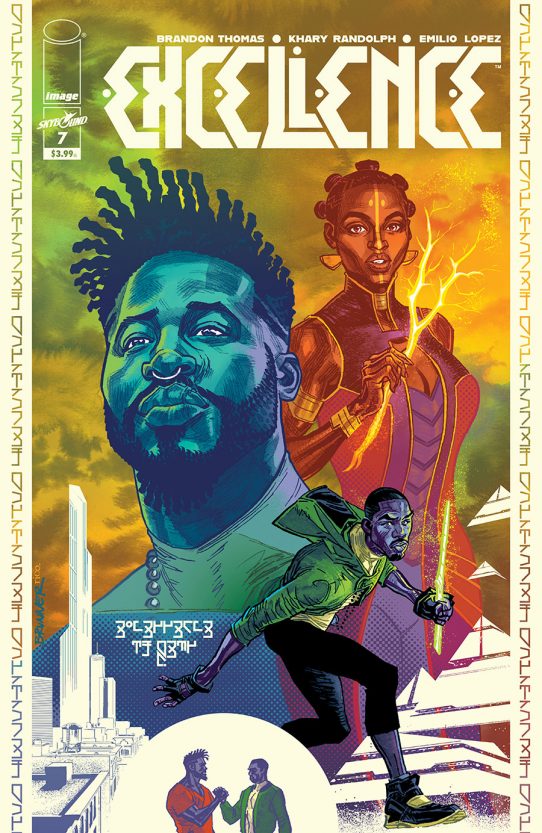 STORY: BRANDON THOMAS
ART/COVER: KHARY RANDOLPH & EMILIO LOPEZ
VISIONS OF EXCELLENCE VARIANT: CHRIS BRUNNER & RICO RENZI
APRIL 15 | 32 PAGES | FULL COLOR | MATURE | $3.99
NEW STORY ARC
Spencer Dales has one purpose: tear down the Aegis and free everyone under their "protection". However, with his closest ally in prison and The Tenth looking to put Spence in an adjoining cell, creating a better future won't easy. But it needs to happen NOW.
Skybound's most sensational series of 2019 returns to remind readers: Excellence is Real.
---
HARDCORE: RELOADED #5 (of 5)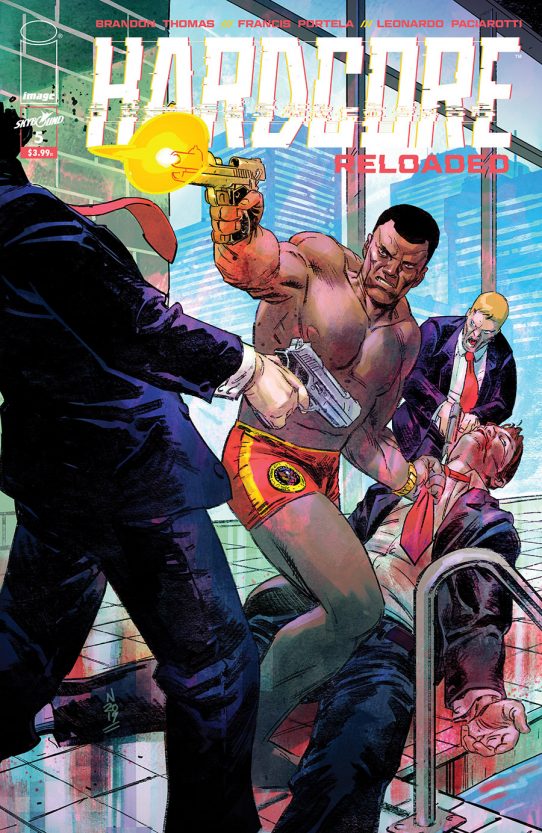 STORY: BRANDON THOMAS
ART: FRANCIS PORTELA & LEONARDO PACIAROTTI
COVER: NIC KLEIN
APRIL 15 | 32 PAGES | FULL COLOR | MATURE | $3.99
HARDCORE: RELOADED reaches its explosive finale as rogue body-jackers
have the President of the United States surrounded. But this President has two things going for him: he was a Marine, and he has the most lethal Hardcore operator on the planet protecting him!
---
HEART ATTACK #6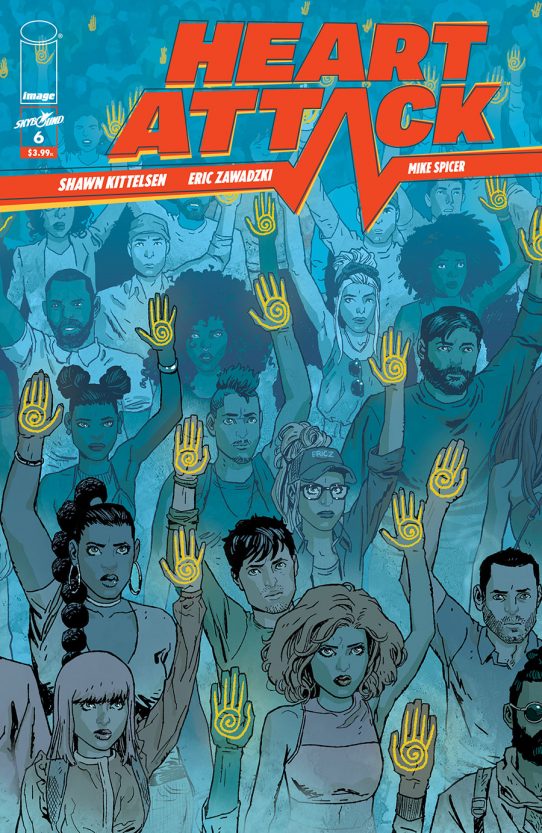 STORY: SHAWN KITTELSEN
ART/COVER: ERIC ZAWADSKI & MIKE SPICER
APRIL 22 | 32 PAGES | FULL COLOR | MATURE | $3.99
END OF STORY ARC
East Austin is poised to explode as thousands of Variants march on the Wall, while Charlie and Jill lose control of their powers at the very worst time.
---
OUTCAST BY KIRKMAN & AZACETA #47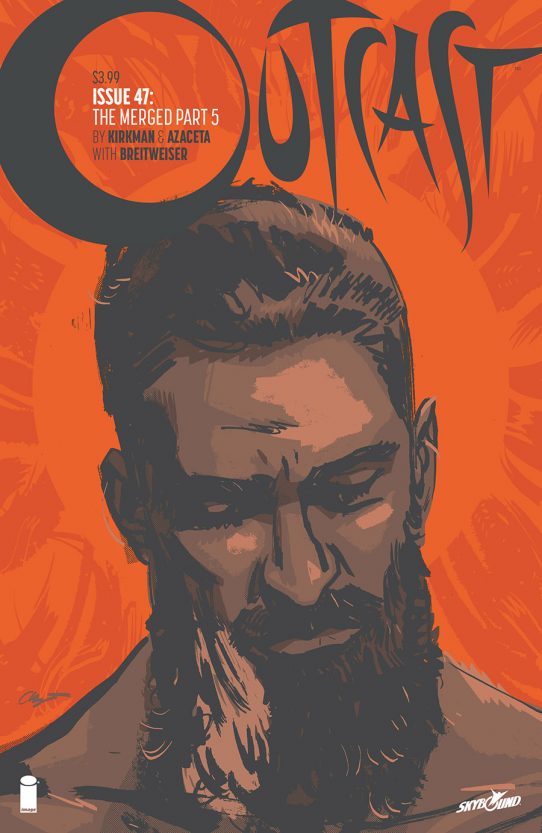 STORY: ROBERT KIRKMAN
ART / COVER: PAUL AZACETA & ELIZABETH BREITWEISER
APRIL 22 | 32 PAGES | FULL COLOR | MATURE | $3.99
FINAL STORY ARC
The great merge continues! Simon has lost so much time with his family, but he's here now, when it counts, at the end. But maybe it's not the end, for some.
---
OUTER DARKNESS/CHEW #2 (of 3)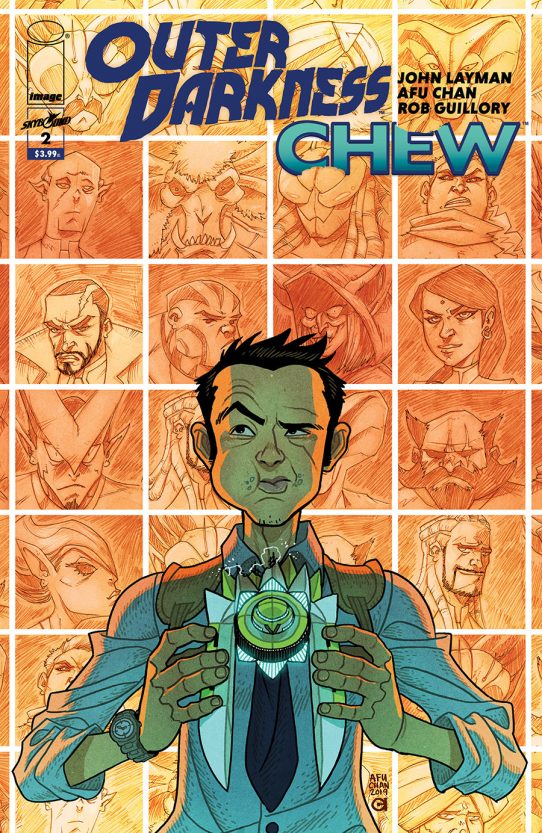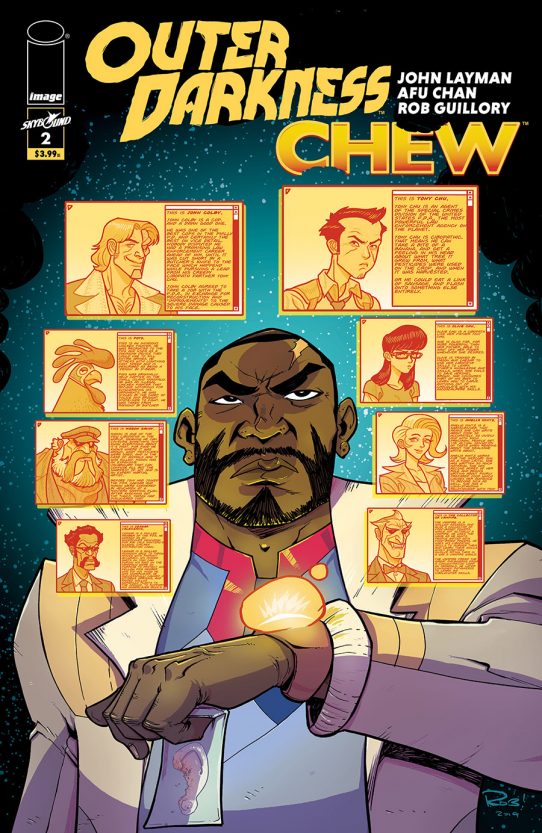 STORY: JOHN LAYMAN
ART: AFU CHAN & ROB GUILLORY
COVER A: AFU CHAN
COVER B: ROB GUILLORY
APRIL 8 | 32 PAGES | FULL COLOR | MATURE | $3.99
The space-faring crew of The Charon has faced death in all its many forms, and fought all manners of creatures dark, diabolic and demonic. Today they face their most deadly threat yet. Yes, intrepid space travelers, murder has a name–and that name is POYO!
The most important crossover in the history of comics continues, and nothing will EVER be the same.
---
REAVER #8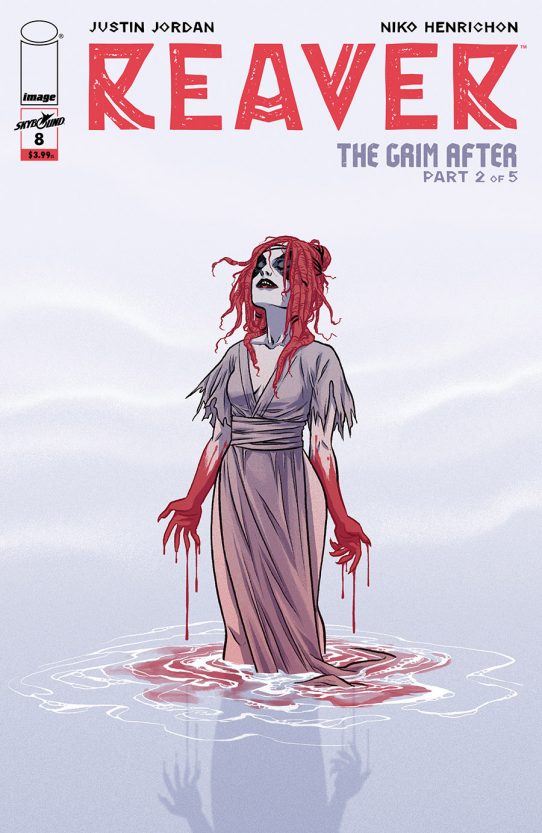 STORY: JUSTIN JORDAN
ART: NIKO HENRICHON
COVER: BECKY CLOONAN
APRIL 8 | 32 PAGES | FULL COLOR | MATURE | $3.99
Breaker and Rekala are on the verge of finding out what's happened to the lost children of Haas Haaden, but the truth is far worse than they could have ever dreamed.
---
STEALTH #2 (of 6)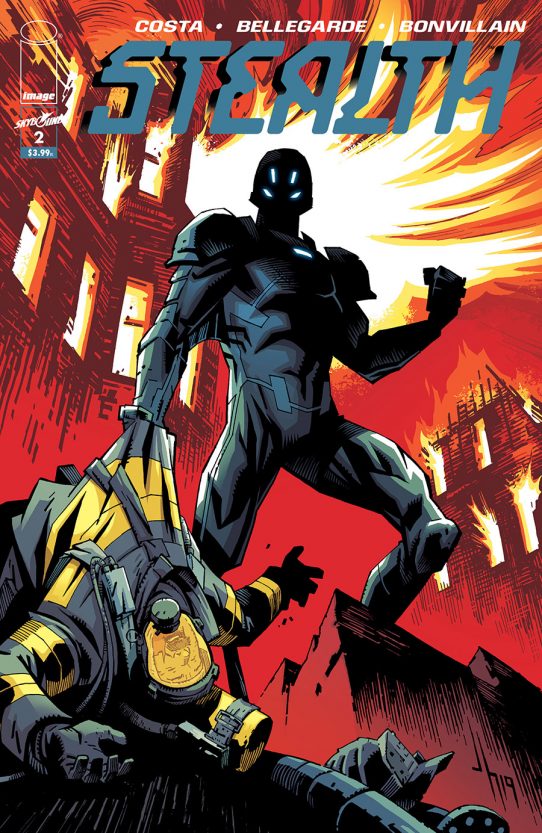 STORY: MIKE COSTA
ART: NATE BELLEGARDE & TAMRA BONVILLAIN
COVER: JASON HOWARD
APRIL 15 | 32 PAGES | FULL COLOR | TEEN+ | $3.99
Detroit's legendary super-powered vigilante Stealth has lost control, plunging the city into chaos. Now, Dead Hand reemerges to finish off his longtime enemy once and for all.