Is that OBLIVION SONG back in the comics rotation!? Yay! Issue 35 comes at us this week as the penultimate issue in the series. No! That's right: the amazing supernatural sci-fi series from Robert Kirkman and Lorenzo De Felici ends next month, so be sure to savor issue 35 slooooowly.
Also in stores this week is the volume two trade paperback of EXCELLENCE, which collects issues 7-12. A great way to catch up on this incredible series.
---
OBLIVION SONG BY KIRKMAN & DE FELICI #35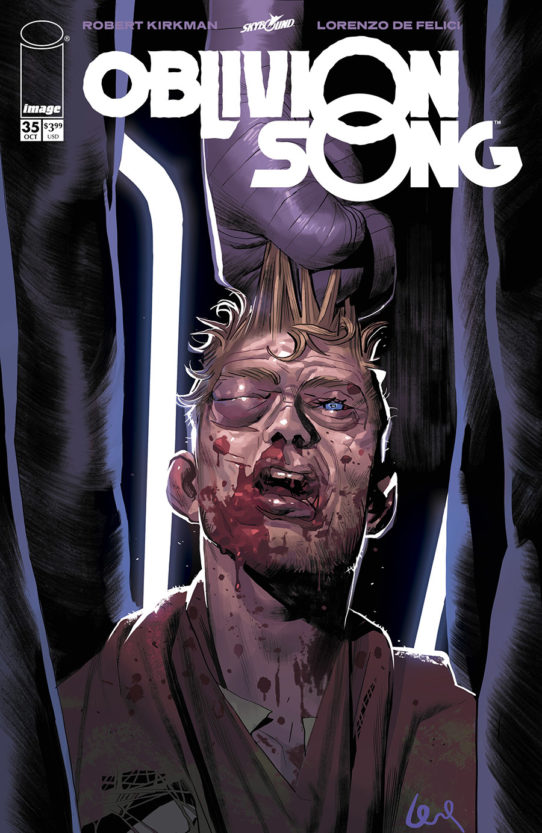 STORY: ROBERT KIRKMAN
ART: LORENZO DE FELICI & ANNALISA LEONI
COVER: LORENZO DE FELICI
NOVEMBER 17 | 28 PAGES | FULL COLOR | TEEN+ | $3.99
Nathan Cole has devoted his life to atoning for his part in the first transference. He has sacrificed so much to make up for that mistake. Will he make the ultimate sacrifice before this war with the Kuthaal is over? Only two issues left!
---
EXCELLENCE VOL 2 THE PRESENT TENSE TP
STORY: BRANDON THOMAS
ART: KHARY RANDOLPH & EMILIO LOPEZ
FEBRUARY 22 | FULL COLOR | TEEN+ | $16.99
Spencer Dales was born into a world of magic. His father belongs to the Aegis, a secret society of black magicians ordered by their unseen masters to better the lives of others – of higher potential – but never themselves.
Now, Spencer Dales has one purpose: tear down the Aegis and free everyone under their "protection." However, with his closest ally in prison and the Tenth looking to put Spence in an adjoining cell, creating a better future won't be easy. But it needs to happen NOW.
KHARY RANDOLPH and BRANDON THOMAS ignite a generational war in this action-fantasy series, made entirely by creators of color and committed to one truth above all others – Excellence is Real.
Collects EXCELLENCE #7-12.