This just in from our friends at Image Comics: OBLIVION SONG #3 has sold out at the distributor level! You know what that means, TIME FOR A SECOND PRINT *insert party horns*
The OBLIVION SONG #3 2nd print will be available Wednesday, June 13th at your favorite comic shop so get those orders in now. Speaking of local comic shops, make sure to hit yours up for 1st printings. Sometimes, even when books are out at Diamond, your comic shop might still have some in stock. Never hurts to pay them a visit (that's honestly just a rule in general). In the meantime, check out the cover and read the full official press release below!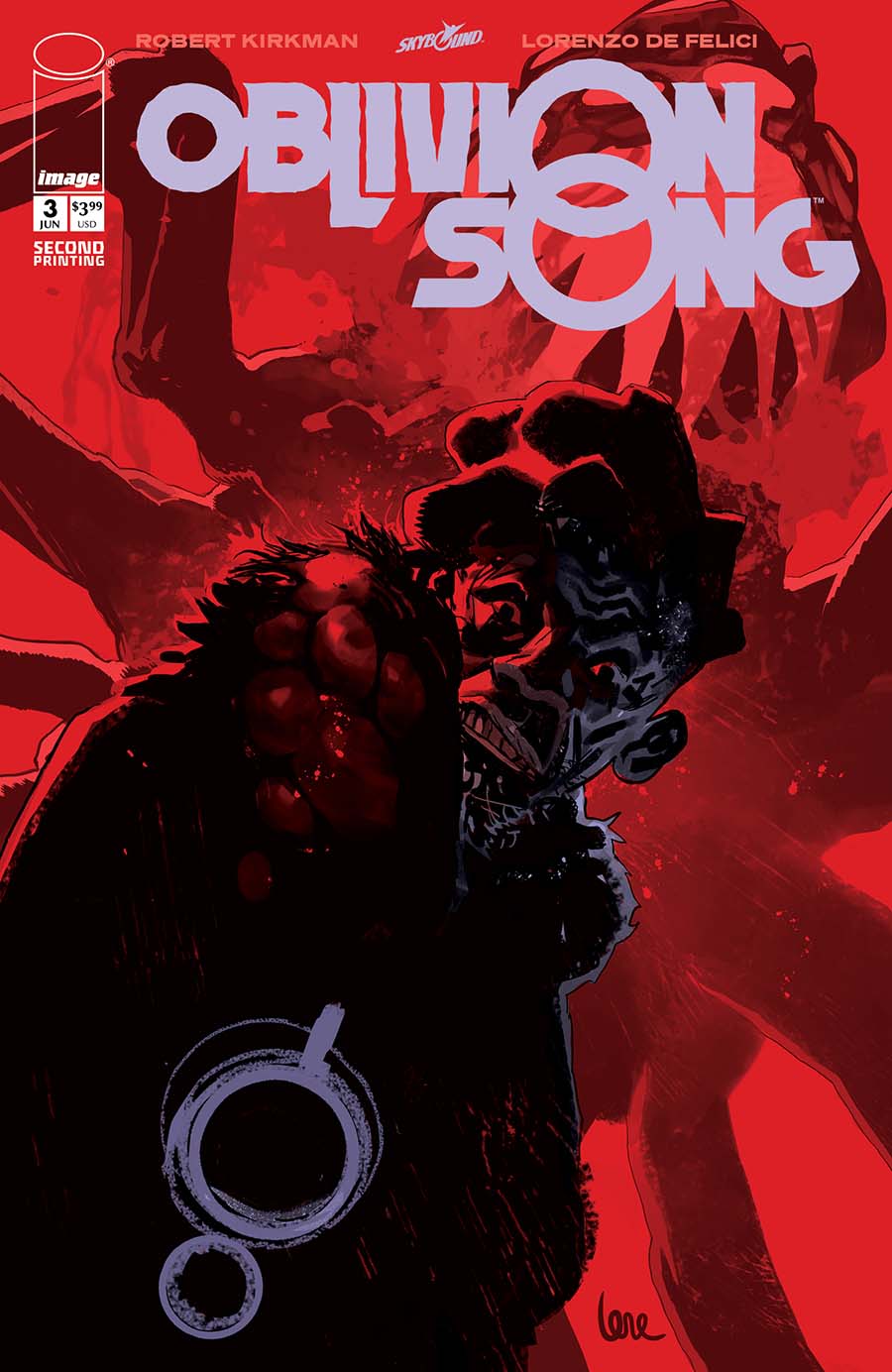 OBLIVION SONG ensnares more readers, rushed back to print
PORTLAND, OR, 5/16/2018 — Issue #3 of the hot new series—OBLIVION SONG—from New York Times bestselling writer Robert Kirkman (THE WALKING DEAD, OUTCAST BY KIRKMAN & AZACETA) and breakout artist Lorenzo de Felici is being rushed back to print in order to keep up with rapidly growing customer demand.
"We massively overprinted issues one and two of this series, and thought for sure it would have found its level by issue three. We were wrong," said Kirkman. "Everything about the launch of this series has been astounding thus far and it just keeps surprising us. We plan on keeping the early issues in print for as long as we can so new readers can dive in as the word spreads on this amazing series with stunning art by Lorenzo De Felici and Annalisa Leoni."
A decade ago, 300,000 citizens of Philadelphia were suddenly lost in Oblivion. The government made every attempt to recover them, but after many years, they gave up. Nathan Cole…won't. He makes daily trips, risking his life to try and rescue those still living in the apocalyptic hellscape of Oblivion. But maybe…Nathan is looking for something else? Why can't he resist the siren call of the Oblivion Song?
OBLIVION SONG #3, 2nd printing (Diamond Code MAR188797) and OBLIVION SONG #4 (Diamond Code APR180613) will hit stores on Wednesday, June 13th. The final order cutoff deadline for retailers is Monday, May 21st.
Select praise for OBLIVION SONG:
"Oblivion Song is the total package, delivering terrifying monsters, personal character development, stunning artwork, and a great story. Do not sleep on this series." —Horror Talk
"Transporting readers to another world, the freakish creatures of Oblivion have their share of scares even as you fall deeper and deeper into a wondrous fantasy. It's not just the danger, it's the seduction of it all—so take your time with this Oblivion Song. Breathe it in, and let yourself explore this strange new world… but be careful not to be swept away." —Newsarama
"We get the sense of loss and trauma from these characters. Their pathos is our draw." —Graphic Policy
"A compelling sci-fi adventure packed with emotion." —Monkeys Fighting Robots