This week's sole (and yet still incredible) comic release for us is the third volume of OUTPOST ZERO. Sometimes I wonder if the Young Adult tag on this book kept some readers away, and if so, that's a shame. There's nothing that stops this book from appealing to any demo, and the mystery at the core of the plot moves the book along its entire run, with some rich character work being the icing on the cake. If we ever get to the visit Outpost Zero again, I will be overjoyed. Give this title a shot—at least a couple issues—and you'll see that a story about humanity at the very edge of existence is for everyone. Huge congrats to (and admiration for) Sean, Alexandre, Jean-Francois, and Ariana for letting this story be a part of the Skybound catalog!
---
OUTPOST ZERO VOL. 3 TRADE PAPERBACK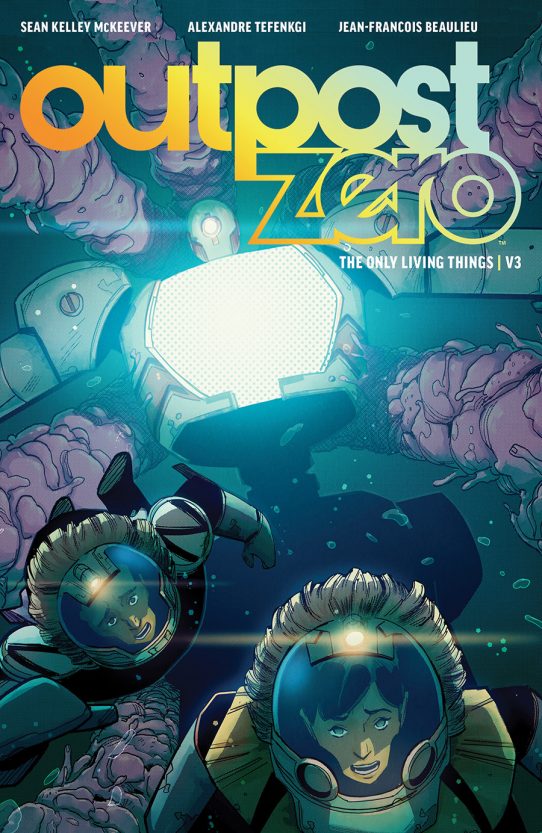 STORY: SEAN KELLEY MCKEEVER
ART/COVER: ALEXANDRE TENGFENKI & JEAN-FRANCOIS BEAULIEU
NOVEMBER 20 | 104 PAGES | FULL COLOR | TEEN+ | $14.99
Welcome back to the smallest town in the universe! Deep in the Outpost, Alea and Sam discover an ally who has answers to ask the questions they'd had since Steven's death… hopefully their friendship can survive the fallout.
Collects OUTPOST ZERO #10-14.
YOUNG ADULT, SCI-FI