Below we have listed the reasons that you, smart, decision-making consumer, should be reading Invincible. Issue 118 is out today (for just 25 cents!) and is a great jumping on point. First though, let's get you up to speed with this great recap put together by Super Dinosaur's Jason Howard!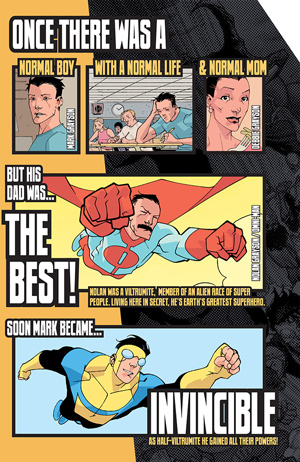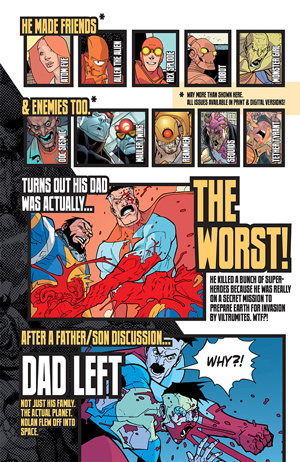 REASONS TO READ INVINCIBLE:
1. It's written by Robert Kirkman, the man behind The Walking Dead. You know how he likes to build up to really big moments and then shock you? And then do it again immediately afterwards before you've even had a chance to recover? He does that here too. A lot.
2. It's drawn by Ryan Ottley. Ryan kicks all kinds of ass. Deep emotion, insane action, brutal violence—he captures it all and makes it look flippin' awesome.
3. DID YOU SEE THAT BABY ON THE COVER OF THIS WEEK'S ISSUE (WHICH IS JUST 25 CENTS)?! SQUEEEEE!
4. It's a super clever spin on Super Hero tropes. You start and you're like "Oh this is kind of like if Superman had a kid and he struggled with his new powers and being an awkward teen" and then you hit issues 7-10 and you're like "WHAT THE [BLEEP] [BLEEP] [BLEEEEP]?!"
5. It's funny. This week's issue (which is just 25 cents) highlights this. And if you read it, and you're like, "hey where's all this action I've been hearing so much about?" Don't you worry. You never have to wait long for someone to get an eyeball punched out of their head. Invincible balances heartbreak, laughs, and action like no comic I've read before. Yes, I'm paid to say that. Yes, I would say that even if I didn't work at Skybound. Unless I worked at a competitor, and then I would just say it privately. Like maybe whisper it into my pillow at night.
6. Battle Beast. Conquest. Allen. Thragg. Robot. Dinosaurus. Some of the coolest/best/most lovable villains and supporting characters EVER.
7. Did we mention the brutal violence? Because it's brutal. And violent. Robert is a sick man and Ryan is equally sick. It's awesome. It's to their credit that it's always well-deployed and serves the story. These fights are BIG and they have BIG stakes. What DOES a fight between two impossibly strong super humans (and/or aliens) look like? Hint: it is not pretty.
8. When you fall in love with the series and decide you want to read everything you missed (not that you'll need to, but come on), you'll have 117 issues to binge on!
9. THIS WEEK'S ISSUE IS JUST 25 CENTS!!! A FREAKING QUARTER! ARE YOU KIDDING ME?! What a great reason to head down to the comic shop that you've been neglecting! Check out some other titles that keep popping up in your Twitter feed. Saga. Birthright. Sex Criminals. East of West. Rumble. You're welcome.