BIRTHRIGHT VOLUME 1 is out NOW, and the second arc starts this week! What better time catch up with Josh and Andrei?! Up first in our two-parter is writer Josh Williamson!

SKYBOUND: Prior to Birthright, it seems like your previous Skybound work had more of a supernatural or horror slant (Ghosted, Nailbiter). What made fantasy the next genre to tackle with Birthright?
JOSH: Because I love fantasy. Especially dark fantasy. This was an idea I had way back in 2007, but it was never fully formed. Originally it was much darker more horror. And then I started to include the family drama aspects and it took shape. And after doing two horror comics it felt like it was time to change it up. Thankfully the book was Birthright because it's been a blast to write. A challenge sometimes, but mostly awesome.
With Birthright, you and Andrei are building an immersive fantasy setting, even as you build the real world problems. What are your influences when building the fantasy world of Terrenos? Are there certain things that you're liking more than others when it comes to building the world?
Early on [Skybound's Editorial Director] Sean Mackiewicz and I had conversations about how a lot of fantasy comes from a European angle, and we wanted to go further than that. Look at other cultures and see their fantasy tropes and styles. Then once Andrei got involved it really took off, he took those ideas and ran with it. Creating this rich world. The guys imagination is insane. He always goes way beyond my expectations. We looked at a lot of fantasy art, animation, designs for movies, read books… and then we started to look at heavy metal album covers… and surprisingly that really started to shape the direction we were going in.
"Chosen One" stories are popular in all kinds of fiction. Though, at the end of the first issue of Birthright, we see that this isn't going to be quite the "Chosen One" story that we're used to. What about the idea of a "chosen one" and the burden of being born into a destiny fascinated you?
If I told you today that you're entire life was about this one event, this one action you had to do… and you did that… what do you do next? THAT was the aspect of the destiny story that I was interested in. What do you do after the destiny is complete? What do you do when you fail?
Destiny is something that I have a hard time with. I believe too much in hard work and hustling to control your life to believe in a pre-ordained plan. BUT it's hard to ignore some of the odd coincidences that happen in life.
But you can tell our story of the Chosen One is super far from over…
Birthright seems to be so much about families and their relationships, and as such Brennan and the Dad seem as much a main character as Mikey is. How does the exploration of those relationships help to keep the book grounded, even as half of it is set in a fantasy world?
Opening Birthright #1 on a father and son playing catch in the park created an entry point for a readers. We've all seen or been there. So opening on the family allowed us to bring the readers in on something very real and grounded before diving into the high dark fantasy. And we try to keep that running through every scene of the book. Every scene is about the family in some way. It's what the book is really about, y'know? How we deal with each other and how we overcome tragedy.
Now that the first arc is wrapped up, we've seen Mikey, Brennan, and their dad go on the run and pick a fight with a Terrenos native who's crossed into the real world, and even seen another Terrenos native cross over to Earth. What can we expect to see happen in the next arc and beyond?
The next arc is a focus on Brennan and Mikey and their relationship going forward. Do they trust each other? Does Brennan want to help Mikey? How is Mikey dealing with being home and his mission? We introduce a few new characters who create obstacles for Mikey's mission, but also create problems for the family in general.
The horrible reality Mikey left behind is coming to haunt him. He thought he escaped it… but was wrong.
But really expect some amazing art from Andrei Bressan… the guy is killing it. Also… a pirate ship.
Andrei, it seems, was perfectly suited for this book. He just brings it to a whole other level. How did the two of you end up working on the book together? Why bring it to Skybound?
Before Ghosted came out I had been talking to Skybound about doing another book. Sean and I were at Wondercon 2013 chatting about comics and ideas I had. Birthright was one of the books. Sean wanted it, and Skybound agreed. They've been great to me over the last three years. Super thankful for my experiences with them.
Sean had worked with Andrei back when Sean was an editor at DC, and loved his work. He knew he had talent but never seemed to get placed on a regular book. We looked for an artist for nearly six months, talking to a lot of people, but no one ever clicked… until we started talking to Andrei and he got it immediately. He's been amazing to work with. His energy makes the book what it is.
Besides Birthright, what other projects do you have going on that people might be interested in?
Well, my other Skybound comic is called Ghosted! It's Ocean's 11 in a Haunted House instead of a casino. It's a crime heist horror mash-up. And then my other horror comic… NAILBITER! If you like Birthright you should check those out… and expect to get scared!


Come back tomorrow (Tuesday) for part 2 with artist Andrei Bressan. And don't forget that a new arc starts this week with BIRTHRIGHT #6, which also has a variant cover from James Harren (of Image Comics' RUMBLE)!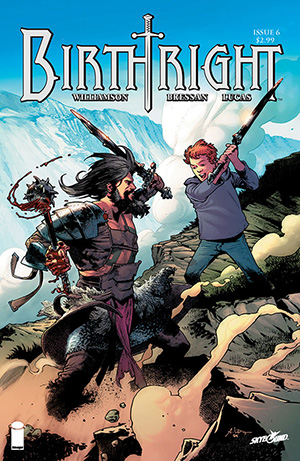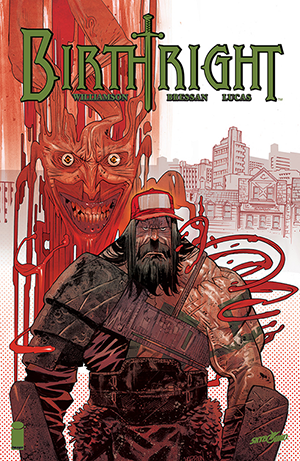 LEO JOHNSON, who was gracious enough to conduct this interview for us, is our latest freelancer here at Skybound! Leo has been writing about comics for several years at various places. He currently be found at the Eisner-nominated Multiversity Comics and on Twitter @LFLJ.