SKYBOUND AND ANONYMOUS CONTENT REVEAL NEW LOOK AT IMPACT WINTER #1 BY TRAVIS BEACHAM AND STEPHEN GREEN
One-Shot Prequel to the Audible Original Bows This July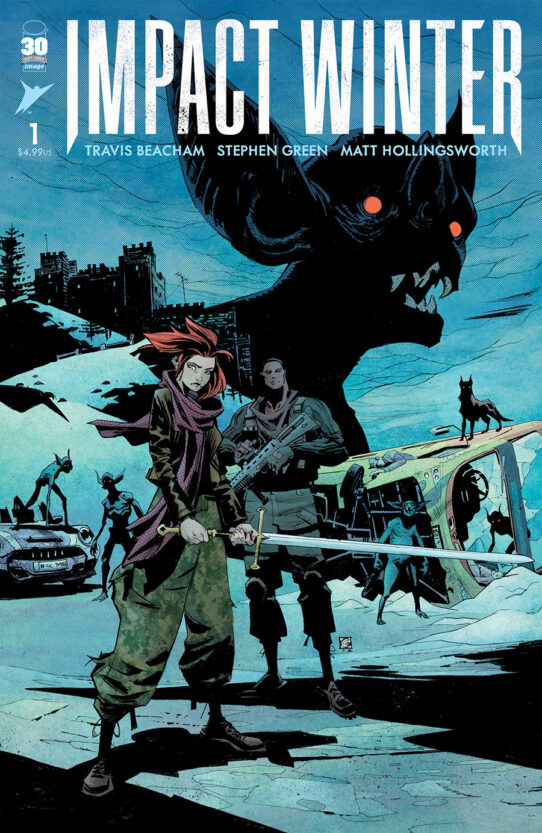 Today Skybound, in partnership with Anonymous Content, unveiled a new look at Impact Winter #1, the new post-apocalyptic one-shot that serves as a prequel to the Audible Original series of the same name. Impact Winter #1 debuts in comic shops July 13.
The superstar creative team behind the new comic includes Audible series creator Travis Beacham (Pacific Rim, Carnival Row), artist Stephen Green (Hellboy and the BPRD), colorist Matt Hollingsworth (Batman: White Knight, Little Bird), and letterer AndWorld Design. Impact Winter #1 will feature many of the characters made beloved in the heart-stopping audio drama, as well as the first appearance of an important character that has not yet been introduced in the audio series.
The 40-page extra-length issue takes place several years prior to the events in the audio series—one year since a comet hit Earth, inflicting an "impact winter" and blotting out the sun. Now, the world is a dark, cold landscape ruled by vampires.
In the British countryside, a band of survivors has formed a resistance in the fallout shelter of a medieval castle. Among them is Darcy, a young, headstrong fighter waiting for her chance to prove she can be on the front lines. But when that opportunity comes, Darcy will come face to face with the true horrors of this new world.
The epic drama from Audible, Skybound Entertainment, and Anonymous Content debuted in February as the #1 Audible Plus bestseller across categories at its launch and the #1 Audible Original fiction bestseller in its week of launch. This action, romance, coming-of-age story delivers an unprecedented sonic experience via binaural action sequences, original music and incomparable sound design, all of which come together to bring to life this post-apocalyptic world in visceral detail. Impact Winter is now available via Audible and all major podcast providers, including Apple, where it has ascended as high as #3 on the fiction podcast charts.
Impact Winter #1 (Diamond Code MAY220042) will be available at comic book shops and digital platforms including Amazon Kindle, Apple Books, comiXology, and Google Play on Wednesday, July 13, 2022.