Skybound Comet has, true to its name, been blazing like a fireball through the YA firmament lately. Now — hot on the heels of books like Clementine, Everyday Hero Machine Boy, Sea Serpent's Heir, and Scurry — comes Ava's Demon. The first print collection of Michelle Fus' hit webcomic, Ava's Demon Book One: Reborn arrives on May 30th. Here's the official announcement, along with a whopping nine-page preview…
Today Skybound Comet unveiled an enchanting preview of Ava's Demon Book One: Reborn, acclaimed author Michelle Fus' first book in a new series of graphic novels collecting their groundbreaking YA webcomic, which also set webcomics crowdfunding records on Kickstarter, now available for the first time in the book market.
The upcoming original graphic novel is an exciting release for Skybound Comet, a new original graphic novel imprint aimed at Young Adult (Ages 12+) and Middle Grade (Ages 8-12) audiences, but sure to captivate readers of all ages.
In Ava's Demon Book One: Reborn, a young, shy girl named Ava discovers that the demon who haunts her is actually the spirit of an ancient alien queen named Wrathia. The two form a powerful pact—in exchange for a better life, Ava must help Wrathia seek revenge against TITAN, the godlike being who destroyed her empire. To aid in the fight, Ava must assemble Wrathia's most trusted warriors and their host lifeforms. The only problem is, she doesn't know how to find them…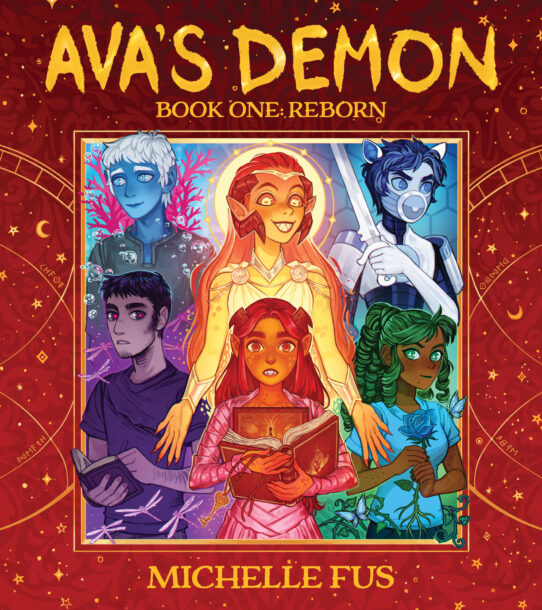 Ava's Demon joins an exciting 2023 Skybound Comet slate that includes the recent release of Scurry (Diamond Code MAR228456, ISBN: 978-1-5343-2436-7), the first-ever collection of the smash-hit webcomic by Mac Smith in a complete volume; April's release of Outpost Zero: The Complete Collection (MAR228457, ISBN: 978-1-5343-2437-4), which collects the acclaimed YA series from the superstar team of Eisner Award winners Sean Kelley McKeever (Spider Man Loves Mary Jane) and Alexandre Tefenkgi (The Good Asian) in a single volume; Sea Serpent's Heir Book Two (AUG228503, ISBN 978-1-5343-9993-8), which continues the YA fantasy trilogy by  Mairghread Scott (Dragon Age: Absolution) and Pablo Tunica (TMNT Universe), coming September 2023; and Clementine Book Two (APR228664, ISBN: 978-1-5343-2519-7) by acclaimed writer/artist Tillie Walden (Spinning, On a Sunbeam), which continues the trilogy set in the world of Robert Kirkman's The Walking Dead in October 2023.
 The campaign for Ava's Demon Book Two: Aftermath, the next chapter of the groundbreaking webcomic, recently broke records as the highest-funded webcomics Kickstarter of all time.
Ava's Demon Book One: Reborn (MAR228458, ISBN: 978-1-5343-2438-1) will be available at comic book shops on Wednesday, May 24, 2023 and everywhere books are sold, along with digital platforms including Amazon Kindle, Apple Books, comiXology, and Google Play on Tuesday, May 30, 2023.