The latest novel in The Walking Dead universe has been given a title, release date, and cover!
The Walking Dead: Invasion from series mainstay Jay Bonansinga will be hitting the shelves on October 6th and again follows hero Lilly Caul! Here's the insane sounding synopsis:
---
Out of the ashes of a devastated Woodbury, Georgia, two opposing camps of ragtag survivors develop – each one on a collision course with the other.
Underground, in the labyrinth of ancient tunnels and mine shafts, Lilly Caul and her motley crew of senior citizens, misfits, and children struggle to build a new life. But a secret ambition still burns in Lilly's heart and soul. She wants her beloved town of Woodbury back from the plague of walkers, and now the only thing that stands in her way currently roams the wasted backwaters of Georgia…
Way out in the hinterlands, amidst the rising tide of walkers that seem to be pushing in from all directions, the psychotic Reverend Jeremiah Garlitz rebuilds his army of followers with a diabolical secret weapon. He has designs on the destruction of Lilly and her crew – the very people who vanquished his cultish church – and now, for the first time, he has the means to bring a special brand of hell down upon the tunnel dwellers.
The final confrontation between these two human factions unleashes an unthinkable weapon – forged from the monstrous hordes of undead, perfected by a madman, and soaked in the blood of innocents.
---
If you're not on board after that, I can't help you!
Let's take a look at that cover: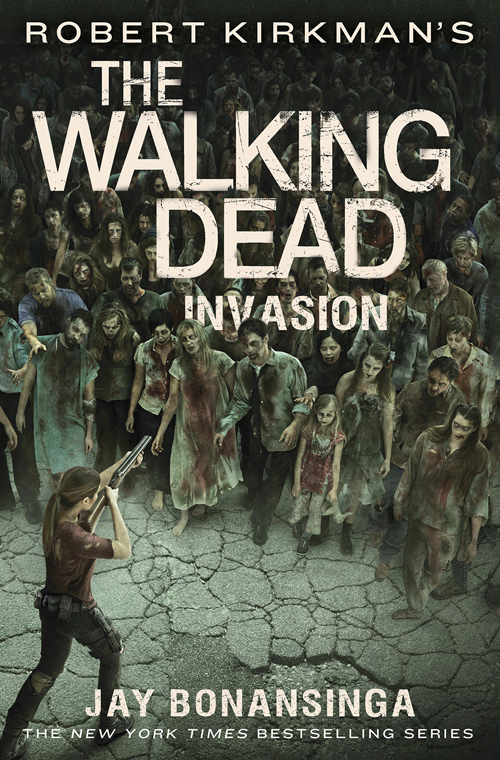 St. Martin's Art Executive Lisa Pompilio had this to say about the cover: "For our latest installment of The Walking Dead series, we pulled in photographer and digital artist Blake Morrow to take on the task of putting together our zombie 'Invasion.' For the part of Lilly, we then cast Karli, the host of Geekin' Gorgeous, a blog and YouTube channel about everything Geeky. While we were walking through how we were going to pull off this epic endeavor, we thought it would be great to do a behind the scenes video for the fans to see the making of the book cover. The Geekin' Gorgeous video team filmed onset along with a team of very talented makeup artists and around ninety extras, creating our own zombie invasion in Toronto for your viewing pleasure."
Speaking of that Geekin' Gorgeous video, CHECK IT OUT: