Simon Stålenhag does it all as he's released an album of music to accompany his narrative art book THE ELECTRIC STATE. Get in the mood as you wait for your copy of THE ELECTRIC STATE to arrive!
GET IT ON BANDCAMP
LISTEN ON SPOTIFY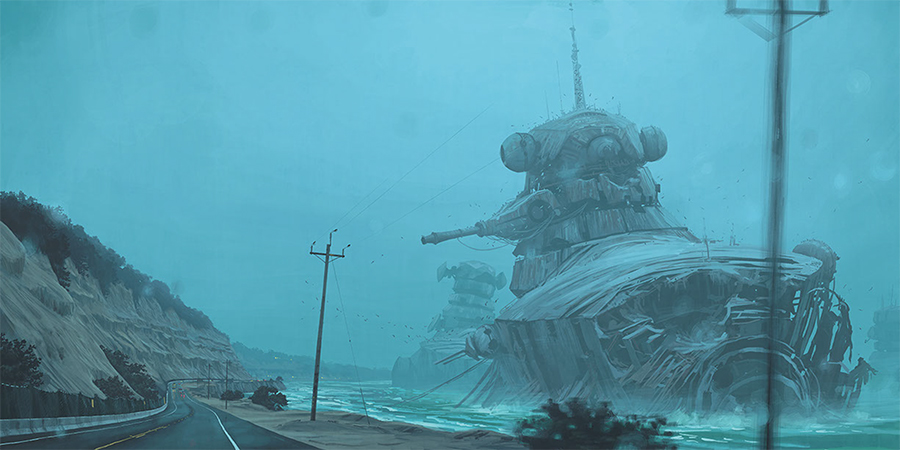 This album for THE ELECTRIC STATE was release last year as part of the Kickstarter for the initial run of the book. If you're hungry for more, Simon has also just released a new album called MUSIC FOR DOS. Here's how Simon describes it:
"A collection of ambient tracks, composed with Impulse Tracker, running on a Pentium 266 Mhz. Very much influenced by Brian Eno and Harold Budd, and I thought it would be interesting to explore if I could do something similar using only super cheap toy keyboards, sampled and tracked on old PC hardware.
Tracks use mostly samples from Casio SA21 and Yamaha Portasound PSS280. I also sampled a few patches from my Reface DX, and imported some data files from my DOS disk. Since the music is written on old DOS software on ancient hardware there isn't any real digital effects used at all, delay effects are manually tracked duplicates of pattern data or manipulated volume data on looping samples."
GET IT ON BANDCAMP
LISTEN ON SPOTIFY
And you can pre-order THE ELECTRIC STATE from us, right now!