Today Skybound Comet debuted a captivating first look at Sea Serpent's Heir Book Two: Black Wave, the second installment of the fantasy graphic novel trilogy about growing pains and changing your fate from the powerhouse team of Mairghread Scott (Dragon Age: Absolution, Guardians of the Galaxy) and Pablo Tunica (Teenage Mutant Ninja Turtles). 
Available everywhere books are sold September 2023, Sea Serpent's Heir Book Two marks the release of the second OGN in this acclaimed Young Adult trilogy from Skybound Comet, a new original graphic novel imprint aimed at the Young Adult (Ages 12+) and Middle Grade (Ages 8-12) audience, but sure to enthrall readers of all ages. 
"Volume 2 takes us to darker depths as Aella grapples with loss and devastation," said Mairghread Scott. "But is the little girl from Kinamen Isle really ready to become a pirate queen?"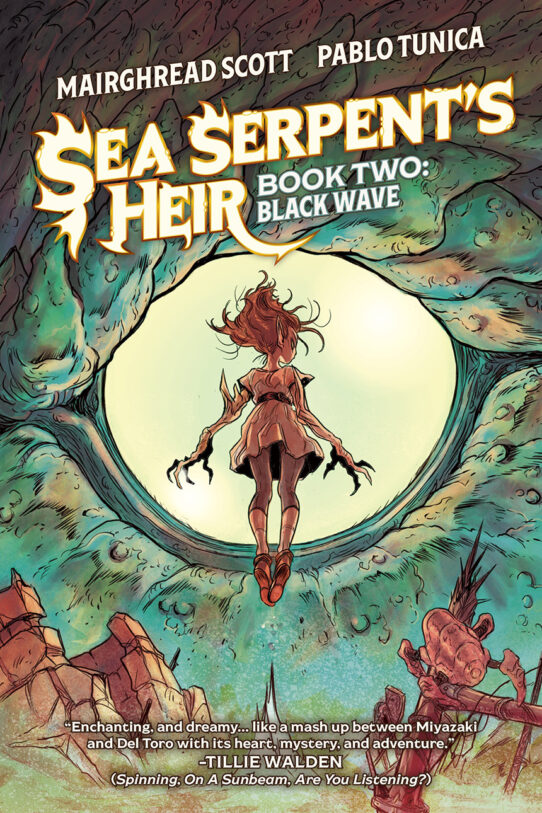 The high-fantasy, high-seas adventure continues! Aella sets sail with her mother's pirate crew on a quest for revenge. As more secrets about her origin are revealed, Aella begins to embrace her dangerous and powerful dark side, leading her down a path from which there may be no return… 
Sea Serpent's Heir Book Two: Black Wave (Diamond Code AUG228503, ISBN 978-1-5343-9993-8) will be available at comic book shops on Wednesday, September 6, 2023 and everywhere books are sold, along with digital platforms including Amazon Kindle, Apple Books, comiXology, and Google Play on Tuesday, September 12, 2023. 
Skybound Comet's 2023 release slate also includes the recent February release of Scurry (Diamond Code MAR228456, ISBN: 978-1-5343-2436-7), the first-ever collection of the smash-hit webcomic by Mac Smith in a complete volume; April's release of Outpost Zero: The Complete Collection (MAR228457, ISBN: 978-1-5343-2437-4), which collects the acclaimed YA series from the superstar team of Eisner Award winners Sean Kelley McKeever (Spider Man Loves Mary Jane) and Alexandre Tefenkgi (The Good Asian) in a single volume; acclaimed author Michelle Fus' first book in a new series of graphic novels collecting their groundbreaking YA webcomic with Ava's Demon Book One: Reborn (MAR228458, ISBN: 978-1-5343-2438-1) coming May 2023; and Clementine Book Two (APR228664, ISBN: 978-1-5343-2519-7) by acclaimed writer/artist Tillie Walden (Spinning, On a Sunbeam), which continues the trilogy set in the world of Robert Kirkman's The Walking Dead in October 2023.  
For more info and updates on Skybound Comet, visit www.skyboundcomet.com.