In celebration of its 10th anniversary, today Skybound announced the Manifest Destiny Book 1 Deluxe Hardcover, a 500+ page collection of the groundbreaking series from the superstar team of creator/writer Chris Dingess (Marvel's Agent Carter, TV's Doom Patrol), artist Matthew Roberts (Battle Pope), colorist Owen Gieni (Rat Queens), and letterer Pat Brosseau (Creepshow). The hardcover will be available everywhere books are sold in November 2023.
This deluxe hardcover collects the first 24 issues, along with covers and sketchbook, for the definitive presentation of the entire Manifest Destiny series, with a Book 2 Deluxe Hardcover also coming in 2024.
In 1804, Captain Meriwether Lewis and Captain William Clark set out on an expedition to explore the unchartered American frontier so their great nation could fulfill its destiny. This is the untold story of what they discovered lurking in the wilds.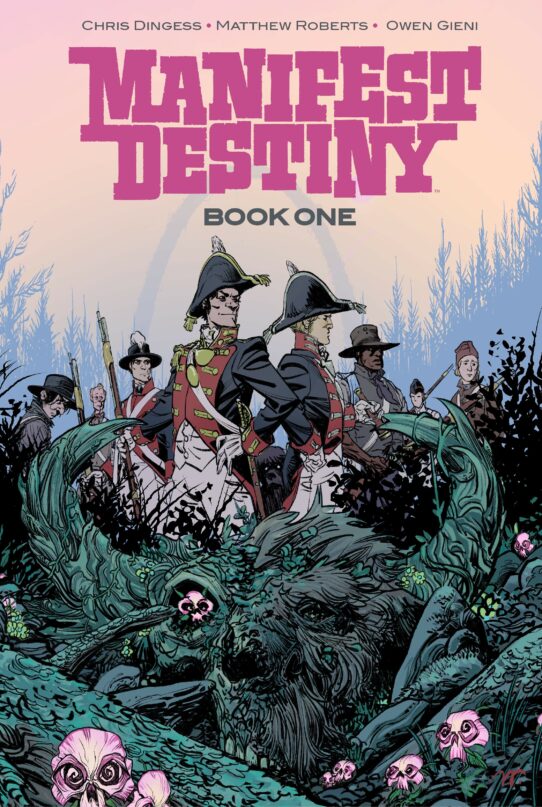 "After spending a decade on this book with the stellar crew of Matt, Owen, and Pat, I can honestly say it was the journey of a lifetime," said Chris Dingess. It was an honor to work with Robert, David, Sean, and the team at Skybound and a real deal, super-serious dream come true to have them present Manifest Destiny in this Hardcover Edition. I hope readers have as tremendous an adventure on the trail as we had blazing it."
"I love this book and working with this team for the past decade has been amazing," said Matthew Roberts. "As an artist, being presented with such confident and compelling scripts from Chris and then being given the freedom to take risks and follow impulses as I draw is a dream. Then to know that I've got Owen, one of the most dazzling colorists in the game, coming in behind me? And THEN we have Pat on letters to tie it all together? Crazy. I love what we all were able to pull off. It's a great story and I'm thrilled to see it all together and get the big fancy hardcover treatment."
When the series debuted with issue #1 on November 13, 2013, Chris Dingess and Matthew Roberts began to tell an action-adventure epic of a new monster birthed right in the heart of America. Manifest Destiny brought Lewis and Clark's expedition to its blood-soaked conclusion at the end of 2022 after a historic nearly decade-long run, and now fans can celebrate the 10th anniversary and own a definitive piece of the series that created an alternate history of the United States.
Manifest Destiny Book 1 Deluxe HC will be available at comic book shops and digital platforms including Amazon Kindle, Apple Books, comiXology, and Google Play on Wednesday, November 8, 2023, and everywhere books are sold on Tuesday, November 15, 2023.
For more info and updates, visit www.skybound.com.