Since Skybound first announced its shared Energon Universe of Transformers and G.I. Joe, fans have been clamoring for info on the company's plans. And today. Saturday, at SDCC 2023, info is what they got. Comic creators Robert Kirkman, Joshua Williamson, and Daniel Warren Johnson appeared on Skybound's "Transformers & G.I. Joe Return in The Energon Universe" afternoon panel in Room 6A, and offered a look at the new universe they're building.
The three were joined by Skybound's SVP/Publisher Sean Mackiewicz, who explained the project's genesis: "From the very beginning we wanted to focus on original projects, so any license had to be added into what we were doing. And Robert has a huge passion for Transformers, I have a huge passion for G. I. Joe. We found creators that we have long-standing relationships with that are some of the best in the business. So I think pairing premiere talent with huge global licenses that we love and have a connection to and actually think we can build upon their legacies… That's exactly why we did it."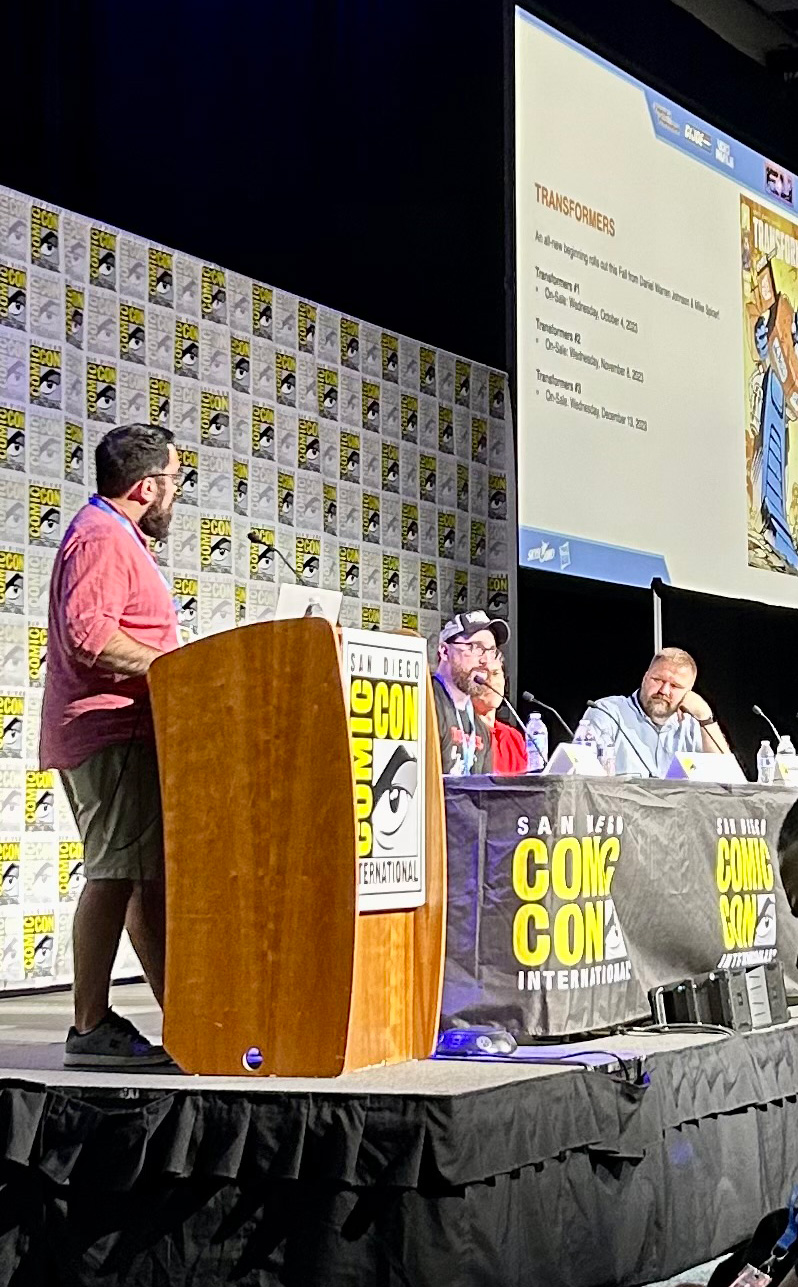 As for the choice of creators involved — Daniel Warren Johnson on the upcoming Transformers and Joshua Williamson on Duke and Cobra Commander series — Kirkman remarked… "They're both creators that have, obviously, tremendous talent, but they have really unique aspects to what they do. I mean, Josh took Flash and put a new coat of paint on it and made it better for a modern audience. And to be able to take something that has that much history and make it seem vibrant and fresh and exciting is something really unique and it's something that we really need to pull off with with this brand."
"Then Daniel Warren Johnson, this guy has so much heart to his work. He does this amazing action stuff and he does amazing spectacle, but the emotion that he's able to put into stories is unparalleled in this industry. You really want people to care about these characters; and the emotional aspect to both the Transformers and G.I. Joe stories of the past is the thing that made them so unique and so cool and made me fall in love with them. So we wanted to find a team that was able to bring that to these comics in a really exciting way."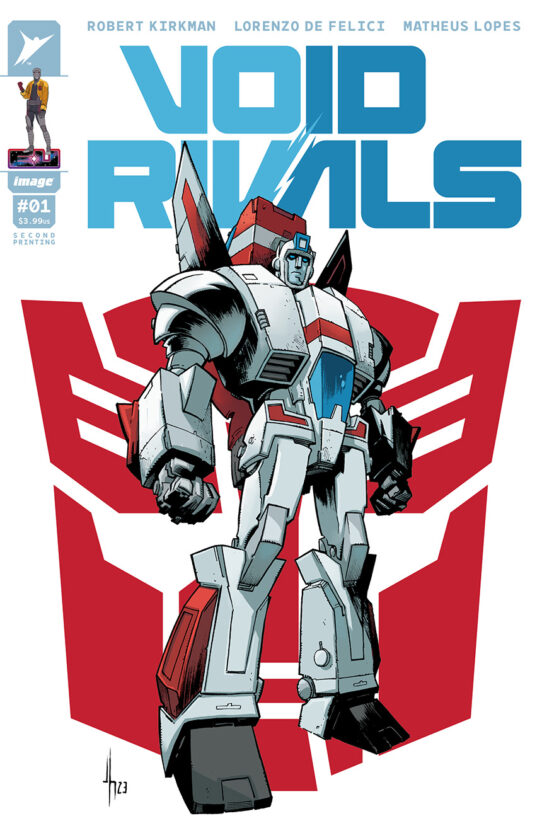 Regarding the surprise appearance of Jetfire in the first Energon Universe comic, Void Rivals #1, Kirkman said, "When you get Daniel's first issue, you'll see how it all kind of works together and how it is the starting point of this universe that's going to be expanding and growing as we get deeper into these series. He's just a cool character, and I had that toy as a child, and I absolutely love him. It's great to be in a position to be like, 'Cool toy I played with as a kid. Cool toy I played with as an adult.'"
As for using Void Rivals as a stealth introduction to Skybound's Energon Universe, Kirkman commented, "I had the general idea of 'Wouldn't it be cool to have an original book that actually was a shadow Transformers comic or a Transformers-related comic, but I hadn't ever worked out the details of what that original book would be per se. I had some notion of 'Oh, it'd be cool if there were two people stranded on a planet and then they found a transformer and that led to their escape.' But I had never really developed it. So when it became real and we were actually talking to Hasbro, it was great to be able to sit down with Lorenzo De Felici and try to backwards engineer something that was cool and original and seemed like a viable book for us to work on, but also had an '80s feel."
"When you see that title, Void Rivals, when you hear about two warring races living on the the rim of a black hole, that sounds like something I would've walked into Toys R Us in 1983 and seen on toy shelves. So it was just a great challenge as a creator to kind of sit down and try to find something that could sit alongside Transformers and G.I. Joe and exist with them in a believable way."
Check out Skybound's full SDCC 2023 schedule here.
Follow Skybound on Threads (@skyboundent) Twitter (@Skybound), YouTube (Skybound), Facebook (@SkyboundEntertainment), Instagram (@skyboundent), Discord (Skybound), Reddit (Skybound), and at www.skybound.com for updates in real time from the convention floor.
VOID RIVALS TM & © 2023 Hasbro
TRANSFORMERS TM & © 2023 Hasbro