If you're an Invincible fan, you're no doubt familiar with Burger Mart, the fast-food restaurant where hero Mark Grayson (AKA Invincible) toils away. Well, we're inviting you to sample our Comic-Con 2023 booth offerings via a special Burger Mart menu for exclusive Invincible variant cover comic books! 
At this year's San Diego Comic-Con 2023, fans who visit the Skybound booth (#3735) will be given a Burger Mart menu-themed card, listing four activations to complete. Upon completing each booth activation, your card will be stamped. Once you complete all the activations and get all the stamps, you'll receive this incredible INVINCIBLE #1 by Greg Capullo with ink artist Jonathan Glapion SDCC Exclusive featuring Mark (B&W). 
All you need to do is 1.) visit the booth's merch counter, 2.) turn in your card, and 3.) get an exclusive Invincible variant cover comic! Easy, right?
The stamp activations are as follows:
Have your picture taken at our Photobooth.

It will feature one of the following unique 360-degree wraparound backdrops each day of Comic-Con…

Wednesday, 7/19 – Transformers
Thursday, 7/20 – Impact Winter
Friday, 7/21 – Invincible
Saturday, 7/22 – The Walking Dead
Sunday, 7/23 – Invincible
Sample the Audible Original Impact Winter at our Listening Station. A recent Audible Award winner, Season 2 of Impact Winter arrives Thursday, July 13th.
Check out a demo of one of our games!
Sign up for our free Skybound Insiders membership program.
Here's a full look at the exclusive Invincible variant cover comic. Limited to one per person, there will be 500 of these comics available at SDCC 2023; and once they're gone, they're gone…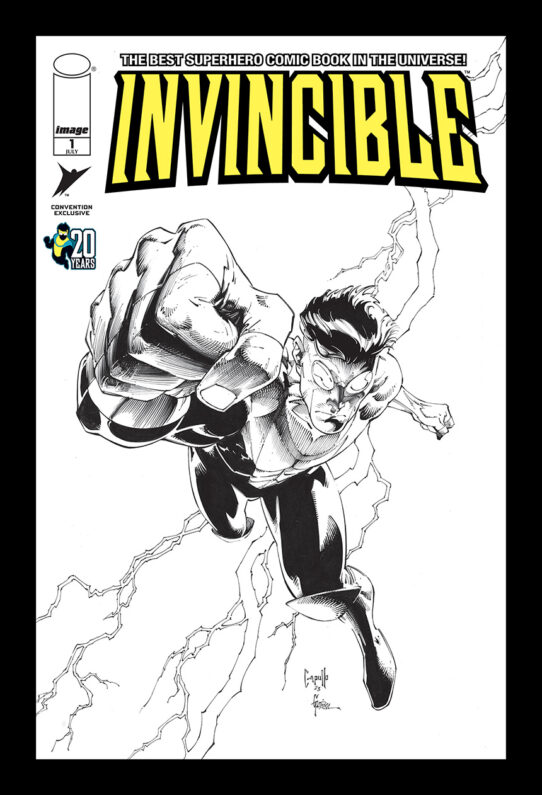 Be sure to check out Skybound's full schedule of events at SDCC 2023, as well as all of the exclusive comics and merch we'll have at the show. Hope to see you in San Diego!
INVINCIBLE™ © 2023 Robert Kirkman, LLC & Cory Walker. SKYBOUND and all related images are owned by Skybound, LLC. IMAGE COMICS and all related images are owned by Image Comics, Inc. All rights reserved.