Today Skybound announced the release of the fourth fantastic installment of the Lastman series from the powerhouse team of Balak, Michaël Sanlaville, and Bastien Vivès. Lastman Book Four, containing volumes 7 + 8 of the original French series, will be available everywhere in November 2023.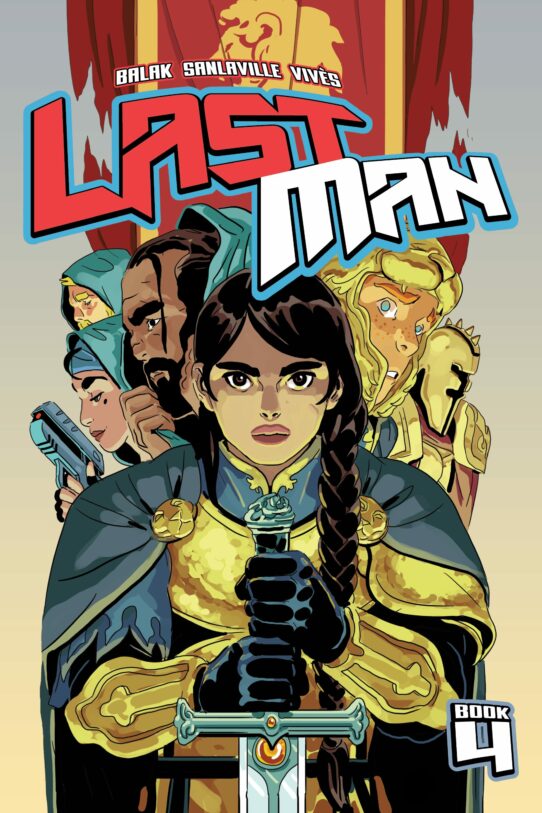 Skybound's editions of Lastman will collect the action-packed series as a complete set in English for the first time, featuring full color pages to open each volume that will be followed by striking black and white pages. Each of the six Lastman books will feature all-new remastered translations and backmatter including additional series art. 
"Lastman Book Four kicks off an all-new story arc in this action-packed series," said Amanda LaFranco, Editor at Skybound. "After the dramatic and unexpected turn at the end of the last volume, readers will be anxiously waiting for the story to continue here! We're beyond thrilled to be able to continue telling Adrian and Richard's story for both new and long-time fans and bring this new story arc to English-language readers for the first time." 
Over ten years have passed since Adrian, Marianne, and Richard made their fatal return to the Valley of the Kings. Young Adrian is presumed dead after his fall back into the rift, and Richard has been a fugitive ever since. When a friend from Richard's past shows him proof that Adrian is alive and continuing his fighting legacy, worlds will collide as the passageway between realms is opened. But who has Adrian become in all this time, and will he see Richard as an old friend or a new enemy?  
Skybound's complete series remastering of the critically acclaimed fight comic kicked off recently with Lastman Book One, which contains volumes 1 + 2 of the original French series and a new foreword by Robert Kirkman. Lastman Book Two, collecting volumes 3 + 4 of the original French series, will release in March 2023, and Lastman Book Three, collecting volumes 5 + 6 of the original French series, will follow in July 2023.   
Lastman Book Four will be available at comic book shops and digital platforms including Amazon Kindle, Apple Books, comiXology, and Google Play on Wednesday, November 8, 2023 and everywhere books are sold on Tuesday, November 14, 2023.