Continuing its yearlong celebration of Invincible's 20th anniversary, Skybound today announced the Invincible Complete Library HC Vol. 4, which collects issues #71-96 of the groundbreaking comic series from Robert Kirkman, Cory Walker & Ryan Ottley in a fan-favorite format. Invincible has captivated audiences for 20 years and with this hardcover, Skybound continues its rollout of special releases this year in commemoration of the unforgettable series.  
This edition collects the Invincible: Ultimate Collection Volumes 7 + 8 into one massive slip-cased tome, featuring over 600 pages of pure Invincible goodness.  A can't-miss for any Invincible fan, the Complete Library HC Vol. 4 is also a perfect addition to any reinforced, sturdy bookshelf (bookshelf not included).  
This volume starts with the epic Viltrumite War storyline, which features Invincible and his strongest allies taking on the entire Viltrumite race! No planet, species, or hero is safe from this historic battle. 
Invincible Complete Library HC Vol. 4 will be available at comic book shops on Wednesday, October 18, 2023 and everywhere books are sold, along with digital platforms including Amazon Kindle, Apple Books, comiXology, and Google Play on Tuesday, October 24, 2023.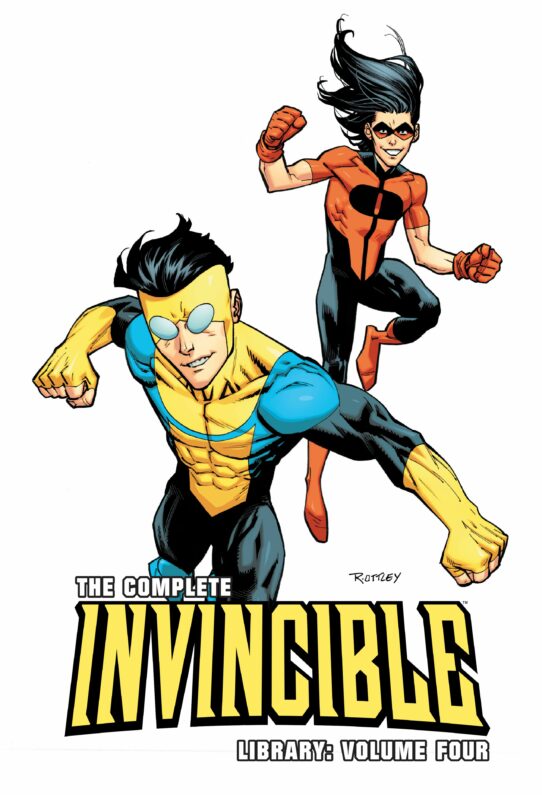 In addition, a new printing of Invincible Complete Library HC Vol. 1 will be available on the same date for fans to collect.  
Created by Robert Kirkman and Cory Walker, Invincible #1 debuted to critical acclaim on January 22, 2003. Soon after, they were joined by artist and contributing creator Ryan Ottley. Throughout its fifteen-year run, Invincible not only continued for a historic 144-issues but also spawned multiple spin-off series' and even an inter-company crossover with a certain friendly neighborhood superhero. In 2021, the Invincible animated series arrived on Amazon Prime and quickly became one of the most popular new streaming series of the year, earning praise worldwide for its fresh storytelling. With a second season set on the horizon and new comic book projects to be announced, Invincible remains a cornerstone of the pop culture landscape that continues to grow in popularity every year. 
For more information on the Invincible 20th Anniversary, follow Skybound on Twitter (@Skybound), YouTube (Skybound), Facebook (@Skybound Entertainment), Instagram (@skyboundent) using #Invincible20 and check out www.skybound.com.