Ever wonder how your favorite Walking Dead actors got their infamous roles on the show? Our friends at The Hollywood Reporter have your answers. Below are some of our favorite excerpts but make sure to head over to THR's site to read all 27 amazing audition stories (like Carol, T-Dog, Carl, and more)!
---
ANDREW LINCOLN (RICK)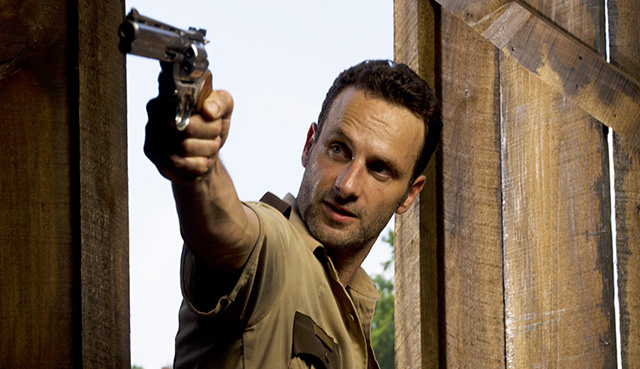 I remember pacing around my hotel since I was flying in from England and had terrible jetlag before going to have a screen test with Frank Darabont. I felt like a lab rat, I was completely over obsessing about it. We were throwing ourselves off a cliff with this thing, holding hands and hoping the parachute would open. Jon Bernthal (Shane) had already been cast. I remember doing the big car scene with him and thinking, "That was a really great take and one of them, we really clicked." I kept hearing this noise and I thought it was the car engine. We looked around and realized that one of Jon's dogs had fallen asleep and was snoring in the middle of my take. I thought, "I'm never going to get this job." … AMC offered the part to me soon after I touched down back in England. I remember meeting Sarah Wayne Callies the day before we started filming and she looked at me and said, "Don't f— this one up!" She was cast after me. Lennie James (Morgan) was cast before anybody else. It was a very shrewd move. They'd been trying to find Rick for a long time and I was just about to film a movie in England but had to pull out because my son was born a bit early and when my daughter was born, I made a vow not to do that ever again. Then I had to fly out to L.A. for a screen test for The Walking Dead. I got a friend to replace me in this movie and the next day, this script came through from AMC. I must have been on their radar with Frank and he wanted me to test. It was incredible.
LAUREN COHAN (MAGGIE)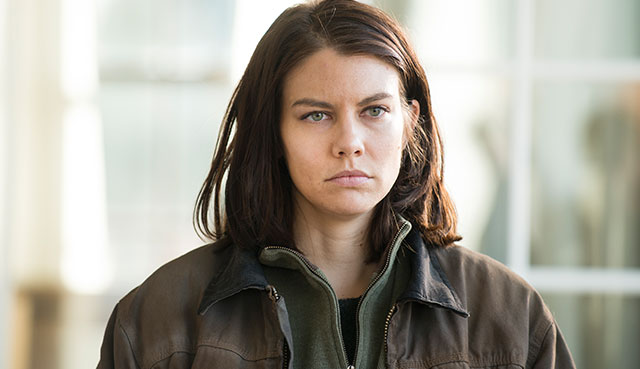 I was actually the last cast member who auditioned without dummy [fake] sides. I had three scenes, knew she was named Maggie and while I didn't receive a script I knew the scenes as they were written were what we filmed. I connected with Maggie right away. It was one of the few times where I read it a little more than once and memorized it. I auditioned in my old childhood bedroom with my younger sister playing Glenn. After I watched my audition tape back, I saw there was a basket of laundry the back corner of the tape and was completely embarrassed! (Laughs.) AMC asked if I could re-tape it with more "light," and I thought they meant a with lighter quality. I sent an audition tape back that was somehow more jovial and then they were like, "No, no, just more physical light on your face!" (Laughs.) By that point, I was in Ireland and we were staying in a castle where my friend's wedding was and there was absolutely no light. I was holding my laptop in the corner by a window, doing the audition with my head hung out the window. Afterward, they asked me to chemistry read with Steven Yeun. I was so excited and didn't have time to think about what that meant. I booked the job and left the wedding early and it was the quickest audition process I've been through.
DANAI GURIRA (MICHONNE)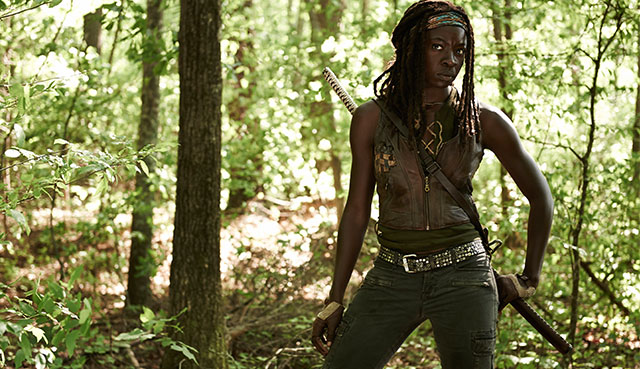 My audition process was a very powerful experience. There were few series regular parts out there that made me want them like this one did. The sides were not real but were close to the character. It was a great scene with a good arc so you could show her different facets. I did know it was for [comics favorite] Michonne, though contractually a different name was used to retain confidentiality. I read up about her online and was amazed I had never come across her before. The audition process was a nail biter. I wanted the role real bad. I got to the final test and there were two other ladies whose work I knew of in different capacities. We did a first round and I didn't quite do what I wanted and I wasn't happy about that. I was glad when [casting director] Sharon Bialy said we should stay to hear what they wanted to do after seeing everyone. I was praying so hard — and out loud — that I could get one more shot in that room and show them all I could do. Sharon called us all back and said we were going to be seen again. We got notes from the exec producer and the note I got really clicked something in for me. I was so ready to go back in I was shadow boxing in the hallway. I went back in and had a really awesome artistic experience playing that scene out. I left there feeling elated and that I had left everything in that room. I went home and slept and got the call that evening.
TOVAH FELDSHUH (DEANNA)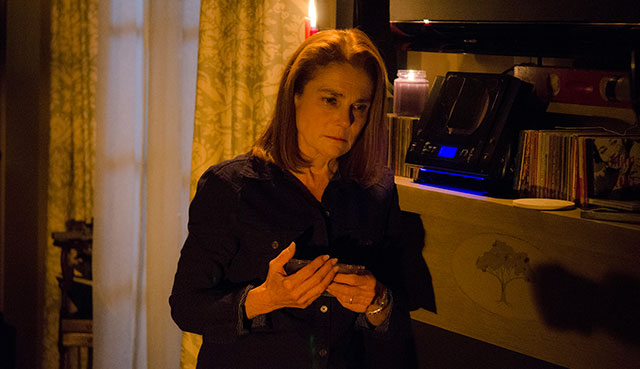 My audition was so crazy. I was on my way to the Galapagos and was sent this script, and it was so good. I changed my flight. They changed my audition and were kind enough to move me to 11 a.m. I got there at 10:45 and auditioned and went straight to the airport. It was a scene for the head of intelligence — like the head of the CIA — and I just played the head of intelligence for USA Network's Covert Affairs, where I had to speak fluent Hebrew, which I don't. I loved the scene and was told that this wasn't even representative of the series. It was a mystery audition. I left on my trip and didn't hear from them for a week. I was in the middle of a crater and they finally found me and we came to terms. I didn't know if I wanted to do the series; I had never seen The Walking Dead becauseI'm squeamish. Scott Gimple called and convinced me to take the part. Then this wacky thing happened when they flew me out of the Galapagos to Atlanta. I met Scott and Greg Nicotero and discussed my character for about an hour, went for a costume fitting and had a 10-page scene with Andrew Lincoln the next day. It was like being shot out of a cannon.
MICHAEL CUDLITZ (ABRAHAM)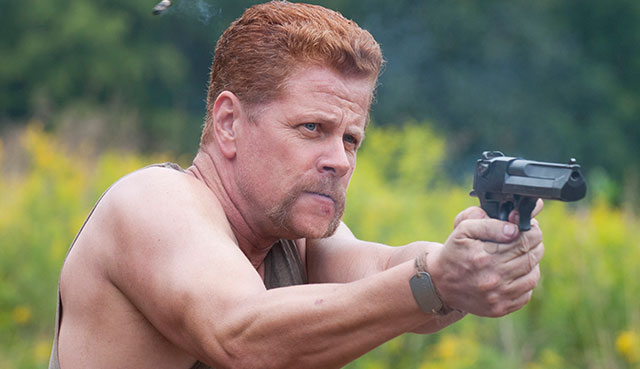 After Southland was canceled on NBC, I read for Frank Darabont's pilot script and wanted to be a part of it. Then Southland was picked up at TNT. I knew [former showrunner] Glen Mazzara who said there may be a few roles coming for stuff at the prison. When Southland went down, I got a call from casting and they said they had this role and wanted me to audition for it. I got a monologue about this guy who had stopped at a buddy's house and he didn't know the guy well and had to borrow his car to go to the desert. There was a parallel there with Abraham trying to get somewhere and people getting in his way. The monologue launched into the whole "Smart Mother F—er, Stupid Mother F—er" speech from the comics. I started piecing together who I might be auditioning for. I had jury duty and I didn't know if I'd be called in. I knew [casting director] Sharon Bialy since college and she let me audition on tape because I didn't want to miss out on this a second time. She sent it to AMC and they passed on me and felt that I was too recognizable. One of the strengths of the show is that the characters and actors are not connected to anything. Two weeks later, they came back and said they wanted me to do it. Turns out [showrunner] Scott Gimple loved me and thought I was Abraham. The rest is history.
ALANNA MASTERSON (TARA)



I remember being very calm about it. I wasn't necessarily right for the part, she was much older originally. And if I'm not 100 percent right for it, I usually just go in for the sake of seeing the casting directors. [The casting directors] had seen me plenty of times before so I was excited! I had no idea the part I was playing, or that I would be introduced with the Governor's story line, so the expectations were pretty low. Also, it was for only one episode, they never told me it was a big part. At the callback, there were four girls there, two of whom I knew who were really talented and work all the time. I went in first and Scott Gimple was there with some of the writers. I did the scene and stood right up when I finished and tried to walk to the door. Scott laughed and made me sit back down and do it again a different way. I was convinced they weren't going to like me, so I tried to bolt! The next day was my 25th birthday and they called to saying I was leaving that weekend. Three seasons later, I'm still kicking.
DAVID MORRISSEY (THE GOVERNOR)


My audition for The Walking Dead was a delight from start to finish. I first met with the casting agents Sharon Bialy and Sherry Thomas and I just remember laughing with them so much about all sorts of things. I then met up very briefly with Glen Mazzara, who was the showrunner on season three. We talked generally about "a character" nothing specific. The Governor was never mentioned. I was then told to prepare a couple of scenes to read in front of the producers. The scenes were for the audition only, again, nothing specific. I was very nervous as I was such a huge fan of the show and really wanted to join the cast. I waited in a small reception place at AMC and I could see Gale Anne Hurd and Glen with a few other people in the room opposite. I waited and waited because Robert Kirkman was stuck in traffic, it felt like hours but I'm sure it was only about 10 minutes. He arrived full of apologies and I was called into the room. It seemed to be crammed with people. I just read the scene once and then that was it. I went back to my hotel, and then my manager called to say I had been offered the part. I was delighted. I then spent the next three months trying to find somewhere to live in Atlanta!
EMILY KINNEY (BETH)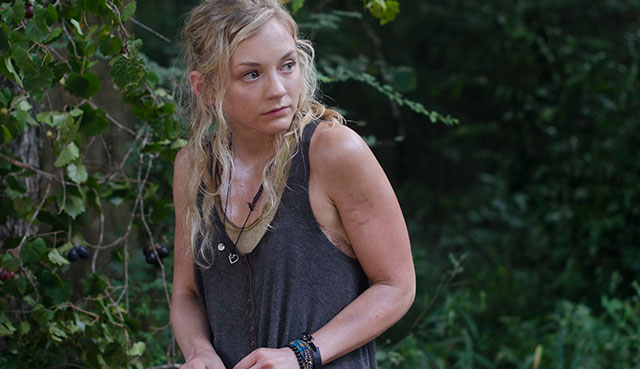 I had two auditions: one with the casting director and a second for Frank Darabont and the producers in New York. They were still figuring out who Beth was going to be. I auditioned with Maggie sides but they said I'd be going for her little sister. The sides were from the first script. Usually they give dummy sides but this was a scene where Maggie was talking to Glenn. It was after the [beloved] well-walker scene. The second audition, they had some Beth sides but they weren't from the show; we never ended up filming them. I remember getting calls saying, "If you got it, you'd be leaving on this date." Everything was so secret and I didn't know if I should start packing for Atlanta. They wound up telling me the day before I had to leave. I remember the call: I was work-shopping a theater project and every time I had a break I'd look at my phone to see if we knew for sure if I got the part.
Current project: Recurring on Showtime's Masters of Sex.
CHAD L. COLEMAN (TYREESE)



I knew I was auditioning for Tyreese. I got a call that Robert Kirkman had his eye on me since seeing me as Cuddy from The Wire. He'd been looking at me for a while and I didn't know about it. There was a lot of buzz online about people wanting this character to appear and who should play him — and I was on a lot of those lists. That echoed Kirkman's sentiments and he went to AMC and said, "Chad is Tyreese." They said fine but we have to see other people and Kirkman said, "But it's Chad." He went to bat for me and I was grateful that it all worked out. I eventually auditioned for it with dummy sides. I went in and then had to come back one more time and then that was it. What I remember most about my audition was not having a car and having to take the bus to Raleigh Studios in [Hollywood]. I appreciate Robert for his sticktuitedness and AMC for seeing what he saw — eventually.
NORMAN REEDUS (DARYL DIXON)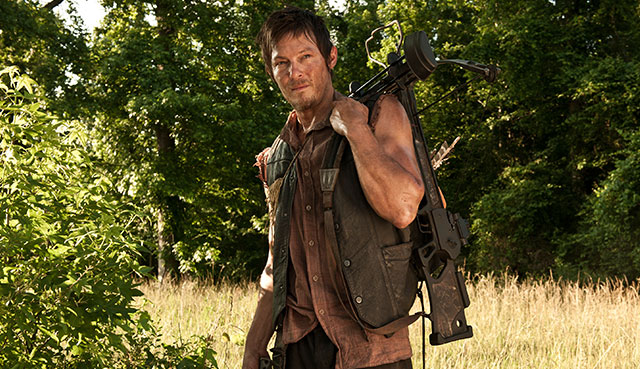 I went to L.A. for pilot season just to see what was on TV because it was starting to become really great. I was already watching AMC shows like Breaking Bad and Mad Men religiously. There were so many similar scripts — hospital and cop dramas — and then The Walking Dead was so different. It stuck out like a sore thumb. I had a feeling it was going to be something cool that I would want to watch. I asked to go in for anything, even something just for a day. They got me in for an audition — not in front of Frank — but I read Merle's lines. I'd already been told that Michael Rooker was playing that part and thought maybe he couldn't do it or said no for some reason. I read it and went back to New York after pilot season and got a call to audition again. I came in and read different Merle lines. I thought maybe Rooker was not going to be doing it. When I left the offices in New York, I was walking home through Chinatown and got a call saying Frank created a new part — Daryl — for me. I did cartwheels in Chinatown! It was a dream. I didn't know how long I'd last or if it was just one episode. But the job since Day 1 has been my favorite working experience ever and it continues to be. I feel very blessed to be here.

Remember to check out the rest of these Walking Dead audition stories on The Hollywood Reporter!