The Walking Dead's second season (aka "The Farm Season") was full of insane moments and betrayals that altered the course of the series forever. We ranked all thirteen episodes based partly on their IMDB rating and also our own input. Although we don't view any episode as bad, some stood more than others.
---
13. "Secrets" (Season 2 Episode 6)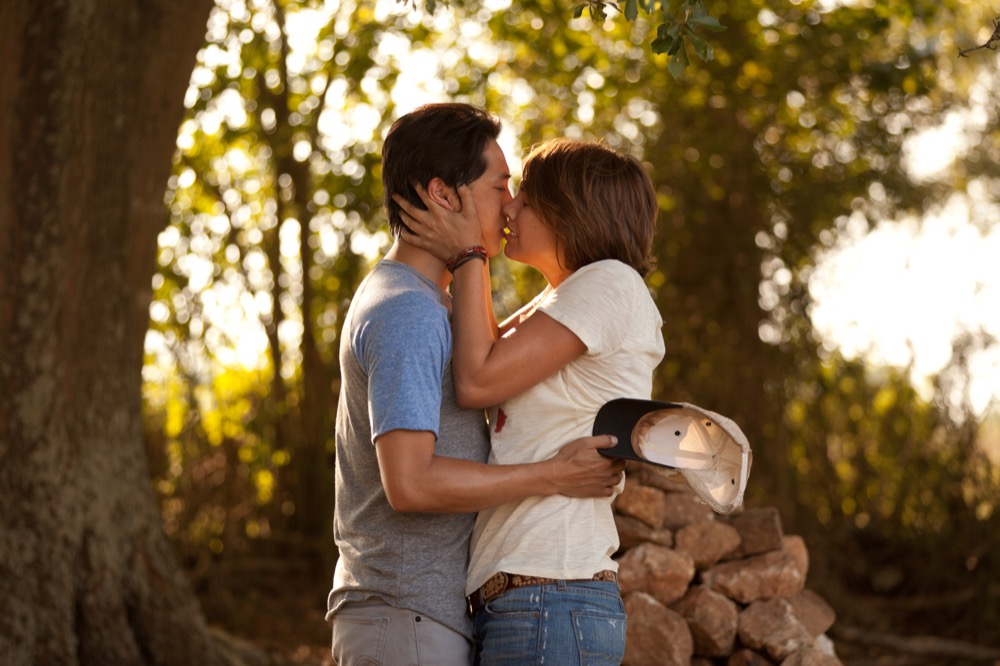 Quick Recap: Daryl recovers from his injury while Glenn shares the secret of the barn walkers with Dale, who confronts Hershel about it. The Greene patriarch assures him these people are just sick while Andrea and Shane head out to search for Sophia. Maggie gets attacked on a supply run but makes it back to Lori to deliver abortion pills. Lori takes them and immediately vomits them up, forcing her to tell Rick the truth about her pregnancy.
---
12. "Cherokee Rose" (Season 2 Episode 4)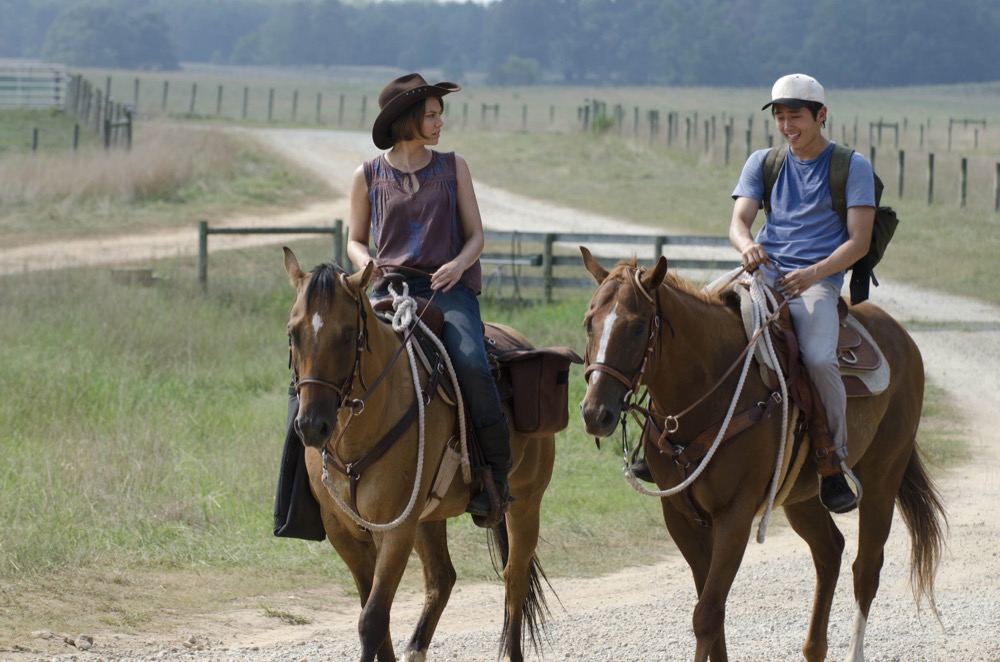 Quick Recap: Hershel welcomes our heroes to his farm but warns them their stay will be short. Glenn and Maggie head to town for medical supplies while the group encounters a well walker that rips in half. Shane trains some of the survivors while Daryl gives Carol a Cherokee rose flower as a sign of hope for finding her daughter Sophia. Oh, and Lori discovers she's pregnant.
Even though Cherokee Rose is near the bottom spot it still contained numerous memorable scenes from the season.
---
11. "Chupacabra" (Season 2 Episode 5)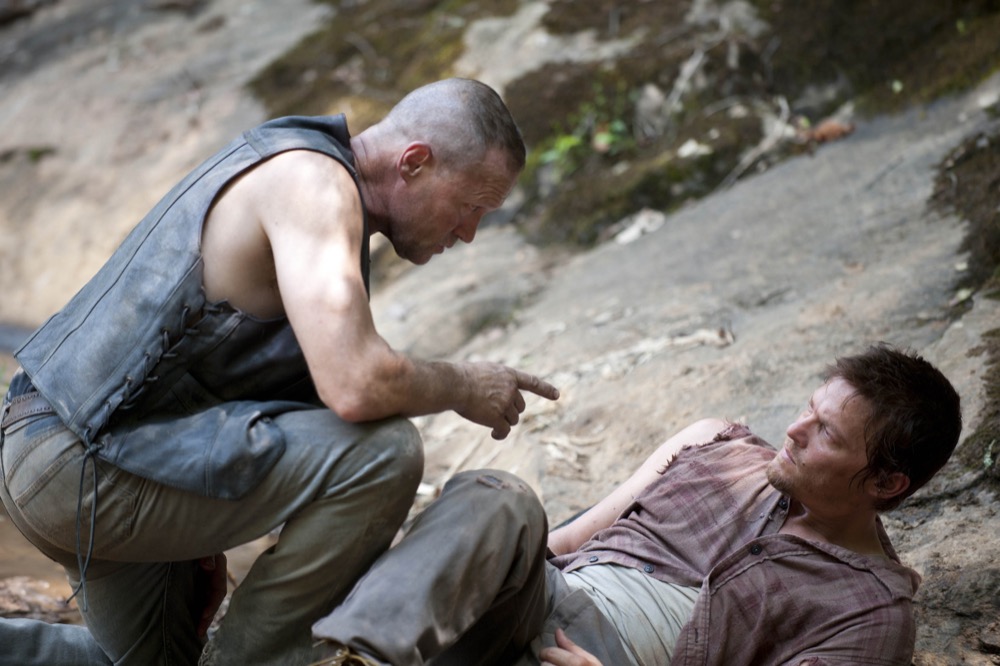 Quick Recap: We get a flashback of the military bombing Atlanta at the onset of the apocalypse. Cut to the present when Daryl's thrown off his horse and impaled by an arrow. He hallucinates arguing with Merle but manages to return the the farm, where Andrea mistakes him for the undead and shoots him. Carol helps him recover as Glenn discovers Hershel's keeping walkers in the barn.
---
10. "Bloodletting" (Season 2 Episode 2)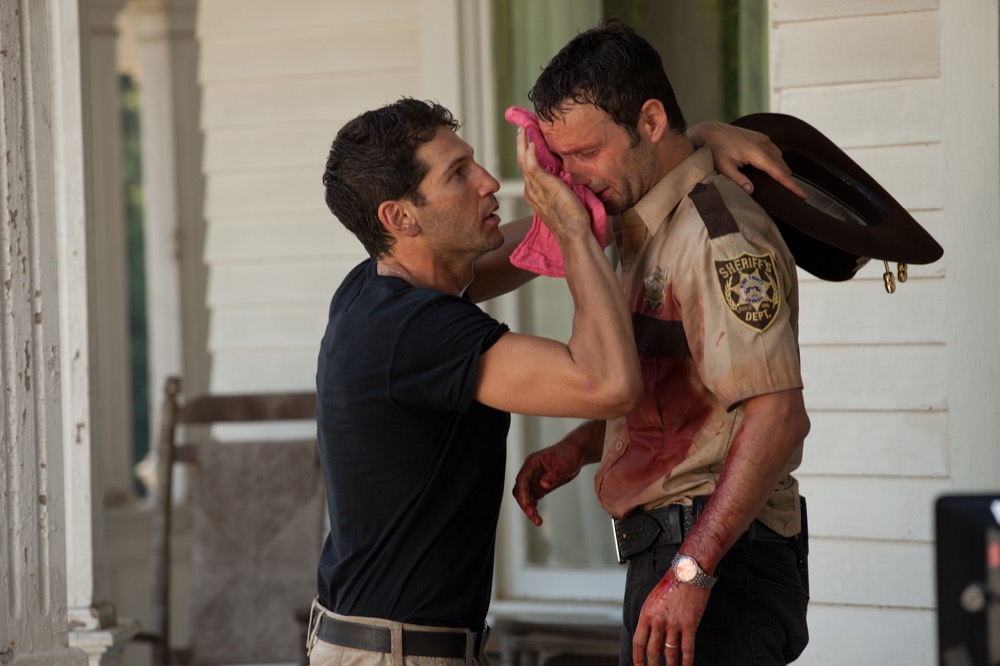 Quick Recap: After a pre-apocalypse flashback we see Rick sprinting to a nearby farm in hopes someone can treat Carl, who was just accidentally shot by Otis. It's there they meet Hershel and his family. Shane and Otis go on a supply run for medical supplies while Rick makes Maggie go to their caravan to get Lori. She makes it and they decide to stay the night before heading to the farm. Meanwhile, Shane and Otis get trapped in a high school.
---
9. "What Lies Ahead" (Season 2 Episode 1)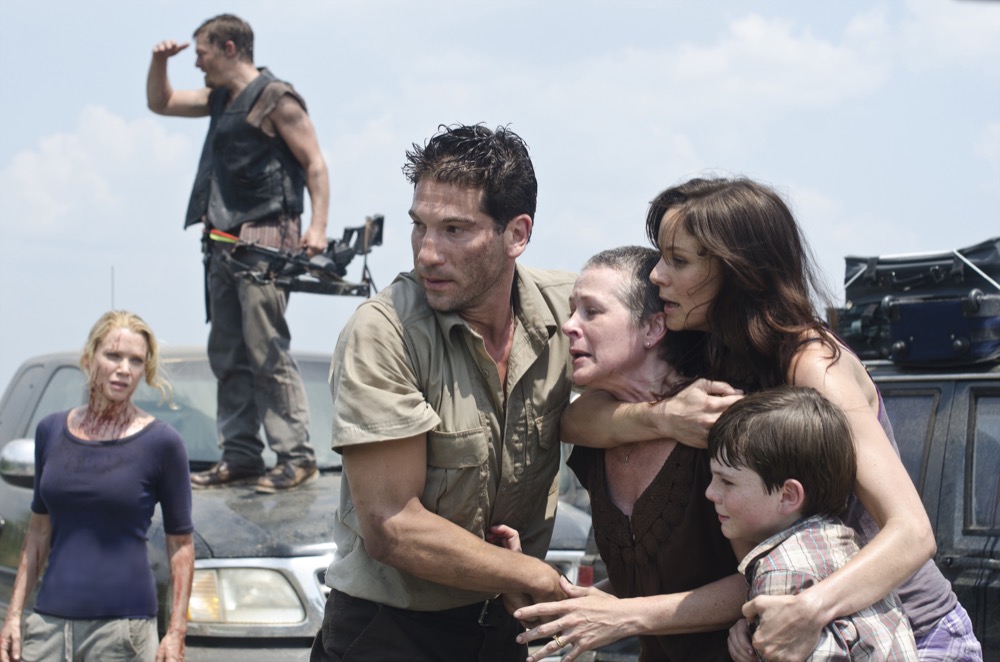 Quick Recap: Our survivors get trapped in traffic just in time for Dale's RV to die. The group begins siphoning gas from the cars when a herd of walkers appears. In the mayhem Sophia gets chased by a couple of walkers and Rick tells her to hide by the river. He takes them out and later discovers she's gone. The group starts searching for her when suddenly Carl gets shot through the chest while looking at a deer.
---
8. "Save The Last One" (Season 2 Episode 3)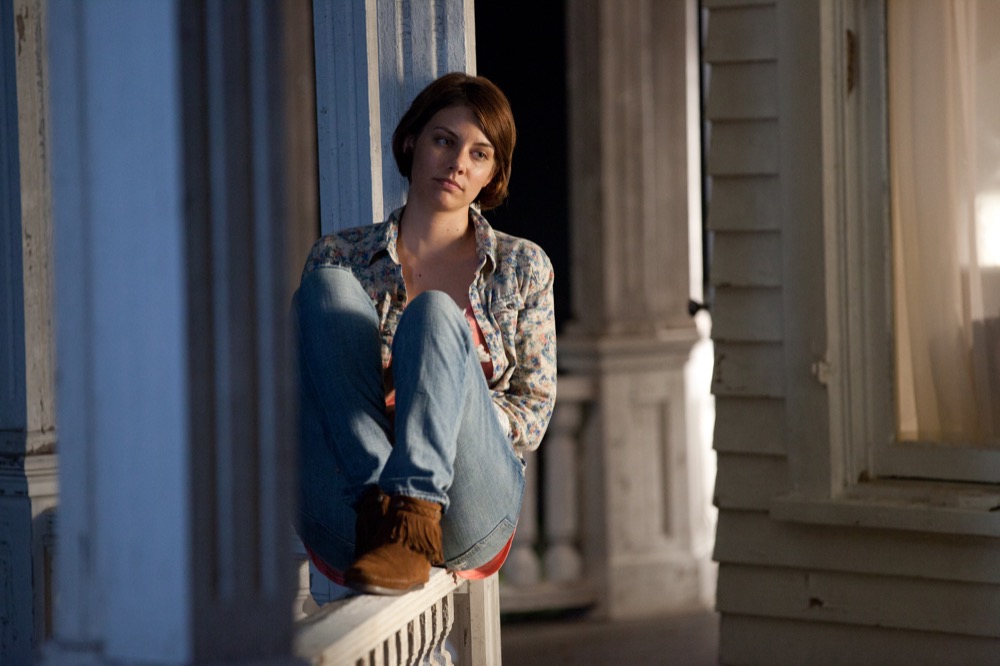 Quick Recap: Carl's hanging on by a thread thanks to Rick's blood transfusions, which takes a toll on him. Shane makes it back with the medical supplies and tells the others Otis sacrificed himself, even though he shot him in the leg and left him for dead. Hershel surgically removes the fragments from Carl's chest, which finally puts him in stable condition. Daryl continues to search for Sophia as the rest make it to the farm and Shane shaves his head to cover up the bald spot caused by Otis.
---
7. "Triggerfinger" (Season 2 Episode 9)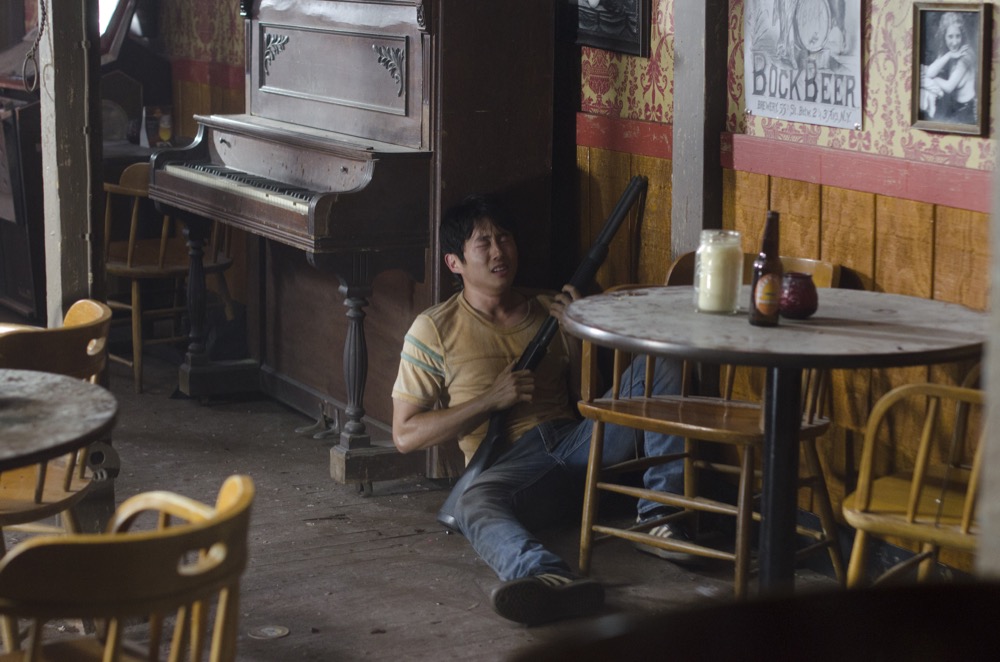 Quick Recap: Rick, Glenn, and Hershel get involved in a shoot-out when Randall, Sean, and Nate realize Rick killed their friends. Sean gets killed, Nate bails, and Randall injures his leg on a gate, forcing Rick to take him with them back to the farm. Back there, Shane suggests they kill him and later, Lori confesses to Rick she suspects Shane is dangerous.
---
6. "Nebraska" (Season 2 Episode 8)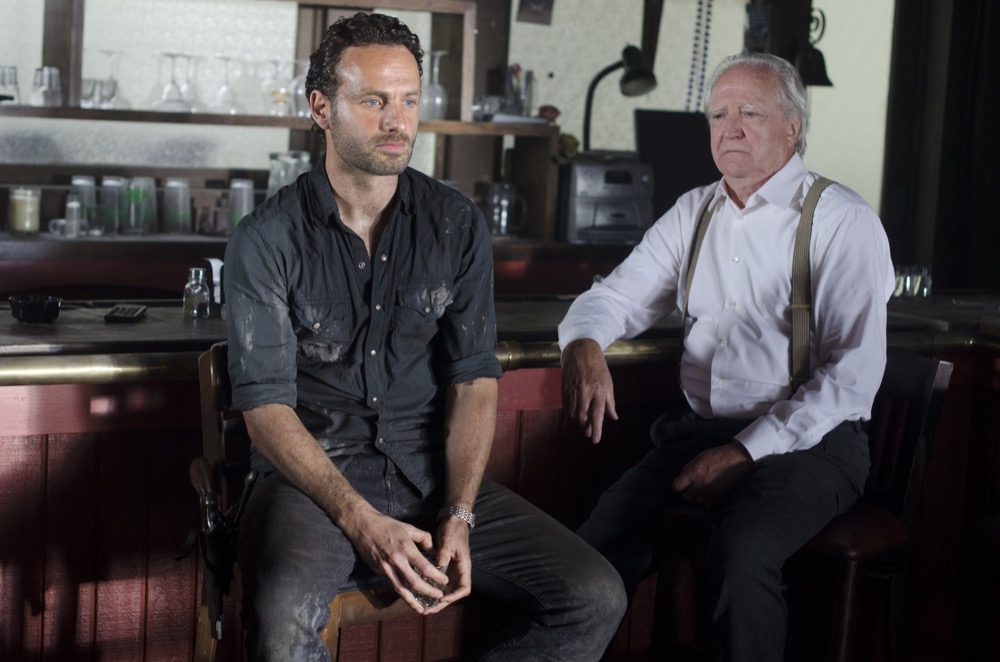 Quick Recap: Following Sophia's death the group burns the barn down. Hershel demands Rick's group leave and later goes missing. Carol refuses to attend Sophia's funeral, which angers Daryl. Rick and Glenn find him Hershel an old bar drinking away his troubles. Hershel reveals his history with alcoholism and Rick encourages him to get it together. Two men show up and ask about Hershel's barn but Rick kills them before they get any closer. Elsewhere, Lori crashes her car on the way to find Rick.
---
5. "18 Miles Out" (Season 2 Episode 10)
Quick Recap: Rick and Shane attempt to abandon Randall 18 miles outside of the farm but things quickly go south. Randall reveals he knows Maggie from high school, so Shane deduces he knows where the farm is (aka let's just kill him). Rick stops him and the two begin to brawl, causing a horde of walkers to be released. The three of them barely make it out alive while back at the farm Lori and Andrea prevent Beth from killing herself. Maggie becomes furious at Andrea for letting Beth try.
---
4. "Judge, Jury, Executioner" (Season 2 Episode 11)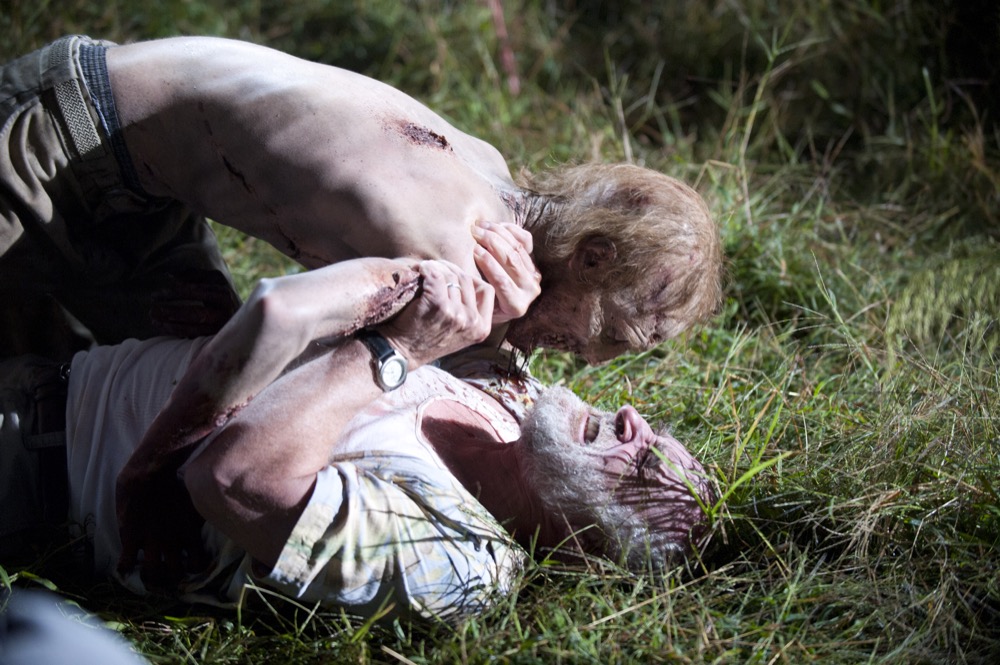 Quick Recap: It's Randall-killing o'clock. Dale warns Shane, Rick, and Daryl not to kill him on the basis of morality while Carl accidentally releases a trapped walker. The group votes on Randall's fate, and despite Dale's pleading and Andrea's change of heart they all agree to go through with it. Hershel gifts Glenn a pocket watch to show he approves of his relationship with Maggie.
Later, Rick stops Randall's execution when he notices Carl watching. Dale, who's still upset over their decision, finds a gutted cow and is attacked by the same walker Carl released. It rips through Dale's stomach. By the time the group finds him it's too late – Rick can't kill him so Daryl shoots him in the head.
---
3. "Beside The Dying Fire" (Season 2 Episode 13)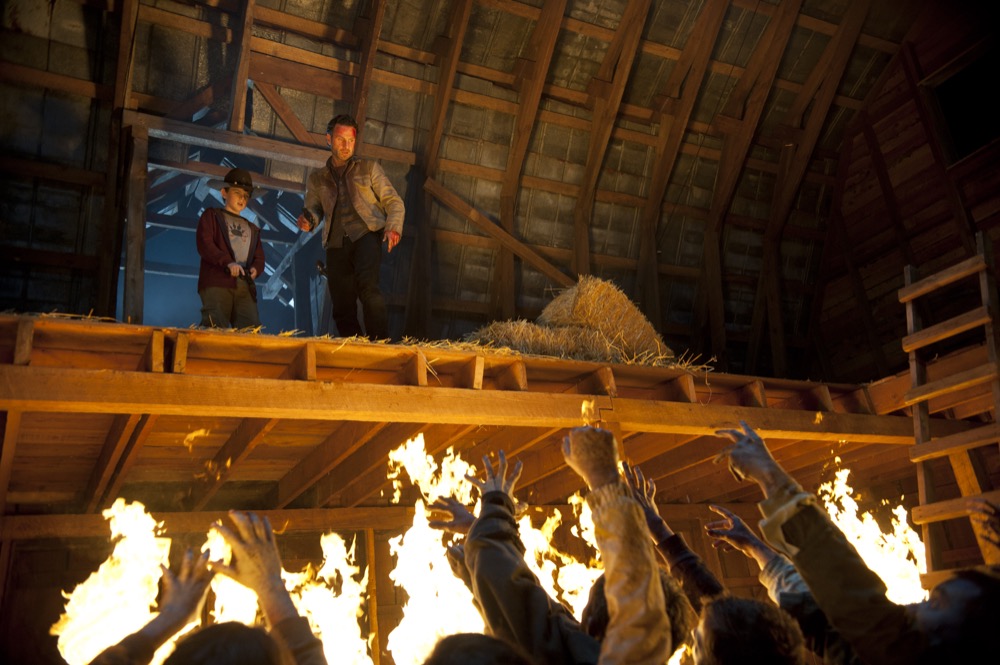 Quick Recap: Hershel's farm becomes overrun by walkers so Rick and Carl are forced to burn some of them in the barn. Daryl learns of Randall's death and reanimation when the walkers arrive; Patricia and Jimmy are killed in the chaos. Andrea gets left behind but is later saved by a katana-wielding hooded figure. The gang camps out on the highway and Rick tells Lori about killing Shane, which shocks her. When people begin questioning his leadership Rick tells them he never asked to be leader and that anyone can leave if they want to. When they don't, he tells them this isn't a democracy anymore. We pan out and reveal they're near a giant prison.
---
2. "Better Angels" (Season 2 Episode 12)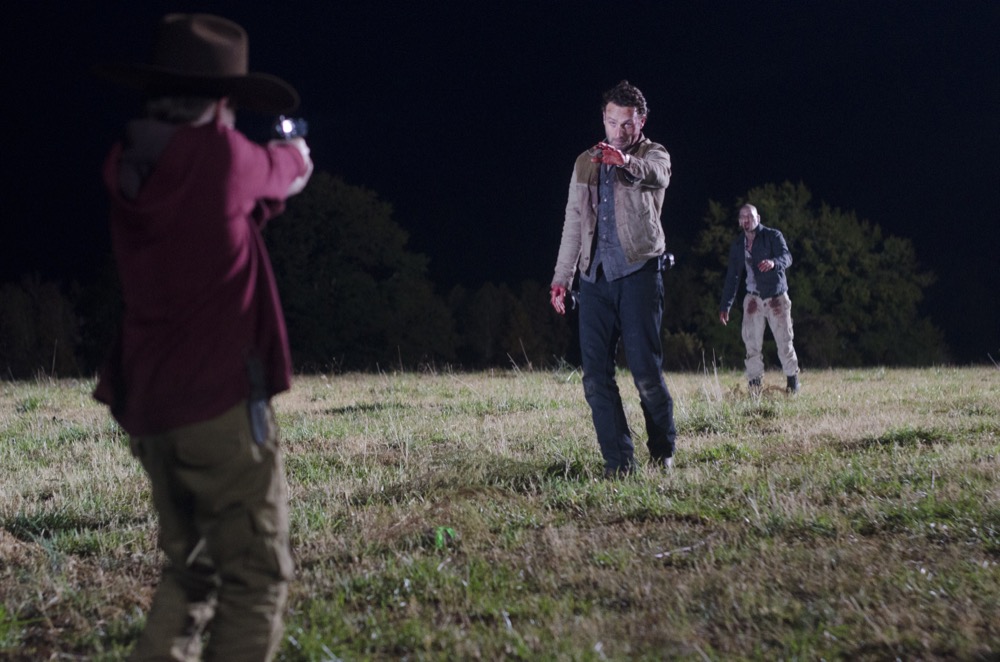 Quick Recap: The group buries Dale and Hershel finally welcomes everyone (but Shane) into his home. Learning nothing from their fallen friend, Shane takes Randall into the woods and murders him, later telling everyone he escaped. Rick confronts Shane about it once he and the others find a reanimated Randall. The two argue about who would make a better father and husband – this leads to Rick stabbing and killing Shane. Carl appears and shoots an undead Shane. The noise attracts a herd of walkers to their location.
---
1. "Pretty Much Dead Already" (Season 2 Episode 7)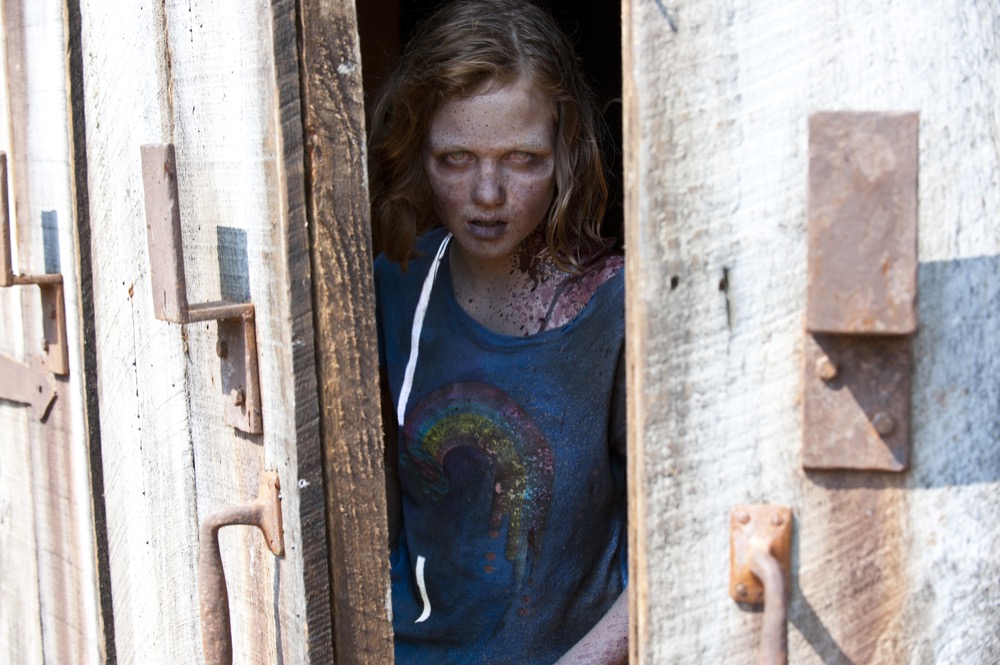 Quick Recap: Glenn reveals Hershel's walker barn secret, leading Shane to suggest they kill all of the undead. Rick tries calming him down and discussing it with Hershel, but Shane finds Dale and grabs their weapons to take out the barn walkers. He returns to the farm and opens the barn door, leading his people to shoot and kill the undead as Hershel and his family watch in horror. The last walker that emerges is Sophia, causing Carol to break down in tears while Daryl holds her. Rick shoots Sophia in the head, capping one of the most shocking Mid-Season Finales to date.
---
And that wraps up our Walking Dead Season Two episode rankings! What did YOU think of the list? Let us know in the comments how you would have ranked them and catch us later for our Season three rankings.