The New York Comic Con 2017 Funko Pop exclusives are getting a familiar face. Well, at least a half-burned one, anyway. Negan lackey Dwight from The Walking Dead show is joining the ranks of an already impressive line-up. Armed with a pistol, Dwight looks ready for All Out War: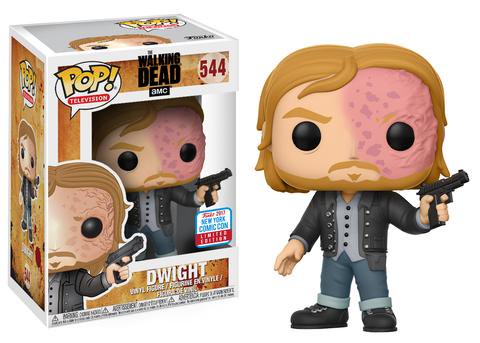 The description reads: "Will he prove to be a friend or foe to the Alexandrians? Watch your back, guys!" Fans will remember that Dwight, played by Austin Amelio, appeared to switch allegiances at the end of Season 7 after telling Rick he was tired of being a Savior. If the
trailer
is any indication, Dwight will continue to double-cross the Saviors in Season 8 as well. This marks the first time Funko has created a Dwight Pop.
As if that wasn't exciting enough, fans can also look forward to the other new NYCC figures, which include figures from Star Wars, Game of Thrones, Stranger Things, and more. Take a peek at some of them in the video below:
New York Comic Con 2017 runs from October 5th-8th. Fans who attend will be able to purchase Dwight and the other Funkos at their booth, which will presumably be ticketed. Fans who can't make it will get a chance to buy the exclusives at a later date online.