The Walking Dead's past 99 episodes have been full of memorable and heartbreaking episodes. In honor of Sunday's 100th episode, we ranked the top eight episodes of The Walking Dead so far based on your feedback (with our opinions mixed in as well). Check out the list below and tell us in the comments what you think of our order.
---
8. The First Day of The Rest of Your Life (Season 7, Episode 16)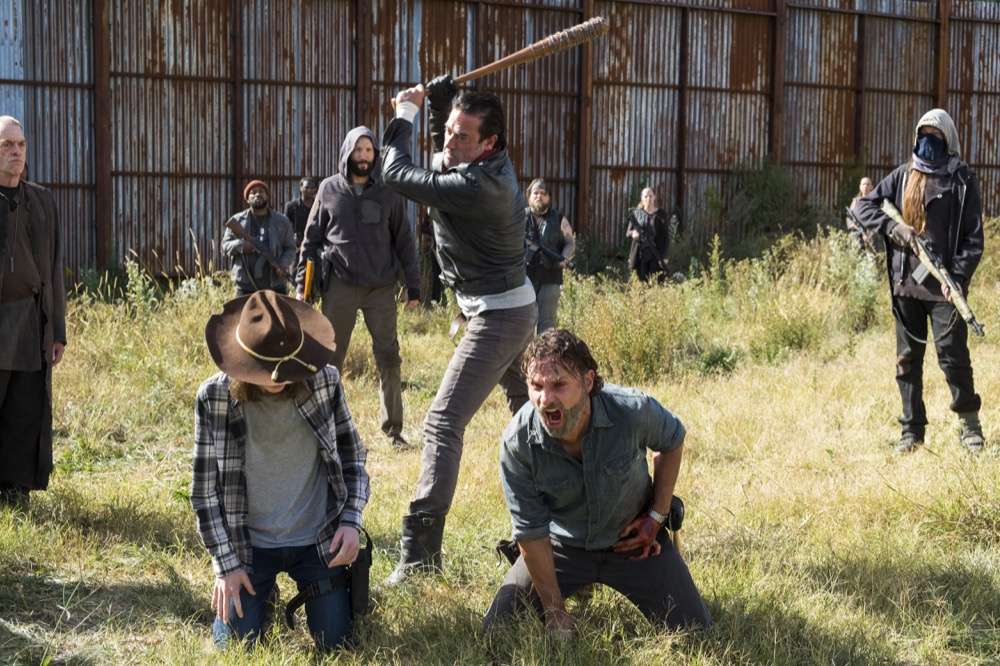 Enough was finally enough in the Season 7 finale when Negan's plan to shut down Rick's coup was foiled by Sasha's self-sacrificial attack. After surrendering to the Saviors over and over and over Rick and his allies at The Hilltop and The Kingdom used the disruption to finally fight back and ignite an All Out War. "We see by the end of the season this incredibly strong force that had to go through all of these different things to wind up together," Scott Gimple said in an AMC video. The attack allowed the communities to summon the strength to begin the end of Negan.
---
7. No Way Out (Season 6, Episode 9)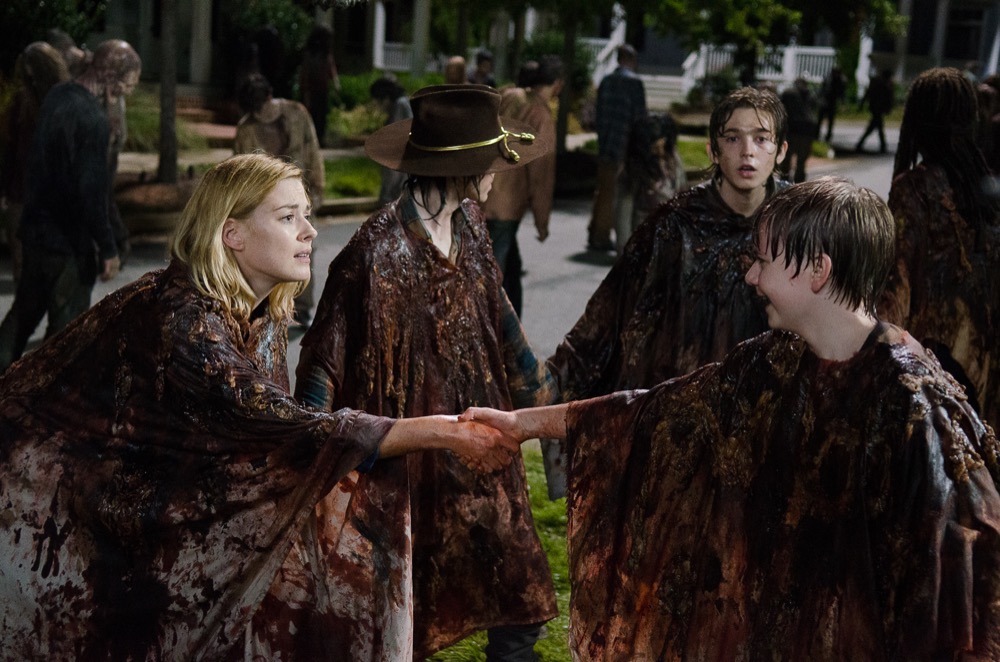 Alexandria finally succumbed to the undead hordes in this brutal Mid-Season Premiere that turned Alexandria into a battlefield and saw the death of the Anderson's and Carl's eye. Rick converted his anguish into rage as he went full Swamp Fox on the walkers and axed every last one of them with the help of his friends. Although Carl survived, Rick would never be the same. Also, this episode introduced us to The Saviors and became a precursor of seasons to come.
---
6. Too Far Gone (Season 4, Episode 8)
We knew Rick and his group's sweet deal at The Prison would inevitably come to an end, and 408 was that episode. At the time, Andrew Lincoln called it "the biggest episode that we've ever attempted…by far." And it didn't disappoint – The Governor executed Hershel and destroyed The Prison, which resulted in the death of dozens of characters – including The Governor. The attack forced Rick, Carl, and everyone else to scatter and start from square one trying to survive.
---
5. The Grove (Season 4, Episode 14)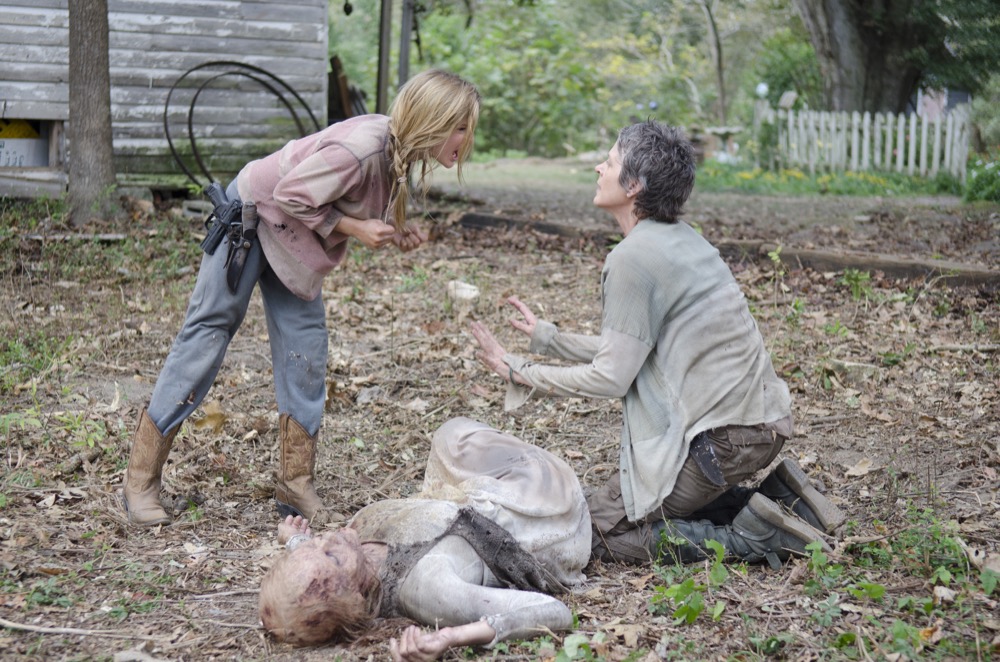 "I think we have one episode a season that kind of defines the whole season, and this is definitely that episode," Executive Producer Denise Huth said about The Grove. This infamous episode explored the depth of human behavior in dire post-apocalyptic circumstances. After Lizzie, who considered the dead her friends, killed her sister Mika Carol made the excruciatingly tough decision to put Lizzie down. "Look at the flowers," Carol infamously instructs Lizzie before shooting her in the head. "So much of what this show is is the audience asking, 'What would I do in that situation?'" Scott M Gimple reflected after the episode. The Grove was one of those episodes.
---
4. Clear (Season 3, Episode 12)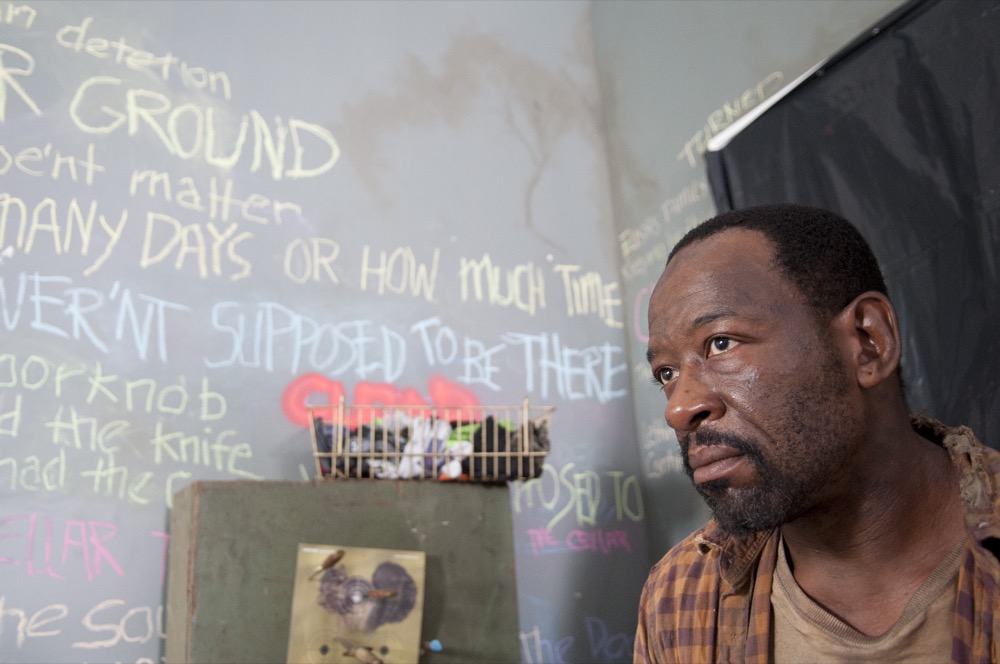 Rick reunited with Morgan this episode and got a vivid look of what he might have become had he not reunited with his family and joined a survival group. Holed up in a spear-protected King County, Morgan had lost his mind and tried to CLEAR Rick, Michonne, and Carl. What did Clear mean? "It means a lot of things," Robert Kirkman told Entertainment Weekly. "To a certain extent it's the ravings of a lunatic but it's also about him trying to clear out his life and clear out any entanglements around him. It's basically about him getting rid of his wife and getting rid of his son and the only way for him to survive is to clear the area around him."
---
3. Pretty Much Dead Already (Season 2, Episode 8)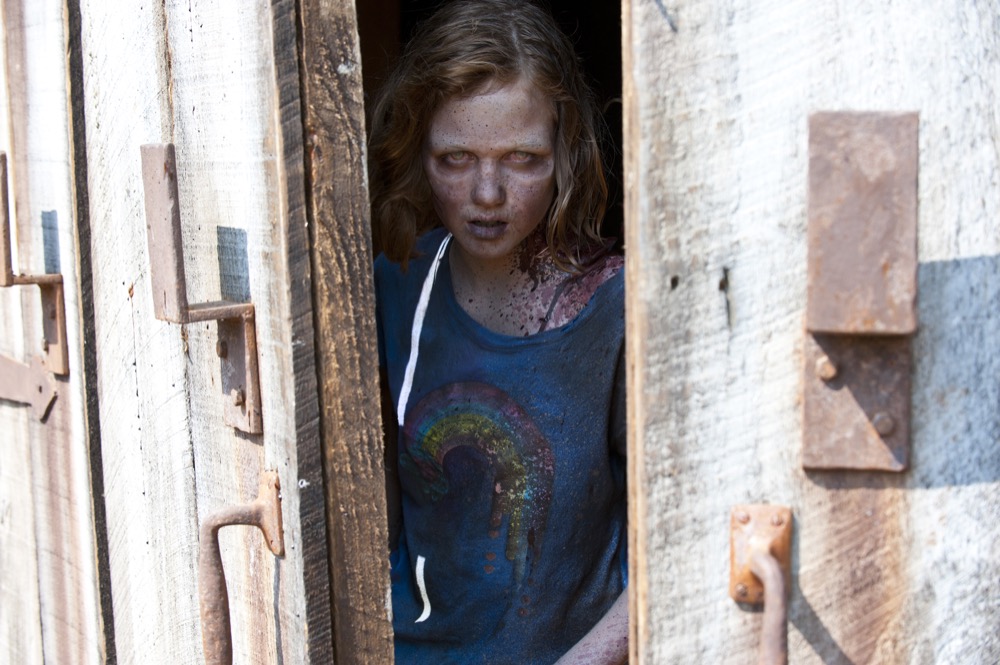 Everything reached a boiling point in Season Two's most memorable episode. While everyone was feuding (even Maggie and Glenn got in an argument), Shane reached his f***s he can give limit and blew up on Hershel and his whole operation. His dangerous cocktail of emotions led him to kill some of Hershel's undead "friends" and release the walkers he kept in the barn. Among his pets was Sophia, who had been frustratingly missing all season, was under their nose the whole time…but as a walker.
Despite Shane's audacity, only Rick could summon the courage to put down Carol's daughter. Entertainment Weekly asked Executive Producer Scott M. Gimple why it had to be Rick. "Because it was about him changing. Because it was about him accepting some realities. So many seasons are about Rick's transformation, but this was a big one. He was the one strong enough to do this." This turned out to be one of those defining episodes that forced the characters in a new, darker direction.
---
2. Days Gone By (Season 1, Episode 1)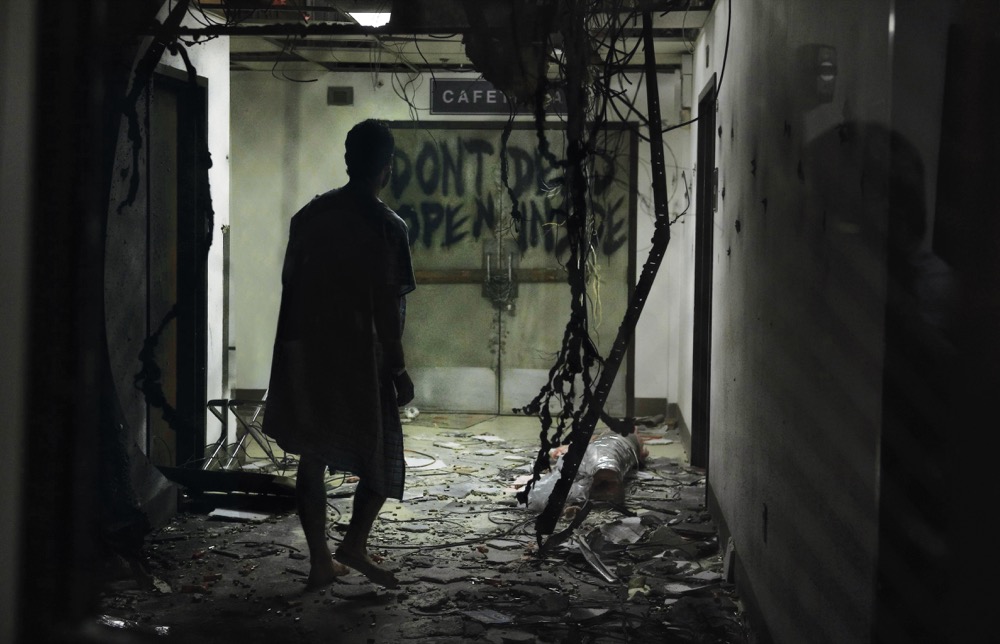 The Walking Dead's pilot episode is a classic for a number of reasons – it builds the The Walking Dead universe, it allows fans to discover the world as Rick does, and it keeps you at the edge of your seat the entire time. In the 67-minute runtime Rick evolves from a normal police officer to post-apocalyptic survivor hiding from the undead in a tank. "It expresses in a very short period of time exactly what the show is," Andrew Lincoln told Entertainment Weekly in 2016. "And what the world is. And the extremities of the world. I can't think of a more impactful, shocking, thrilling, and terrifying beginning." Scenes of the girl Rick shot, bicycle girl, Morgan's wife, and the horse trek to Atlanta still rank high in The Walking Dead's iconic imagery.
---
1. No Sanctuary (Season 5, Episode 1)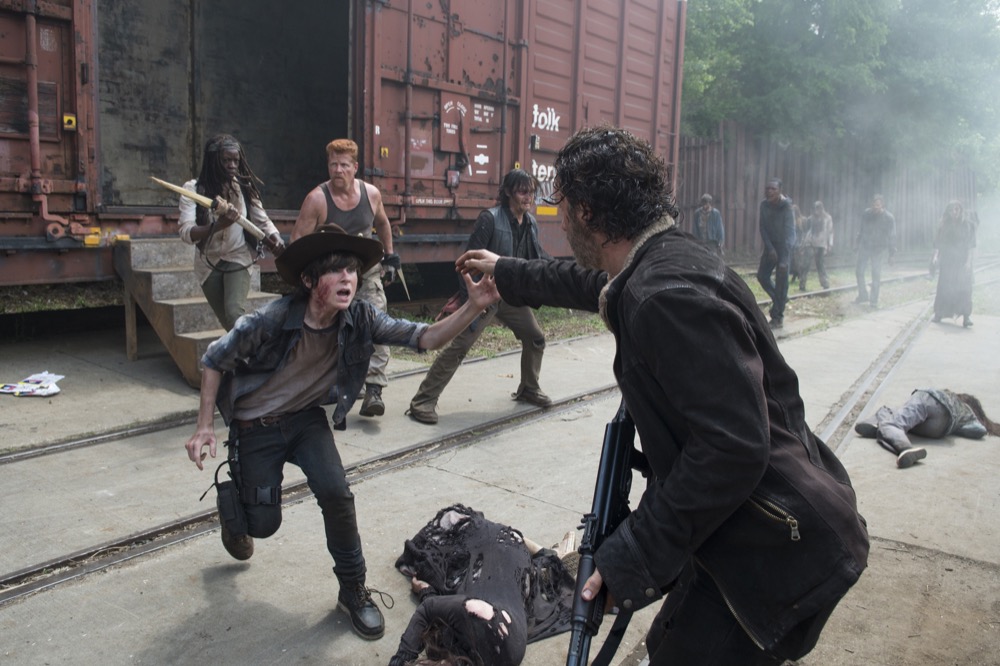 Arguably The Walking Dead's best season premiere came in Season 5 when Rick and the gang escaped from the hell hole that was Terminus. "That first returning episode is extraordinary," Andrew Lincoln said in an AMC video. "It's a real rollercoaster for all of the characters." And it was – four major characters were almost slaughtered, Carol saved the day, Tyreese finally lost it, and everyone else learned what the apocalypse can turn you into.
---
Honorable mentions: Better Angels (Season 2, Episode 14), Killer Within (Season 3, Episode 4), Still (Season 4, Episode 16), Four Walls and a Roof (Season 5, Episode 3), Conquer (Season 5, Episode 16).
---
Which moments or episodes from The Walking Dead are your favorite? Let us know in the comments how YOU would rank the Top 8 episodes or if you're satisfied with the order. The Walking Dead Season 8 returns Sunday, October 22nd at 9PM on AMC.