The Walking Dead just introduced a mysterious new survivor named Georgie, who trades a book full of survival knowledge to Maggie in exchange for records (but no spoken word). Many fans were quick to point out that Georgie resembles a major comic character named Pamela Milton, who's the Governor of a massive 50,000+ community in Ohio called The Commonwealth (introduced in Issue 177). Although comic characters getting introduced into the show is common, characters who appear two or three seasons early is not. Since we can't confirm if she is actually Pamela from the comics or not, we'll let Georgie actress Jayne Atkinson give her take on the matter.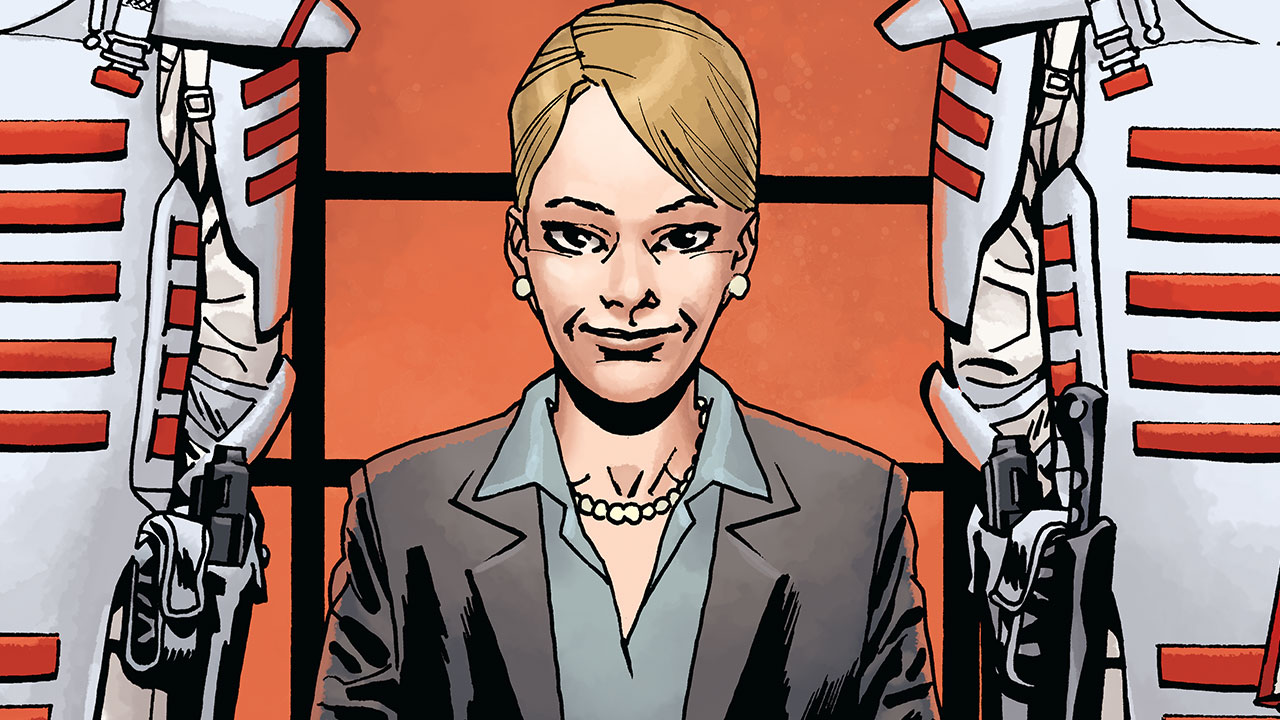 (Commonwealth Governor Pamela Milton on the cover of The Walking Dead Issue #176)
"I can't imagine that there isn't (a tie to Pamela ), but I was not told that," Atkinson explained to ComicBook.com's Brandon Davis. "And my son actually showed me that picture of her, and I thought, first of all, it looks like me. And the two flanking guards could be Hilda and Mitch. So perhaps she's being modeled after this character. And I think because of the kind of work that I do in the industry, I can't help but think they're thinking, 'Leader.' I think they're thinking someone who is used to leading people. They must. So there might be a parallel, but I was not told that."
IF this actually is the Governor, then we might be seeing a pre-time jump version of her (the comics jump ahead a couple of years following All Out War – and many speculate the same will happen in the show. Plus, we haven't even gotten to The Whisperers yet!) Pamela in the comics surrounds herself with armed guards named brutes, and she wouldn't travel outside her own community without them – so seeing Georgie with two plain-looking guards indicates she's either not Pamela or she might be in the early stages of piecing together the Commonwealth. In the comics, Pamela explains that building her civilization was a "painstaking process" that meant gathering "all the puzzle pieces that were scattered when the dead rose." Could records be a part of that process?
"I think she knows what she's going to get. She doesn't come totally unarmed, but I think she has chosen this person and this group very deliberately," Atkinson told Entertainment Weekly's Dalton Ross about choosing The Hilltop to target. "My sense is that she has been scouting out where she is going to land and she is playing it like a chess game." So where will that chess game end up – will we see Georgie in the future? "I couldn't possibly tell you," she told EW. "Nudge, nudge. Wink, wink. You know what I mean? She says she'll be back, I'm going to take her at her word."
---
Do YOU think Georgie is secretly Pamela from the comics? What do you think of Jayne Atkinson's performance? Tell us that and more in the comments.