The Walking Dead will say goodbye to at least two of its original characters in the back half of Season 8. Carl will succumb to a bite wound and die in the Mid-Season Premiere while Morgan will leave the show and join Fear the Walking Dead after the season concludes. Although every season carries more loss, the impact is still felt by the cast.
"It was a very, very sad back eight," Andrew Lincoln recently told Entertainment Weekly. "There were lots of goodbyes, and big goodbyes as well. But there was a sort of sense, certainly, with Lennie, that it's until we meet again. It's always been that way with Rick and Morgan. I don't know, there's something in the air, that I feel that it's not quite the end yet for Rick and Morgan."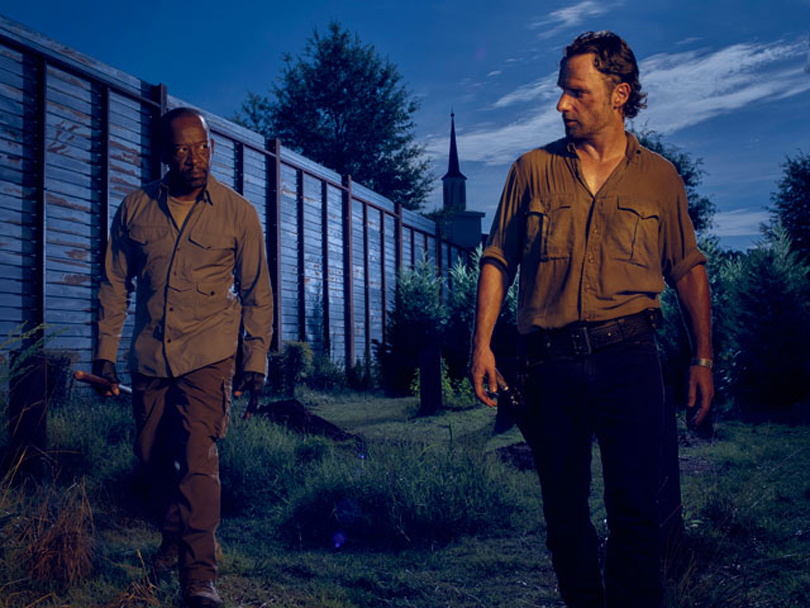 Rick and Morgan have experienced it all – they've both seen each other at their best and worst and it would be a shame to see the relationship end for good. Although we can't reveal too much about Morgan's new venture, we can say the door is definitely open for him to return to The Walking Dead if that's what the story allows. Lennie James recently told TV Line, "I can safely say that, in a weird way, it is both a continuation of that battle that Morgan's having with himself and with the people around him, and it is still part of his journey to finding some kind of inner peace—but it's not necessarily told in a straight line. As is typical—or becoming typical – with The Walking Dead, it is not as straightforward as any explanation that I'm allowed to give you would necessarily seem."
---
Go behind the scenes of the back half of The Walking Dead Season 8 below and make sure to catch the premiere Sunday, February 25th at 9PM on AMC.