No one said surviving a zombie apocalypse would be a walk in the park. As we've seen in The Walking Dead, people are prone to completely lose their sh*t every once in a while. Here are our top moments when said sh*t was lost (thanks to your Twitter replies):
---
Shane Has ENOUGH of The Farm
@TheWalkingDead Way too many Shane scenes to choose from. Opening the barn doors is a standout though! pic.twitter.com/EBQr6K6eGz

— #RespectTheHairGame (@DixonBrother_) May 2, 2017
Back in Season 2 Shane decided to put an end to the inane practice of corralling the undead into Hershel's barn by opening it for all to see. His rant led to the discovery of Sophia and ranks high in all-time Shane moments.
---
Morgan Goes Zero-to-CLEAR
@TheWalkingDead Morgan in 'Clear' .. this was one hell of a performance from both Andy and Lennie. I SEE RED !! pic.twitter.com/nksCGIkPWa

— Motherdick (@_TWDCam) May 1, 2017
Morgan briefly returned in Season 3 but ohhh Jesus was he different. After losing his wife and now son, Morgan went completely out of his mind and tried to kill Rick. Miraculously, Rick survived, Morgan calmed down, and two went their separate ways.
---
Michonne Nearly Kills The Governor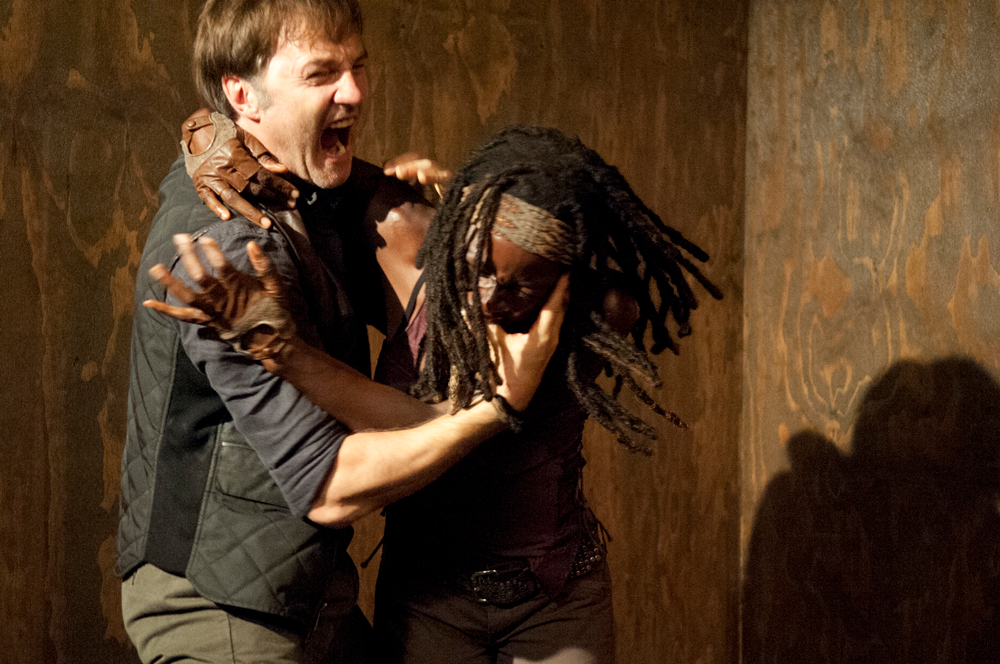 @TheWalkingDead or michonne stabbing the governor in the eye

— Lea (@daddy_negan) May 1, 2017
The epic moment from Issue #29 of the comics finally came to life in the show when Michonne battled The Governor. Although the circumstances were a TAD darker in the comics, we still saw Michonne punch, stab, and nearly kill The Governor before Andrea broke it up.
---
The Governor Kills Everyone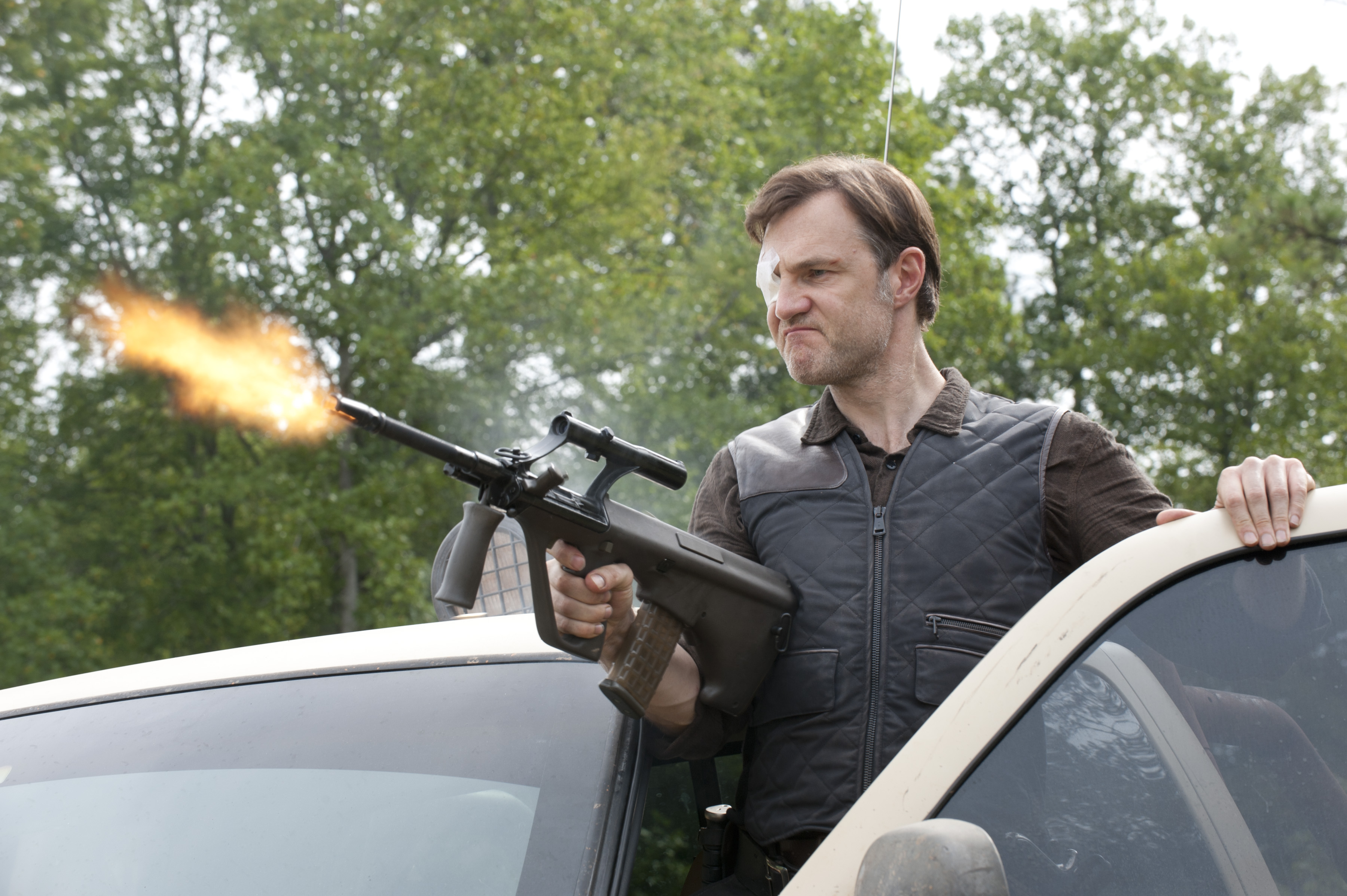 @TheWalkingDead When The Governor decided to throw a tantrum after not getting his way. And by tantrum, I mean mowing down his peeps & torching his town. pic.twitter.com/jsHwMCBeqT

— Sarah J. Crist (@ubiquitousurn) May 1, 2017
The Season 3 finale gave us that terrifying moment when The Governor gunned down his own Woodsbury army for refusing to join him in the fight against the prison. It was such a shocking and heinous act his own men that survived couldn't believe it. The Governor's taste for brutality didn't let up in the next season, when he brutally killed walkers who threatened his surrogate daughter Meghan:
See, he wasn't so bad, right? Right?
---
Rick Bites Throats, Takes Names
@TheWalkingDead There have been many great ones on #TheWalkingDead, but nothing quite reaches the level of Rick's animalistic bite on Joe of The Claimers. pic.twitter.com/aCP0jaFkgy

— Adam Carlson (@MNVikingZombie) May 2, 2017
Speaking of killing to protect children, Season 4 gave us this terrifying scene when Rick, Carl, Daryl, and Michonne ran into some VERY bad men who threatened to do horrific things to Carl. Rick did the only thing he could – rip his captor Joe's throat out and personally kill (with Daryl's and Michonne's help) the rest. A memorable lesson to all survivors: don't f**k with Rick…or Carl.
---
Gareth Finally Gets His
@TheWalkingDead When they all lost it in the church with Gareth and his Terminus crowd! Red machete time!!

— Darren (@potter2207) May 1, 2017
The cannibals finally met their bitter end when Rick and the gang lost it and killed the lot in Gabriel's church. A horrified Father Gabriel proclaims, "This is the Lord's house!" but Maggie delivers the infamous line, "No, it's just four walls and a roof."
---
Abraham Loses It After Eugene Is Exposed
@TheWalkingDead #TheWalkingDead
Abraham loses it and punches Eugene out after finding out he lied to him. pic.twitter.com/kwAKsA7DVj

— Tracy N (@TracyStreeter1) May 1, 2017
Abraham risked his life and lost his friends just to safely escort Eugene, a self-described scientist, to D.C. Despite this, Eugene was fooling everyone and Abe let loose once this Earth-shattering discovery was made.
---
Rick Goes Full Ricktatorship in Alexandria
@TheWalkingDead When Rick threw a tantrum on the street and Michonne had to knock him out. Pure love #Richonne

— Melanie (@MellieLangie) May 1, 2017
After unearthing Pete's disgusting domestic abuse habits, Rick exacted his own form of justice by wrestling Pete out of a window and beating him senseless in the middle of Alexandria. The horrified looks on the faces of the Alexandrians said it all: Rick had gone too far. As well-intentioned as he was, Michonne did the right thing by knocking him out.
---
Jessie Scissor-Stabs an intruder
@TheWalkingDead When Jessie killed that wolf with hair clippers!!

— kylie (@ricksmichy) May 1, 2017
Back in Season 6 the Wolves invaded Alexandria and brutally slaughtered anyone they came across. Their reign of terror even extended to Jessie's kitchen, where she bravely held her own, stabbed the Wolf lady to death, and proved she was one of the useful Alexandrians.
---
Carol Goes Full Assassin's Creed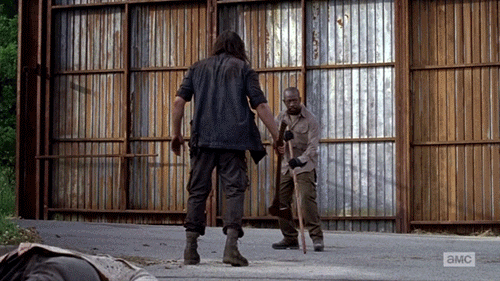 Here's another jaw-dropping sequence from that episode: Carol disguising herself as a wolf and mass-killing the invaders to protect Alexandria. With Rick, Michonne, and the majority of the other useful survivors away Carol put down her apron, threw on a bandana, and went full Assassin's Carol.
---
Rick Axes Up Dozens of Walkers
@TheWalkingDead After Carl was shot in the eye and Rick just went ALL CRAAAAZY!!! Then everyone else joined in. Was AWESOME!!

— Jenn Jenn (@JennJ2015) May 1, 2017
The Season 6 Mid-Season Premiere was EMOTIONAL. Not only did Rick lose Jessie and her sons but also witnessed Carl getting shot int he face! Unsure if he would survive, Rick took out his frustration on dozens of walkers with just an axe. It was epic.
---
Maggie Shows Gregory Who's Boss
@TheWalkingDead When Maggie punched Gregory
@TheWalkingDead pic.twitter.com/x6bapHpzyT

— J.J (@_JodiElizabeth) May 1, 2017
Word of the wise to Gregory: when conversing with a pregnant woman don't compliment the man who gruesomely murdered her husband. If you do, you'll get punched right in the face.
---
Carl Shoots Up The Sanctuary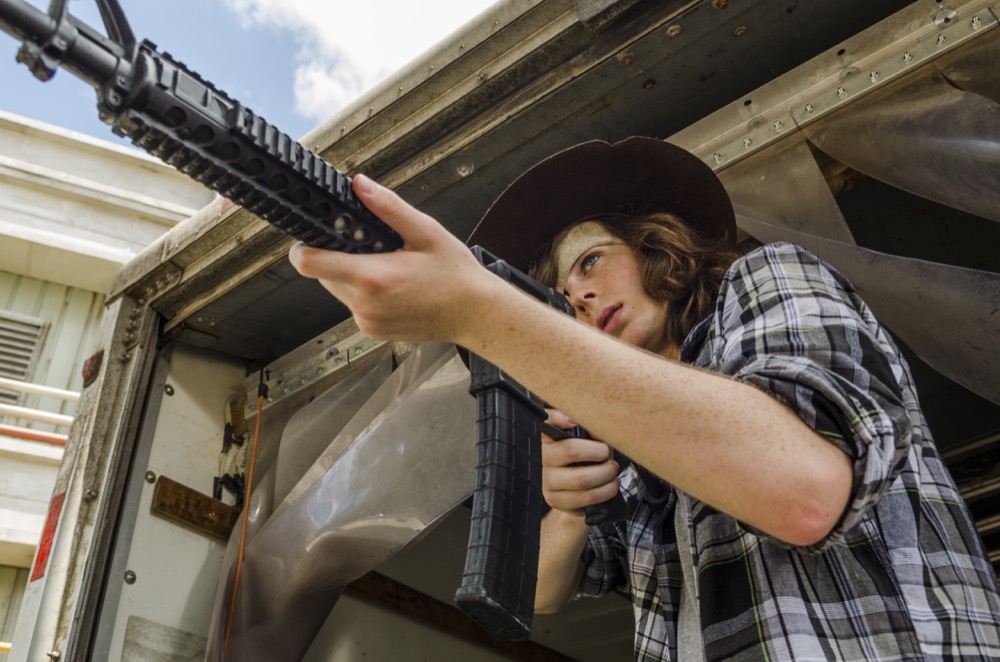 @TheWalkingDead Carl with his attack on the sanctuary. He was so brave doing that all on his own.

— Rachael (@LittleMixGems) May 1, 2017
Season 7 was all about kill Negan suicide missions, including Carl's attack on The Sanctuary. Seeking revenge for the death of his friends and control of his community, Carl snuck into Negan's place and surprise-attacked the Saviors, killing two of them. Although he was captured, paraded around the place like a kid, and eventually freed, it was still a badass moment for Carl.
---
Negan Gets Revenge On Rosita Shooting Lucille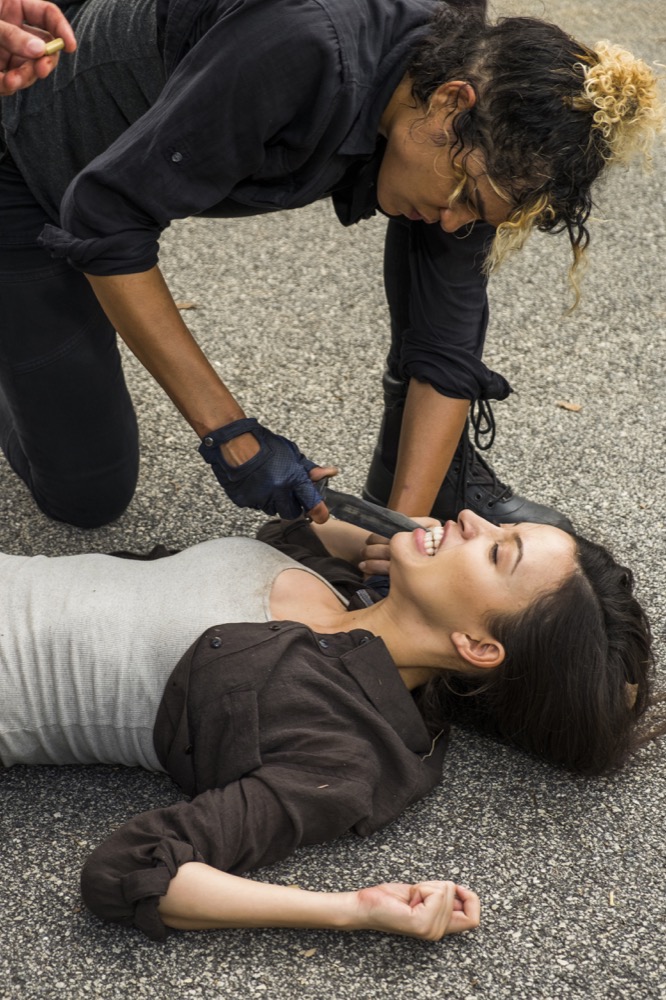 @TheWalkingDead When Negan yells at Rosita after she tried to kill him.

— Liv Marie (@OliviaMarie88) May 2, 2017
After Negan gutted Spencer Rosita took matters into her own hands and tried shooting Negan. By some miracle (for him) the bullet only struck his beloved Lucille, which sent Negan into a RAGE. Rosita was tackled, Olivia was killed, and Eugene was taken. Don't f**k with Lucille.
---
Morgan Exacted Revenge On Richard
@TheWalkingDead My favorite was when Morgan went crazy on Richard and killed him in front of everyone. It was crazy!!

— Kat C (@Cre8tvKat) May 2, 2017
After nearly two seasons of abiding by a peaceful lifestyle Morgan got TRIGGERED and killed Richard for getting Benjamin killed. Clear Morgan is BACK!
---
BONUS Moments!
@TheWalkingDead When Rick decided enough is enough at the prison #shithappens pic.twitter.com/vJsAdln3vX

— Tracey (@ennis_tracey) May 1, 2017
@TheWalkingDead Rick thinking he was on the phone lol pic.twitter.com/ZWSMAEs0eP

— Hayley (@moonlithaylz) May 1, 2017
@TheWalkingDead When Michonne had that moment, and she took out all those walkers. I was like, "Oh My" Michonne. pic.twitter.com/JpInVl3PgD

— Lovelypen46 (@Lovelypen462) May 1, 2017
@TheWalkingDead Whenever #RickGrimes gets a little crazy #TWD #TheWalkingDead pic.twitter.com/WVelrwGOUX

— Susanna__ (@SNoSpoons) May 1, 2017
This one may not have come from Twitter, but we'd be remiss if we left out Paula's mountain of a meltdown from Season 6.
---
What were YOUR favorite shit-losing moments from The Walking Dead? Tell us in the comments!