"Things Bad Begun"
The episode opens with Nick collecting and selling zombie brain stems to the drug dealer at the bazaar. On the road, Alicia and Diana get ambushed by a group of men called the proctors, but manage to fight them off. Meanwhile, Nick and Troy return to the dam to warn Lola about the proctors planning to attack them. Efrain pleads to release the water to the people but Lola insists they defend the dam until the end. To make matters worse, Walker and Crazy Dog tell Madison they're leaving to help their people.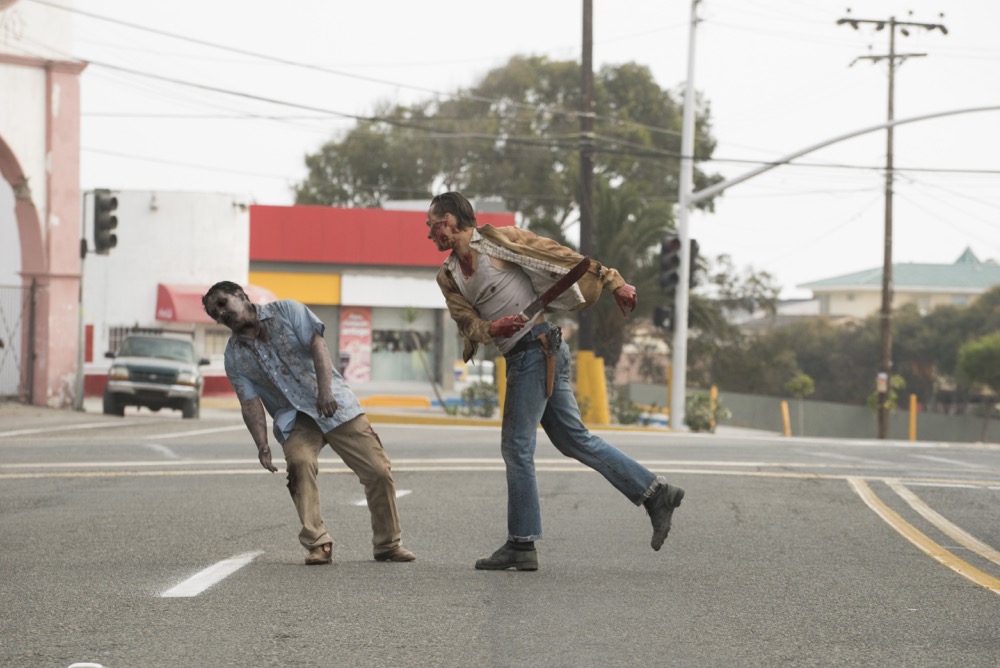 Strand warns Nick and Madison to leave the dam before the proctors arrive. Seeking the truth on Ofelia, Daniel interrogates Nick about the ranch attack but Nick claims he and Troy tried to STOP the horde from reaching the ranch. "You're lying," Daniel says as he locks the door behind him. Daniel reminds Nick of his background and makes him take a seat. Meanwhile, Madison and Troy plant C4 under the dam.
Elsewhere, Alicia meets a doctor, Eddie, who introduces her to Proctor John, an American survival leader in a wheelchair. John explains he owns a series of outposts from the Gulf Coast to San Diego and that he needs her to assist Eddie in the removal of a growth on his spine. Alicia warns she has no experience but he assures her if it's a success she can come with them to "Texas and beyond." If it fails, he says his brothers have orders to execute them.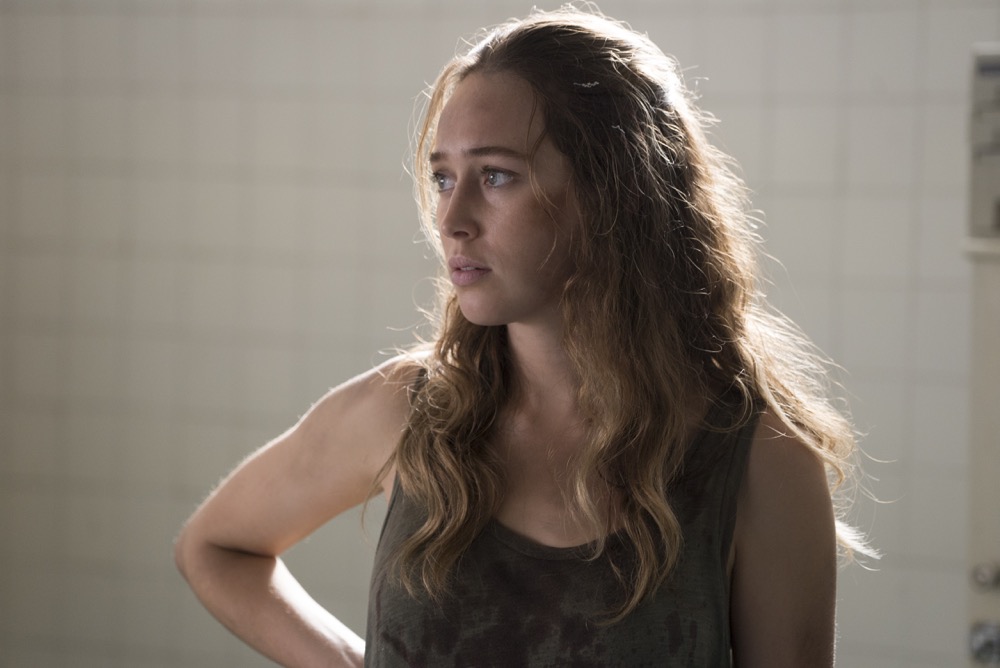 Daniel presses Nick on the horde story and he then decides to blame Jake. Daniel reluctantly accepts it and lets him go. Meanwhile, Proctor John refuses to go under for surgery so Eddie gives him a shot of morphine and begins the procedure. Alicia distracts John from the pain by making him recall his past. Elsewhere, Nick tells Madison and Troy how Strand sold out Daniel and Lola to the Proctors. Madison suggests they warn Daniel, but Nick says he'll kill Troy if he sees him. When Madison asks why Troy admits he lead the horde to the ranch. Disgusted, Madison blames him for everyone dying. Troy admits he woukd do it over again, which prompts Madison to bludgeon him with her hammer, killing him.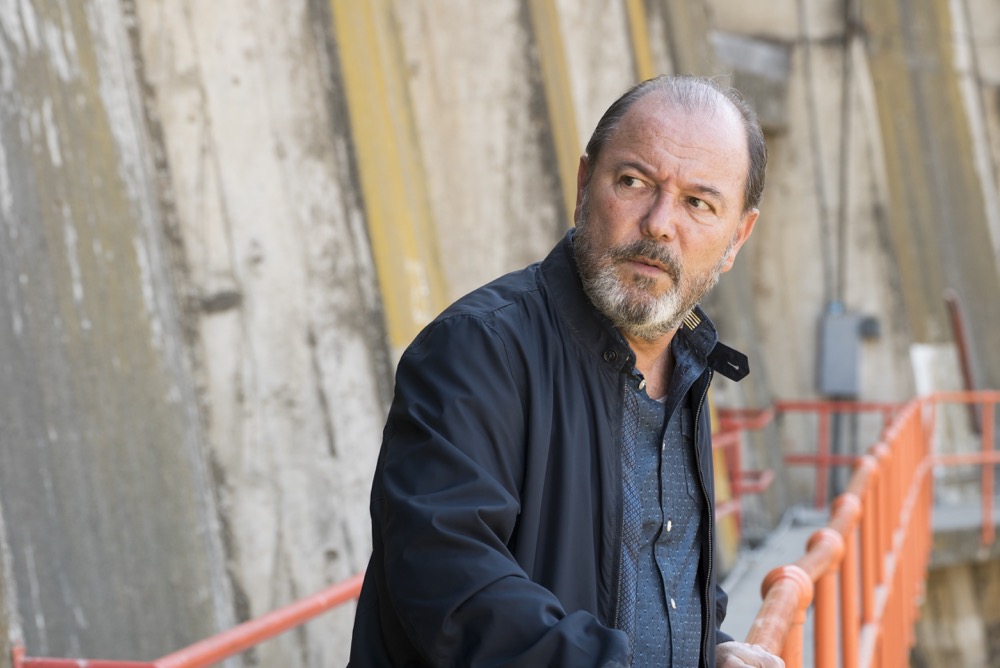 The surgery is miraculously a success and Proctor John wastes no time moving out. As a reward, he allows Alicia to join him. At the dam Daniel confronts Lola about the water problem and Strand shows up, holding them at gunpoint. Daniel attacks him and they wrestle until Strand shoots Daniel in the side of his face. Lola tends to him and finds he's wounded, not dead. The Proctors arrive at the dam and immediately come under fire. Efrain gets shot as Strand assures the Proctors that Lola and Daniel are dead. He then grabs the detonator from Madison and locks her and Nick in a room to hide.
---
"Sleigh Ride"
Madison experiences a fever dream where she's in the past and future. It ends at the grave sites of those she's killed, even Alicia has a gravestone. Nick and Luciana are there with a baby, looking sad. (Back to reality) Alicia, Proctor John, and the Brothers land at the dam. Strand updates him on the casualties and secretly assures Alicia Madison and Nick are fine.
Madison and Nick have an intense conversation where Nick suggests some day she might have to put him down like she did with Troy. She resists the idea but it's clear she's thought about it. Nearby, Lola tends to Daniel, who promises they'll escape after this. Alicia changes John's bandage and he asks her about Strand. She explains he helped her family escape LA but they're not on good terms. She asks him to spare Madison and he agrees only if she travels with him to Houston.
Strand visits Madison and Nick, who pin him against the wall and demand he explains his ties to the Proctors. He reveals Alicia's here and she might be Madison's only hope of getting out of here. Strand suggests they get into uniforms so he can sneak them out. He also confesses he shot, not killed, Daniel.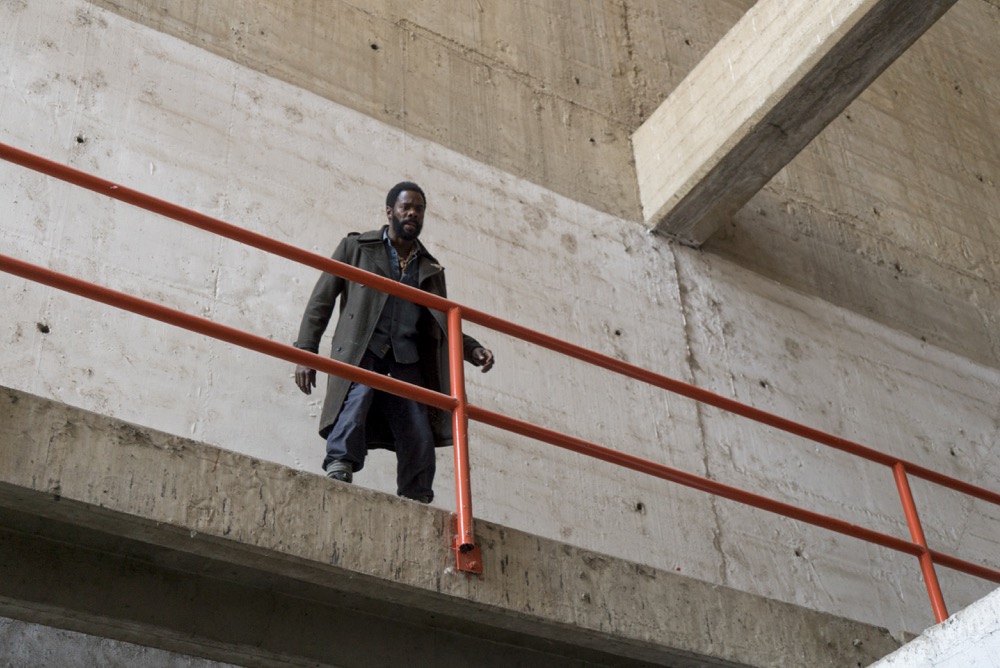 Strand escorts Madison and Nick outside in uniforms. Things seem to be going fine until Lola, who has just discovered Efrain's body, shows up and shoots a few of the soldiers. She's quickly shot in the head by Proctor John. He then convenes everyone in the office and demands to know what happened. He allows Alicia and Madison to reunite and then asks Nick about Troy. He admits Madison killed him and John laughs. He then warns he's going to kill Alicia and Nick while Madison's forced to watch.
John escorts them to the bridge, where Madison, Alicia, and Nick share one final hug. Nick also hugs Strand, for a while. Before the killing can commence, Strand reveals his plan to detonate the dam with C4. He confidently strolls backward and realizes the detonator is missing. Nick removes it from his pocket and threatens to blow everything up.
We're back to Madison's strange fever dream. It's Christmas and she's just made dinner for Walker, the Otto's, Daniel, and Coop. Strand arrives with presents and everything seems OK until Madison opens the lid on the turkey…it's Jeremiah's head. Suddenly, Walker's back in his usual garb and chops off Jake's arm. Madison follows Strand outside and notices the house that she was just in is now a cemetery.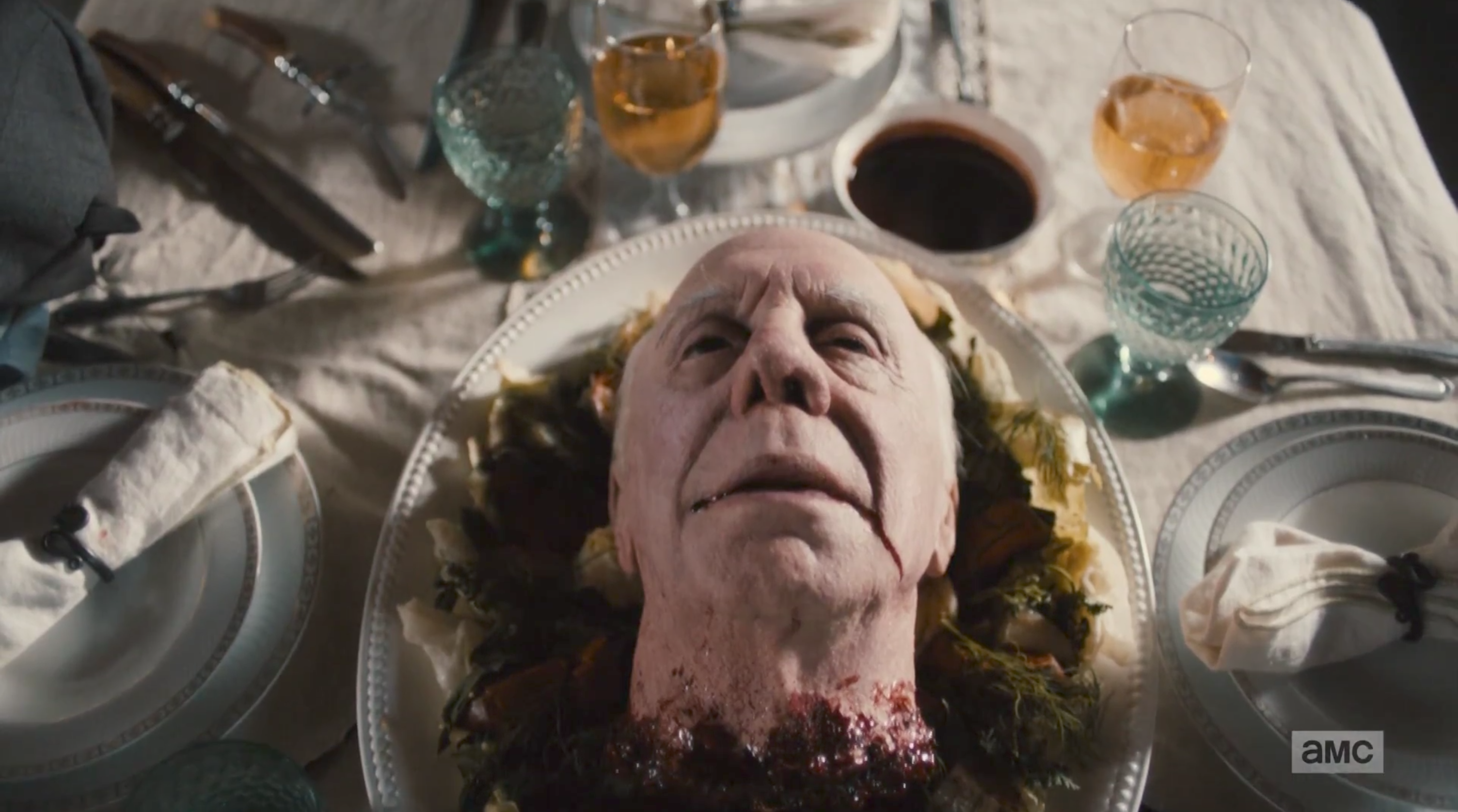 Back to the bridge, Nick holds the detonator and the power. He tells Proctor John to allow Madison, Alicia, and Strand to leave on the boat or else he'll press the button. He calls this plan his suicide note. The three of them run away from the dam as Daniel finds his second wind and takes out three proctors. John tries talking Nick out of it as Madison, Alicia, and Strand escape on boat, who's engine fails.
Daniel discovers Lola's body as the boat finally revs up. The Proctors close in on Nick until one is taken out by a sniper – it's Crazy Dog and Walker from afar. John's unaffected and instructs his men to kill Nick. They draw their guns and a few more are shot by the sniper. Daniel arrives amid the chaos and kills more of the soldiers. Nick watches his family reach a safe distance from the dam and pushes the detonator. The dam explodes in glorious fashion, causing massive cracks to spread through it. The strong current sucks Alicia's boat towards it and they seem helpless. Walker and Crazy Dog realize they can't do any more, and agree to head north. Water gushes through the dam, taking Efrain and Troy with it.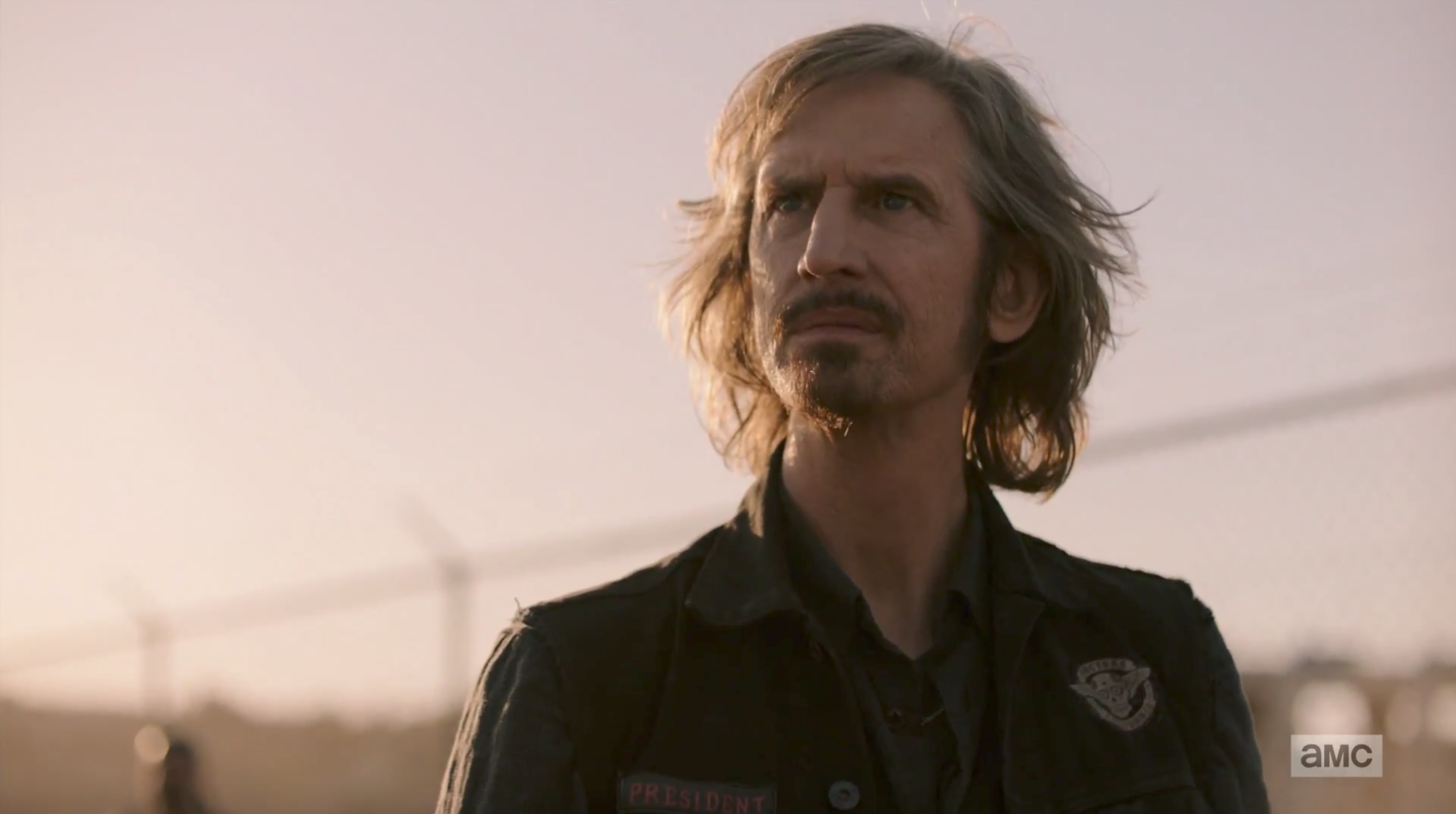 We're back in Madison's strange dream at the cemetery. She sits by Jeremiah's grave and is pulled in. She's now underwater, sinking, until getting pulled up by Travis from the ground. It's clear all these dreams occurred while she was underwater from the dam break. Madison breaches the surface and crawls back onto a cement river bank. Survivors all around her are collecting the water in buckets. We pan out and there's no sight of her family anywhere.
---
What did YOU think of Fear the Walking Dead's Season 3 finale? We have a lot to discuss – let's talk in the comments!