One of today's hottest comic creators, Daniel Warren Johnson has written and illustrated such titles as Skybound's acclaimed Murder Falcon and Extremity, Marvel's Beta Ray Bill, DC's Wonder Woman: Dead Earth, and Image's Do a Powerbomb! – which won an Eisner Award at this weekend's SDCC 2023. We caught up with Johnson at the convention and chatted about his next project, Skybound's highly anticipated Transformers. Here's what he had to tell us…
All of the titles you've worked on are significantly different from one another. Do you seek projects that are different from your last project?
I'm not actively looking for stuff that's different. I'm just looking for stuff that's gonna get me excited. To be totally honest, after I'd just finished doing Powerbomb, I was looking to do another creator-owned project. But straight-up making my own stuff is way harder than working on a Wonder Woman book or Transformers, where I have to be responsible for making all the characters and all the story points and there's no frame of reference for a new reader who comes to the book. That's all on my shoulders.
So honestly, working on Transformers is kind of like this fun break for me, which is one of the things that was so attractive about it. And also because it's something that's so special to me as a person. It's a huge part of my growing up and I just am enjoying the chance to bring that world to life in in a way that's in my head. It's fun, there's literally toys already made for me to play with and try and bring something that's exciting to the Transformers fan base.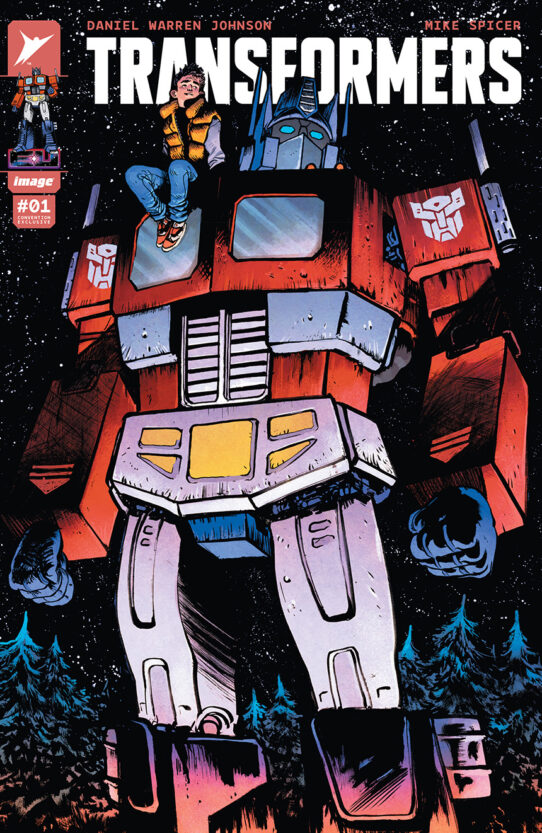 Was there a particular era of Transformers that you responded to that, that's inspired your work on this book?
Definitely, I can't help but go back to like the G1 [era]. I was born in '87, so I missed obviously the debut of the cartoon, and the movie. But I would watch the reruns after school in second and third grade. Those designs just completely captured me. I loved the toys when I could get them. They were very expensive.
But I also was trying to learn how to draw these Transformers, and there was no solid imagery of them except for the television show. Finding good reference was very difficult. I remember there was an old Richie Rich comic in the early 90s. Terrible comic. But there was an ad for the VHS version of Transformers: The Moviethat had a whole lineup of the characters, and Optimus Prime was right in the middle. It was my way of learning how to draw Optimus Prime. I go into this story because I have this childhood memory of getting very frustrated with not being able to draw things the way that I envisioned in my head.
Thankfully, now I'm at a point in my career and in my ability level that I'm able to bring out what I've always wanted to do. It's almost like there's been this like caged beast inside of me that is finally free to have the time and resources and the push from Skybound and Hasbro to go and make something that I can get excited about.
There have been many iterations of Transformers since the G1, which I'm very knowledgeable of, but it just felt like the right move for me as a creator to do what I'm most excited about.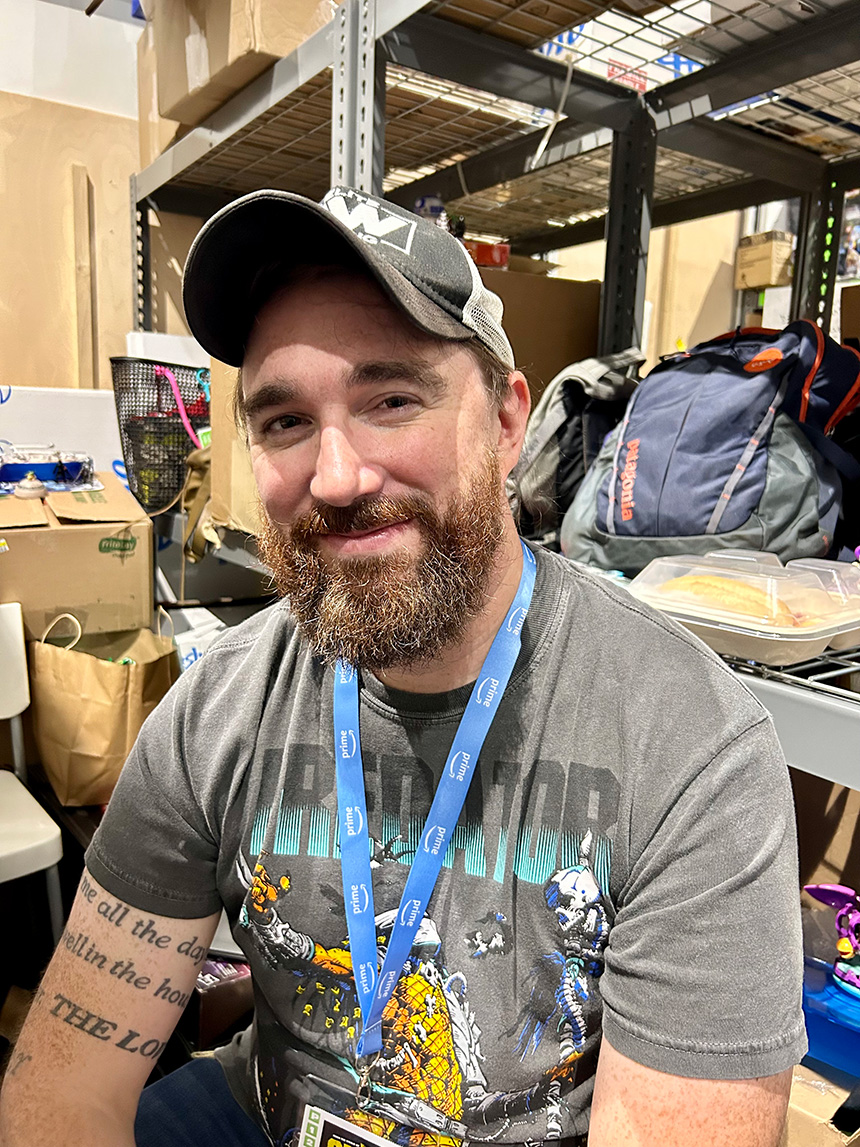 Your work is known for its organic quality. The Transformers, as robots, have hard, cold, metallic surfaces. Yet you find a way to make the Transformers look organic while still looking like robots.
I think overall there's a general tendency to pull out a ruler and the microns when drawing Transformers, which definitely has a place. But I found the more precious that I am with my lines when drawing the Transformers and all their blockiness, the less good it looks.
When I draw mechanical things like planes or trucks or regular things that you see in a comic book, superheroes or whatever, I tighten up, because I'm trying to be representational of that kind of mechanical hard edge. At first that's the way I automatically started drawing the Transformers.
I found that it just doesn't work. It's almost like I'm fighting what is most natural in creating a character that you or I can attach ourselves to. And I personally feel that a comic that looks like it was absolutely brutal to make is not necessarily easy to read. That the amount of work put into it does not necessarily translate to a fantastic reading.
Right. Some painted comics, for example, look gorgeous, but they're a chore to read.
Exactly. It's something that I've been learning slowly, that if I can just have more fun drawing the Transformers, the better it looks. Which is actually a really cool double whammy. That means pulling out the brush and being okay with a little wobble. It's a blast. It's so much fun.
Who's your favorite Transformer?
Optimus Prime. [Laughs.] That's so basic. I mean, he just was a huge part of my childhood. I wish I could say some C or D lister, but…
What else are you working on right now?
Honestly, most of my energy right now is spent making sure Optimus Prime's face shield looks right. [Laughs.]
Where's the best place for fans to find you online?
I have a YouTube series. It's just a chill hang, you know? I go live every Friday, I draw a little bit, oftentimes drawing Transformers. It's called "Friday with DDubs."
Check out more from this weekend's SDCC 2023 on Skybound.com here.
Follow Skybound on Twitter (@Skybound), YouTube (Skybound), Facebook (@SkyboundEntertainment), Instagram (@skyboundent), Discord (Skybound), Reddit (Skybound), and at https://www.skybound.com/sdcc-2023 for updates. 
TRANSFORMERS TM & © 2023 Hasbro