Mantic Games, the UK-based company that partnered with Skybound on The Walking Dead: All Out War and Here's Negan games, has two new tabletop experiences this year that are sure to excite The Walking Dead AND Invincible fans. At this year's SDCC 2023, Skybound debuted limited edition pre-release versions of The Walking Dead: The Dice Game and Invincible: The Dice Game. We recently sat down with Mantic Games chief Ronnie Renton, who told us why both games will thrill even those fans who've never played a tabletop game before…
How did Mantic Games first come to partner with Skybound?
I'd come out to LA, and I was meeting a guy who was going to introduce us to some people, as Mantic was ready to do some licenses. We'd done one before, which was Mars Attacks! It had come to us on the back of a successful Kickstarter.
This chap – who's very well connected; a guy called John Parker – we sat down, and we had lunch at the farmer's market. He said, "What about these…?" I said, "No, no, no. We need things with hand grenades, or machine guns, or zombies, or dragons." Thhttps://admin.skybound.com/interviews/the-walking-dead/mantic-games-ronnie-renton-the-walking-dead-invincible-dice-games?preview=trueat's what we do. We do anything that's player versus player. Fantasy and science fiction, alternative future. I said, "We need guns, some weapons of some variety." So then we got chatting, and one of the people that he knew who came up was Shawn Kirkham. [At that time, Sr. Vice President of Business Development at Skybound.]
I set a meeting up, jumped in an Uber, went over to Skybound, and started chatting. It became apparent after about five minutes… He said, "Oh yeah, Games Workshop. I remember the Warhammer 40K stuff. When I was a kid, I did a bit of that with my brother." We'd come from that background, now we were looking to do that kind of stuff with cool licenses.
I started chatting about how we had Kickstarter and we had direct routes to market, and then he said, "Are you running a Kickstarter right now?" I was like, "Yeah, we are actually, Dungeon Saga." He'd been actually looking at one of our Kickstarters. From that point onwards, it just felt like fate. He knew miniature gaming, and we were looking for a really cool game.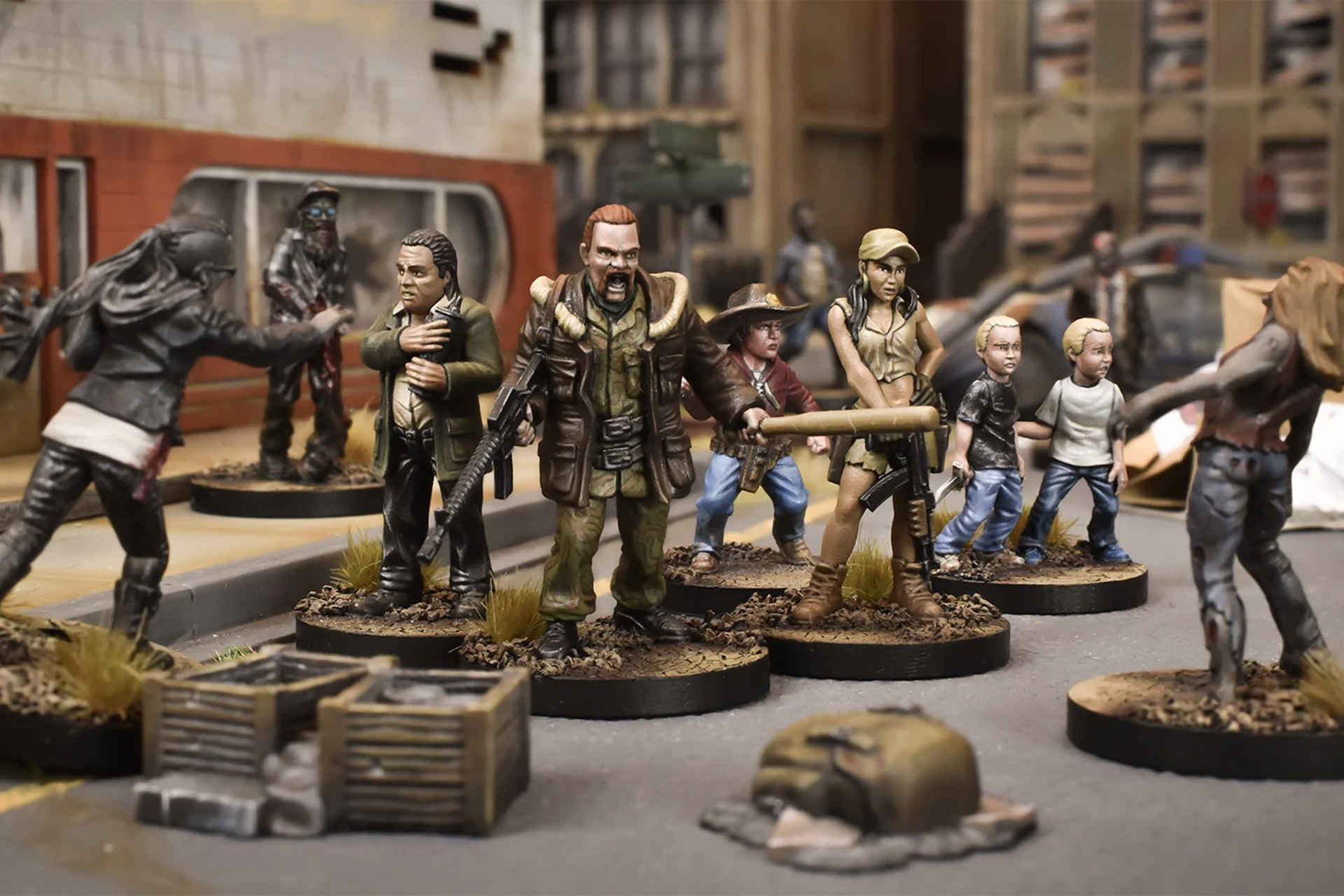 What I loved about The Walking Dead – I'd read it all earlier in the year – was that it had lots of different factions. There wasn't just goodies and baddies. Even with the biggest licenses, often it's just goodies and baddies. That's it. The Walking Dead had all different factions. They were all telling different stories – the Governor, Negan, Rick. So there was a narrative angle to it, but there was also a player-versus-player, war-game angle to it.
Then, most exciting of all, the most dangerous things occur while you're busy out getting supplies. The walkers are going to come along and eat you for lunch. So it can be put into game mechanics. In the early stages, it was fortuitous and serendipitous. From there, The Walking Dead: All Out War grew very quickly.
Years after it was released, it finally ended. I chatted to [Skybound's VP of Product and Strategy] Garima [Sharma] for a year or two about coming back and doing something else with the miniature game. Then I was in LA in February and Garima said, "What can we have for San Diego [Comic-Con]?"
I said, "Well, actually, we've got this fantastic game and we've just started reskinning it." We had to pull out all of the stops to get it to San Diego. But we knew the license, we knew the IPs very, very well.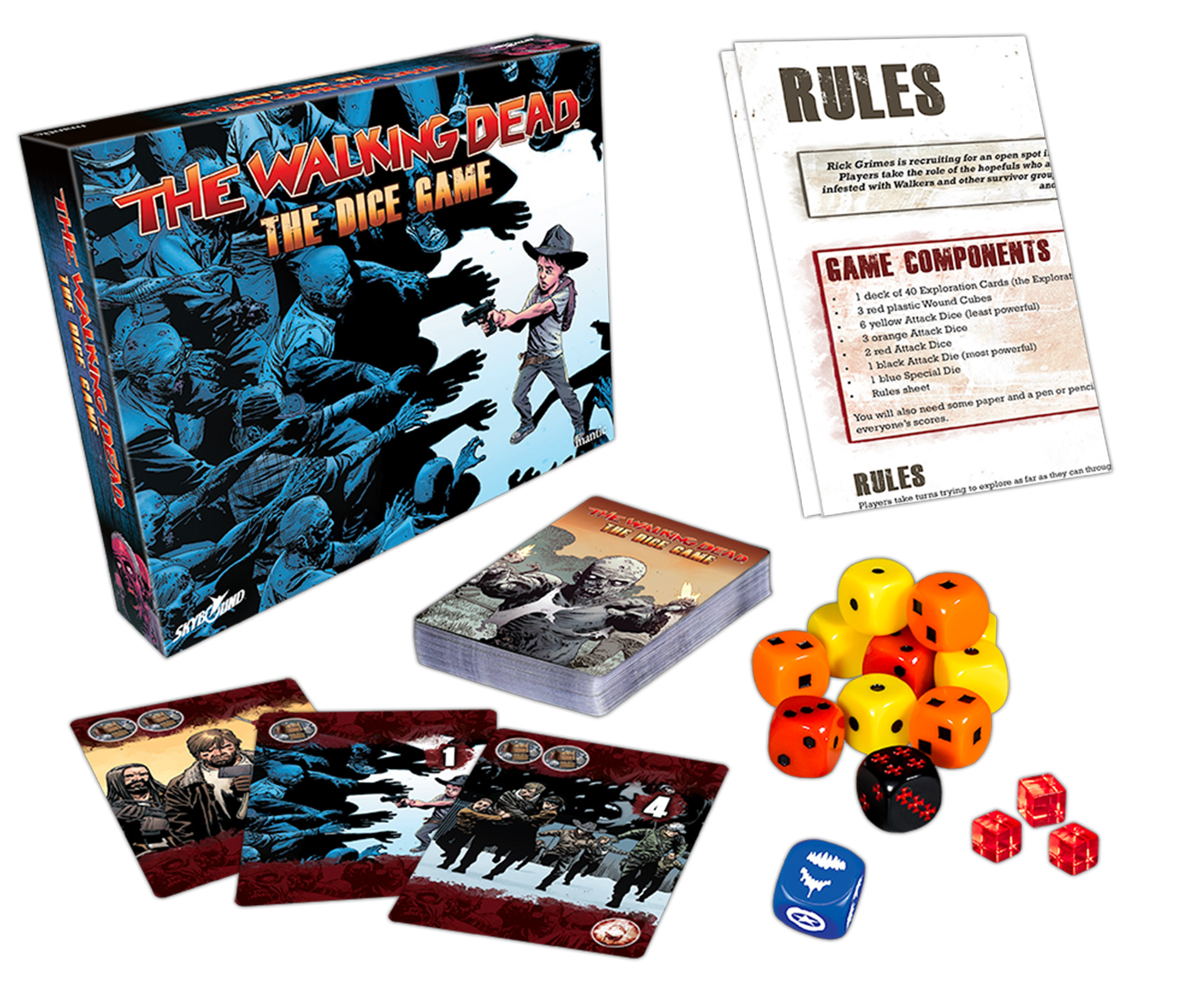 How did you decide on the format you chose for both The Walking Dead: The Dice Game and Invincible: The Dice Game?
We'd done already done The Walking Dead as a tabletop war game. That's how the conversation started. We had to sculpt 150 sculpts in that range. Doing a miniatures game is a massively time intensive effort from our side and from the licensors'. They've got to sign every freaking sculpt off. Each image, particularly in a comic book, is very important. And after Walking Dead, we did Hellboy. So we picked up another license.
What we're realizing is we can only do one license every 18 months, maybe every two years… During lockdown, we had to make do with what we had. So we went back, and we did the Hellboy RPG. Then we thought, "We've got this great little dice card game that we could do…" And we designed that. When we did the RPG, we actually put it as a little add-on extra inside it.
Because we were in lockdown, we couldn't get any new licenses. Then I played the dice game a few times, and always enjoyed it. I realized that we could apply some other licenses to this game with a rework of the mechanics and just fold it into the IP. I realized that the game mechanics were not Hellboy specific. It was story specific. So we could look at these two fantastic narratives in The Walking Dead and Invincible, and we could adapt this game to them.
That's how we made Invincible: The Dice Game and The Walking Dead: The Dice Game. The game mechanics are very similar. But the way it gets themed is different – you're out catching supplies in one, and you're building your reputation in the other. When you play it, it feels like it's Invincible. The Walking Dead just feels like The Walking Dead. But the core mechanics are very similar – beat the baddie, don't take too much damage.
What do you think fans will find most appealing about these games? Particularly those who haven't tried games like these before.
There's a lot of card games in the world, and they're traditionally quite competitive player-versus-player games. Then there are dice games, which are a little bit competitive. But they're a bit more fun, a bit more lighthearted. Ours is a card and dice game. It's designed to be played in the pub. It's designed to be the game before or after the main game that you're playing that night. Or alongside your other entertainment. This is not your Gloomhaven, it's not even your Catan. The whole charm of it is about pushing your luck.
In the case of Invincible, you've got to build up your reputation. You get that by defeating enemies. But if you take too many wounds, you get knocked out. Now, obviously, he's Invincible, so he can't die. So, when you get knocked out, all that means is it goes to the next person. Then they have their go, and it goes round. So there's five or six of you around the table having a beer. You're playing the game, you're rolling some dice. But it's hilarious because no matter what, we just can't stop ourselves from going, "Well, give me one more card." Of course it's the one more card that defeats you.
So it's good fun. It's a pick-up-and-play with your kids, with your partners, with your gaming club. But this is not a four-hour gaming session. This is very lighthearted, but through the good design it really resonates with the IP. The dice game just makes you take risks you wouldn't normally take. Because it doesn't really matter, you know? [Laughs.]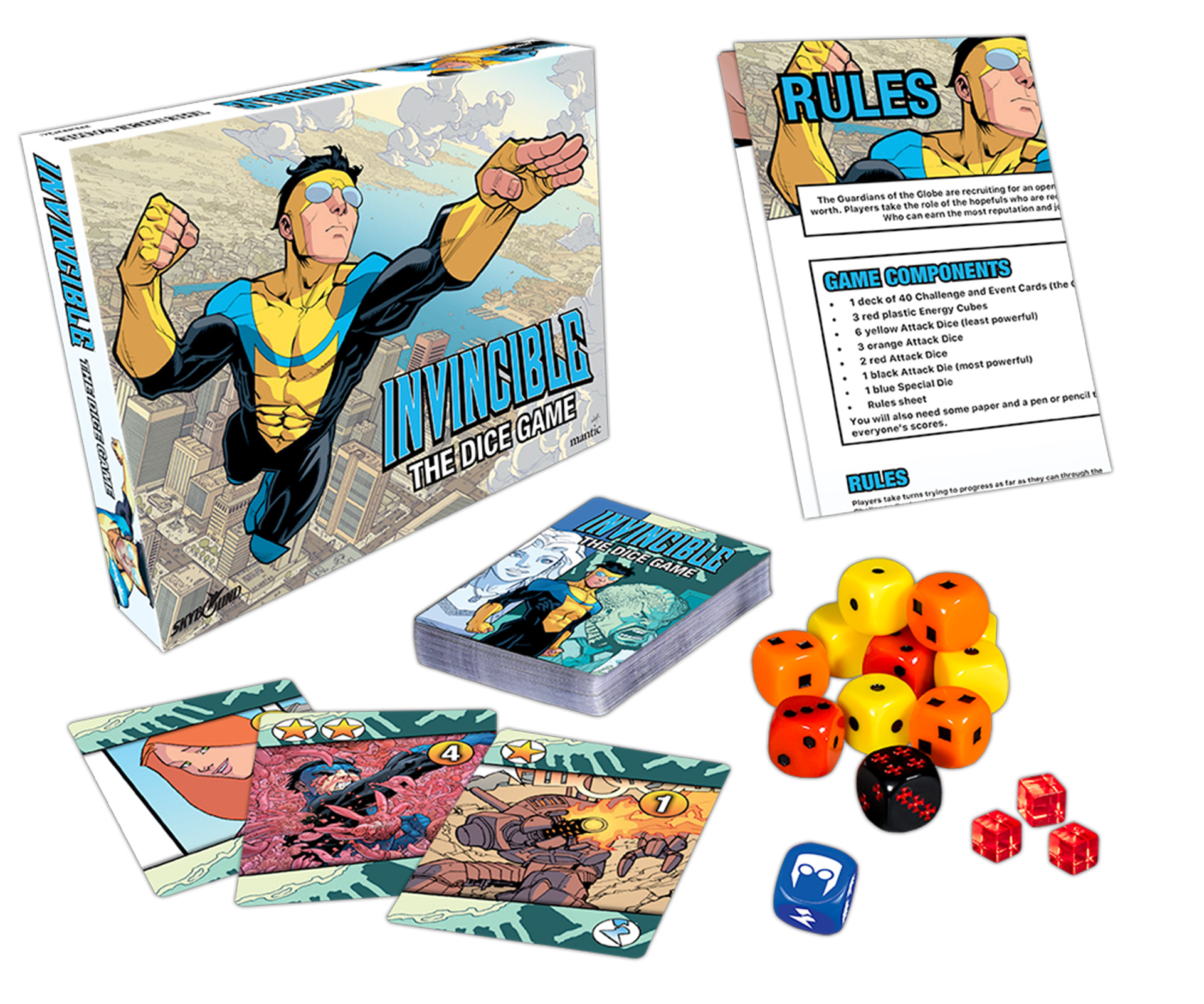 What's next for Mantic?
We're talking to Garima, who's talking to Robert [Kirkman]… The Walking Dead miniatures game, All Out War, was very, very, very successful. People loved the great rule system, which we designed specifically for The Walking Dead. We just went really hard on those mechanics. There was a miniatures range with beautiful sculpts that people could paint up. It was a big range; but you could get your head around, over time, collecting them all. A lot of people have bought all parts of it. But we never quite got to the end. Our license ran out, and there was quite a lot of changes, and the comic had ended.
I think there's a huge pull from our community to see the last sculpts in that range get done. We would love to bring it back for the gaming community that's invested in it. There's not many sculpts left – 20, 22. I'd love to do a big Rick statue to go in the center of your table and a grown-up Carl as the final pieces. But we never got to do Princess, we didn't do the Commonwealth. As a completionist, you want one of every sculpt. We had posters where you could tick them off. So we'd love to do that.
In developing these games, did you become a big fan of the comics?
Yeah. Once I'd read all The Walking Dead, and because I was working with Skybound, I got hooked up with an Image account. Then I read all of the Invincible comics. I think I've actually got issue number 2 somewhere. I was trying to get 1 and 2, because I loved it so much. Then, when the TV show was announced, the price of number 1 went up tenfold. I missed my window. [Laughs.] But yeah, I read them all and loved them all.
As a Walking Dead fan, do you have a favorite character?
Well, you kept having favorite characters and then Robert kept killing them off, didn't he? [Laughs.] I mean, I think Abraham was brilliant in the way he died. That was great fun. I've read it, obviously, numerous times. It took you on a rollercoaster, didn't it? And it had a start, a middle, and an end. Which often, you know, comics don't. The same with Invincible – start, middle, and end. It was great, great stuff.
It's all too rare for a long-running American comic to stick the landing.
Yeah, exactly. And they both have.
Check out The Walking Dead: The Dice Game and Invincible: The Dice Game at this week's Gen Con 2023!
INVINCIBLE™ © 2023 Robert Kirkman, LLC & Cory Walker. SKYBOUND and all related images are owned by Skybound, LLC. IMAGE COMICS and all related images are owned by Image Comics, Inc. All rights reserved.