A creative force to be reckoned with, Skybound's Chelsea Roberts brings her graphic design background to her role as Project Manager for the company's Creative Services team. That means she has a hand in most every promotional image Skybound produces, online or IRL. As part of our series of interviews celebrating National Hispanic Heritage Month, we chatted with Chelsea about her lifelong love of comics and what it takes to guide a constant flow of design projects. Here's what she had to say…
What's your origin story?
When I was a kid, my family took a trip to San Diego Comic-Con almost every year, and I fell in love with the medium. I was a voracious consumer of all things nerdy from a young age, and always found myself writing and drawing my own comics to express myself. I became a professional graphic designer, kept my eyes peeled for industry jobs, and managed to kick down the door of the BOOM! Studios Production Department in 2017. The rest is history!
How did you come to work at Skybound?
I met a lot of wonderful people at BOOM! Studios who are my friends to this day. Many of those friends landed at Skybound during the pandemic and were very passionate about the work they were doing. I had moved on to a webtoon company and found that I really missed the magical world of comic book publishing, so my friends didn't have to do much convincing to get me to apply to Skybound. After a few interviews and phone calls, I made the switch!
Can you describe your role as Design Project Manager for Creative Services?
Creative Services is made up of two graphic designers, an art director, and a project manager (me). We're a support department, which means that any other department at Skybound can utilize our design skills to make newsletters, web banners, t-shirts, trade booths—you name it, we can create it. However, for other departments to submit their creative requests to us successfully, they must have a working ticketing system, defined standard operating procedures, and streamlined communication methods. I build, maintain, and protect those processes, teaching stakeholders how to submit their requests and guiding design projects to completion. If any information is missing from a creative request—dimensions, key art, copy—I'll hunt it down so that my team has everything they need to start a design. In addition, I act as another designer when the Creative Services team gets busy, so I still do plenty of design work.
Being a project manager for a creative team is very different from being a PM in general. It requires a lot more technical knowledge and design experience, so it's not for the faint of heart. But I like it!
What do you like best about working at Skybound?
Getting free comics, of course! All kidding aside, I love being able to promote great creators and support the work of comics. The community surrounding this industry had been a positive force in my life, and I want to contribute to its continued success. Skybound is a great place to do that with like-minded folks!
What Skybound project are you proudest of?
I'm very proud of my team for designing Skybound's first-ever solo San Diego Comic Con booth. When I attended SDCC and saw the booth in-person, the sheer scale and presence took my breath away. In addition to that booth, we also created the staff shirts, the signage, the e-blasts, and every other graphic element that touched the event. I'm going prematurely gray from the whole experience, but the results were awesome.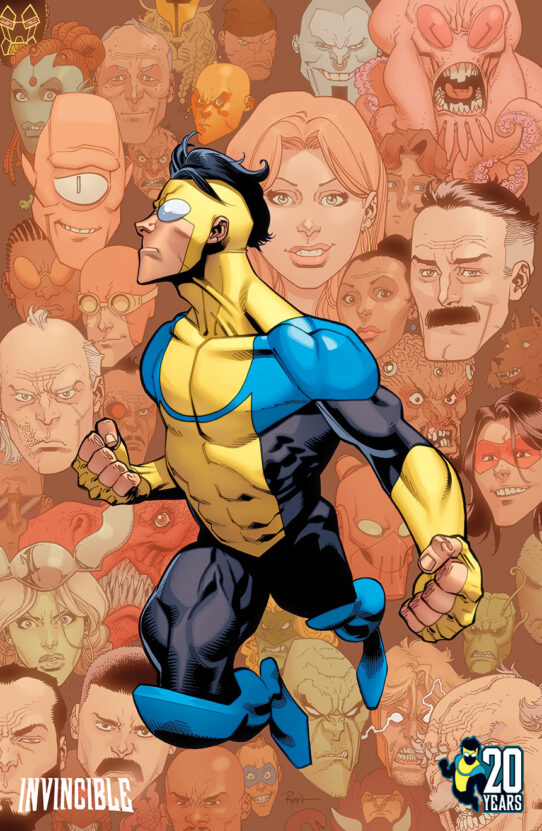 What are your favorite Skybound titles?
I've been a fan of Invincible and The Walking Dead for quite some time. I know that's terribly unoriginal, but I stand by my decisions. I also really enjoyed Renfield. What do all these titles have in common? Deeply heartfelt, profound, human moments, punctuated with extreme violence. I don't know what that says about me, but I'll see what my therapist thinks.
What else do you nerd out over?
I'm big into anime and manga, video games, superhero movie universes, and cosplay. My current obsessions are My Adventures with Superman, Zom 100: Bucket List of the Dead, and anything Pokémon related. My nephew and I dressed up like Ash and Nurse Joy for San Diego Comic Con this year. It may or may not have been the best thing that's ever happened to me.
Do you have any advice for someone considering a career in your field?
There are many different parts of the comic book industry—Marketing, Editorial, Operations, Sales, Accounting. If you'd like to be a part of the media you love, there are lots of vital positions that don't even involve Design.
If you'd like to be a graphic designer, a design manager, or an art director, start by building your portfolio. I used to comb Craigslist every day (God, I'm old) and apply to jobs that would force me to make great portfolio pieces. Learn how to use Adobe Creative Suite, Figma, Clip Studio, Procreate—the more you know, the more attractive you'll be to potential clients. Become a design assistant at your local print shop, volunteer to make posters for a cause you care about, help your friend with their website. Above all, GET EXCITED about design! My designer friends and I will stop dead in our tracks to marvel at the foil treatments and spot UV coverage on a good book cover! Get into it! You won't be sorry!
INVINCIBLE™ © 2023 Robert Kirkman, LLC & Cory Walker. SKYBOUND and all related images are owned by Skybound, LLC. IMAGE COMICS and all related images are owned by Image Comics, Inc. All rights reserved.