Invincible Season 2 premiered on Friday to much fanfare and acclaim. (Lookin' at you, Mr. 100% Tomatometer!) As part of our season premiere celebration, we hosted a Reddit AMA with showrunner Simon Racciopa. But no worries if you missed the live chat, because we've got all the highlights for your below. Check 'em out, and be sure to catch each episode of Invincible Season 2 when it lands each Friday on Amazon Prime Video…
On his favorite character…
C'mon… I can't pick! I can say that while I love writing for all our characters, doing the over-the-top dialogue for Machine Head is an especially fun treat.
On how much Atom Eve is able to transform/shield at once…
Eve's powers are really interesting. In one way, they seem almost unlimited, but they still take effort and energy to use. Big transformations and creations tire her out. So she could definitely terraform a SMALL section of the Moon, [but] there's no way she could do the entire thing without taking forever (and resting a TON in between).
On how many issues of the comic book each season of Invincible will encompass…
Honestly, there's no average number of issues rule or anything. It's a really organic process of just sitting down, talking over the story with Robert and the writing team, coming up with places we'd like to expand or go deeper, and slotting it all together into an 8-episode season. As for how many issues deep S2 goes, you'll find out eventually!
On whether or not a crossover with Amazon's The Boys is possible…
I mean, I can't spoil Season 2 for you… But I also don't want to get your hopes up either. But nothing's impossible?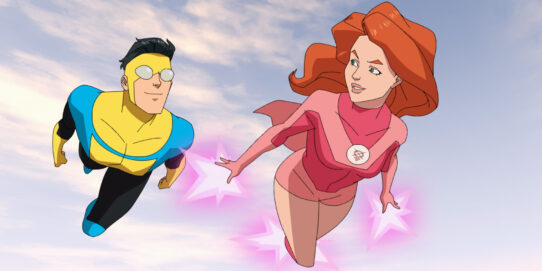 On how the Immortal compares to the average Viltrumite, i.e. whether he's weak enough to be slain…
Well, you've seen him go up against Nolan a few times now (who I get is not exactly your average Viltrumite), so…
On how Donald is still alive…
Wait… Did something happen to Donald?! I don't know what anyone's talking about with Donald. He's been working at the GDA since the first episode.
On whether Angstrom Levy's transformation was always going to happen this early into S2 and how the idea of Angstrom's mind being scrambled came about…
For Angstrom's transformation, it just felt like the right place to put it when we were breaking the episode. I don't think we ever discussed doing it later in the season. For Angstrom's mind, it just felt like a way to make his motivations a little more clear and to reflect a lot of the turmoil in Mark's head.
On whether the Mauler Twins still get Chicken Pot Pie on Thursdays in prison since they've been recaptured…
I'm afraid their chicken pot pie privileges were revoked when they were re-incarcerated. Crime doesn't pay.
On his gratitude to the fans and the Invincible crew…
THANK YOU EVERYONE! It's because of all of YOU that I get to make this show and you have no idea how happy that makes me. But I also want to point out that although you're only talking to me today, over 200 INCREDIBLE TALENTED PEOPLE WORK THEIR ASSES OFF on every season of Invincible – both on the production itself and at Prime Video as well. I cannot give our team enough credit for everything they do to bring the show to life…
INVINCIBLE™ © 2023 Robert Kirkman, LLC & Cory Walker. SKYBOUND and all related images are owned by Skybound, LLC. IMAGE COMICS and all related images are owned by Image Comics, Inc. All rights reserved.