The Senior Legal Counsel for Games at Skybound Entertainment, Sam Lam has turned his passion for genre entertainment into a successful career in law. To kick off our month-long celebration of Pride Month 2023, we sat down and spoke with Sam about how he uses his interests, education, and experiences to help build worlds he'd like to live in. Here's what he had to say…
What's your origin story?
Short answer: Radioactive doughnuts.
I was born and raised in L.A. and was a creative person and gamer from a young age. I was especially into high fantasy and would "lose" myself in those worlds. Probably the most formative IPs for me growing up were the Zelda and Final Fantasy video-game franchises (still going strong!), and the worlds of Middle Earth and the Earthsea series. In adolescence I began developing my own high-fantasy world called Rejuva, for which I invented my own maps and languages and wrote two (unpublished) novels. Because I wanted to be Tolkien or Le Guin, I guess.
I was the oldest of the second generation in a Vietnamese refugee family, and I grew up in a working-class community in the East San Fernando Valley consisting mostly of Latine families. I came out in high school as gay, though these days I identify more generally as queer and non-binary. Race, class, and gender and sexuality consciousness have been formative in my understanding of how I—we—move through the world.
All the above are interrelated. Being a minority within a minority within a minority, I was aware that the world was not built for me, at least not yet. Accordingly, my love of fantasy worlds was partly an escape, but also partly a meditation on alternative visions for reality. My adult and professional life continue to be driven by an interest in creating new worlds, specifically those that are better suited for human flourishing.
How did you come to work at Skybound?
I'm a lawyer and followed a somewhat common lawyer track after law school: I started at big law firms, then directed my path to go in-house in the video-games industry. My first major industry break was when I joined EA (Electronic Arts) as an intellectual property counsel, and later one of their commercial counsel. I'm now a Senior Legal Counsel for Skybound Games.
Before law school, I got my degree in physics at Berkeley, worked in administration at an astrophysics lab, then worked for several years as a software engineer at a startup.
Can you describe your role as Senior Legal Counsel for Games?
I'm the dedicated legal support for Skybound Games, meaning I'm their first line of defense on all video-game-specific legal issues. Among other things, this means that I'm involved at virtually every stage of our major licensing, development, publishing, and other partnerships and deals; I review potential legal issues that come up on an ad hoc basis (such as around IP clearance); and I do lots of contract drafting and negotiation. I also frequently bother both my legal and business colleagues with pictures of my two cats.
What do you like best about working at Skybound?
The people! By that I mean my co-workers but also the many creatives we work with as freelancers, full-time contractors, agencies, and service providers. As I explain below, I'm also myself a creative, and some of the creatives we work with are also some of my art heroes, so I feel honored to just be hanging around in the same virtual coordinates as them. As for the people within Skybound itself, they're fellow nerds, fellow good-hearted people, fellow enthusiasts for creative IPs. Kindred spirits. Not everyone is so fortunate to have co-workers like that.
What Skybound project are you proudest of?
Ack, a lot of these are under NDA right now and/or protected by attorney-client privilege! Let's just say that I'm frequently proud of the work I'm doing for Skybound and the projects I'm involved in. My objective is always to find a way to honor creatives while ensuring that Skybound's business flourishes, which is often easy to reconcile given that the business at its core is about honoring creatives.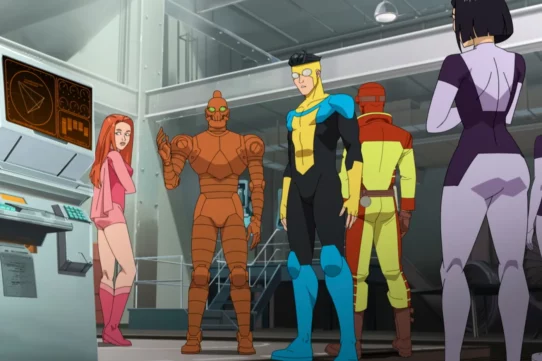 Do you have any favorite Skybound titles?
There are a lot, but right now Invincible is at the top for me. It arises as part of, and contributes to, the present zeitgeist in which we question narratives about power, celebrity, and responsibility. To be clear, these are not new themes, and the deconstructive and meta-level work that Robert (and Ryan and Cory and other Invincible creatives) are conducting through the IP has foundations in a lot of older work, especially in superhero comics.
But I guess there's something about the specific characters and story of Invincible that resonate so deeply with me. Maybe it's my relationship with my dad and how I see some echoes in the relationship between Nolan and Mark, especially around the friction of one's child yearning for agency but burdened by the inexorable fact of an existence he inherited from, and that was largely dictated and formed by, his dad. Maybe it's that. Or maybe it's that I like anything that Sandra Oh is involved in.
What else do you nerd out over?
Outside of my day job, I'm a part-time artist, primarily in digital media. I draw and paint in Clip Studio Paint and Procreate and more recently have been exploring 3D modeling and sculpting, especially in ZBrush. My main focus is on character designs, specifically reinterpretations of older figures from mythology. I feel like Jack Kirby would respect that.
Do you have any advice for someone considering a career in your field?
Law is one of the ancient professions, in the true, etymological sense of the word "profession"—which comes from the Latin profiteri, meaning to profess, meaning to profess oneself to others. Historically the word "profession" was reserved for a few trades and crafts, such as law, medicine, and clergy.
Accordingly, lawyers exist first and foremost to address the affairs of others, of our community, especially to act as a support in times of crisis. Underneath all the performative prestige and societal status that we have projected onto the profession—and which it has sought to maintain for itself—this historical core remains: Being a lawyer means fundamentally that we are about others and their affairs.
So my advice is, basically, to care. The world doesn't need more lawyers, especially not video-game or entertainment lawyers, who are just out to get more for themselves. Honestly, the world doesn't need more of those types of people. I'm more interested in lawyers who want to help those around them make the world better and more interesting. Because I care about creating better worlds. Because, I want to be Tolkien or Le Guin, I guess.