Sure, Skybound has awesome comics, video games, and TV shows — but we've also got a helluva lot of sweet, sweet merch! From tabletop games to t-shirts, our limitless range of direct-to-consumer products is the responsibility of Garima Sharma, the company's Vice President of Product and Strategy. As part of our ongoing celebration of APIDA Heritage Month, we sat down with Garima and she told us about her inspiring career journey and the products she oversees…
What's your origin story?
I started my career as a journalist, working for two major Indian media corporations — The Hindustan Times, and the Times of India for half a decade. With over 2000 articles and interviews with trailblazers such as Lady Gaga, Steven Spielberg, Damian Lewis, Priyanka Chopra Jonas, Baz Luhrmann, etc, I was equally inspired by the creative and strategic, and was beginning to develop an interest in building direct-to-consumer products (which essentially is what print media does).
In 2015, I moved to the US to pursue my third master's from Boston University and subsequently moved to Los Angeles to continue to innovate at the intersection of entertainment, technology and commerce.
I started my career in the US at Studio71, a global MCN, representing 1300+ digital influencers, where I lead strategy and execution for several successful Kickstarters, including The Binding of Isaac: Four Souls and Joking Hazard, which have been featured in The Hollywood Reporter, Polygon, Destructoid, Entrepreneur, Variety, etc.
I am extremely passionate about entrepreneurship and direct-to-consumer businesses and have been a guest lecturer at Boston University, University of Southern California and University of California, Los Angeles.
How did you come to work at Skybound?
I was introduced to [David Alpert] by a mutual friend. I came in to meet him and during our chat, he mentioned Skybound's business philosophy — the Wheel of Awesome — and I was hooked. I met a few other execs in the leadership team and knew this was a place that I wanted to be at, a place where I could make meaningful contributions to the industry and continue to learn and grow.
What do you like best about working for Skybound?
The people. Hands down. I've had the honor of working with some of the most talented and passionate people in the entertainment industry at Skybound and am so glad my path crossed with theirs.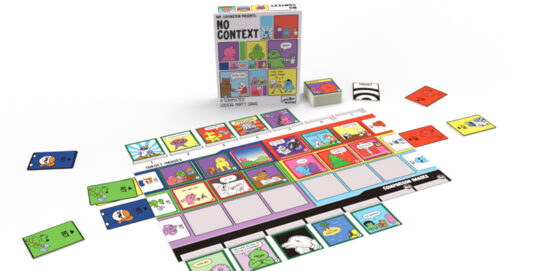 What Skybound project are you proudest of?
So many! We are launching six new board games this year [including No Context, Boo-ty Call, and Whine Night], the same number of games next year, our Invincible product lineup is jam-packed with rockstar partners, we've done collaborations with the likes of Godzilla, Phish, Marvel, etc for art prints – it's been one heck of a journey so far! I am also proud of all the out-of-the-box products we are creating to fuel the fandoms for Skybound IPs. 
Do you have any other favorite Skybound titles?
What other pop culture do you nerd out over?
I am an unabashedly proud Potterhead. I also love the Game of Thrones universe and will consume any content they put out. I agreed to date my boyfriend (now fiancé) based on a conversation we had about Season 8 of Game of Thrones, so you know how important it is for me! I was recently at the Game of Thrones Ramin Djawadi concert at the Hollywood Bowl and it's been one of the best shows I've experienced there.
Do you have any advice for someone considering a career in your field?
No is the first step towards a negotiation.