If you've ever had a hankering for some hanky-panky in the hereafter, has Skybound got a game for you! Prepare your mind and extremities for Boo-ty Call, the party game of spectral deduction and seduction. Designed by Skybound's Dan Stong and featuring the art of Extra Fabulous cartoonist Zach M. Stafford, Boo-Ty Call invites players to assume the role of a lonely medium or a thirsty ghost and make a love connection via sexy séance cards. To explain the game's origins and objectives, we sat down with Dan for a behind-the-scenes look at Boo-ty Call, which hits stores on April 19th. Check out below what he had to tell us, then stick around for the official release details…
What's your origin story? How did you did discover games and comics?
When I was young, on three-day weekends, my folks would do like a thing where they'd say, "OK, we're gonna play games instead of going places," because that's a cheaper way to do things. Then we'd each get to pick a game. Whoever won the most out of those four games would get to pick dinner.
The second place would get to pick the movie we all went to go see and third place would get to pick dessert and fourth place would get to pick lunch for that day. So we'd do that three times a year. We'd play the classics, like Milton Bradley, Parker Brothers. We just started playing games a lot, and then stopped doing that when I hit high school. I put down my Magic: The Gathering cards.
Then, after college, I was looking for work. I went to school for theater. So I was auditioning for commercials and I got a couple, and then I was like, "OK, I need regular money now." I was playing games with friends and then that led to a job at a comic book store.
I had been a big fan of comics for a long time. I actually was reading Walking Dead before I started working there. It's always kind of been my hobby. I went from working at this comic book store to acting on the side. One of my friends was a film student I auditioned for, and I got a part in their project for their senior year. We stayed in touch, and I played board games with him.
His now wife was working at Skybound at the time. I was bemoaning on some social media that I didn't get tickets to Comic-Con, and they were like, "Well, you can come volunteer and work our booth." That was the 2014 San Diego Comic-Con. It was the year Skybound announced their partnership with Superfight and started the tabletop division.
Ben Kepner, who's one of our amazing designers here in-house, also volunteered at the show. He was running the Superfight booth and I was right next to it running the Walking Dead Escape Obstacle Course ticket sales on the show floor. I jumped over and covered for him, he jumped over and covered for me. And Skybound invited me back to New York Comic-Con.
They flew me out for that. Then I moved to LA to look for more acting gigs, and they were like, "Do you want a part-time job in the warehouse for some holiday money?" That turned into, "Do you want a permanent gig traveling around presenting these games to people?"
I was writing cards for Superfights. I was writing cards for Red Flags. I was helping to test stuff and dev stuff. Eventually I was like, "I think I want to do this." I was lucky enough that my bosses at the time — Sean Kirkman, Dan Peterson — were just like, "Yeah, let's make it happen."
So they transferred me into the tabletop division right as the pandemic started. I did a lot of observation work and testing, figuring out how we could do that kind of stuff within the pandemic. I got real good at prototyping stuff digitally.
Eventually it just came to a point where we all had designs for different party games we were working on, and it was like, "Yours got picked." I was like, "Oh, cool! That's awesome! Oh my God!"
Had all of those experiences contributed to your sense of game mechanics and engineering?
Definitely. One hundred percent. One of the big things we were running into was… You can make a game. You can send a game to people. They could say they liked it. But you're not seeing the point where they're reading through the rules for five minutes to figure it out. You're not seeing how long it takes someone to grasp the concept you're trying to present to them.
So the usability and interface that the consumer has with the item is something that really keyed into me. It's like, "How do we make this the most accessible it can be where you can pick it up, you can explain it in one to two minutes, and you could just start playing?"
How did your collaboration with Zach M. Stafford begin?

I was kind of late to this party. The company was working on a book via Kickstarter with Zach, which wound up becoming the Extra Fabulous Experience, which would up having the game in it. It was originally for a book compilation of his web comics called Good Comics for Bad People. But they wanted to do something extra and they figured, "We could reach out to tabletop and see if we can put a game in this too."
We took a couple of the party game concepts we'd been working on. Ben pitched them to Zach and Zach was like, "That one. I wanna do that one about ghost fucking." So mine got picked and then the process started. I had the bones of the game in place, so we basically said, "Here's the general idea we're going for with the game, what do you think?" He replied, "It'd be cool if we did it like this…" So there was a lot of really good back and forth over the structure of the game, what he wanted it to be for his fans. He wanted something he could play that was easy, fun, that anyone could pick up. It's not overcomplicated. You don't have to send somebody to a corner to read the rule book. You can explain it in five minutes or less. And you can play it after a beer or two and it's totally fine. [Laughs.]
The concept of Boo-ty Call is the kind of off-the-wall idea one might have after a long night of partying in college, before waking up to realize they had no idea how to execute it. How do you have the inspired vision to conceive something like this but the mental acuity to build a game around it?
Yeah, it's offbeat. That's a very kind way of putting it. [Laughs.] Like everything, it's a team effort. I didn't do this on my own. We have a really good department in Tabletop, and Ben Kepner was really instrumental. He was like, "This isn't working. What do we need to do here to make this work?"
It started off as a game featuring an actual tarot deck. I was like, "How can I use a tarot deck to play a game? If I just change things slightly and like make it sillier, is there a way to do that?" Originally, it was a bigger thing. We picked through it and found what really worked with it and extrapolated that out. That's the game play we got. It turned into more of a Times Up or a Fishbowl-like social parlor game.
Something you play with mom and dad during those harsh winter months in the drawing room?
Yeah, of course. Very regal. [Laughs.] But yeah, there was a lot of good guidance and a lot of good notes. Trish Victor, Garima Sharma… everybody was just really helpful with it.
What do you think makes Zach's work special?
I think that Zach is a literal genius. He has such an effortless charm and kindness and great sense of humor, and I think that his comics are just him, you know? That just comes through and resonates with people. I mean, who doesn't love a good fart joke every once in a while? [Laughs.] It's just timeless. And you see somebody putting their heart out there and you pick up on that.
Okay, in the spirit of Boo-ty Call, I have a couple of ghostly questions for you… Would you rather spend the night in Disney's Haunted Mansion or the Overlook Hotel in The Shining?
Oh, definitely the Overlook. Yeah, a hundred percent. Number one – they've got beds. There's plenty of empty rooms. There's a bar with a private bartender. There's activities if I want them. I can go walk around the hedge maze, or the topiary animals [as depicted in the book]. Also, I love a good bath, and it's in the mountains. So there's lots of privacy.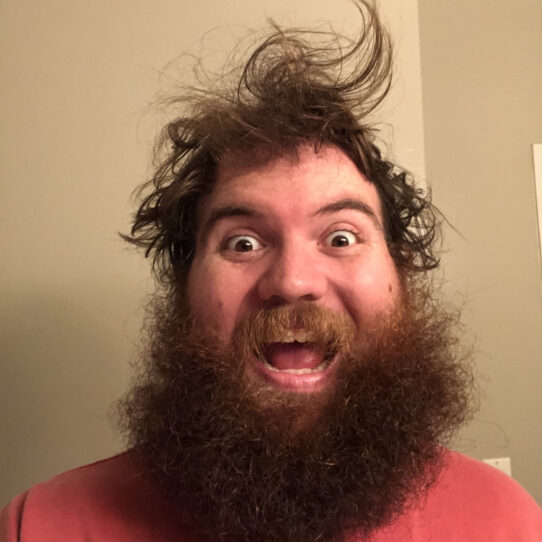 Makes perfect sense. [Laughs.] Slimer or Beetlejuice – who's the better wingman?
Slimer. Slimer is gonna be your hype man, because you know Beetlejuice is just there for himself. He'll talk a big game, but you know he's the one who's taking your date at home that night. He's gotta be the alpha dog
Who's your number one ectoplasmic thirst trap, fictional or non-fictional?
The Ghost of Christmas Present. The first thing they say is, "Come on, get to know me a little bit better." You're like, "Alright, I'm feeling it…" That robe is always just a little bit open, and you know they know it. And they're like, "Let's go places, let's do things. I have activities lined up for us. It's pleasant. Look how nice it is. Isn't it wonderful? It's Christmas! Live in the now!"
Date, Marry, Exorcise – the ghosts of Jane Austen, Amelia Earhart, and Janice Joplin.
Dating Janice Joplin could be fun. Marry Jane Austen, because I am a romantic at heart. And I would exorcise Amelia Earhart a hundred percent. Like no hesitation. That woman lived and died through a lot of trauma. Who knows what her ghost is like?
She's earned her eternal rest… What inspired the ghosts in Boo-ty Call? The Erotic Baker, for example.
I love puns. That's a big part of me. That's actually how I met my wife, through puns. We met through OkCupid and I wooed her with alligator puns. I just went into 30 of them and she's like, "That was a lot… Do you still wanna go out?" So that worked. [Laughs.] No, it was just that I had started writing all these cards for this game idea I had, and I was like, "Sexy puns! That's naughty!"
Basically that's what we started from. It was just these little ghost puns and then a subtitle that was a stinger for that. Zach took that and made the art what it was, and those characters came to life. He put so much detail and, for lack of a better word, life into those ghosts that it just floored me. It's not often that you look around and say, "Oh look, there's like a little bottle in the corner of this picture that says "Anus Lube." I did not imagine that would be the thing that's there, but it's there and it's perfect." How often do you say that?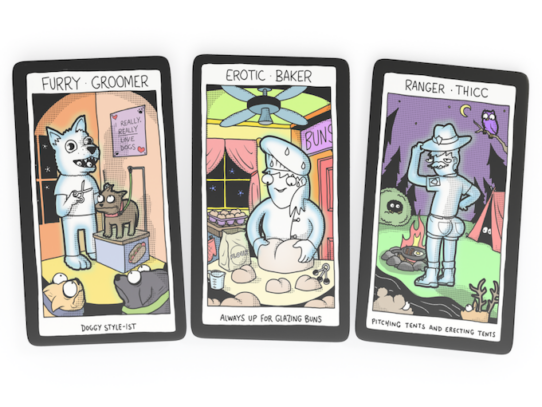 Besides Zach's work, what's your favorite Skybound media?
Like most people, I started with Skybound on The Walking Dead. The comics before the show, and then I got into the show. I was reading them as they were coming out. When I started working here, I just kept current. Then at some point I got onto the proof list, so I was reading them before they were coming out. Robert's stuff is great. Josh Williamson's stuff is really good. I'm wearing a Ghosted shirt right now, and I'm loving Dark Ride, Daniel Warren Johnson's stuff, Murder Falcon, Extremity. The comics were just the root of everything for me, and that continues to be it for me.
You talked a little about the games you grew up with… What are your favorite games now? Has becoming a game designer changed your opinion of some of them?
Yeah, for sure. Right now, I've got an ongoing campaign of Gloomhaven: Jaws of the Lion. We play every Friday night. We're working our way through it when we can. It's weird because my wife and I are getting ready for a new baby that's due in two weeks. And the other couple we're playing with is getting ready to get married. So I'm gonna be officiating their wedding while I'm actually on paternity leave…
Oh my God. Congratulations!
Thanks! But yeah, that's a game we've been playing… I just got Cosmic Frog, which is crazy. It's such a wackadoo game and I love everything about it. Someone just went full send with the theme. They wrote this really convoluted rule book, but once you play the game, there's a lot of fun to unpack. I've also been playing Scout, which is the big hot game. It's a fun little card game, like gin rummy plus crack. Then I've always loved Blood Rage. That game is my go-to. [Laughs.]
Note: For more on Boo-ty Call, including a video on how to play the game, check out the Extra Fabulous Kickstarter. 
And here's today's official announcement on Boo-Ty Call from your friends at Skybound…
Today Skybound announced the retail launch of Boo-ty Call, the scandalous new party game designed by Dan Stong, featuring the artistic talents of superstar cartoonist Zach M. Stafford (Extra Fabulous, Deogie, Pervis). Hold a spooky séance with your friends and play ghostly matchmaker when this game hits stores on April 19, 2023.
"If I could choose one thing to bring to a deserted island I would bring Boo-ty Call and starve to death in a matter of weeks," said Zach M. Stafford.
Boo-ty Call is a deduction focused party game where each player acts as either a lonely medium or a flirty ghost trying to get someone to hook up with them through clues given in response to seductive séance cards. The first medium to tap the right ghost scores a point for them and their new spectral fling. This game features beautiful tarot style cards for the ghost profiles, séance cards that act as questions to ask the ghost, and a theme that some would call…spirited.
"April is a very important month to me. My wife and I met on the 1st seven years ago, our firstborn son is coming into the world around the 3rd this year, and tons of people are getting their hands on my first published board game all about hooking up with sexy ghosts the very same April. Totally normal life milestones," said Dan Stong. "I'm so excited for everyone to get a copy and sit down at a table for a silly good time with friends and family, to laugh at Zach's amazing art, and forget about their worries for half an hour."
The game first launched as part of the hit "Extra Fabulous Experience" Kickstarter campaign alongside the collection of webcomics Good Comics for Bad People in July 2022, securing worldwide media coverage and earning nearly $475,000. The "Extra Fabulous Experience" became a top five webcomics graphic novel campaign of all-time.
Boo-ty Call will be available for purchase in stores nationwide, including Books-A-Million, on April 19, 2023 at a MSRP of $17.99, and will appeal to people who are fans of Dixit, Time's Up, and Mysterium.
Following the March release of Whine Night, Boo-ty Call is the second of seven new title launches in the Skybound social party game catalog in 2023. For more info and updates, please visit www.skybound.com.
Good Comics for Bad People: An Extra Fabulous Collection will see its retail release this fall.  The graphic novel (ISBN: 978-1-5343-9918-1; Diamond Code: DEC229000) will be available at comic book shops and digital platforms including Amazon Kindle, Apple Books, comiXology, and Google Play on Wednesday, November 1, 2023, and everywhere books are sold on Tuesday, November 7, 2023.