The following is a Q&A posted by our parters at Disruptor Beam and we're cross-posting it here because we're getting SUPER excited for you guys to see and play this game!
---
We sat down with Allen White, Disruptor Beam Art Director, to talk about the art of THE WALKING DEAD: MARCH TO WAR. The upcoming Disruptor Beam mobile game is based on Skybound's acclaimed comic book series The Walking Dead.
Allen provided us with some deep insight into the art style for THE WALKING DEAD: MARCH TO WAR. To go with that insight, we're giving you an exclusive first look at some of our character art! We've got character portraits of Rick, Ezekiel, Jesus, Dwight, and Rosita. They are just a few of the well-known characters from The Walking Dead comics that you, the player, will be able to collaborate with in THE WALKING DEAD: MARCH TO WAR when it launches. Read on to learn more about our character art development process.
DB: Tell us a little bit about yourself? When did you join Disruptor Beam?
AW: I've been an artist all my life, but it was a few years after college when I really got into creating art for games. I was with Kiz Toys for many years working on projects including SmashMuck Champions, while freelancing on other game projects. I joined Disruptor Beam a couple of years ago to initially work on the art for STAR TREK TIMELINES. I'm a huge Star Trek fan, so when the opportunity arose, I relocated to the Boston area to join Disruptor Beam. The art team has grown since and now I'm leading all of the art creation for THE WALKING DEAD: MARCH TO WAR.
DB: Can you tell us about the team's approach to art for all Disruptor Beam's games?
AW: As we were creating STAR TREK TIMELINES, we were a small team facing a number of challenges. We wanted to create an entire universe that we wanted to look beautiful, something players had never seen on mobile devices before. In addition we weren't just trying to make STAR TREK TIMELINES an amazing-looking mobile game but an amazing-looking game on any platform. As the game continued through development, we grew more confident in how far we could push Unity, the game engine we use to create our games. In turn, we challenged ourselves to do even more with the graphics in STAR TREK TIMELINES. I am proud of the mentality we adopted during that time, which was to push the boundaries of both our technology and art process. That, to me, is really the foundation for how we approach all of our games now, including THE WALKING DEAD: MARCH TO WAR.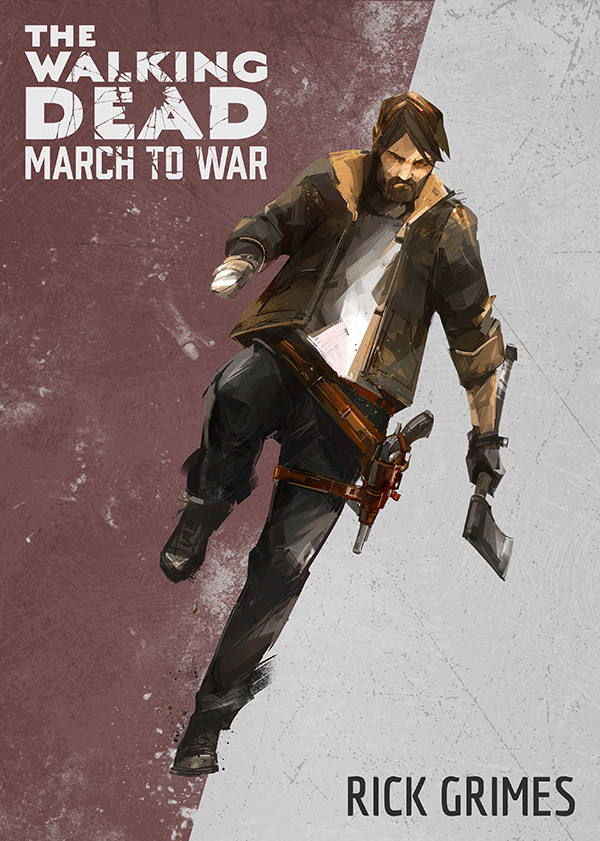 DB: What about the art style for March to War? What are the defining characteristics of the art-style? Does it draw inspiration from any particular sources? What makes it unique?
AW: THE WALKING DEAD: MARCH TO WAR takes place in the midst of Rick and Negan's "All Out War" storyline, where bands of Survivors from around Washington, DC are forming larger groups and fighting for territory. The player becomes a leader of their own group and in turn decides what they will do to survive. This is one of the most fun aspects of THE WALKING DEAD: MARCH TO WAR. It creates a turning points in the story; from small personal dramas to much bigger scale actions and consequences all based on decisions you make as the player.
The illustrated nature of the comic also played heavily into our overall vision for the look of the game. There's something imperfect and transitory in something sketched that really touches all of these notes. It's the zombie apocalypse! You'd don't have time to sit for an oil painted portrait, everything is fleeting, and done fast. These key ideas as well as the setting, the decay, the naturalism, all played a part in steering the final look which really differentiates us from the rest of the games out there.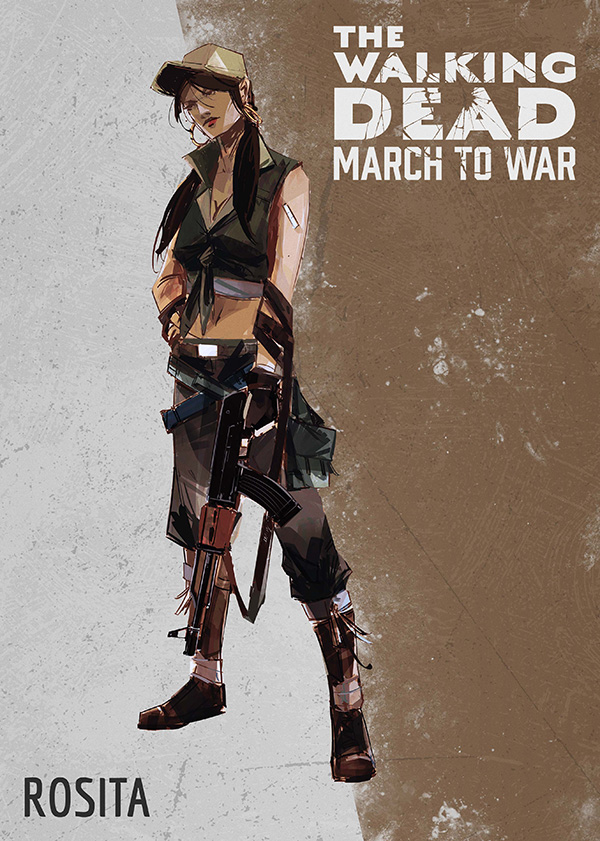 DB: What's it like working with Skybound on the art for March to War? How involved are they in the process?
AW: Skybound is a great partner! They've given us really valuable feedback throughout the development of the game art, as well as the development of the game mechanics and systems. We're in touch with them daily on everything from character art to item art and more environmental scenes. This partnership has allowed for us to create a truly authentic experience that fits right into the world of The Walking Dead.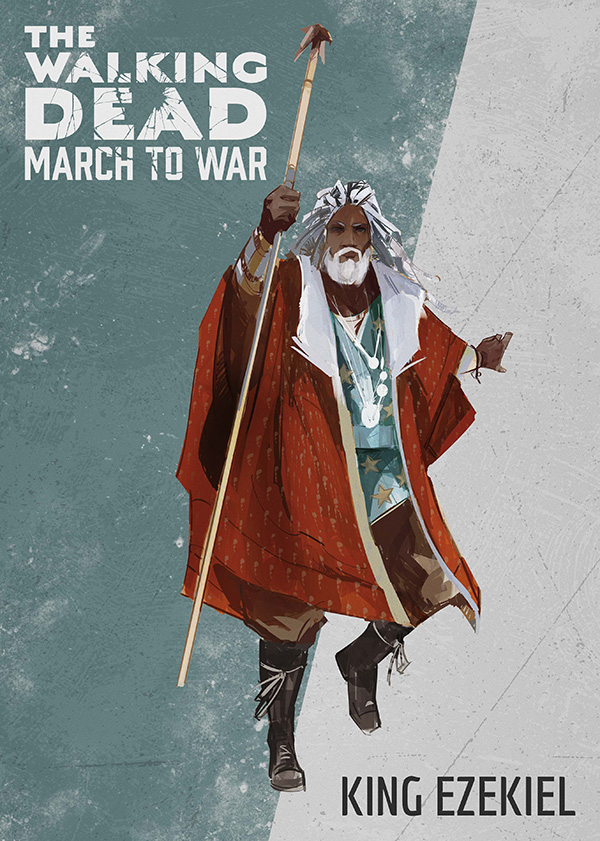 DB: How do you decide on a specific art-style for a game? How is this game different from others you've worked on before?
AW: Every art project, in any medium, has a few needs. You can think about these loosely as "mechanical needs" and "emotional needs." Mechanical needs are like, "How many doors does this room have to have?" Emotional ones are more about "What does this room feel like? Is it inviting? Is it scary?"
In-game development mechanical needs are driven by what the player needs to do and what information needs to be present while they're doing those things. And then you have to inject as much emotion as possible without overwhelming those mechanical needs. When you're playing with an emotionally charged world like The Walking Dead you don't have to invent much, you just have to focus in on the key pieces that make the whole thing gel.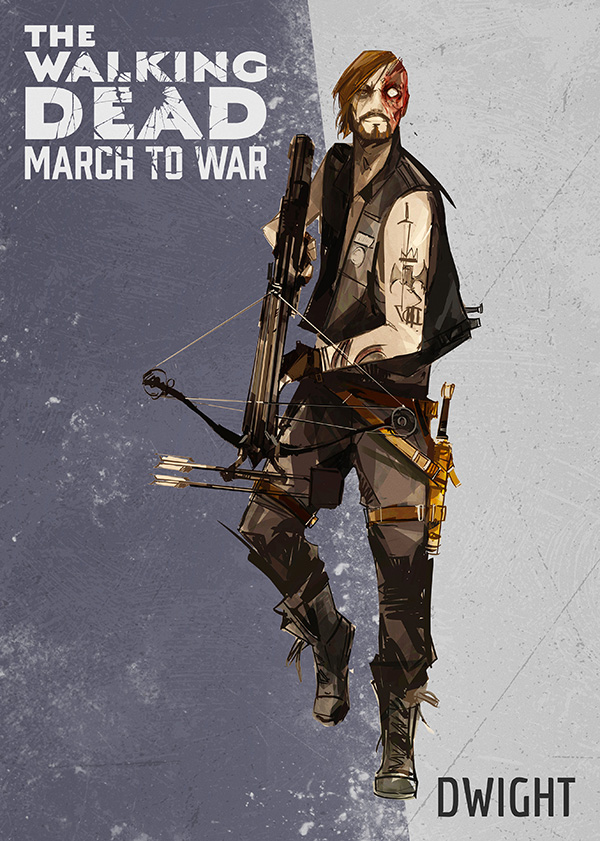 DB: Do you have anything interesting to say about the technology that's made this art possible?
There is too much to talk about in terms of the technical wizardry we've uncorked on this project. The team has done incredible work. Let me try to boil this down; we are rendering 100,000 objects, nearly 1,000 individual Artificial Intelligence actors navigating on the ground and in the air, synchronized weather, infinite directional lights, real-time day/night cycles and soft shadows… every… single… frame… at about 35 frames-per-second on a medium power phone—and that doesn't even include the optimization of the engine or the UI. It's not just good, It's a miracle and something we are extremely excited about!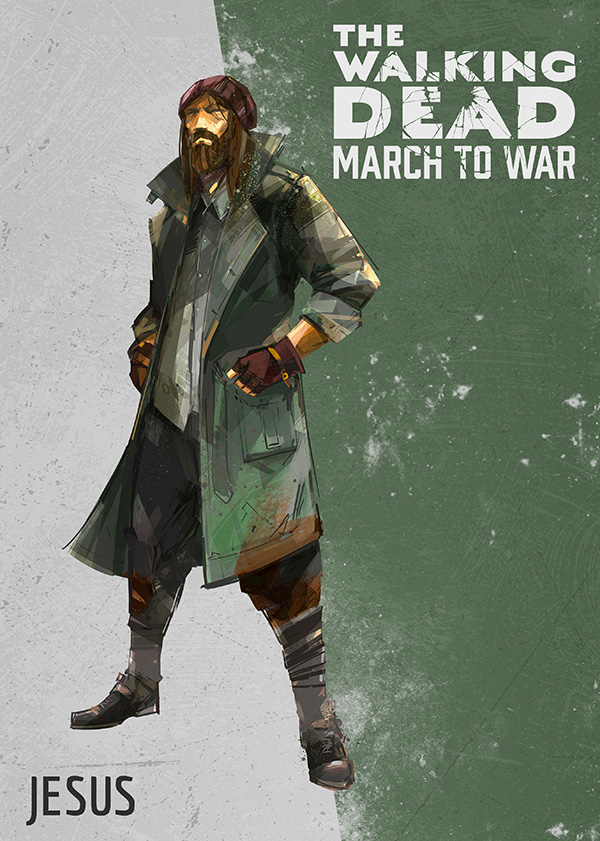 DB: Can you pick one or two characters from the Council Members just recently revealed (Rick, Ezekiel, Jesus, Dwight and Rosita) and talk about what makes these pieces particularly strong? Also, can you tell us about the specific artist working on these pieces?
AW: We are working with acclaimed artist Richard Anderson to create our character concepts and final art, including the Council Members. His work is exceptional and checked all the boxes we were looking for in an artist. He is well-known for his work on other games like Guild Wars 2, Batman Arkham Knight, and Legend of the Cryptids. In addition he has also done a ton of work in the film industry on properties like Prometheus, Guardians of the Galaxy, The Legend of Tarzan, and Paddington. There's a great looseness in his style that really adds to the gestures in characters like Ezekiel and Jesus, he shows incredible economy in capturing likeness of a character like Rick, and a bold rendering of details that really give the characters that extra level of emotion (just look at Dwight's face!). His style captures all the characters we love from the comics in a way that is not only familiar but also fresh, and we hope the fans are as excited as we are when they step into the world of THE WALKING DEAD: MARCH TO WAR.
THE WALKING DEAD: MARCH TO WAR is a story-driven multiplayer strategy mobile game coming from Disruptor Beam this year. This character art reveal is just the beginning—stay tuned here on the Disruptor Beam blog for much more to come. Please also consider liking us on Facebook and Twitter for the most up-to-date information.
---
We're VERY particular about The Walking Dead story and art, so any time a partner takes it on, we have A LOT to say. We think Disruptor Beam is killing it with this early character art. What do you guys think?!