USAopoly put out more pics and information about The Walking Dead Editions of Risk and Monopoly. These boards look killer (and check those Monopoly pieces!!!)! I can't wait to get my hands on Risk. Without more preamble, here are the goods: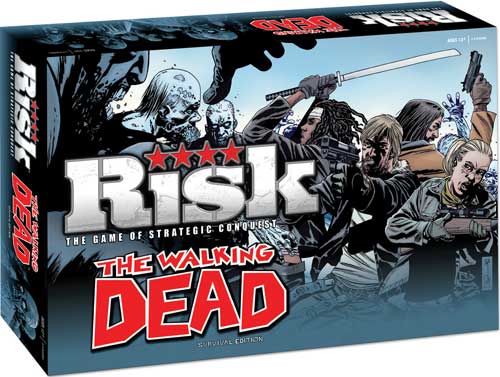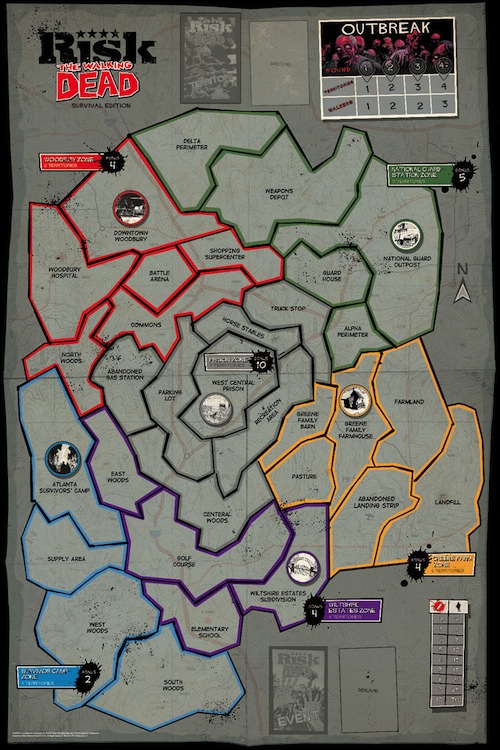 RISK: The Walking Dead Survival Edition
In RISK: The Walking Dead Survival Edition (APR132230, $49.99) it's a fun, new twist on classic Risk game play.  USAopoly will debut a brand new map set in the southeast region of the United States where players battle and scavenge for their very lives. Players vie to be the dominant group of survivors in a post apocalyptic world infested by the undead. Contending for survival at every turn, gamers must not only fend off attacks from the living who compete for precious, limited resources upon which their survival depends, but they also must maintain their self-preservation from the unrelenting hordes of the undead that would feast upon them.
•Zombies, referred to in The Walking Dead as "walkers," will populate areas of the map and will continue to randomly spawn at the start of each players turn. Spawning escalates at the start of each round providing increased danger for the players. When walkers spawn into an occupied territory the combat resolves immediately.
•A deck of "Event" cards. At the start of each players turn, in addition to spawning walkers, an event card must be drawn and read aloud. These cards reference story events from The Walking Dead canon and provide players with challenges with potential rewards and penalties and create more overall suspenseful interaction.
•A new deck of "Supply Cards" will add strategy, fun and flavor to this classic tabletop game.
•The game duration mirrors that of RISK: 2210 in that the game ends and scoring occurs after a period of time and not with one player controls ever territory. This speeds up game play and minimizes the duration an eliminated player is "out of the game". However, the ability to play classic RISK and the corresponding rules will be provided.
Gamers can expect a fast-paced game of attrition and survival in RISK: The Walking Dead Survival Edition, where this time — the last man standing wins!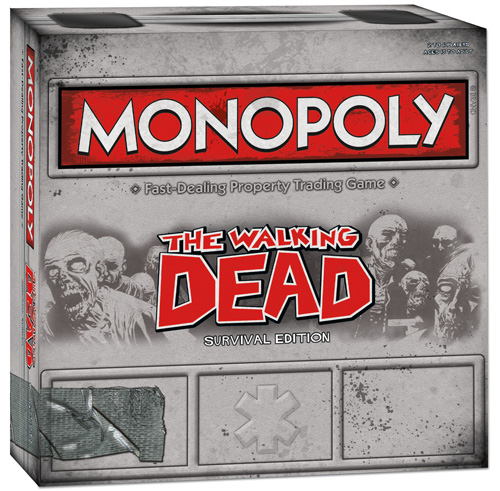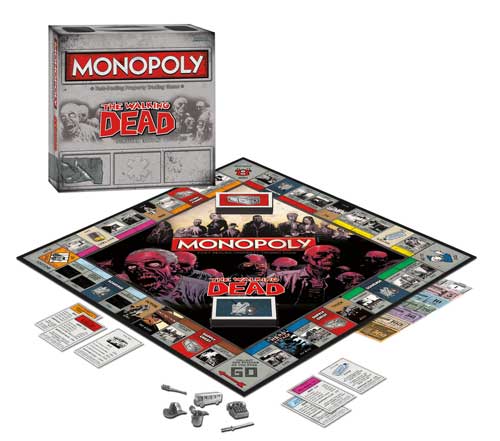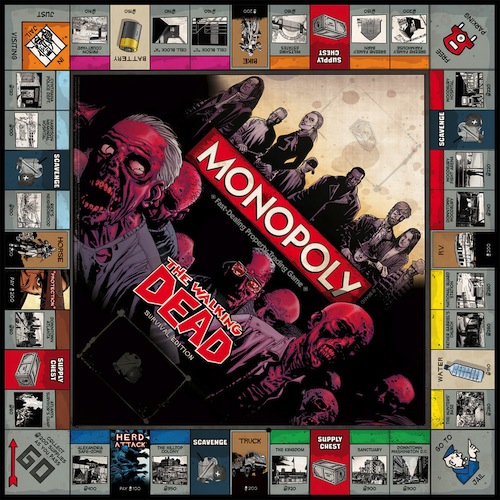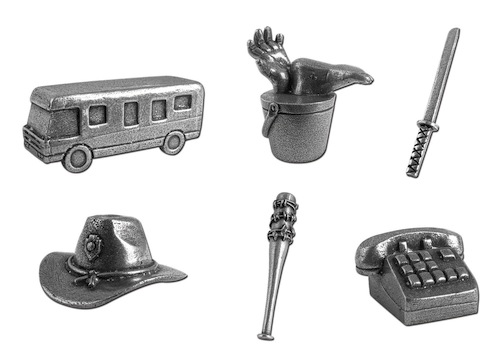 MONOPOLY: The Walking Dead Survival Edition
Despite its post-apocalyptic setting, MONOPOLY: The Walking Dead Survival Edition (APR132229, $39.99) delivers classic Monopoly wheeling and dealing game play.  Players vie for, and then must fortify, the prime real estate and resources that will sustain their lives. There's only one victor that will outlast the others—whether living or undead—when all is said and done. This completely customized game features six collectible tokens, optional speed play and a fight to the finish!
The standard Monopoly pieces are given a unique spin to fit the world of Robert Kirkman's The Walking Dead.
Currency has been replaced with Supplies. Houses are walls, Hotels are Guard Towers. Chance cards become Scavenge cards, and the Community Chest cards are Supply Chest cards. Income Tax has been replaced with Herd, the Luxury Tax has been replaced with Protection. Other changes include:
Tokens:
Katana
Rick's Hat
R.V.
Lucille (Bat)
Telephone
Bucket of Body Parts
Utilities:
Railroads:
Horse
Motorcycle
R.V.
Truck
Brown Properties
Downtown Atlanta
Atlanta Survivor's Camp
Light Blue Properties
Cynthiana Police Department
Harrison Memorial Hospital
Rick's Neighborhood
Magenta Properties
Prison Block C
Prison Block A
Prison Courtyard
Orange Properties
Greene Family Farmhouse
Greene Family Barn
Wiltshire Estates
Red Properties
Downtown Woodbury
Woodbury Fight Arena
Woodbury Hospital
Yellow Properties
The Hunters' Base
Father Gabriel's Church
National Guard Station
Green Properties
The Kingdom
Sanctuary (Savior's Base)
Downtown Washington, DC
Blue Properties
Alexandria Safe-Zone
The Hilltop Colony
These changes puts players right into Robert Kirkman's world when they play MONOPOLY: The Walking Dead Survival Edition.
Both games will be available September 25th!