Beavl is the 3-person team of Fernando Damián Martínez, Damián Matías Troncoso and Nicolás Saraintaris hailing from Argentina. They are responsible for The Narrow Path, which you can finally play, here!
The game resonated with quite a few of the judges, effortlessly making its way into a few top 3 selections, including my own. Aside from the well-realized atmosphere, owed to the wackiness of the world, art style and soundtrack, the game's simple controls and well-tuned upgrade system also went a long way to win our collective hearts. Check out the video at the bottom.
We took a few moments to chat with the team and find out more about their process.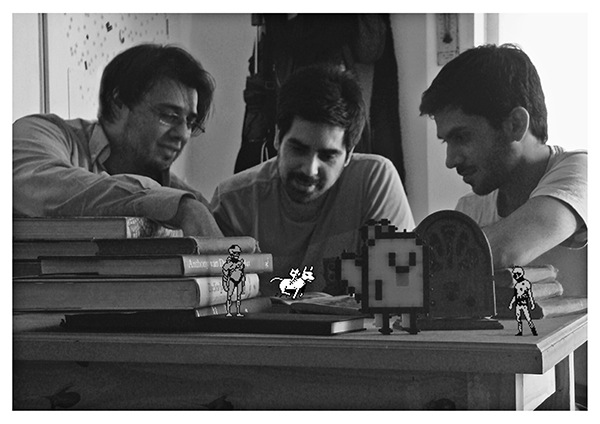 TWD.com : What was your creative process to come to the final game that you submitted?
B : Lots of reading and reference dropping, long brainstorming sessions and game design talks through Facebook group chat.
TWD.com : What kind of games does your team aim to make?
B : We aim to make games with personality so players would find 'em kind of special. We don't want our players to be indifferent!
TWD.com : How do you think you will further develop this game and its concept in future?
B : We will work on improving the rogue-like elements (procedurally generated maps, item drops, leveling), improving the battle system and general balance, adding a story mode with main and side quests, adding characters in all parties (humans, zombies and reanimated monsters), targeting different platforms and making general improvements (performance, music, sfx). We will also work on some extras such as tie-in comics to develop our narrative universe even further!
TWD.com : What's your favorite Skybound comic?
B : The Walking Dead, of course. And we also like Invincible!
TWD.com : Any plans for the future?
B : We will develop the game further, that's a given. We are really glad with it.
To read more about the game's development challenges, check the post-mortem, here.
To follow Beavl on Twitter, go here. To find them on Facebook, go here!
BTW, if you enjoy the game and want to see it fleshed out into a release on Valve's Steam Portal, vote for the game to be made on Steam Greenlight, right here!