To commemorate the 100th issue of the Walking Dead last year, and to promote and raise funds for a good cause, Skybound teamed with The Hero Initiative, a charity that helps creators in need—be it emergency medical aid or financial aid to help creators get back on their feet. To that end, we sent out over 100 sketch covers to notable artists and creators and let them go wild.
The results of that effort, all 106 covers, will be on display for one night only: Friday May 31 at GUSFORD | los angeles. Contributors Sina Grace (Not My Bag and former editor of The Walking Dead), Todd Nauck (artist of our just-launched Invincible Universe), and Jason Reeves (artist/co-creator of the WWII/alien invasion mash-up F-OO Fighters) will be in attendance.
During the event, two of the covers will be auctioned off via eBay, a third cover will be offered for live auction to attendees, and a fourth cover (the final 106th cover) will be drawn ON-SITE by Todd Nauck and auctioned off live to attendees at the end of the night! The remaining covers will go up for auction via eBay starting June 4th.
The event is free. There will be a cash bar and zombie-themed snackage courtesy of Golden Apple Comics.
Walking Dead artist Charlie Adlard's cover: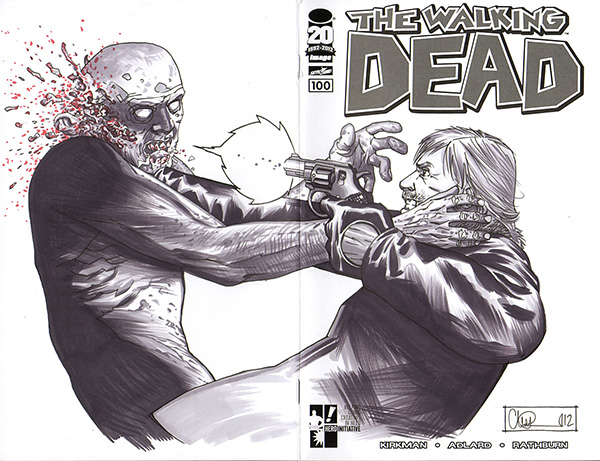 Todd Nauck's first cover (the second will be drawn live on-site):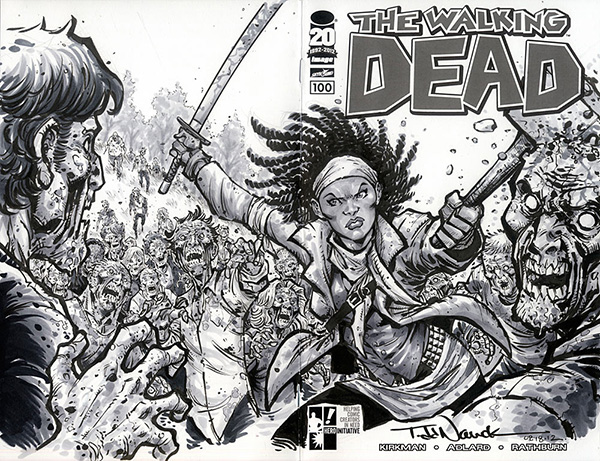 GUSFORD | los angeles
Friday, May 31st
6:00 – 9:00 PM
Free Admission, Cash Bar
7016 Melrose Avenue, Los Angeles