The Walking Dead Season 8 Episode 4 was incredibly emotional. See ALL the ways it matched up to the comics in our in-depth comparison.
---
The Ambush on The Kingdom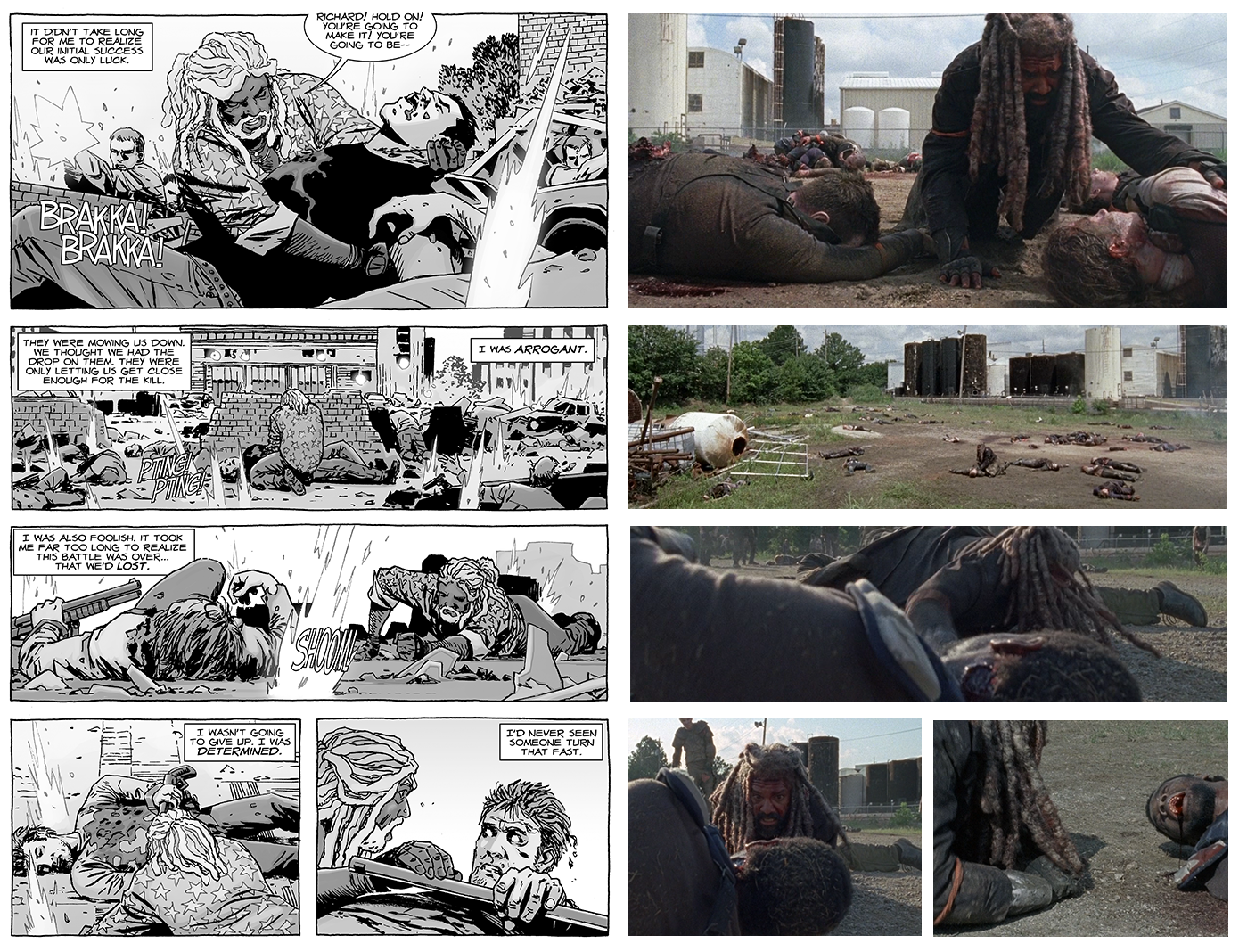 In both the comics and show, Ezekiel and his Kingdom fighters get ambushed by the Saviors in a brutal attack. Ezekiel survives but has to escape to save himself. In the show, he's saved from his undead friends by one of his surviving soldiers, who escorts him to safety. In the comics, Ezekiel is almost shot and killed by the Saviors until his undead friends consume them. (Also among the dead in the comics is his bodyguard Richard, who died in the show last season).
Also it's important to note the narrative differences. In the show this was all told in a flash forward while in the comics it's told in a flashback with Ezekiel narrating.
---
Shiva
The biggest comic/show parallel was also the most devastating one: the death of Shiva. The comic and show both featured Ezekiel getting trapped in a quarry full of walkers, where he was gloriously saved by his tiger Shiva. She leaps to the rescue, kills some of the walkers, but ultimately gets consumed by them as Ezekiel reluctantly makes his escape.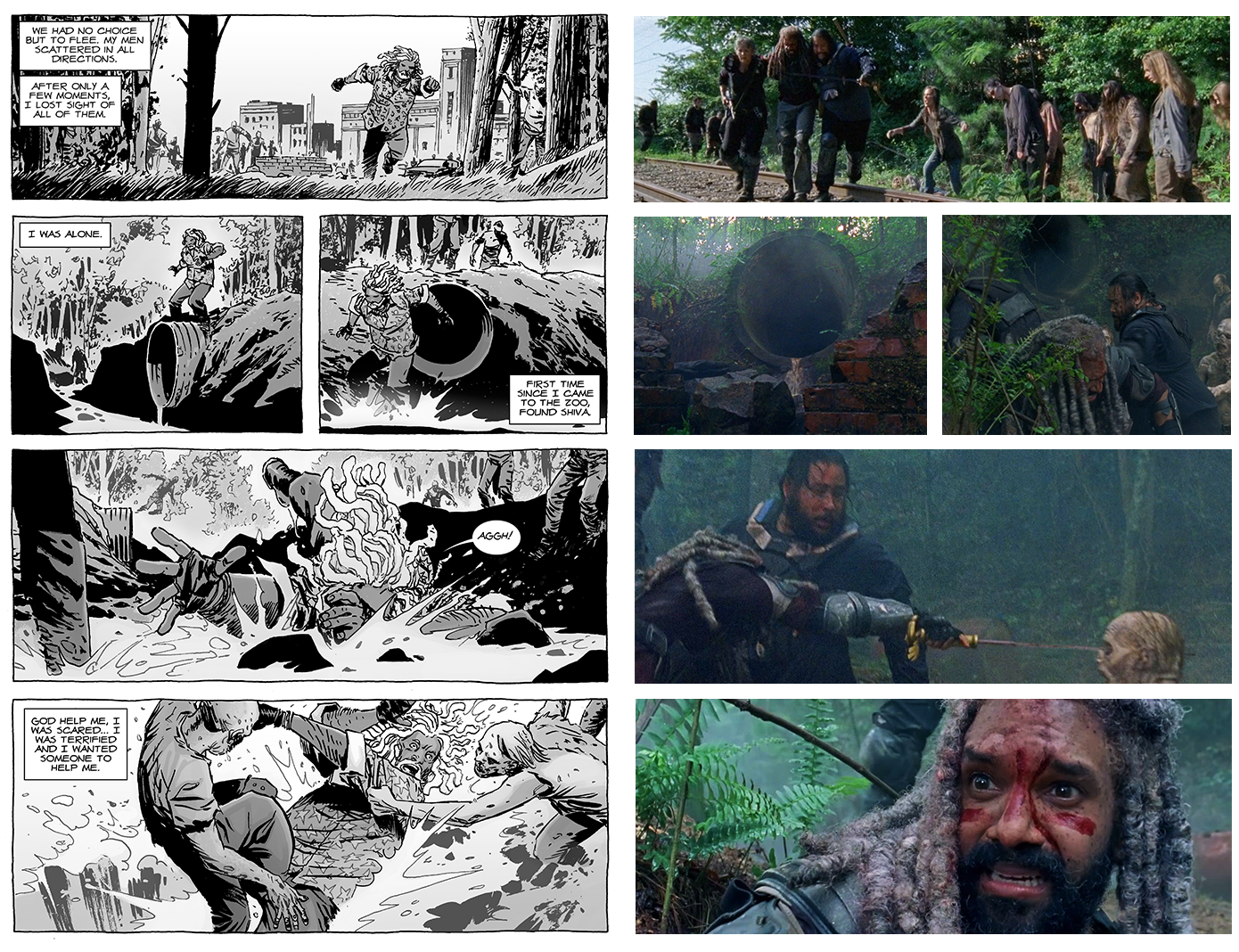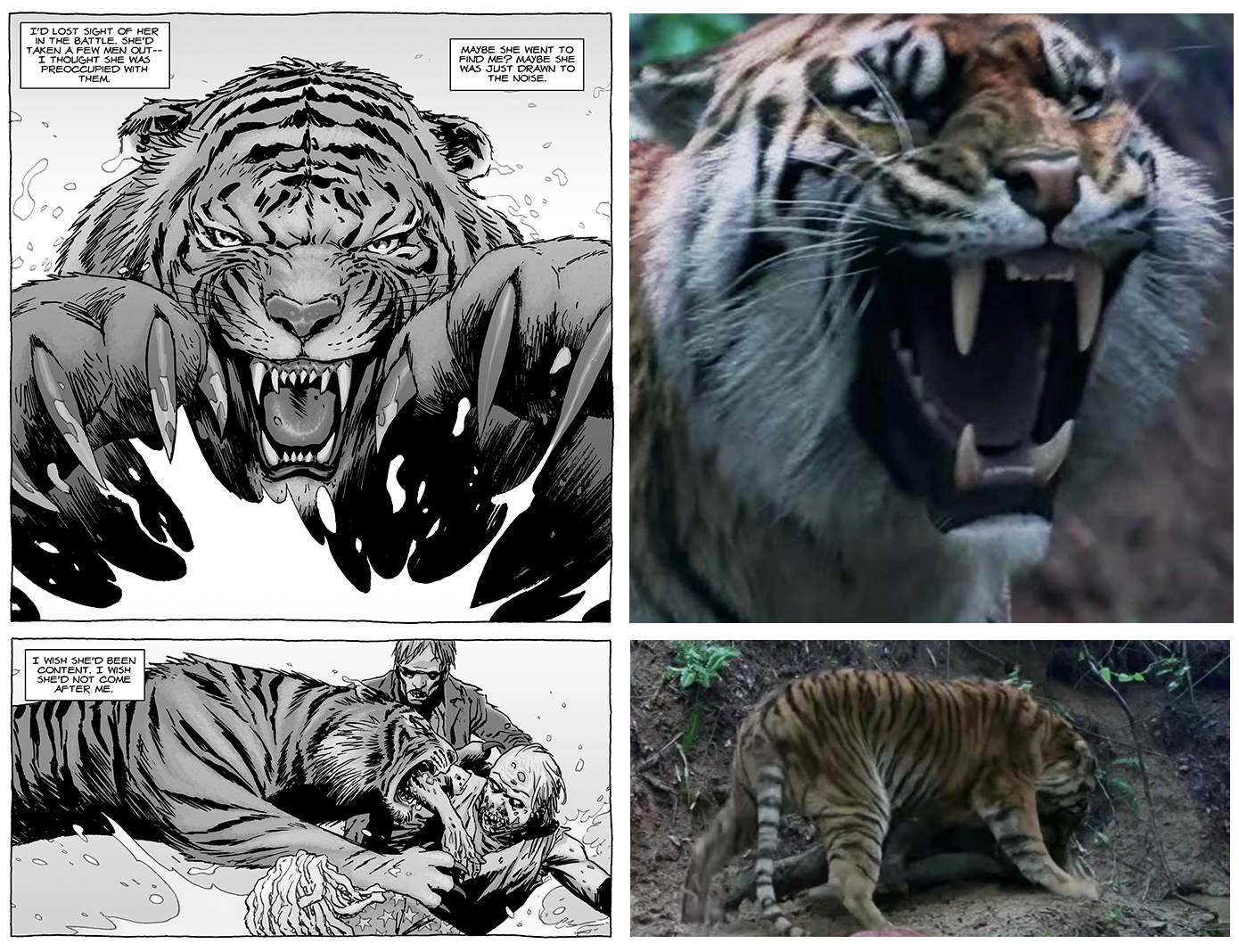 In the comics, this scene is told as a flashback – Ezekiel dodges walkers by running into a forest, where he falls into a quarry and is nearly consumed by walkers. Out of nowhere, Shiva saves him by sacrificing herself, which gives Ezekiel time to escape. In the show, Ezekiel runs from walkers into the woods NOT alone, but accompanied by Jerry and Carol. They fought some walkers off and Ezekiel tells Jerry he's not his King and to leave him to die. Like the comics, Shiva saves the day by sacrificing herself and Jerry and Carol have to hold Ezekiel back while they watch her get consumed. In both instances, Shiva's death proved to be a major turning point in the war for Ezekiel.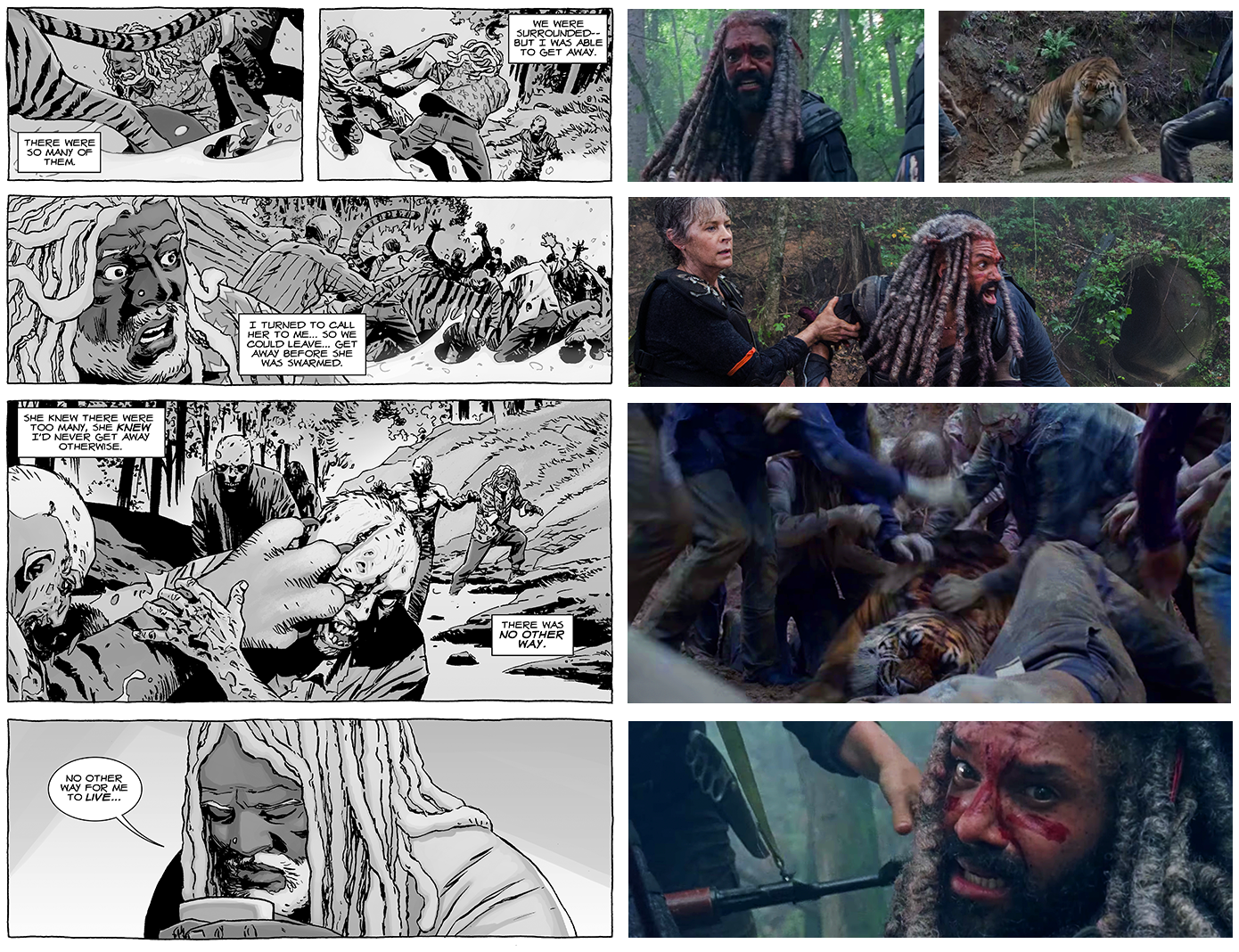 ---
What Didn't Happen
Similar to our other comic/show recaps, a lot of the episode's storyline did NOT come from the comics. Scenes like Carol's infiltration/shoot-out, Ezekiel's capture by the Jeffrey Dahmer-looking Savior, and anything involving Rick and Daryl did NOT occur in the comics.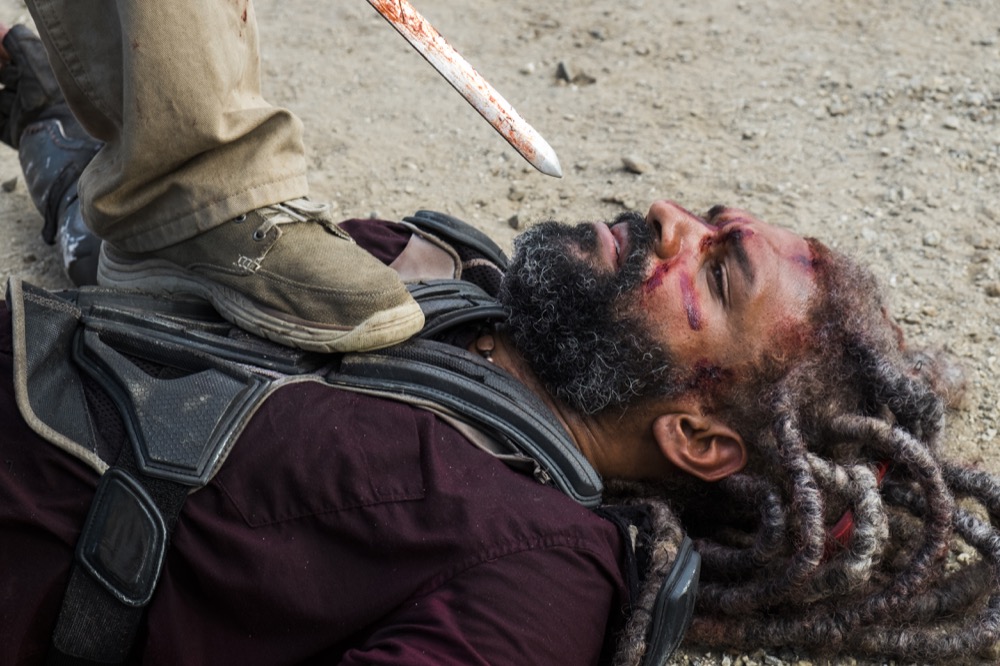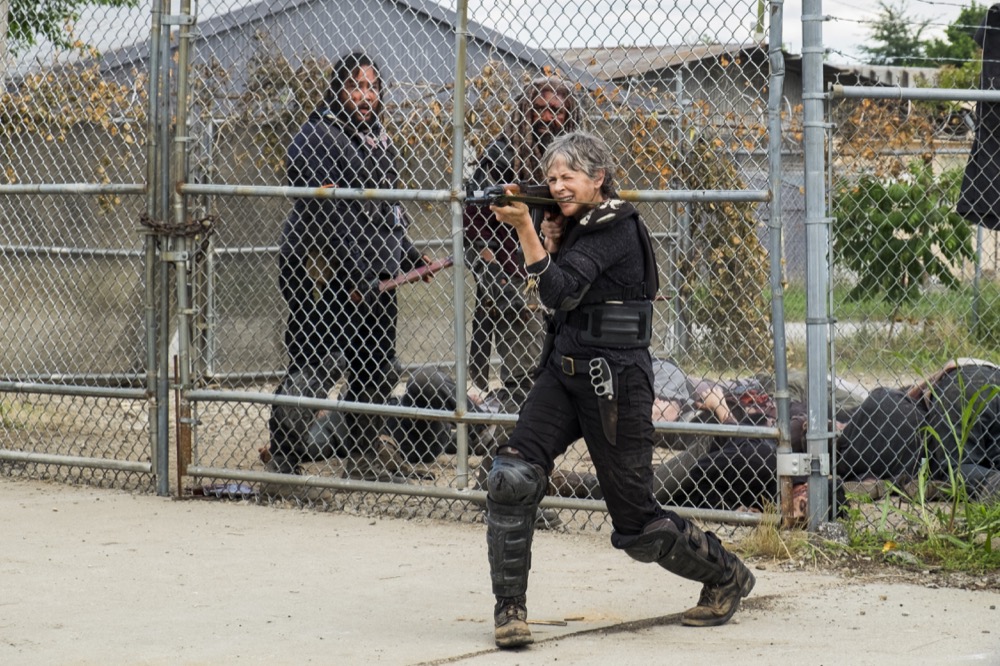 ---
That wraps up Episode 804! Man, even if you saw Shiva's death coming that was still brutal to watch play out. What were your favorite comic/show moments? Tell us in the comments and stay tuned for next week's comparisons!