The Walking Dead Mid-Season 8 Finale was FULL of emotional moments – some came from the comics while others were unique to the show. Before we can address the Carl moment at the end, let's start with these major comparisons.
---
Negan's Attack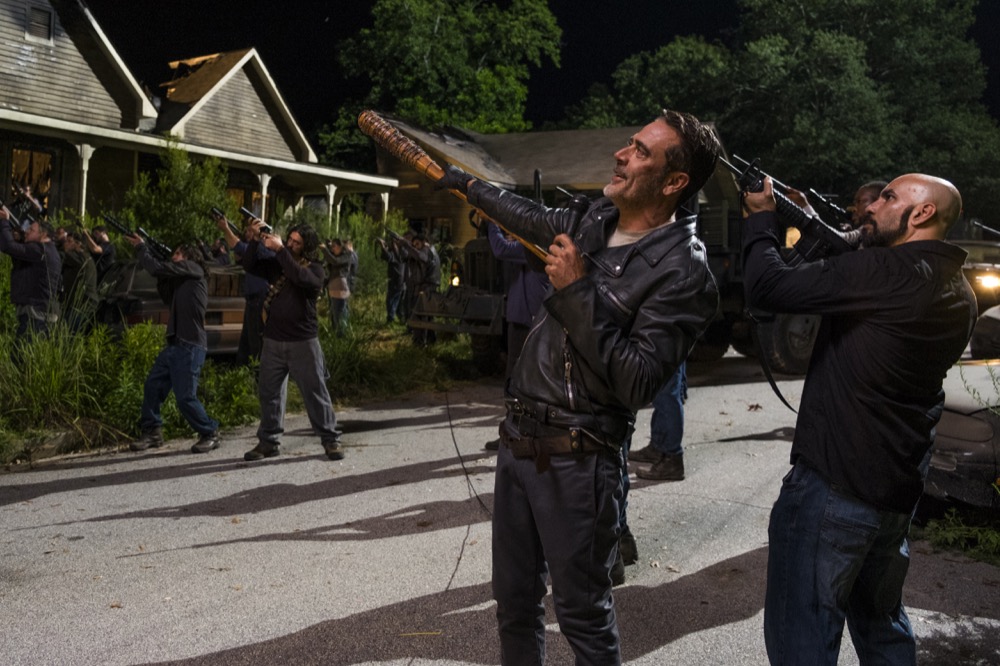 The comic version of All Out War is told in two volumes (12 issues). Part One ends with Negan bombing the living hell out of Alexandria, so fittingly the Mid-Season Finale features that same scene…sort of. Here's how it all played out: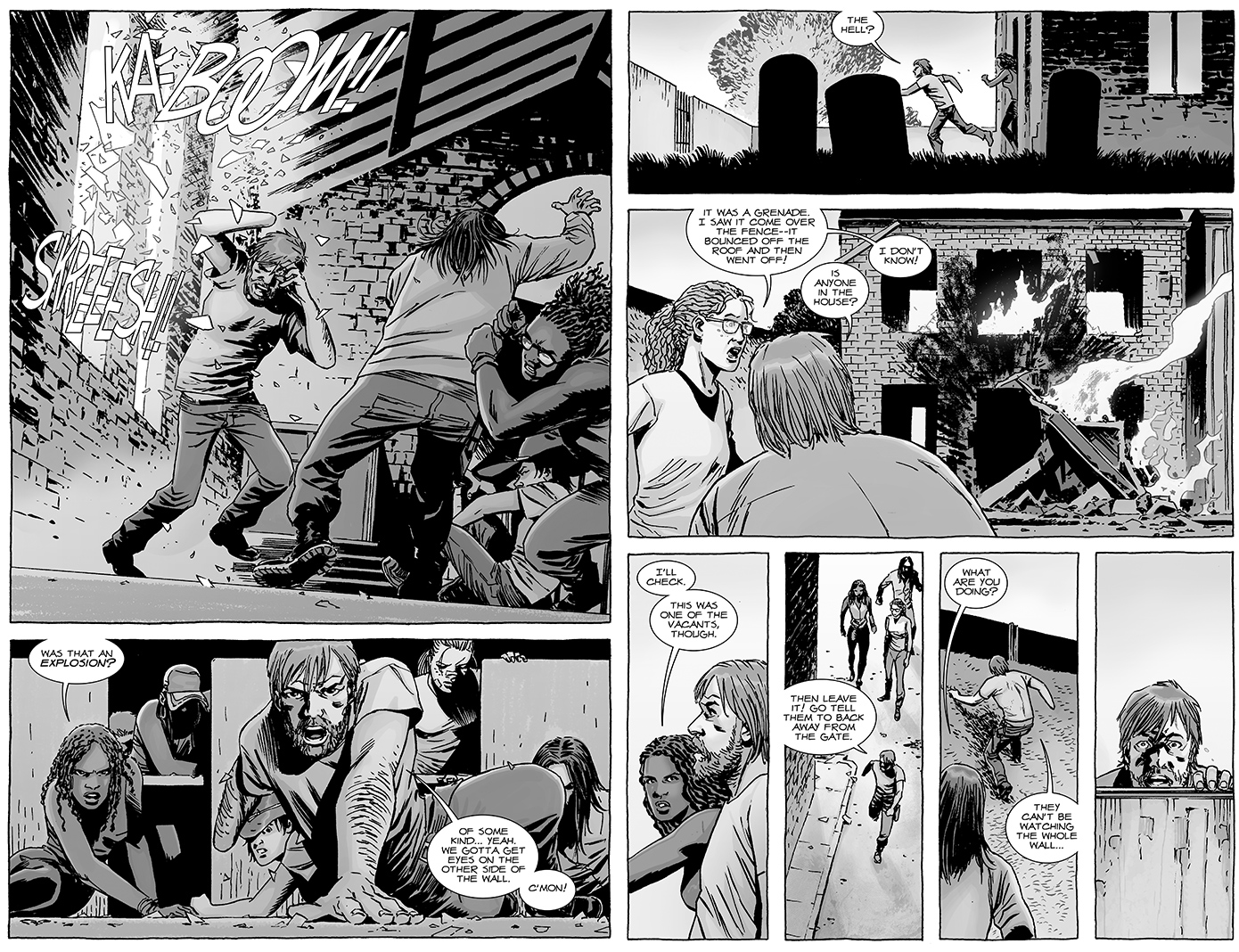 In the comics, Rick holds a meeting in Alexandria's church to discuss how to defeat Negan when suddenly, one of the windows explodes. Rick hurries up the hill and sees Negan standing on the hood of his truck demanding to see him. Rick hides and Negan gets impatient, so he brings out an undead Holly with a bag on her head. If this sounds familiar it's because this already happened in the show with Sasha: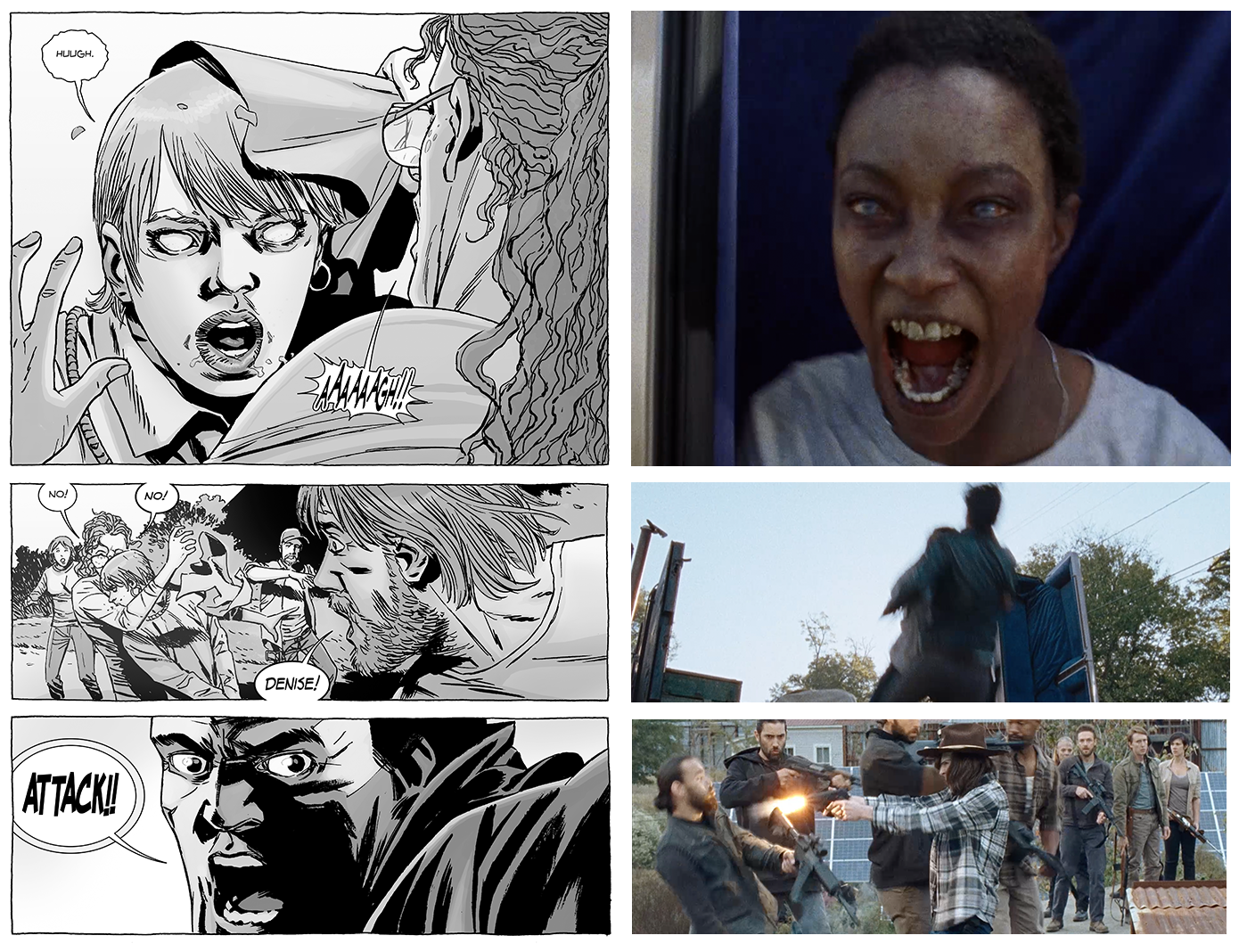 After this, Negan and the Saviors toss over grenades, which destroy buildings and blow off Heath's leg. Denise (who's still alive) gets bitten, Ezekiel (who's in Alexandria and not holed up in The Kingdom) saves Michonne from getting blown up, and Maggie shows up (like she did in The Season 7 Finale) to force Negan to retreat.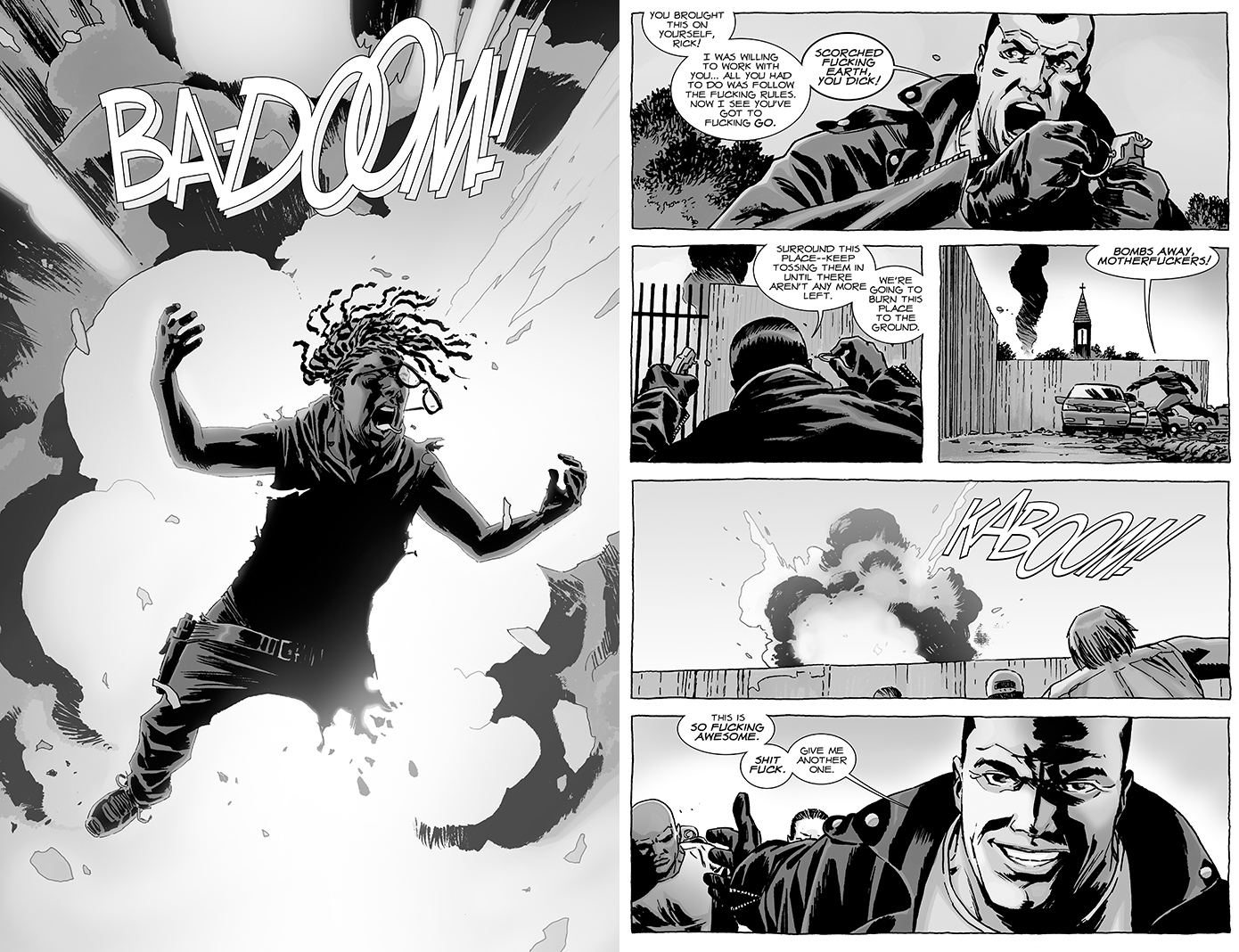 Obviously in the show, things were much different. While Negan's explosive attack on Alexandria was the same, the details were different. Negan also arrives unannounced to Alexandria, but he does it at night and Rick is NOT there. Instead, it's Carl who rushes up the fence to see what's going on. Carl offers to sacrifice himself so no one else gets hurt, and Negan almost agrees to it. Then, Daryl causes a distraction, Carl bails, and Negan is forced to bomb Alexandria. In both instances, Negan's impatience leads to him bombing Alexandria.
---
Carl's Role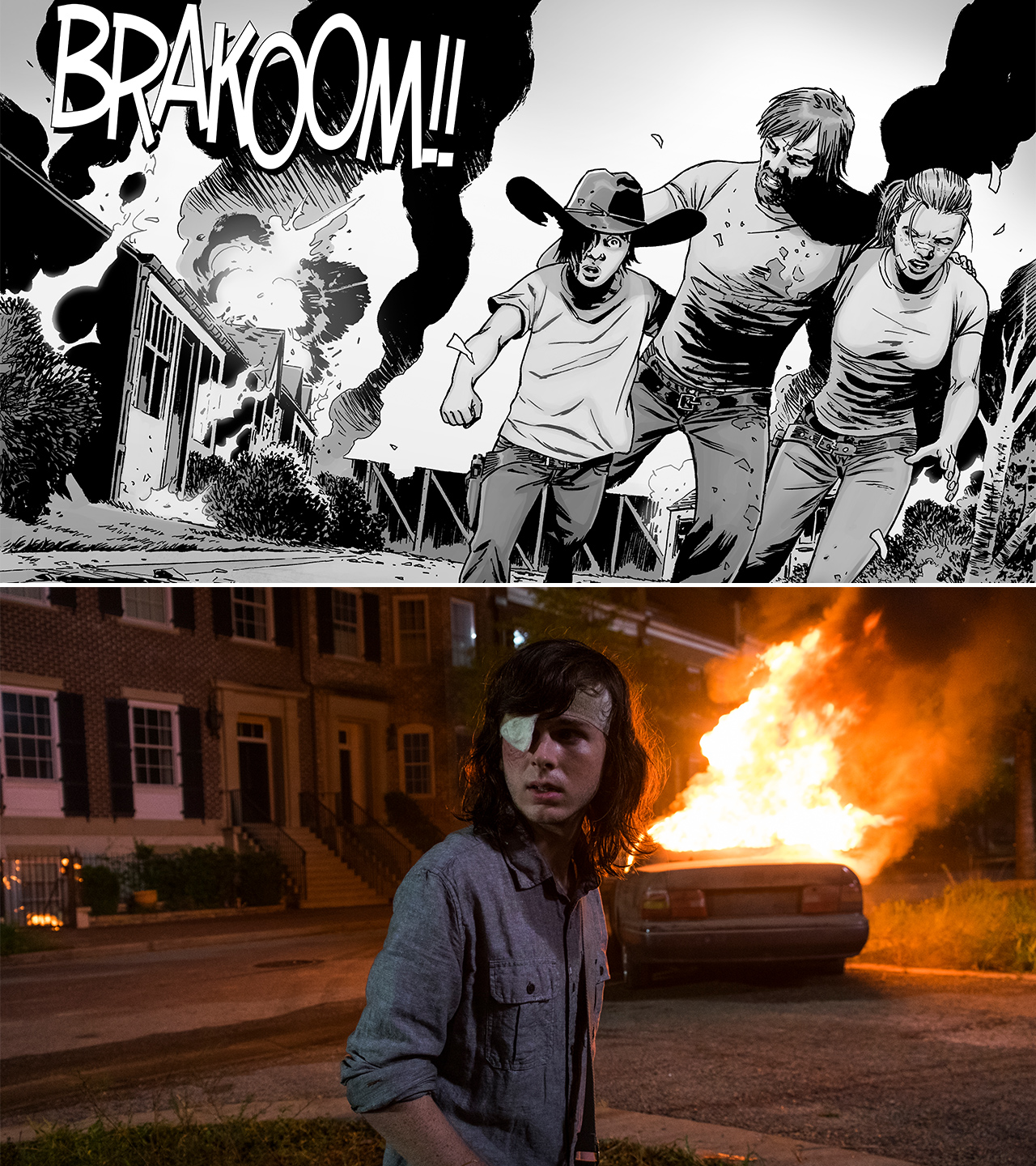 As we mentioned, Carl plays a much bigger role during Negan's attack in the show than the comics. In the source material, Carl holes up with Andrea (who's still alive and plays a mother figure to him) until Rick makes them evacuate the house. The three of them run through Alexandria until a grenade explodes behind them, knocking Carl unconscious. Rick rushes him to Denise for medical attention and then passes out himself from exhaustion. Despite his wounds, Carl makes a full recovery because in the comics, he does NOT get bitten.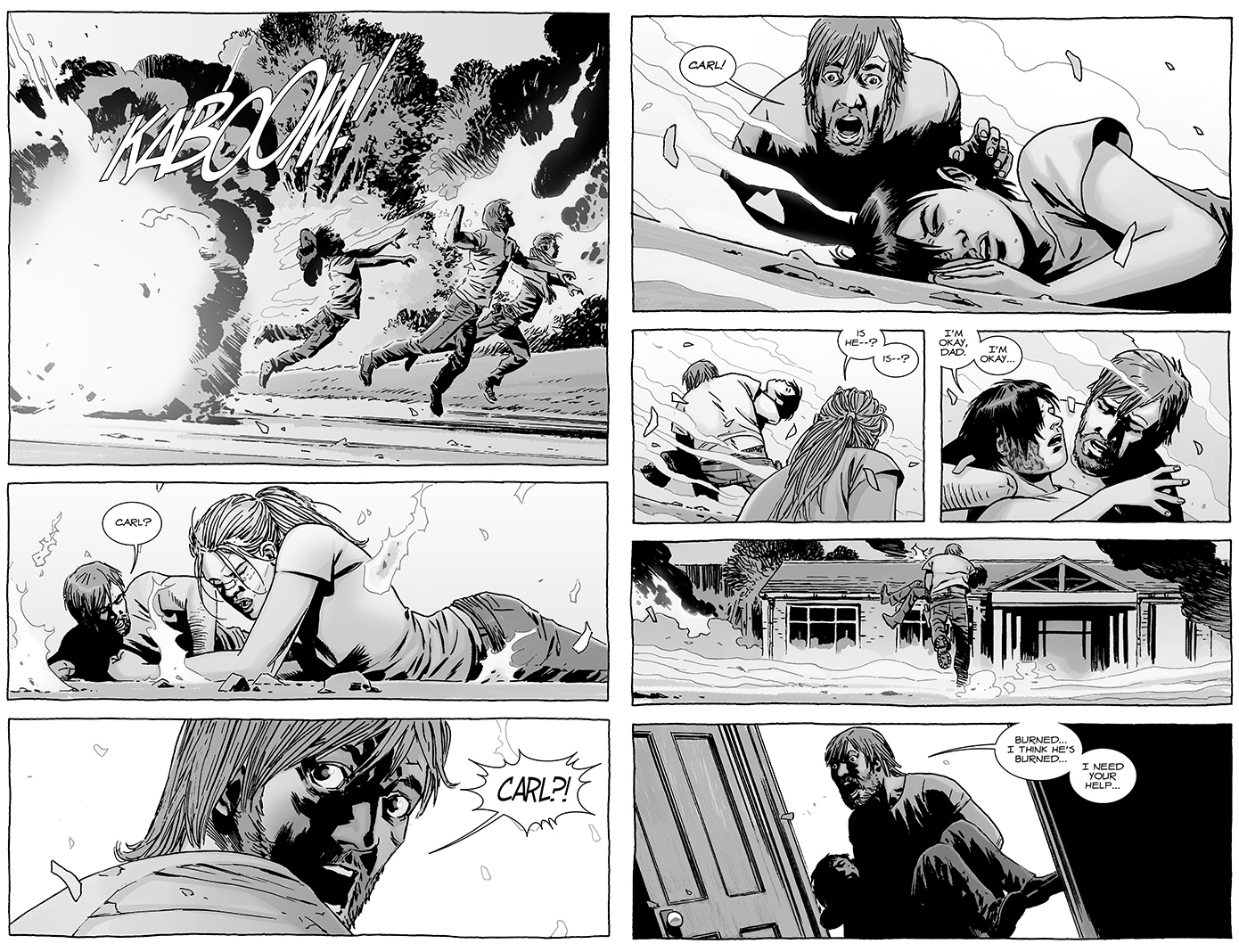 In the show, Carl IS bitten and determined to save his people before he succumbs to the walker bite. So, he concocts a plan to move his friends, family, and Alexandrians into the sewer while he creates smoke grenade distractions in the town. His diversion plan with Daryl is also a success and leads to the deaths of nearly a dozen Saviors. Unfortunately, Carl gradually becomes weaker and weaker and is forced to join his friends in the sewer, where he reveals his bite wound to Rick and Michonne.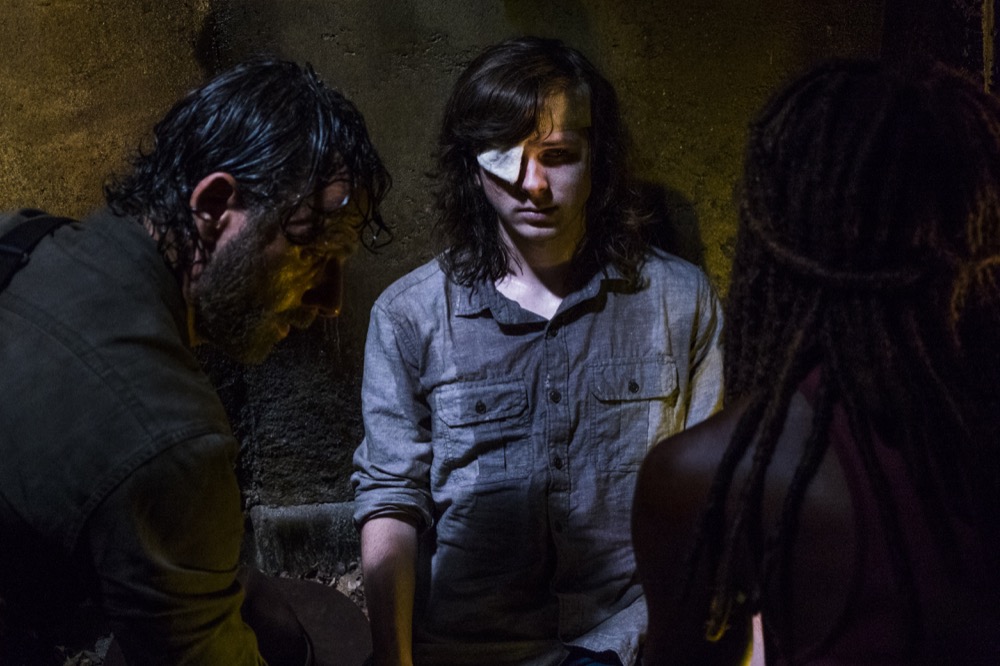 ---
Dwight's Double-Cross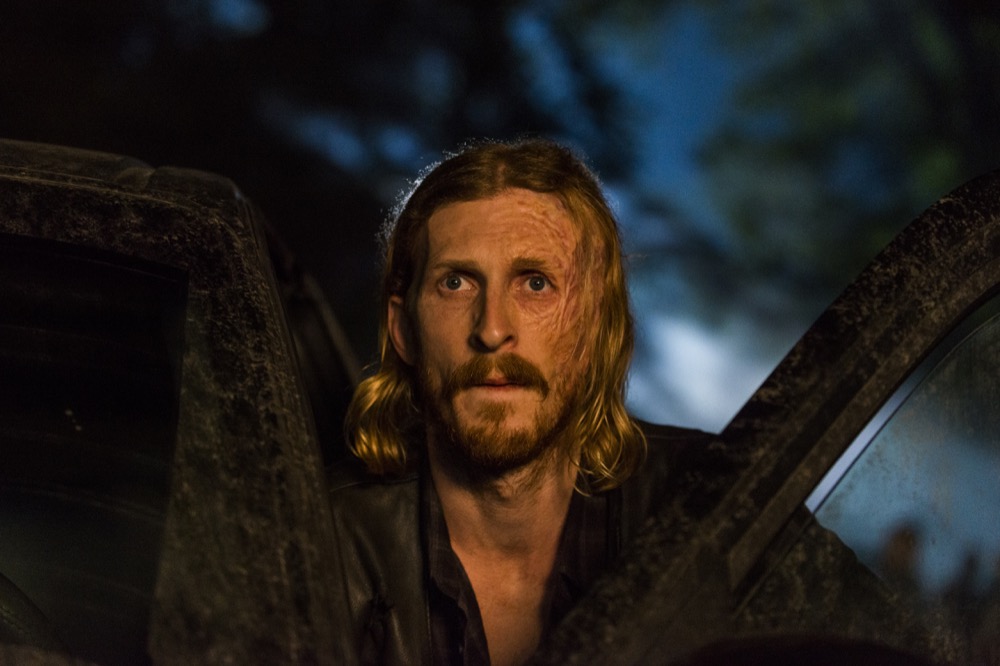 In both the comic and show Dwight betrays his fellow Saviors during Negan's raid on Alexandria. In the comics, he shoots several Saviors outside of the walls of Alexandria. Jesus notices this and can't believe what he's seeing.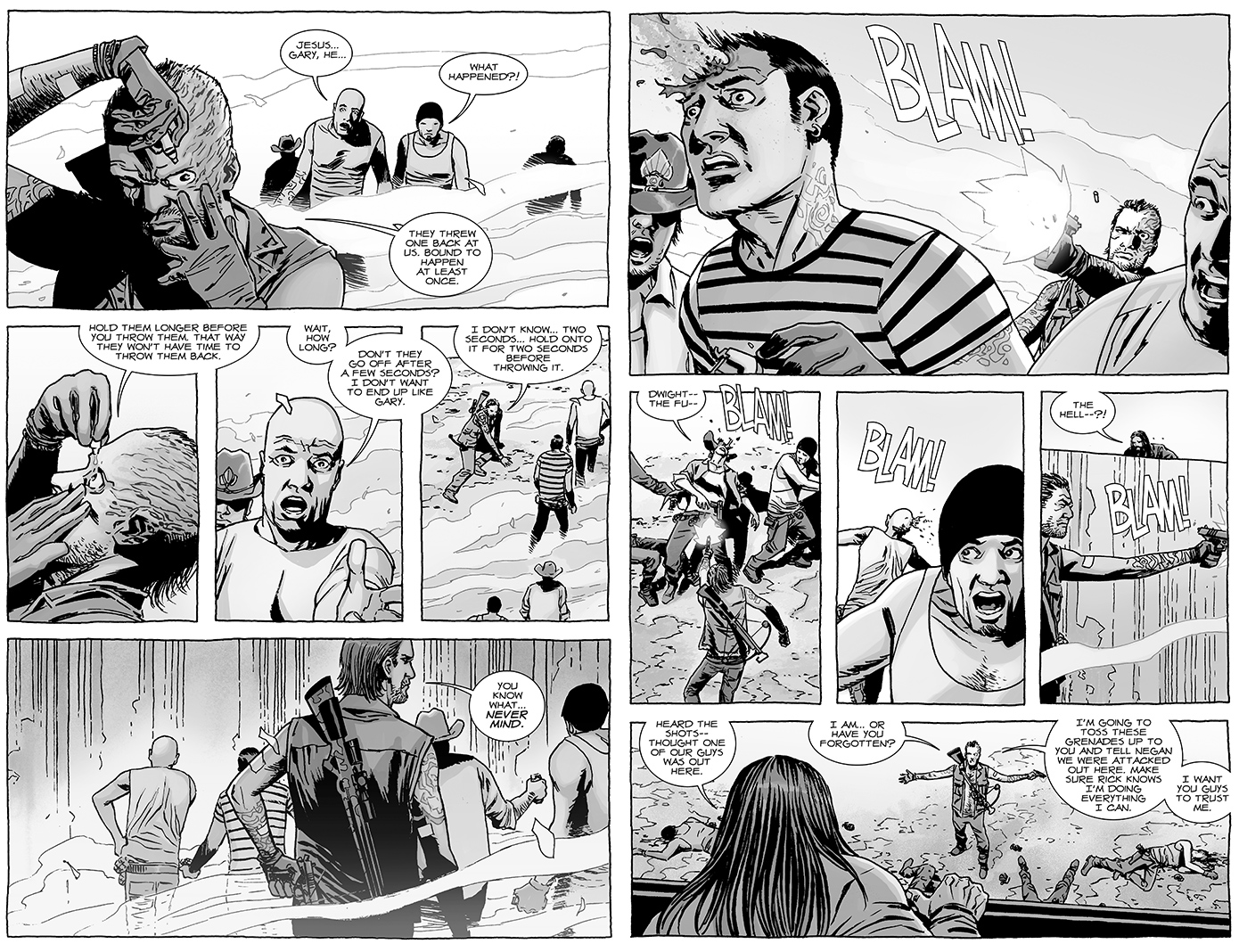 In the show, Dwight pursues Daryl, Rosita, and Tara on the road and then shoots and kills his Savior comrades in his biggest betrayal move yet. Laura survives and shoots Dwight in the arm before escaping.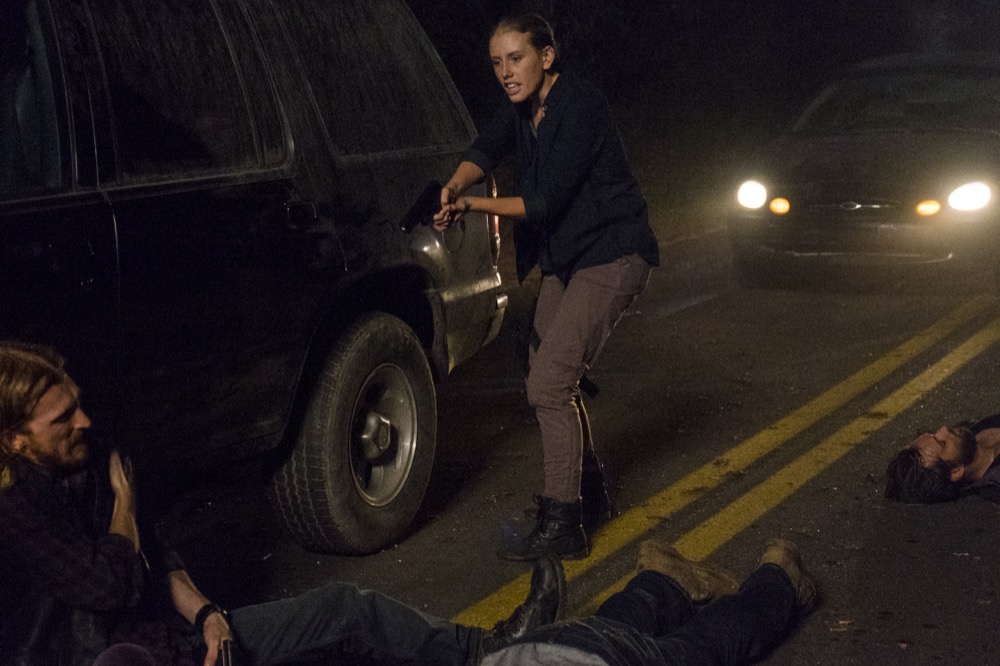 ---
What Didn't Happen
As you can tell the Mid-Season Finale included a lot of scenes that were NOT in the comics. Moments like Rick and Carl's flashback, Aaron and Enid's Oceanside meet-up, the Saviors' take-over of The Kingdom, Ezekiel's counter-attack, the kidnapping of Jerry (who doesn't exist in the comics), Maggie's leadership at The Hilltop, Rick and Negan's battle, Michonne's Savior kill, and of course Carl's walker bite did NOT occur in the source material.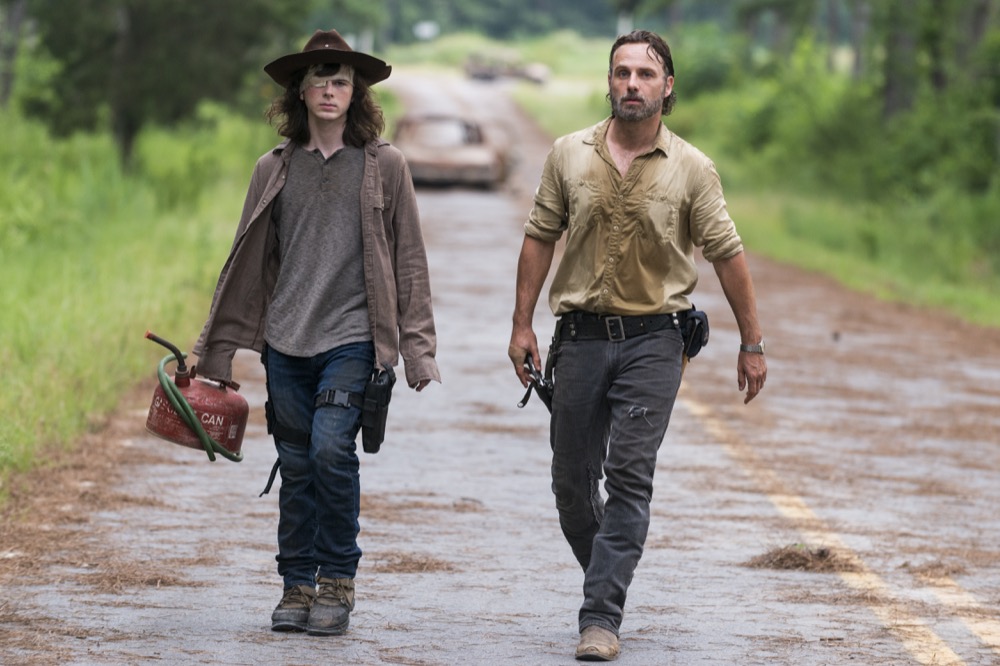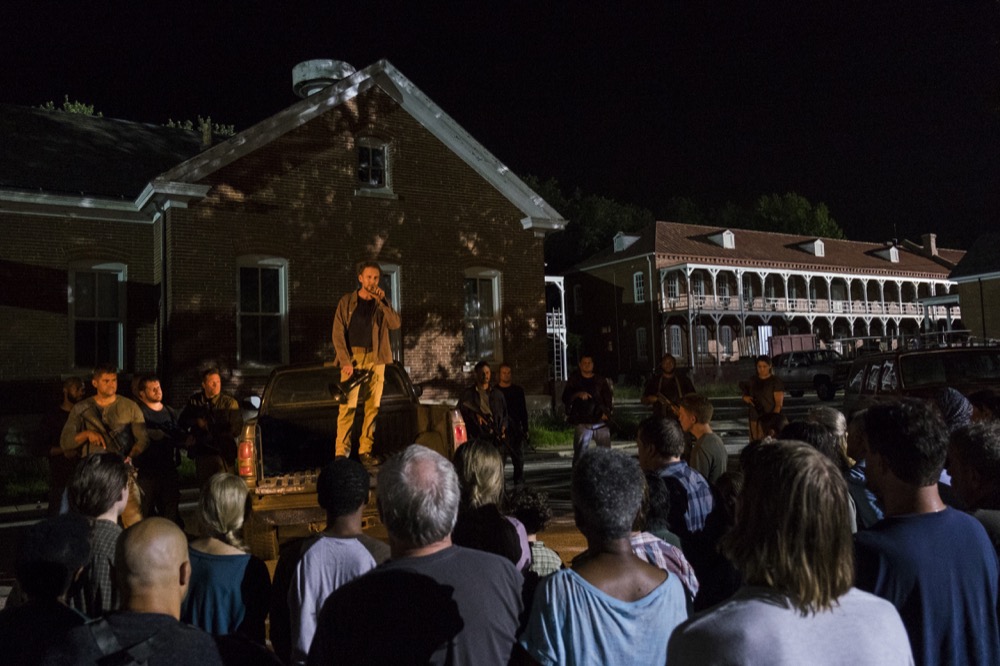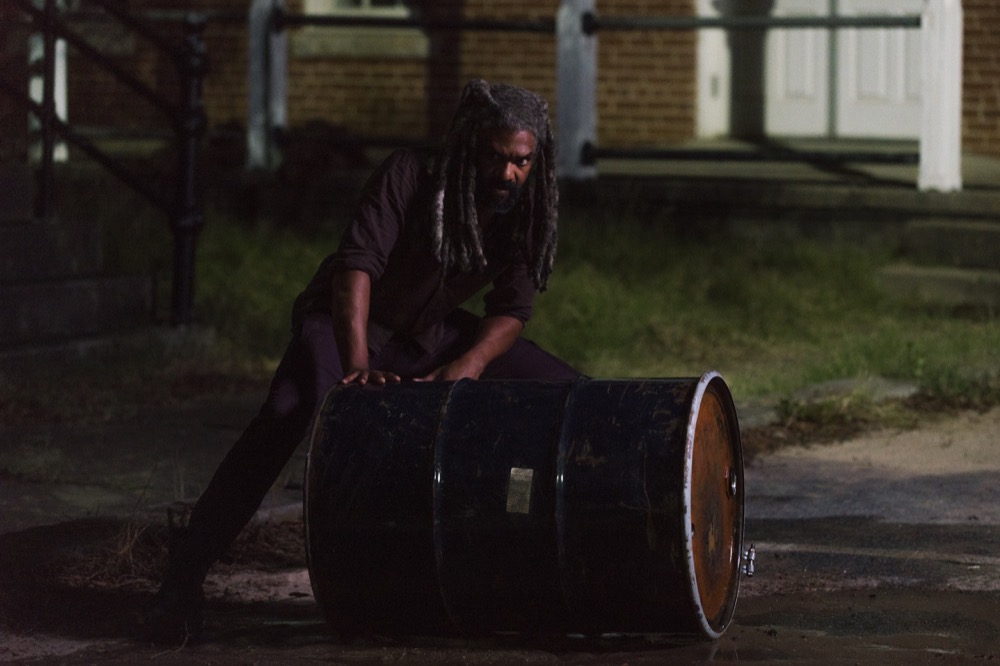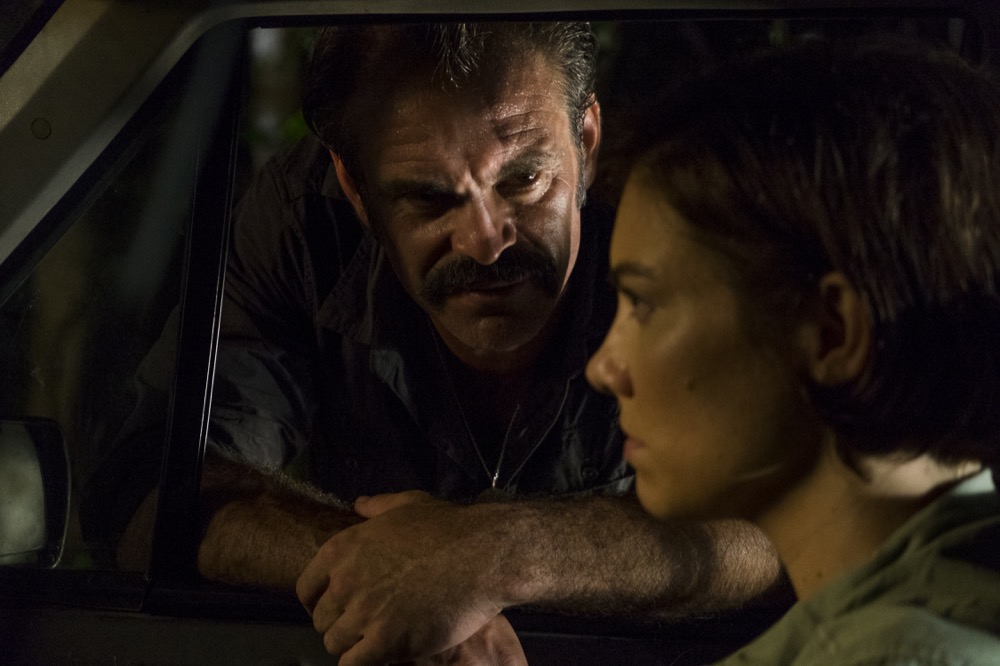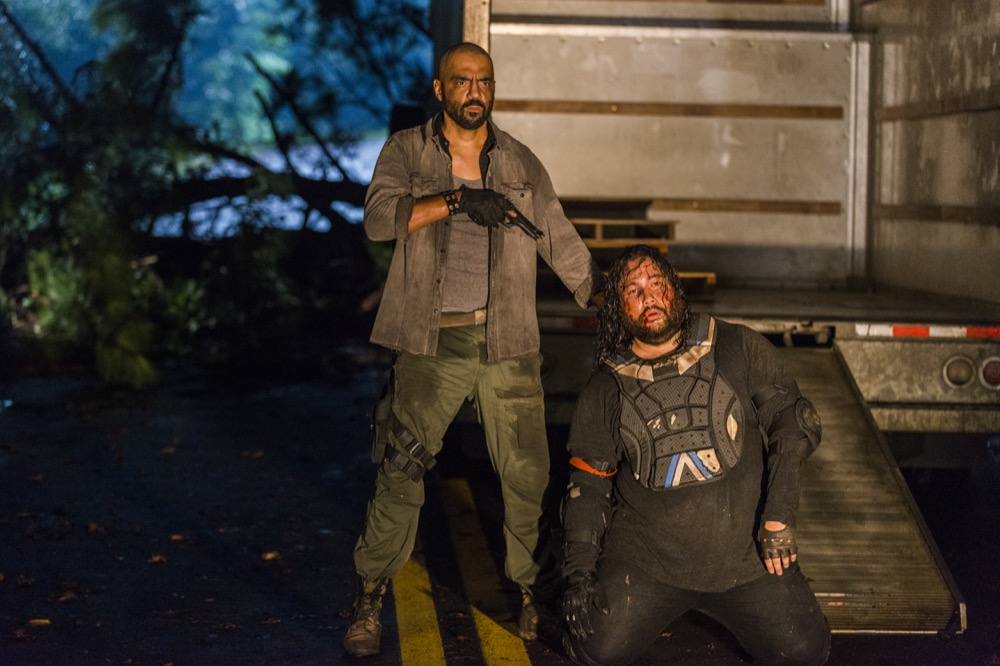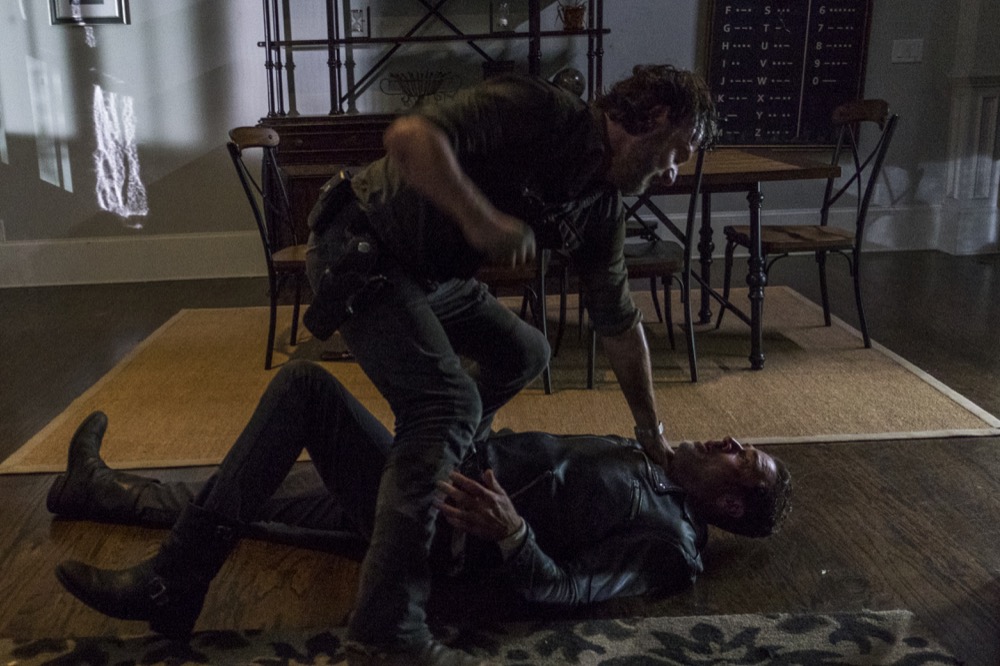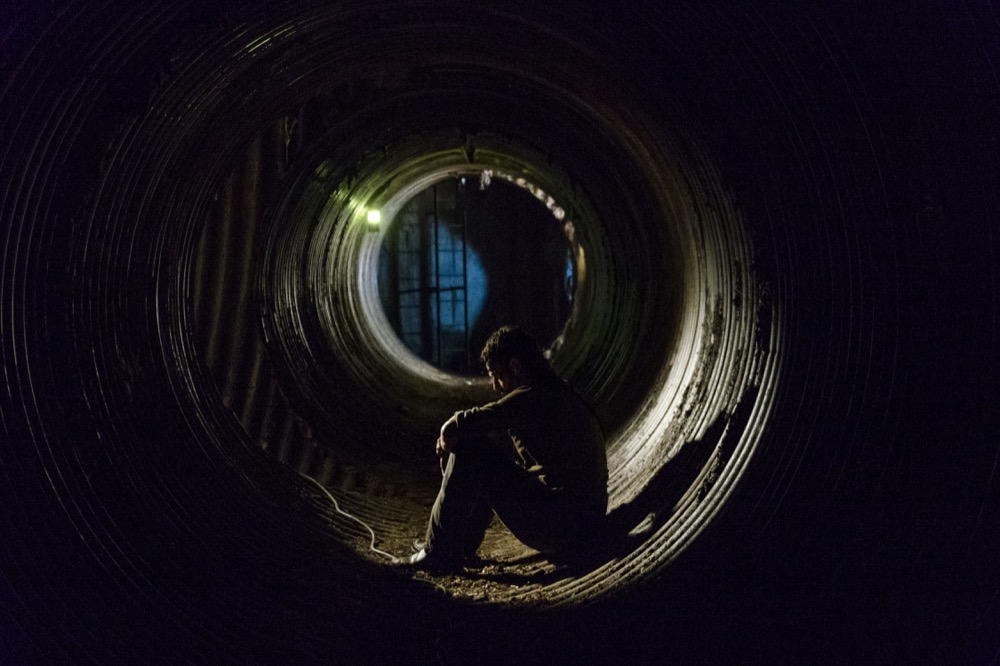 ---
What did YOU think of the comic/show comparisons for the Mid-Season Finale? Which moments were your favorite? And which comic moments do you hope to see in the second half of the season? Tell us in the comments – and we'll see you with our next comparison post in February!