This is the second week in a row a major comic event came to life on screen. After weeks of undermining Rick's authority, we all knew it was only a matter of time until Spencer got the boot. So what other events came from the comics? What was different? We compare the Mid-Season Finale with Issues #112 and #113 of The Walking Dead comics below:
---
These Scenes Were Not In The Comics
Although some big scenes in the show happened in the comics, a lot of scenes were completely changed or new:
Rick and Aaron's Mission: Rick and Aaron's risky supply mission at Zombie Lake was awesome to watch, but didn't happen in the comics.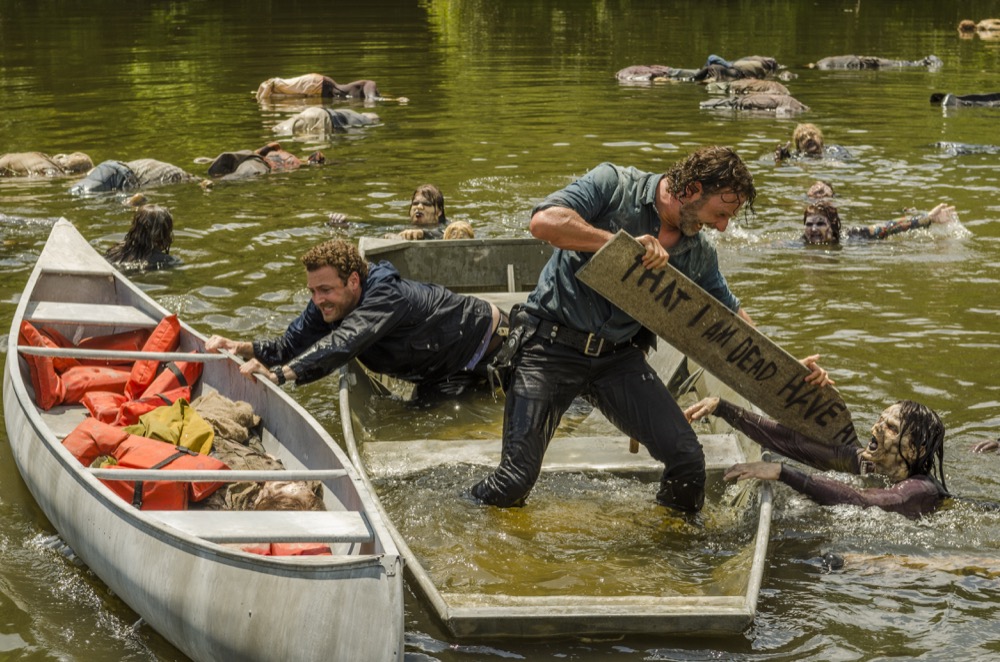 (However, like the show Rick WAS away during Negan's surprise visit to Alexandria. Instead of a lake, Rick was with Michonne, Andrea, and Jesus at The Kingdom trying to recruit Ezekiel to join the fight against The Saviors. Despite incongruent timelines, it looks like we might that scene later this season based off the Season 7b Trailer: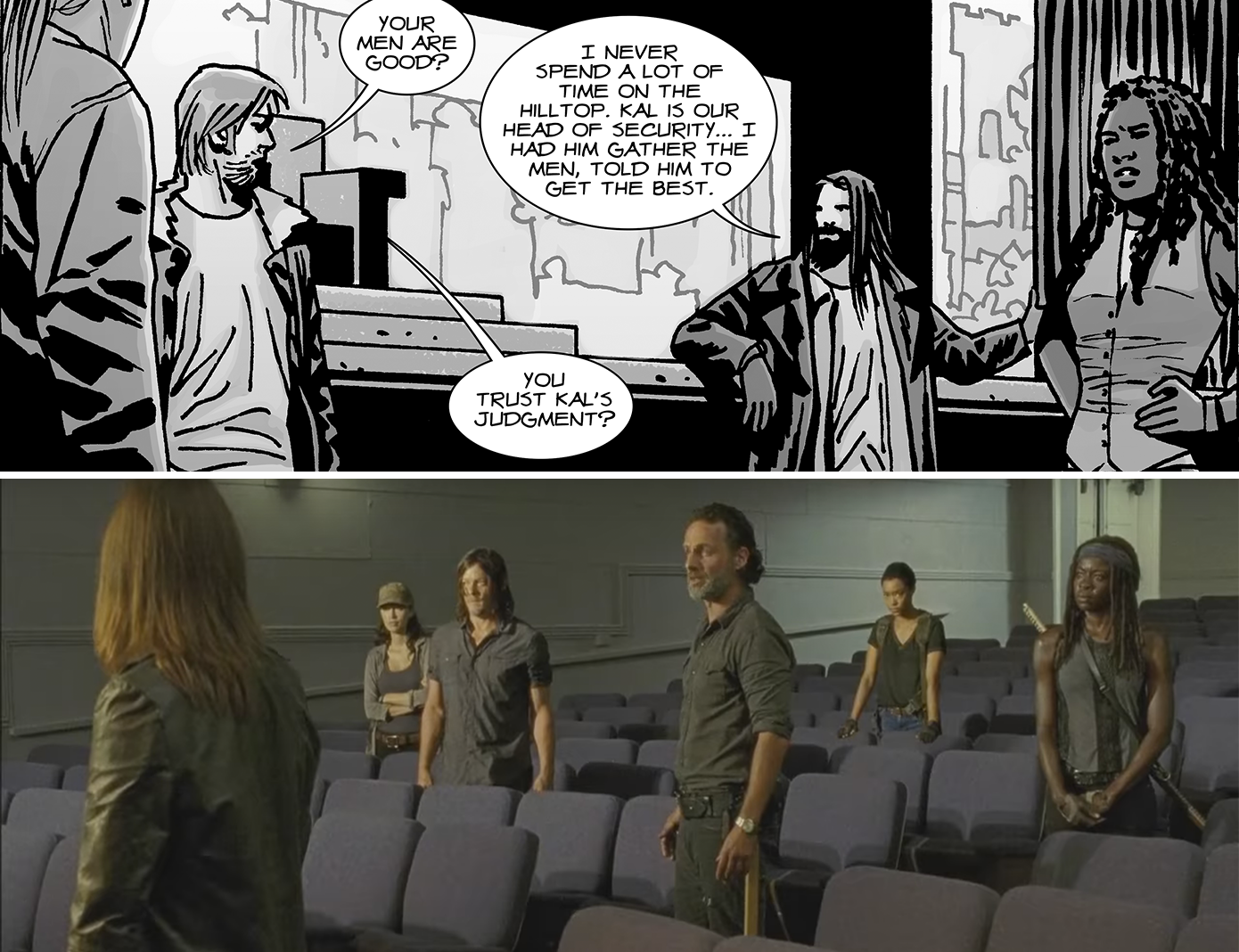 Daryl's Escape: Daryl doesn't exist in the comics so this Sanctuary escape/Fat Joey murder/Jesus meet-up did not happen.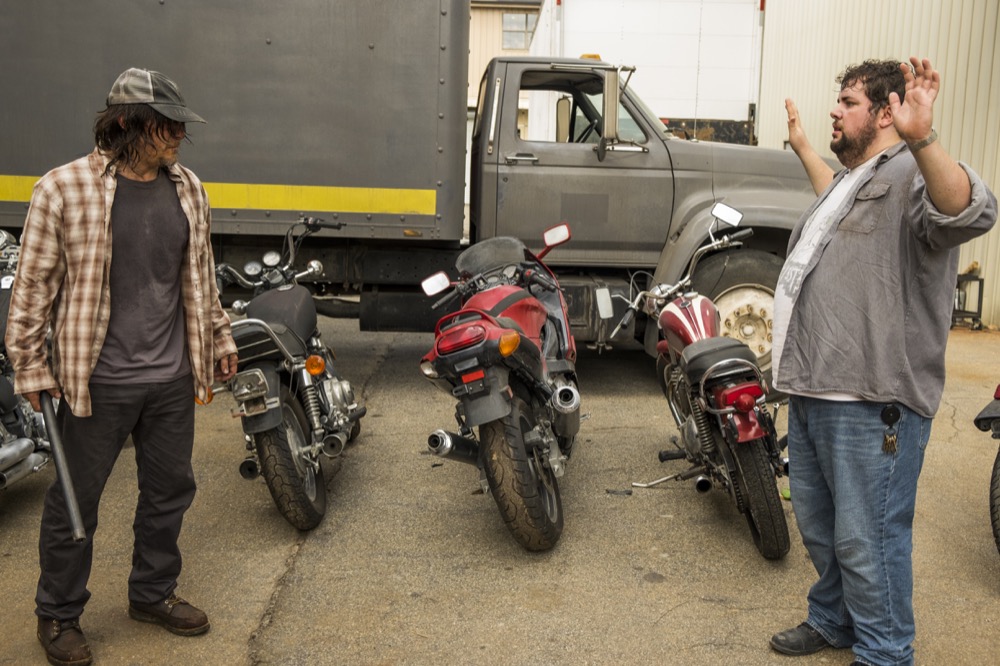 Carol, Morgan, and Richard's Plan: Although The Kingdom becomes involved in the inevitable fight against Negan…Carol, Morgan, and Richard are all dead at this point in the comics so none of this came close to happening.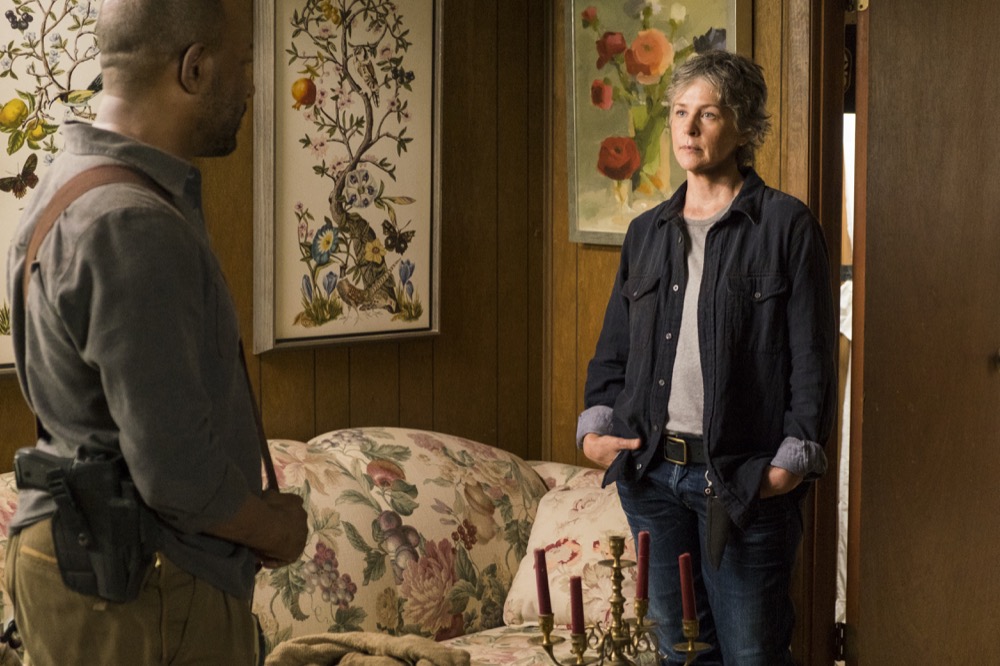 Michonne's Mission: No, Michonne does NOT try to get to Negan by kidnapping (and later killing) a Savior.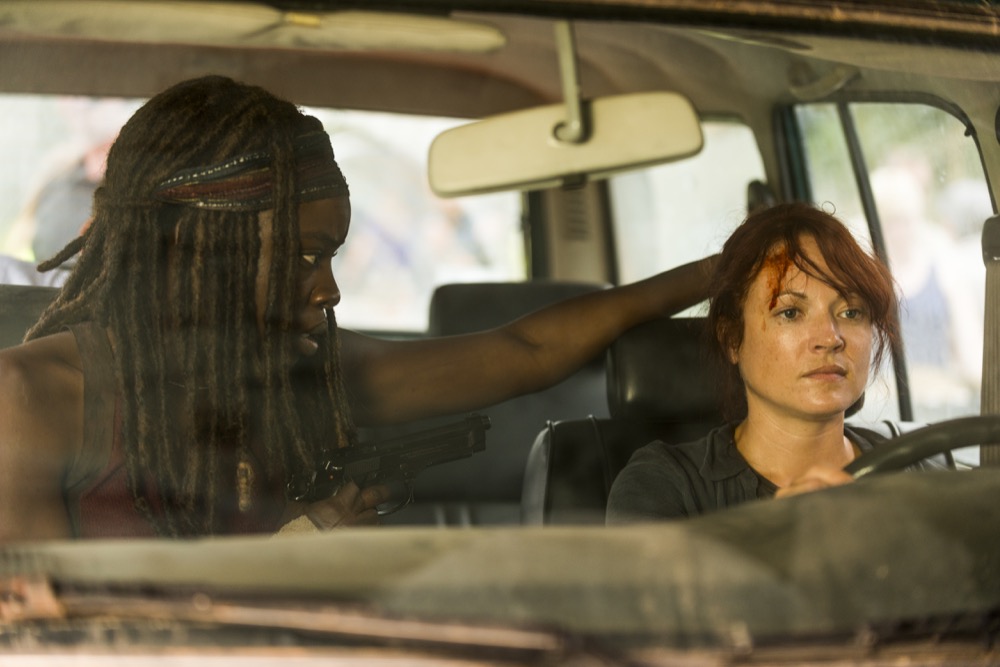 Father Gabriel & Rosita's Heart-to-Heart: As sweet as this scene was, it didn't happen.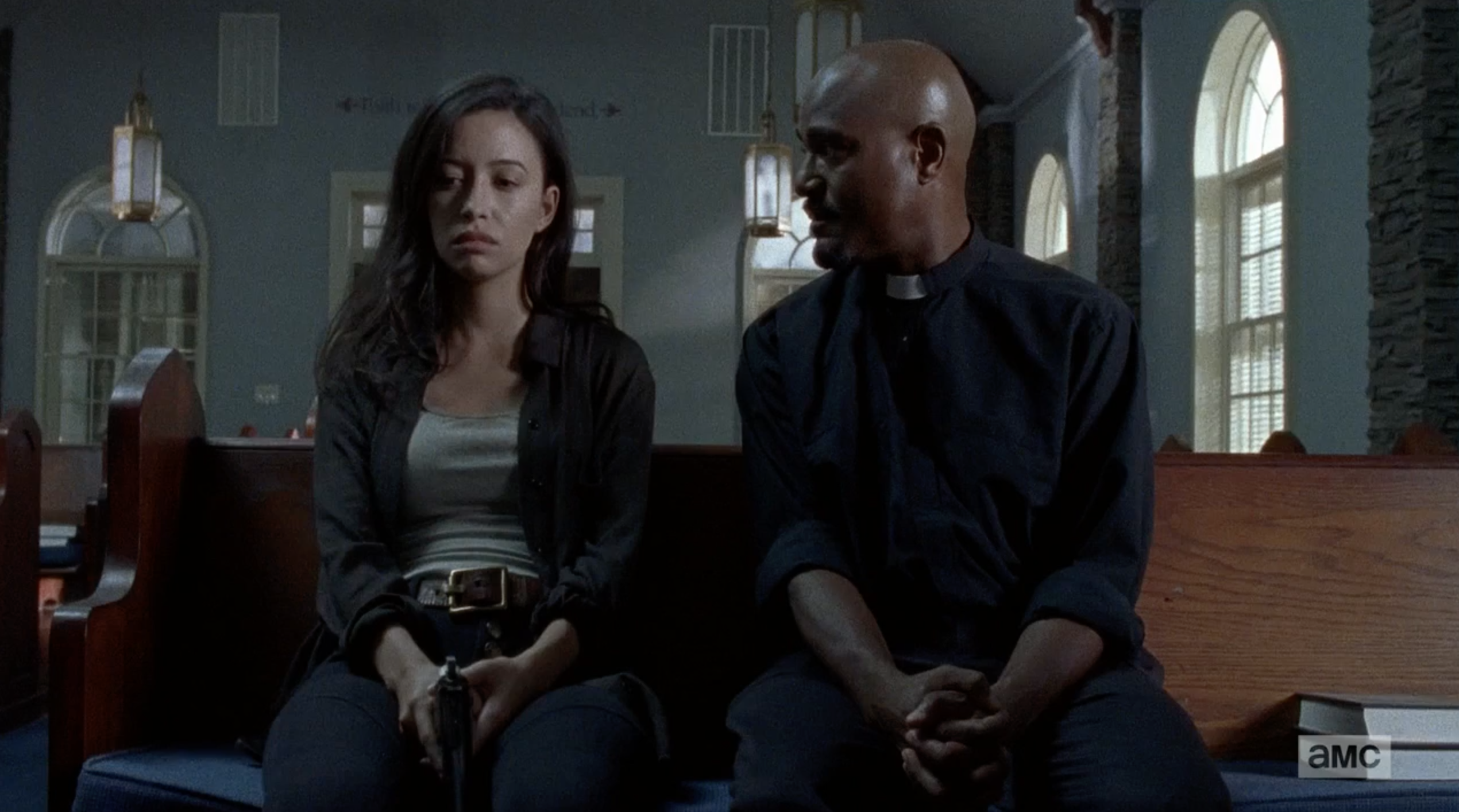 Spencer & Rosita's "Flirtation": These two were not romantically involved in the comics at all.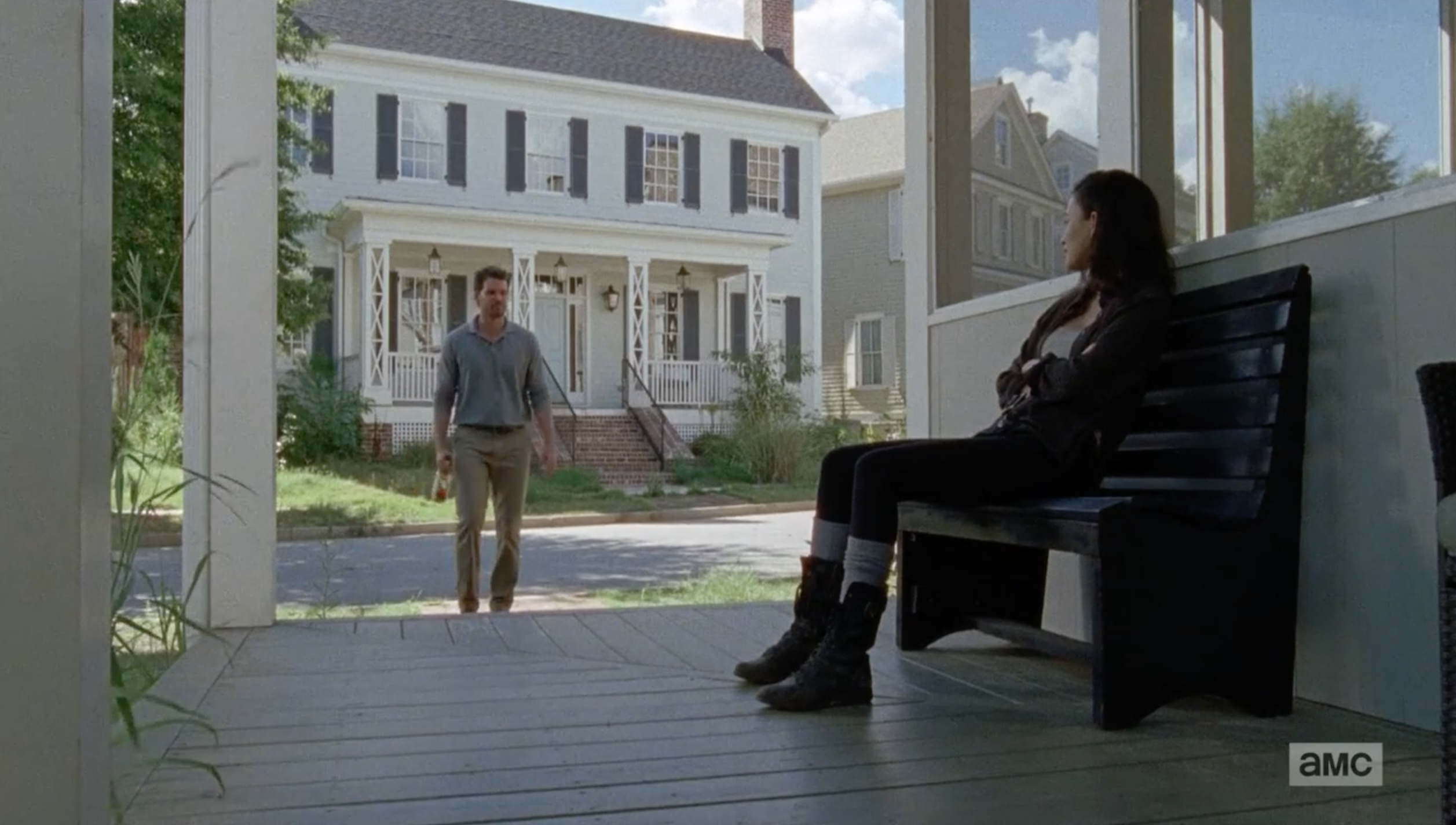 Olivia's Demise: Unlike Spencer, Olivia's death came as a complete shock to Walking Dead show AND comic fans because this scene didn't occur in the source material. In fact, Olivia lives past All Out War and the time jump allll the way to the introduction of future villain Alpha, who kills her.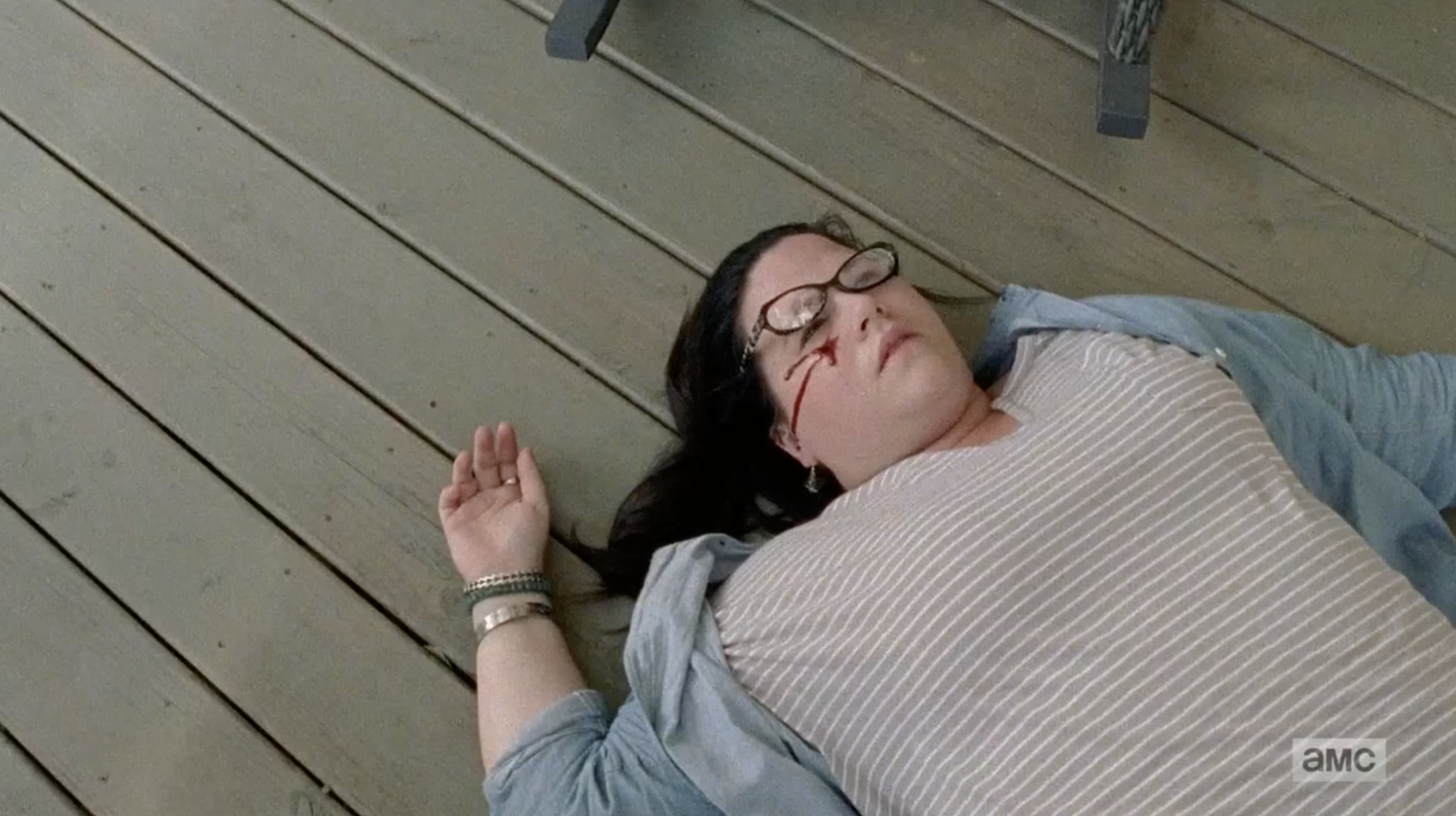 Aaron's Beating: Although Rick WAS caught at the gate when arriving back at Alexandria, Aaron wasn't with him so this beating didn't go down.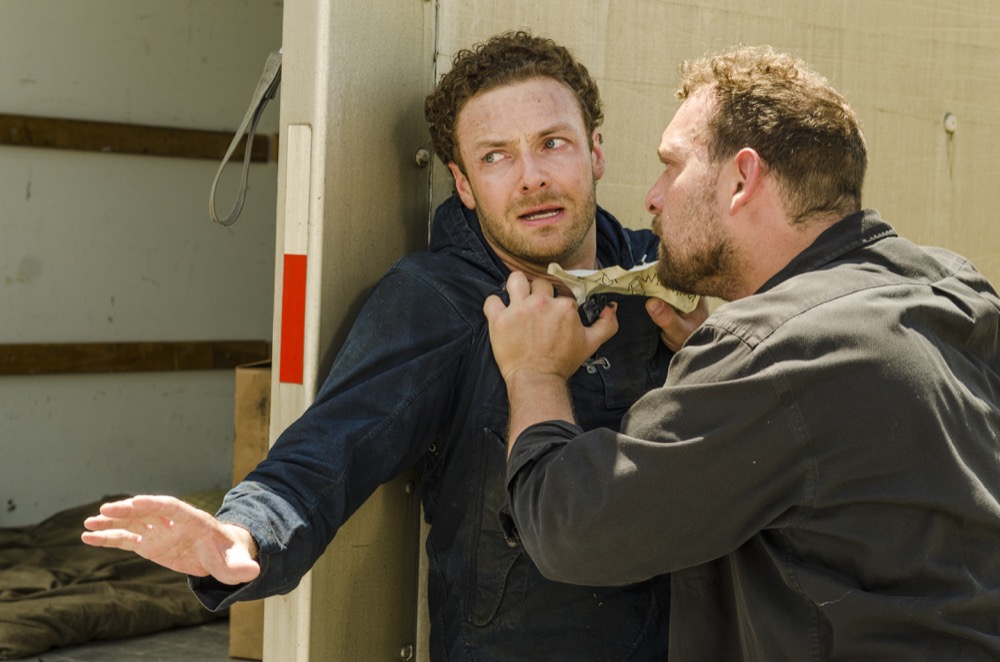 Together Again: Although the groups did converge to fight Negan, there wasn't a happy Hilltop meet-up moment like the show.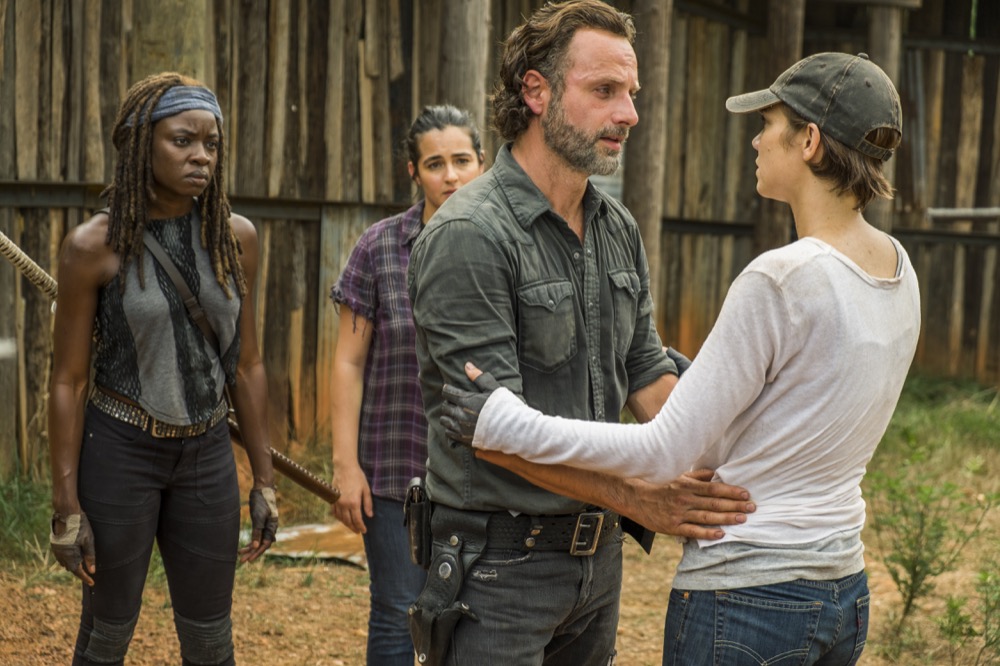 ---
Spencer's Guts
Ah yes, the cathartic moment comic (and show) fans have been waiting for: Spencer's demise. Ever since he started questioning Rick's authority knew his days were numbered.
SHOW: After telling anyone with an ear about his hatred for Rick, Spencer finally decided to take matters into his own hands. He introduces himself to Negan, outlines the reasons Rick's an incompetent leader, and suggests he take the reins instead. Unfazed, Negan reminds him how valuable Rick is and accuses Spencer of not having any guts…leading to him stabbing him in the abdomen where Spencer's literal guts pour out.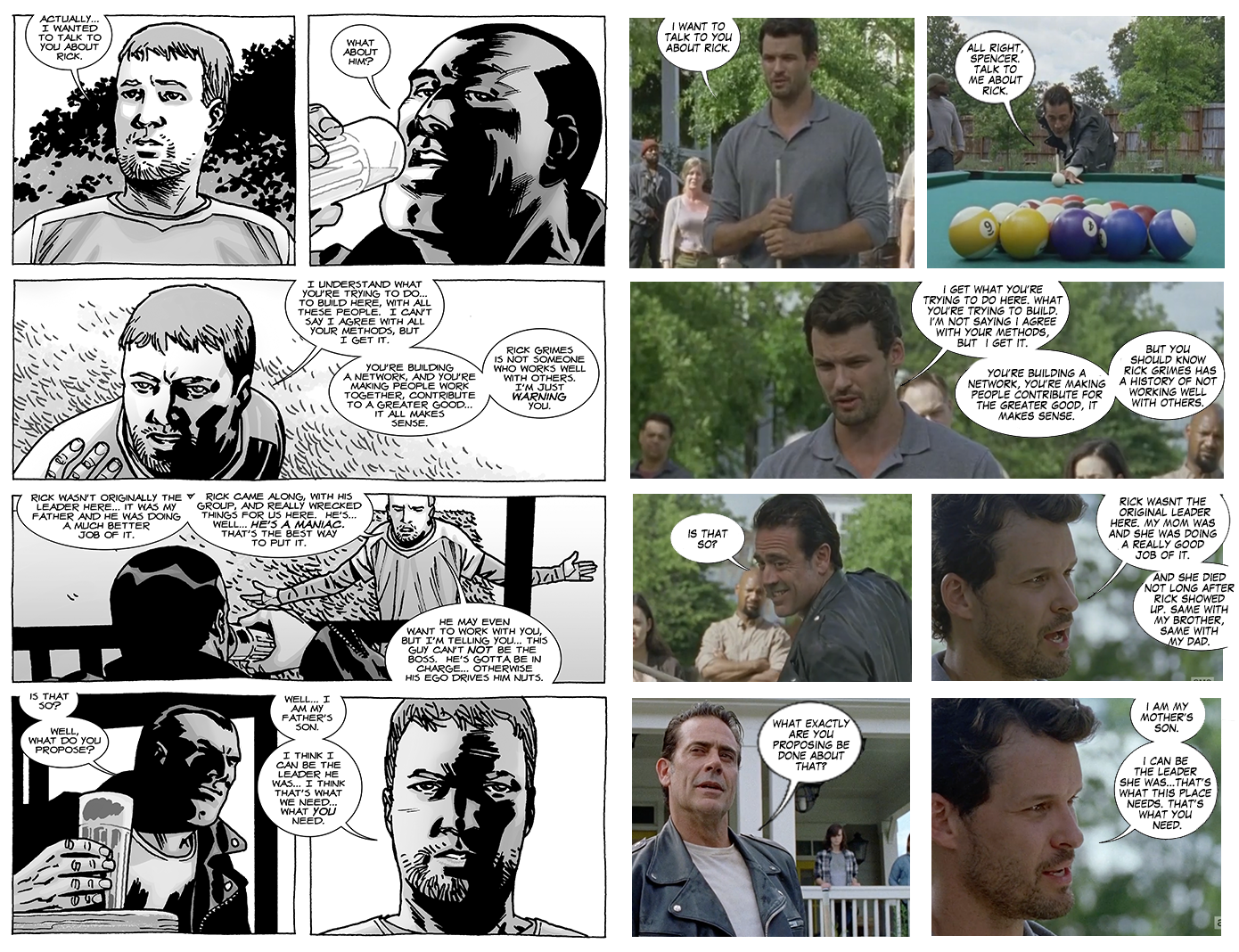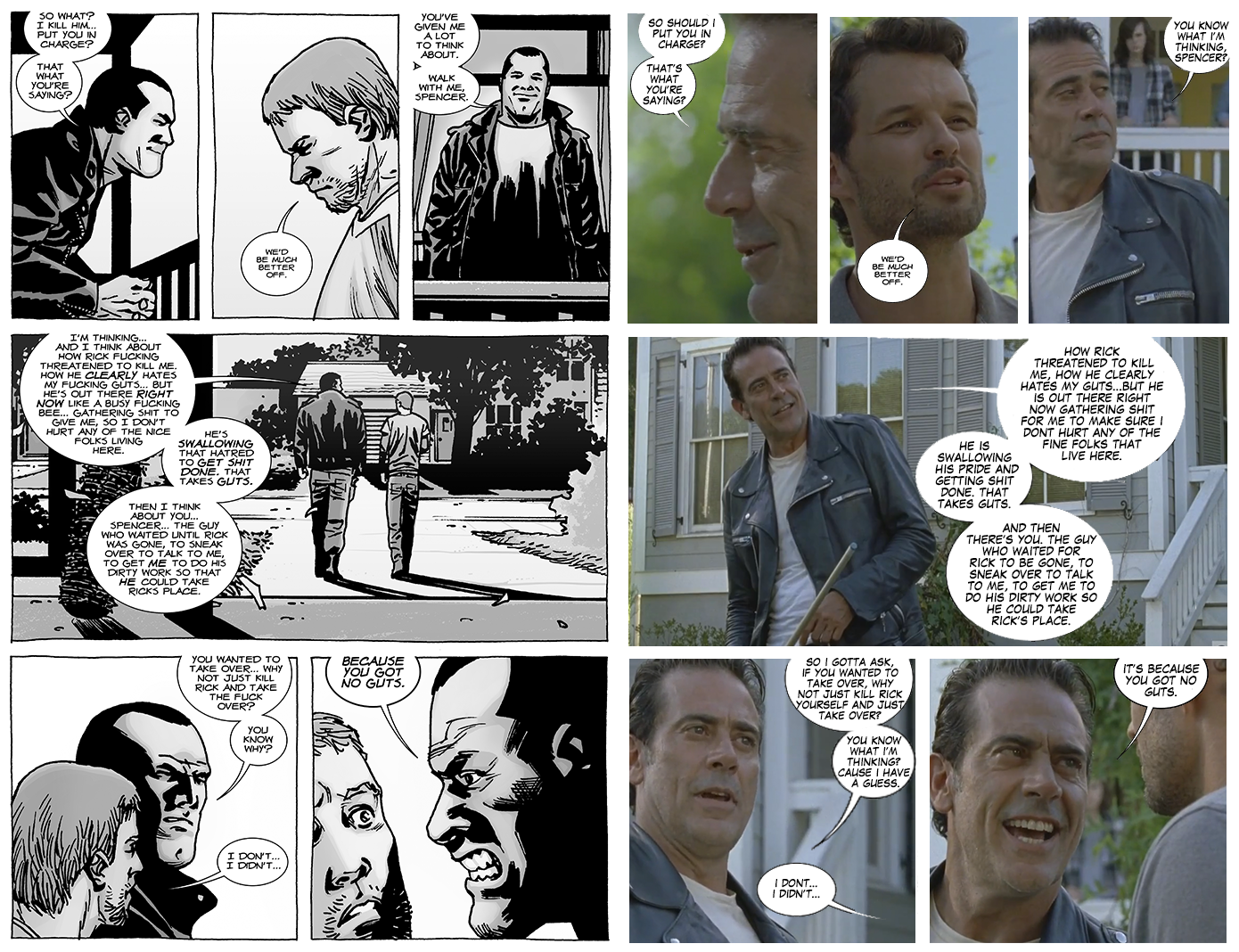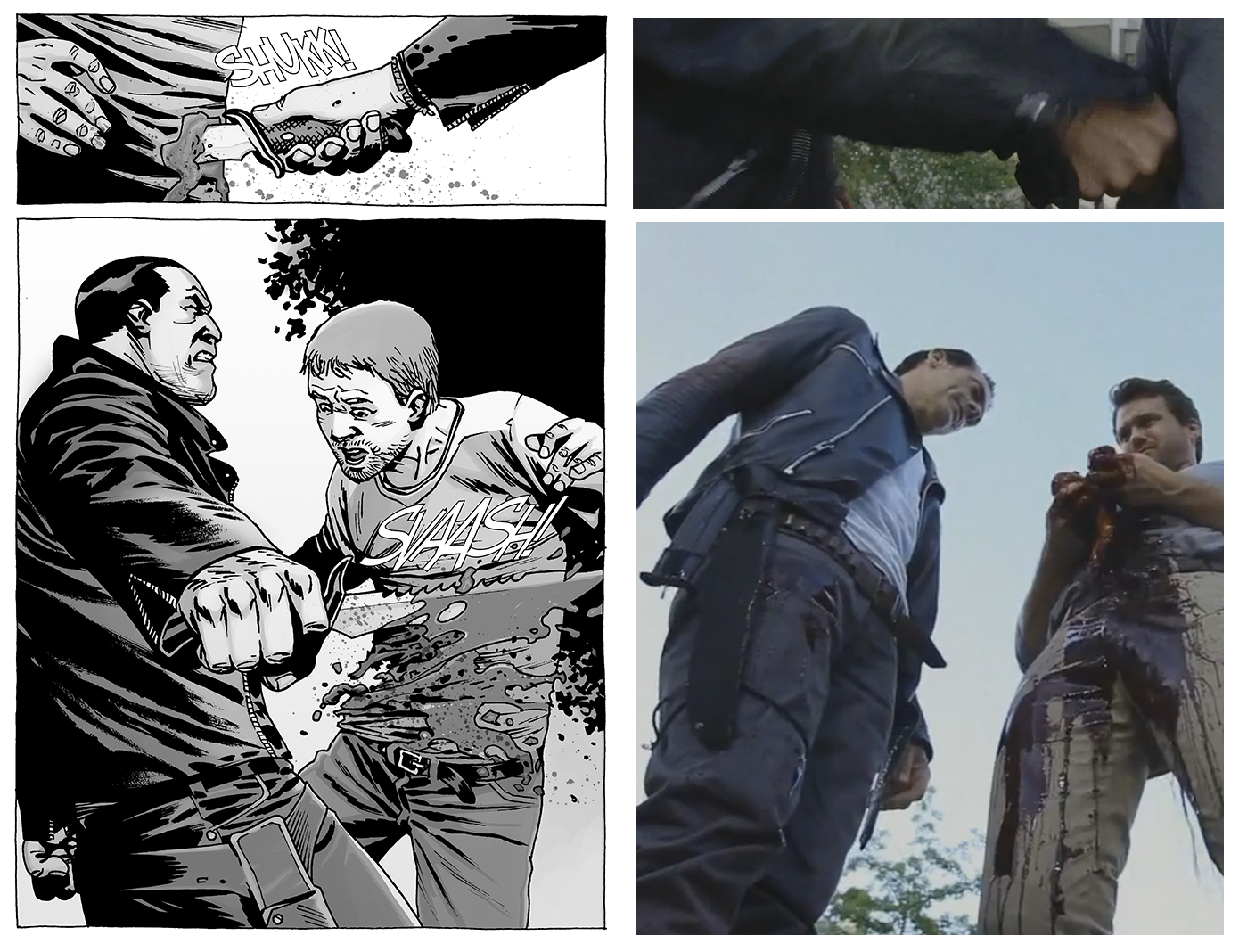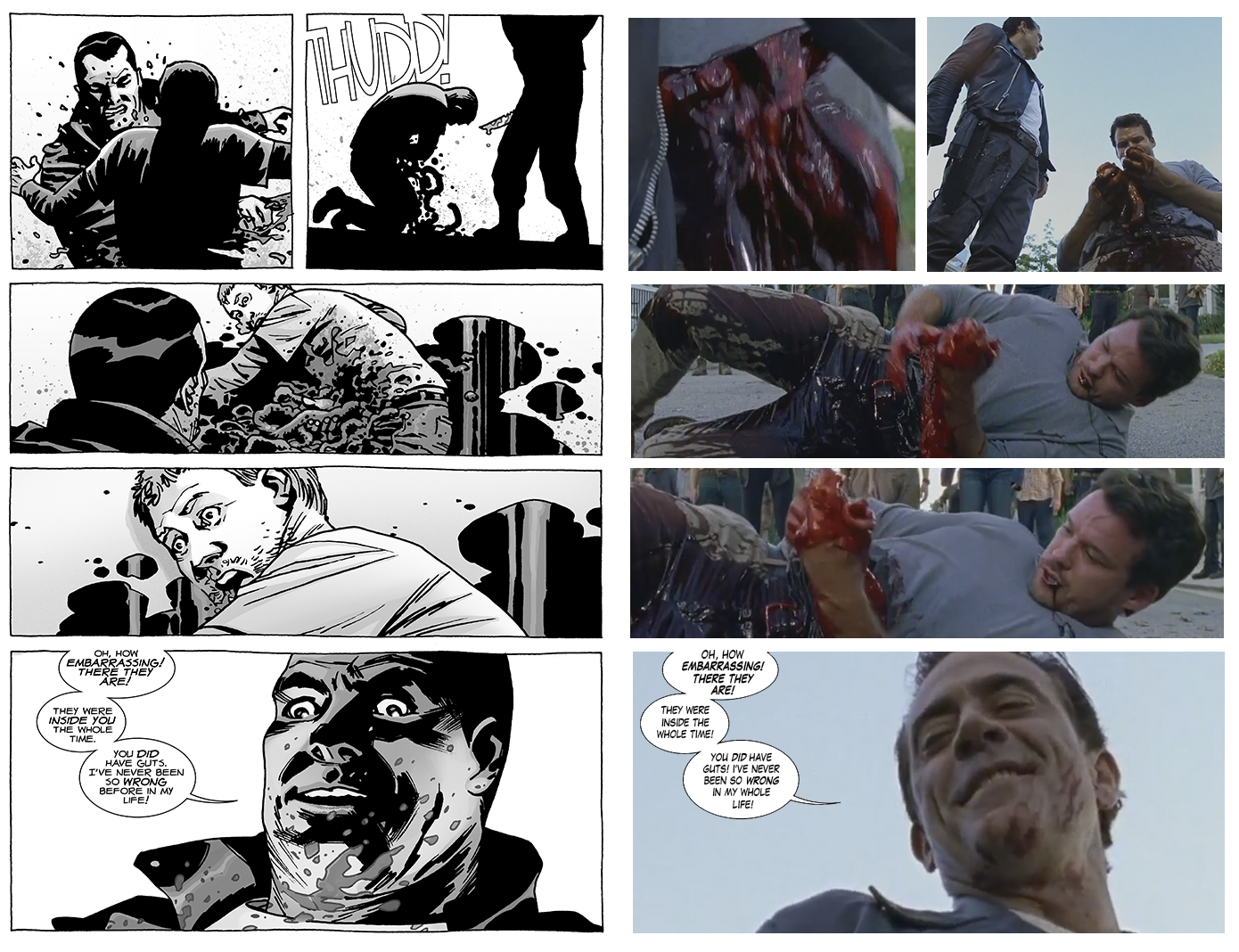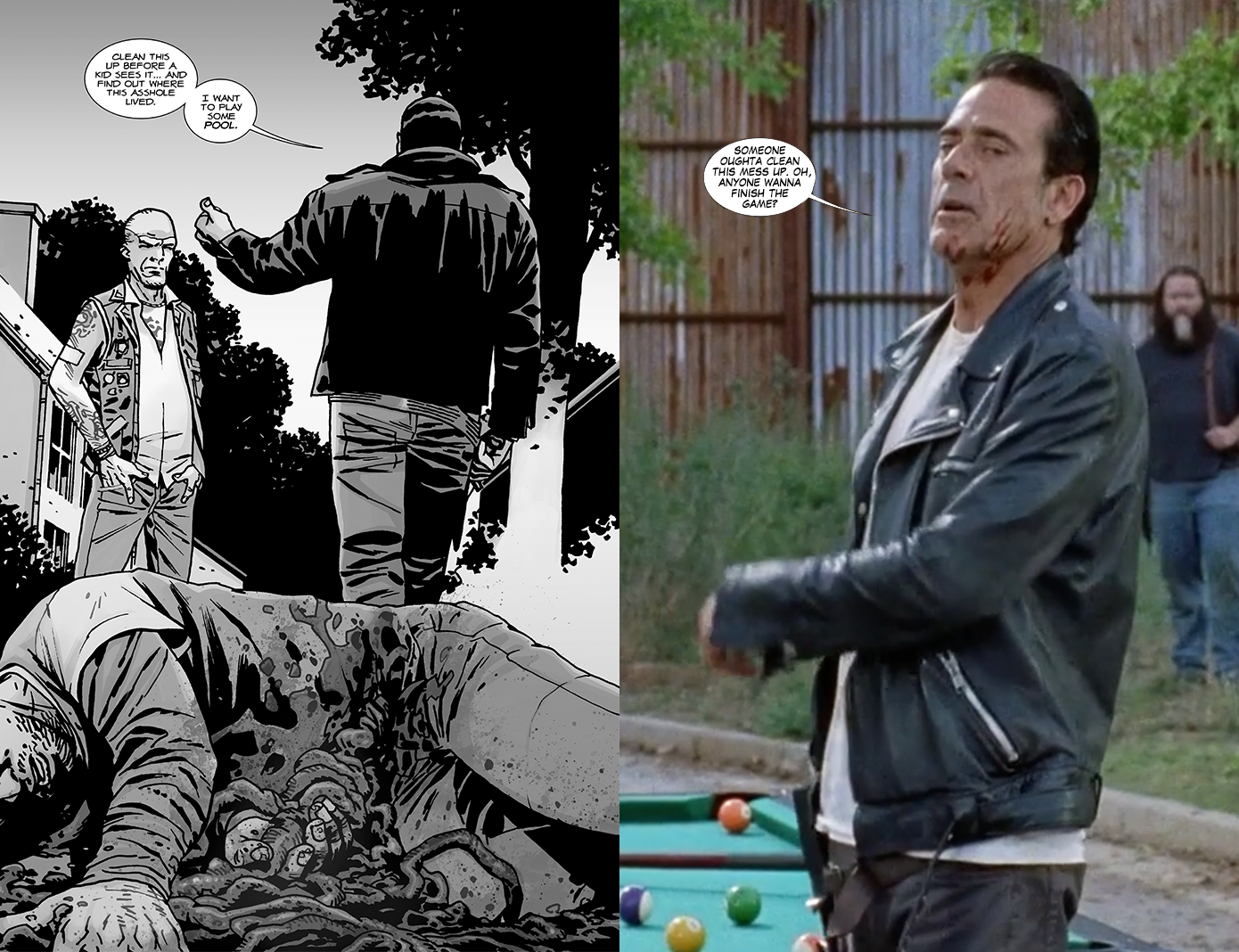 COMIC: Besides some alternate phrasing and the fact Spencer mentioned his mother (in the comics the Deanna character is his father), this gut-wrenching scene was nearly identical to the comics. (One small note: Denise rushes to his side in the comics, but since she's not alive in the show it didn't happen).
---
Shooting Lucille
Nothing enrages Negan more than seeing his baby Lucille get harmed. Although Lucille's shot in both the comic and show, the circumstances are dramatically different.
SHOW: Trying to avenge Abraham's death, Rosita forces Eugene to make her a bullet she can shoot at Negan. After Negan publicly guts Spencer like a fish, Rosita takes the opportunity to shoot Negan. Unfortunately, she misses and hits Lucille instead. This sends Negan into a rage that ultimately ends in Olivia's death.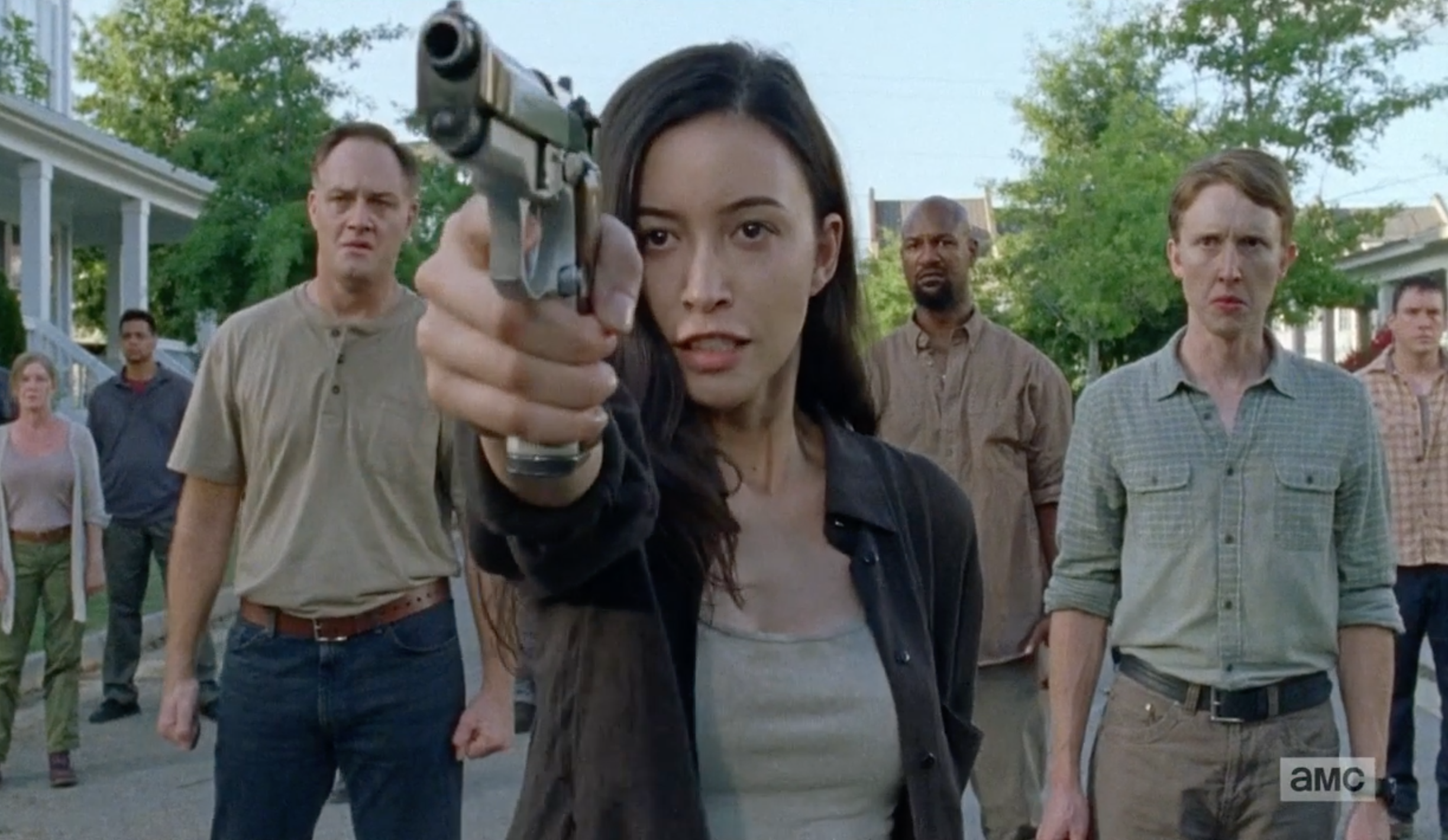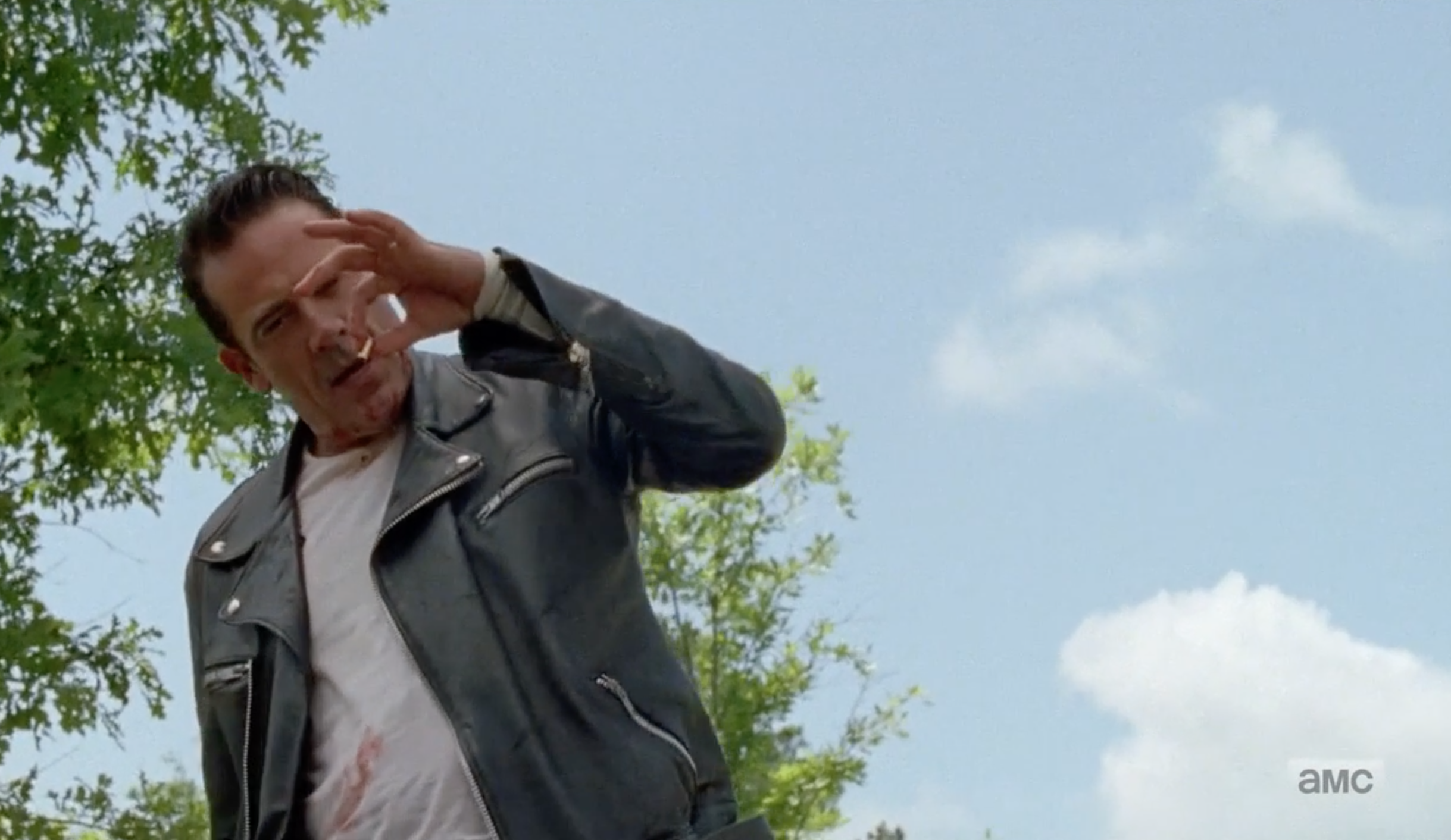 COMIC: Although Lucille IS shot in the comics, it's at the hands of Carl, not Rosita. This happens in the story a little later, after Rick's group attacks The Saviors as they depart Alexandria. Enraged by the ambush, Negan nearly kills Rick when Carl shoots at Negan and hits Lucille instead. Similar to the show, Negan loses his sh*t and threatens to kill someone for harming Lucille. That's when reinforcements arrive to kill some Saviors and send them out of town. (NOTE: Rick and the Alexandrians didn't have their guns taken away in the comics so there was no bullet-manufacturing questions the like the show).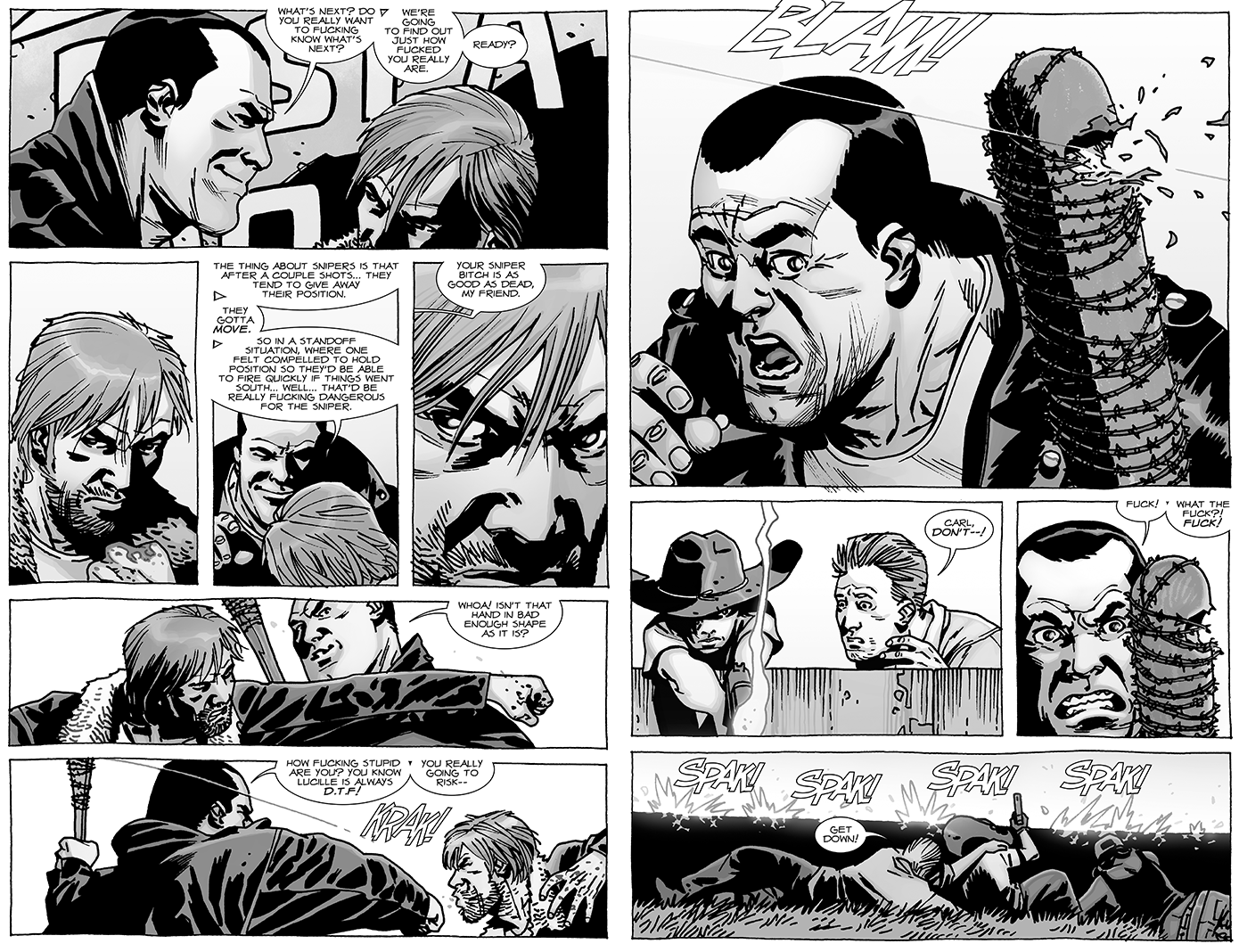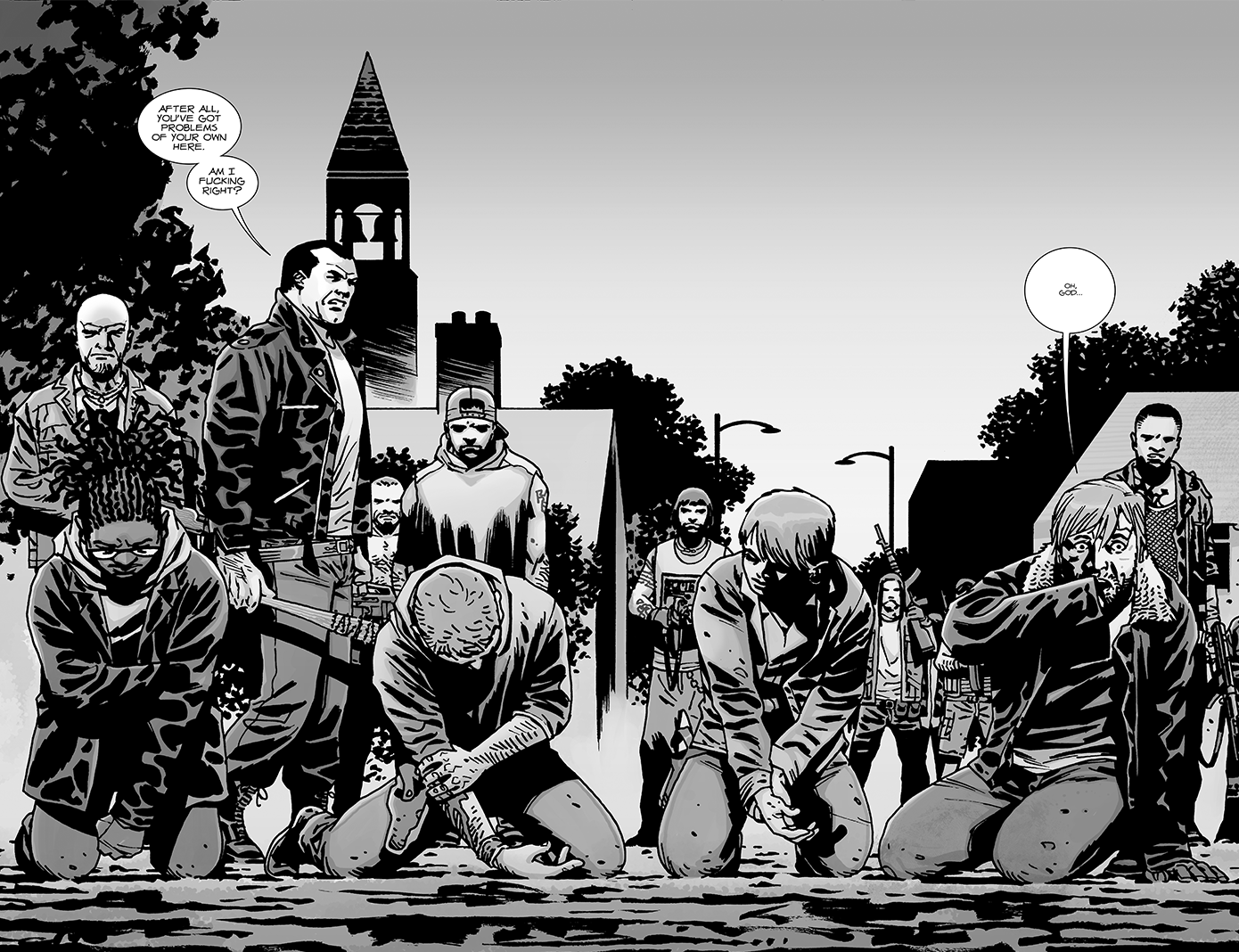 It's also worth noting that a lot of show Rosita's behavior mirrors comic character Holly, who actually dated Abraham. Like Rosita, Holly was VERY affected by Abe's death and sought to avenge ALSO it in a suicide mission:
---
Rick's Tirade
In both mediums Rick returns to Alexandria to discover Negan's killed one of his own. So much for an agreement.
SHOW: Rick furiously demands Negan explain his actions and Negan calmly reminds him how gracious he's been with allowing Carl to live and stopping Spencer from forming a coup. Rick, who was unaware of both of these things, asks him to leave. Negan agrees on the condition that he find out who made the bullet that hit Lucille. Eugene confesses it was him and Negan takes him back to The Sanctuary.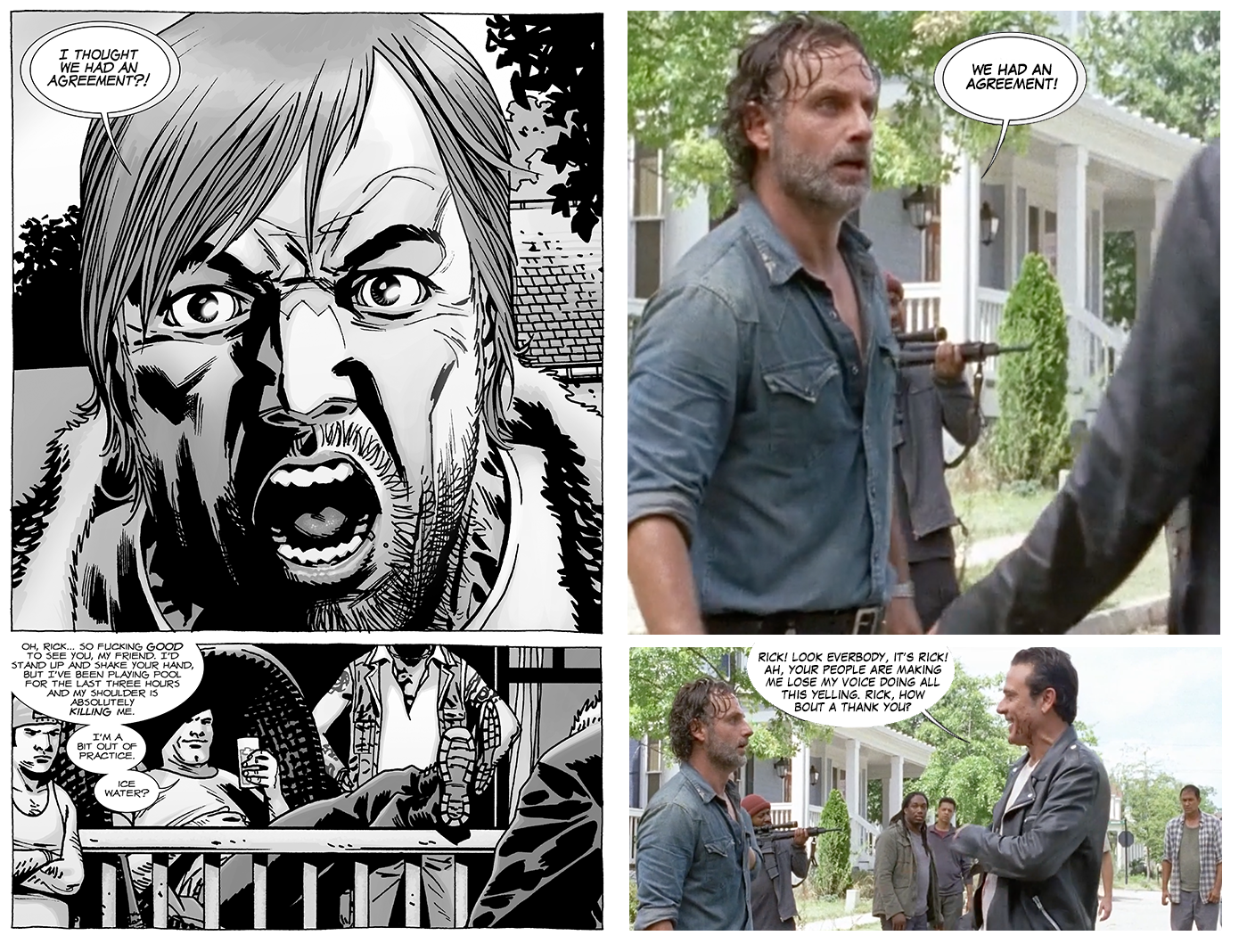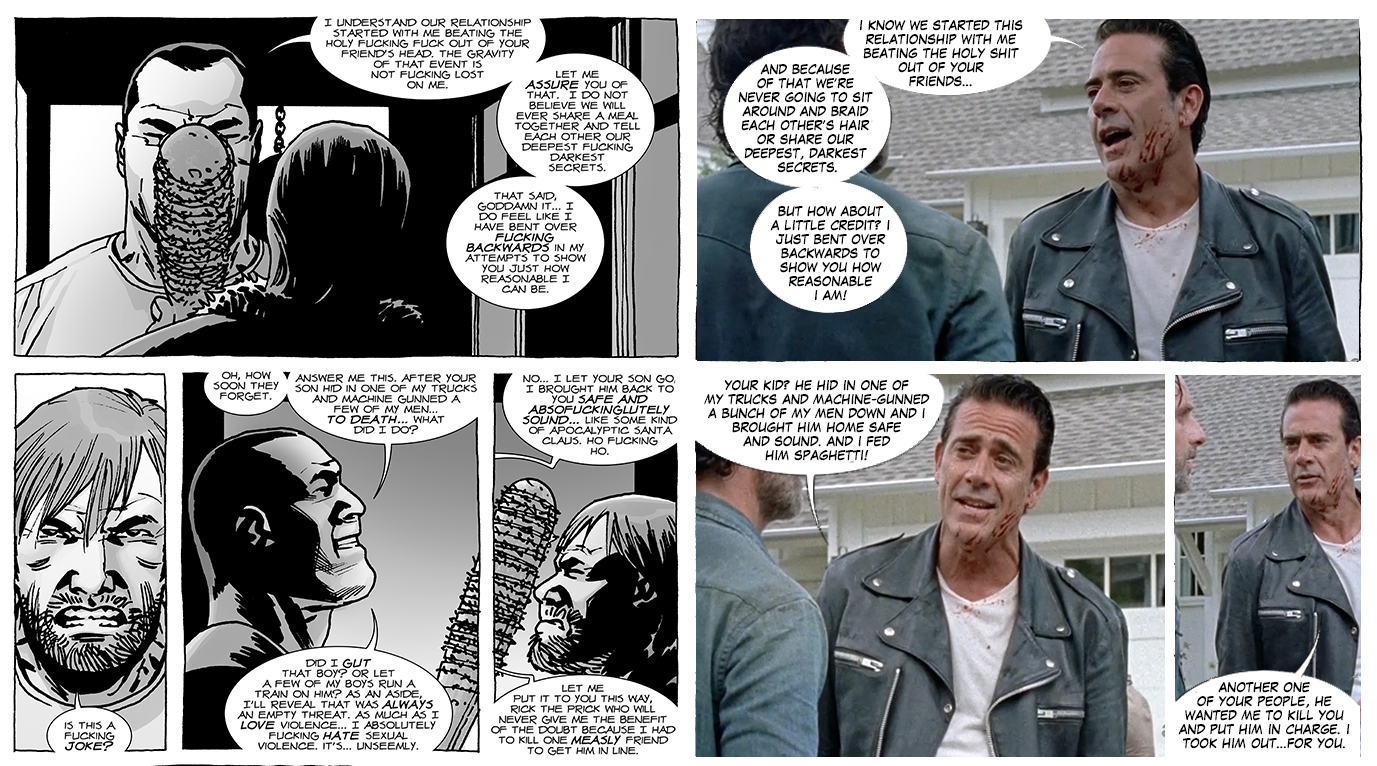 COMIC: Aside from a couple of f-bombs, this scene plays out in the comics exactly like it does in the show. NOTE: Eugene IS taken by Negan in the comics, but it's much later and for different circumstances.
---
March To War
SHOW: After Negan loads up their supplies and leaves Alexandria Michonne tells Rick enough is enough and they must start fighting back against The Saviors. Rick agrees and heads to The Hilltop where they reunite with Daryl, Maggie, Sasha, Enid, and Jesus to start planning their next moves.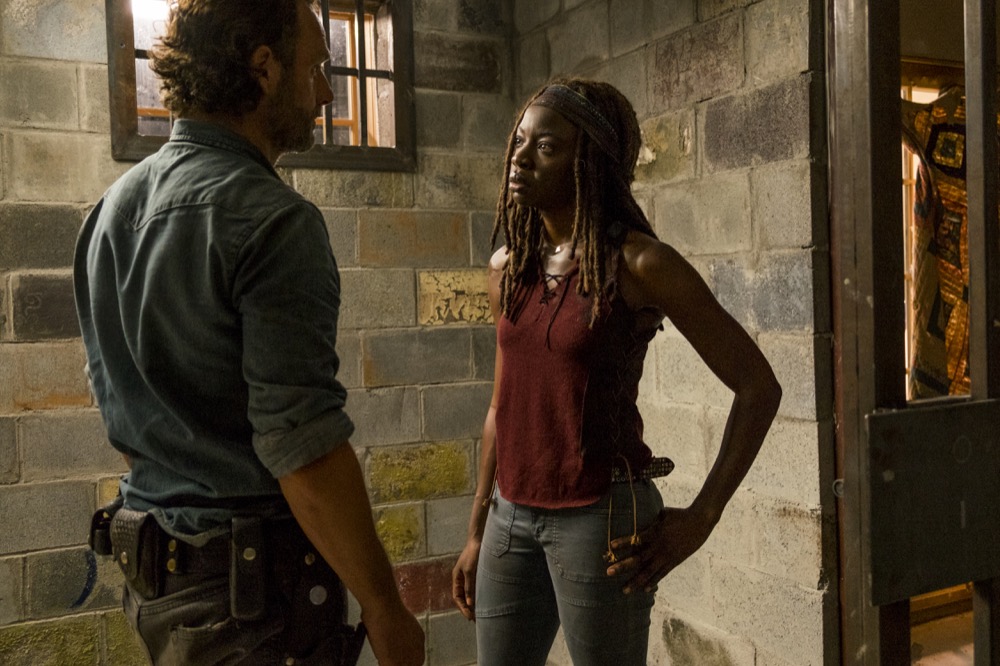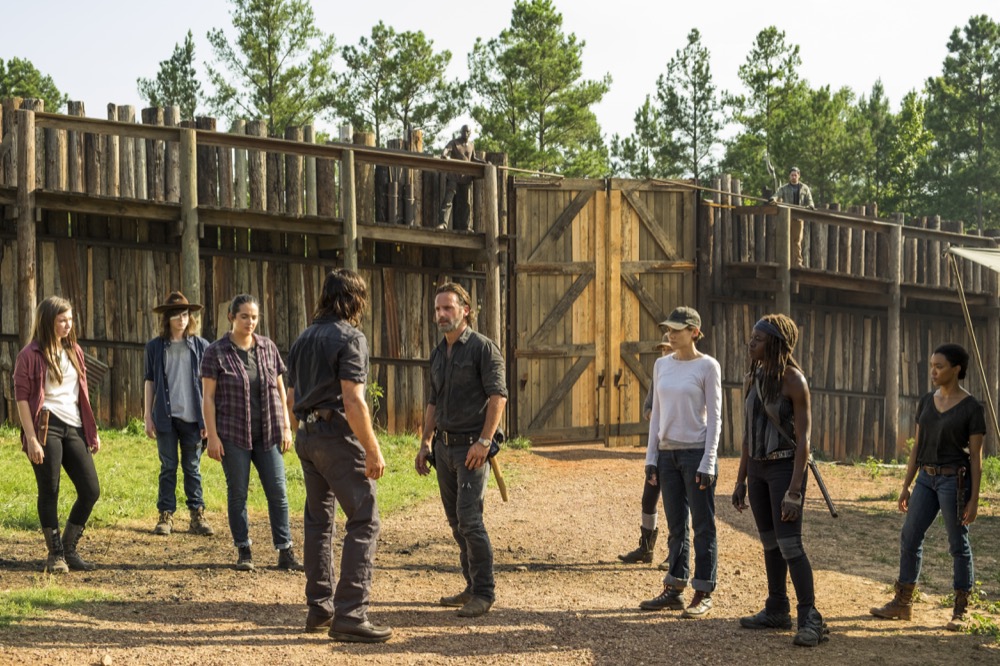 COMIC: Rick doesn't let Negan off as easy in the comics as he does in the show. As Negan and The Saviors leave Rick commands the Alexandrians to ATTACK Negan. They kill two Saviors but Negan and his people surround Rick and threaten to kill him. That takes us to the events we mentioned in the "Shooting Lucille" section. After The Saviors' retreat, Negan tells his men to prepare for war. Unfortunately, there's no cool meet-up at The Hilltop because in the comics Rick and his people have already started discussing war.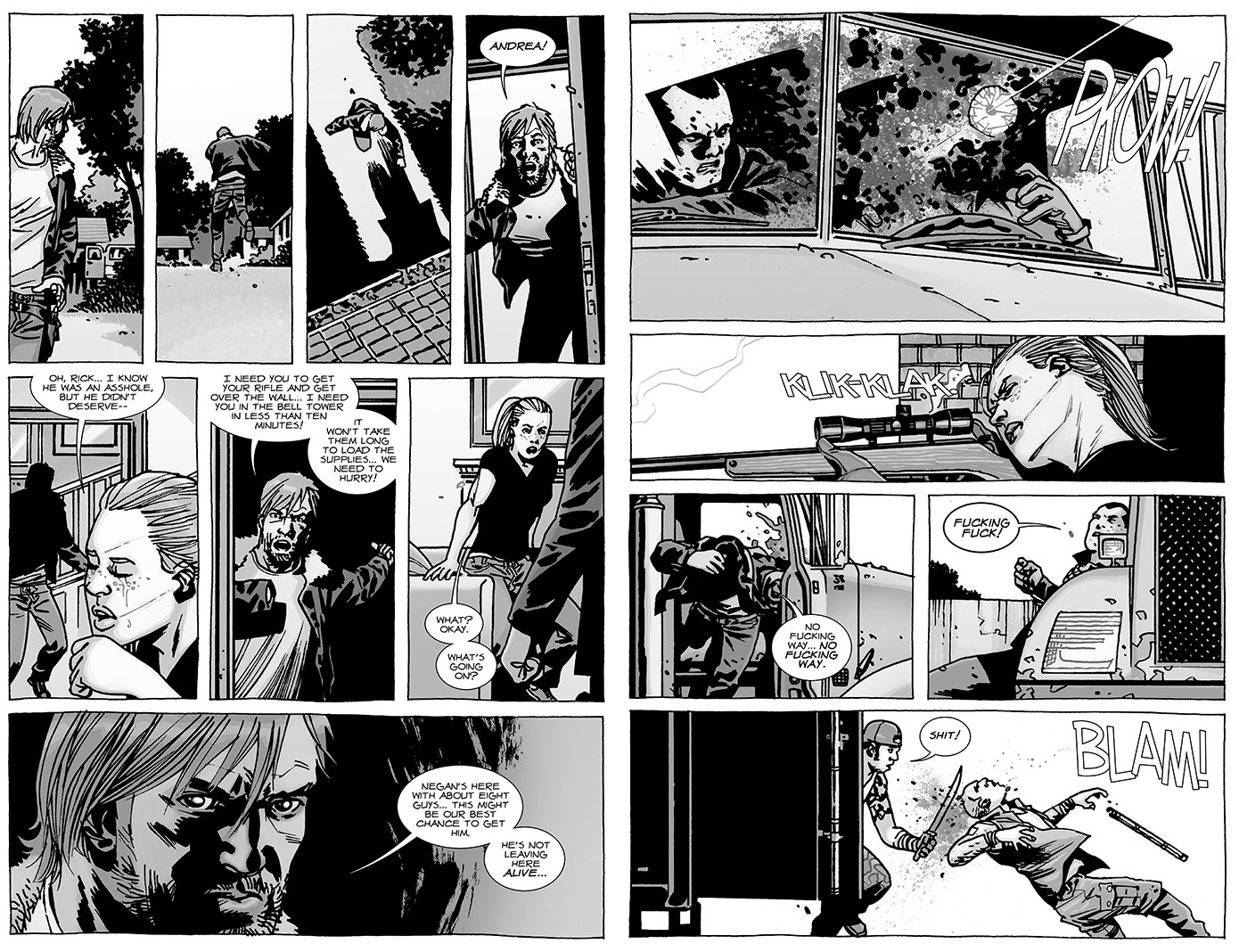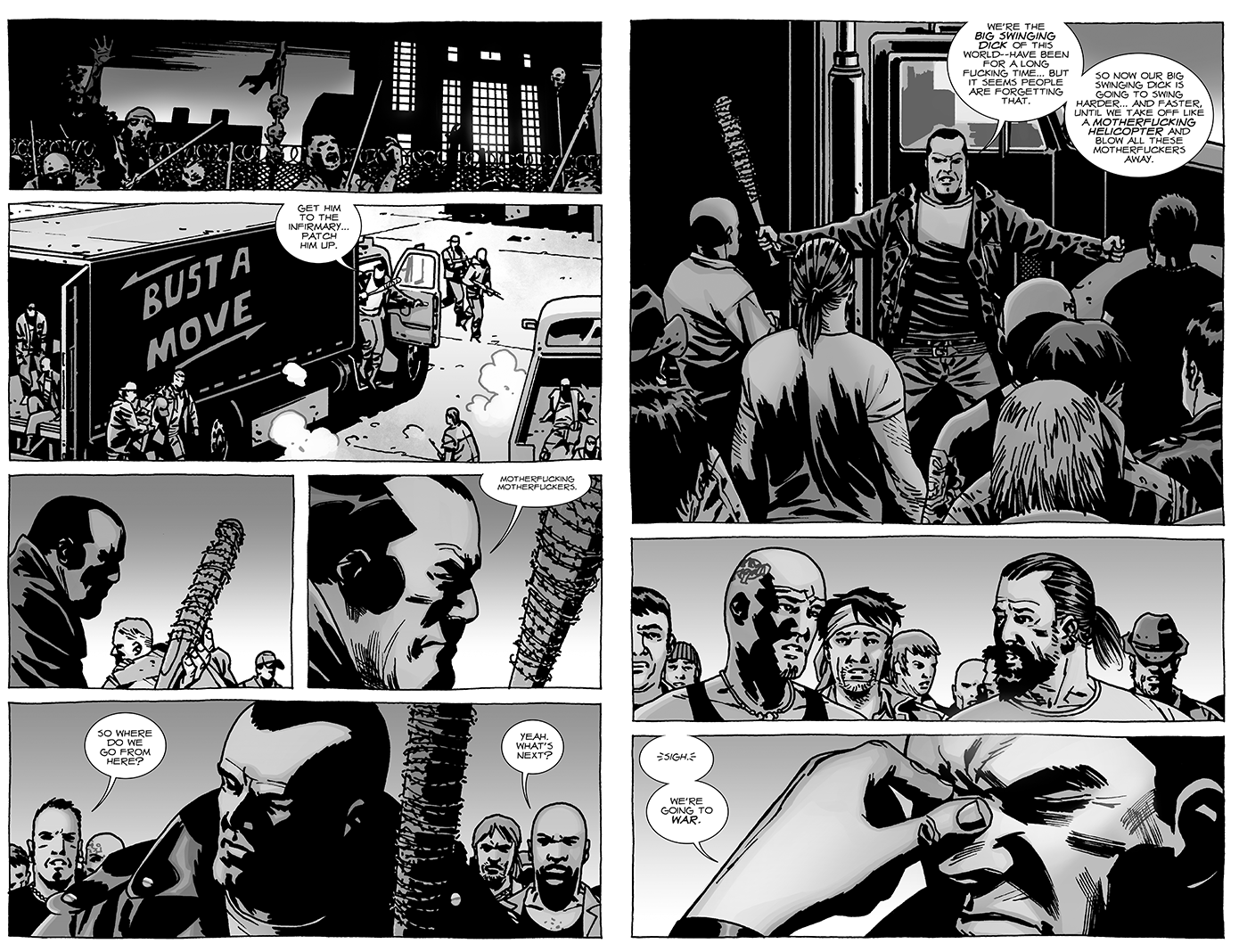 ---
What were YOUR favorite comic moments from the Mid-Season Finale? Were you satisfied with how the Spencer scene played out? Tell us in the comments AND make sure to check out the source material more in depth in our Skybound Shop!