The Walking Dead Compendium 4 is almost here and we have the cover and release date to prove it! The newest compendium, which features (from left to right), Officer Mercer, Princess, Rick, Carl, and Pamela Milton on the paperback cover, will come out Wednesday, October 2nd, 2019 (no word yet on the hardcover). The over-sized compendium will include Issues 145-192, which feature storylines like the Whisperer War, the Commonwealth, and much more. Check out the cover and description below: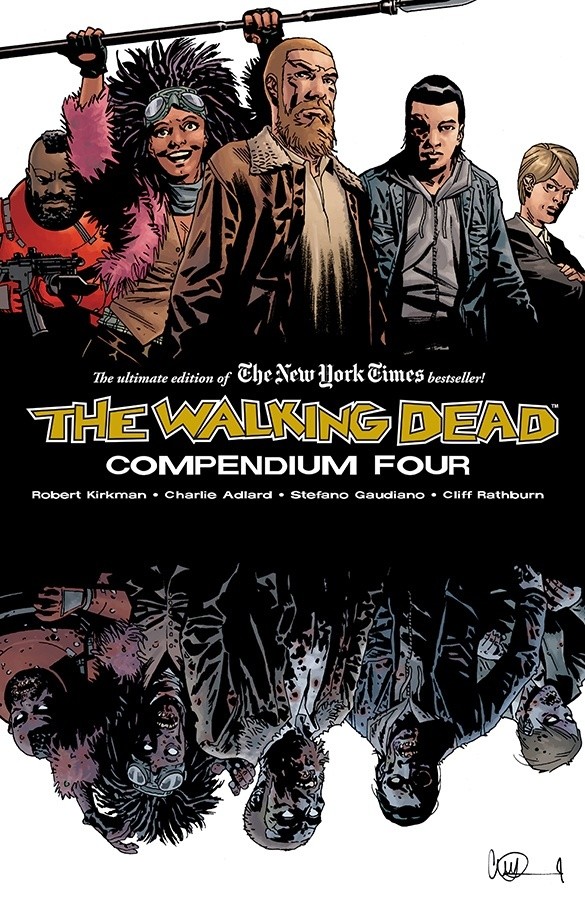 Just in time for the new season of The Walking Dead on AMC, the fan-favorite, New York Times bestselling series returns with its FOURTH massive paperback collection! With over 1,000 pages, this volume contains the next chapter of ROBERT KIRKMAN and CHARLIE ADLARD's Eisner Award-winning continuing story of survival horror. From the Whisperers to the Commonwealth, Rick Grimes meets new allies and enemies on the way to reclaiming the world from the dead. Wars are started, and dear friends fall… Collects THE WALKING DEAD #145-192.
---
Need to catch up? Then check out our other Walking Dead compendiums in our Skybound Shop! Also tell us what you think of the cover in the comments below.